Key Sales Activities for Construction Sales Teams
If you are a salesman on a construction sales team, you landed on the right page. At the end of this article you will be able to improve your sales game and "compete" at the highest level. It isn't quite easy, but if you are able to meet all the key sales activities listed in this article, you are on the right track.
LISTEN TO ARTICLE
Key Sales Activities and Tips for Construction Sales Teams
If you are a salesman in the construction industry, you landed on the right page. These key sales activities and tips will help you improve your sales game, build accurate construction bids, and "compete" at the highest level. It isn't exactly easy, but if you are able to perform all the key sales activities listed below, you are on the right track:
TRACK CONSTRUCTION SALES OPPORTUNITIES WITH A SALES MANAGEMENT SOFTWARE OR CRM  
How many times did you lose track of where you were at in the sales process? Or you would start an activity and then something urgent would come up and you would not get back to what you were doing? Even the most experienced salesmen can face challenges to track all their opportunities. A construction CRM or sales management tool built specifically for contractors is a huge time saver. With a contractor CRM that fits your sales process to the T, you can:
Stay on top of your sales pipeline
Stay on track with your sales activities
Stay organized and follow-up on all your opportunities
Stay in touch with your clients until a decision is made
Here are some ways that a great CRM tool can help you keep track:
Real-time access to data: Track leads and opportunities at all stages. A CRM for contractors will give you the chance to keep an eye on all opportunities at all stages of the sales cycle. This will also give you the chance to better plan and map out your sales activities.
Track labor time: This will show your employees what their labor is worth. Documenting hours worked will help with your team's morale and engagement.
Keep an eye on your contacts: It can get messy if you don't keep track of who you contact. Using a CRM, you can keep track of your contacts and follow up with them by setting reminders.
Teammate updates: In sales, it takes a whole village. That's why it's important to keep everyone updated. A good CRM will allow you and your team to view all deals, opportunities, and plans.
ORGANIZE YOUR CONSTRUCTION SALES GAME PLAN
Time is a valuable asset, so planning is important. Here are some examples of administrative tasks that you should include when planning your key sales activities:
Develop sales action calendar: Your plate can get full fast. That's why you can use free tools, such as this free Weekly Plan for your sales team to keep up with your duties. This resource can help you plan your construction sales activities for the day, week, or month.
Plan for cold calling: Even in the digital age, cold calling is still an effective tool in the construction industry. Schedule time for cold calling. Make an average of 5 to 10 calls per day and experiment with your timing.
Organize your inbox: It reflects your sales activity. If you have an organized inbox, your sales activity is on point. If not, take a closer look at it. You can start by creating categories for your emails to sort them. For example, emails from: clients, potential clients, or teammates. Based on how detailed you want your categories you can go even further. For example, emails from clients with attachments, without attachments, with opportunities, without opportunities. You can do the same for your emails from potential clients.
Create and optimize email templates: You'll save time you can use for other initiatives. Your sales email template should include three sections. Start with an intro, then main point, and end with a call to action. Use an attention-grabbing phrase in your intro. Make it quick and to the point. The intro will either make or break the email. For the main point, focus on how you can solve your customer's problem. Be clear, concise, and strategic. In the last section, tell your customer what you want them to do.
Create a proposal template library: A proposal template is a re-usable file that a construction salesman, estimator, or construction business development professional can use to speed up the proposal creation process and eliminate human errors that sometimes happen. Jump-start your library with this free construction proposal template collection created by the iDeal team. All templates are free and fully customizable.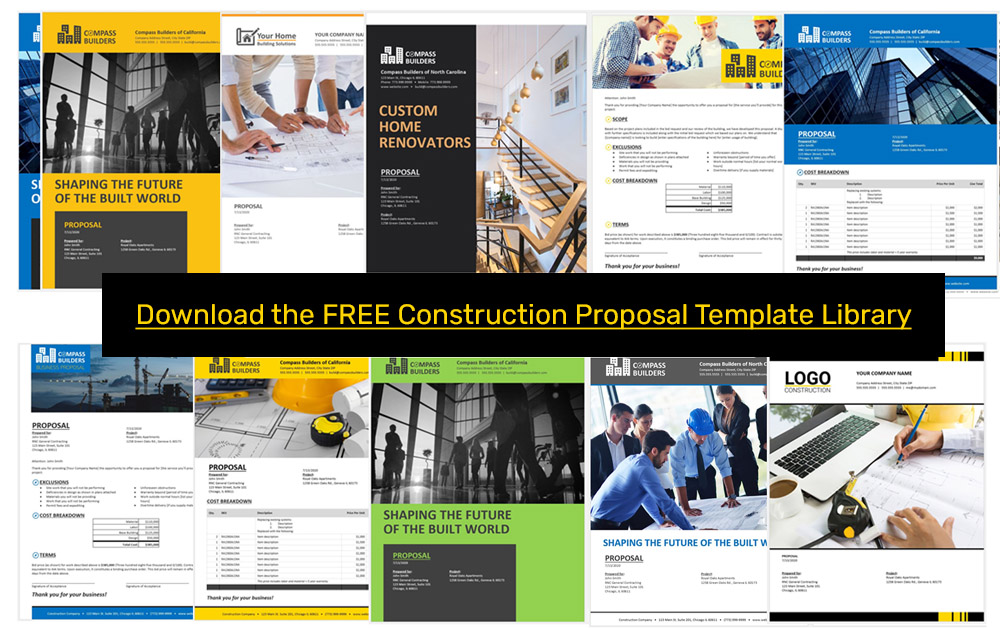 CREATE CUSTOMER-NURTURING ACTIVITIES
Your customers drive your success. The most important element in having a great customer relationship is focusing on their needs. Time tends to get limited in certain situations, but it's a matter of how you make the time for that one customer. Here are a few examples that can help you in your sales relationship with customers.
Create a target market customer list: Know your go-to customers. By creating a target market customer list, you don't exclude potential customers. You simply focus your resources on customers that will translate into profit. For example, start by creating a list of your top 100 existing and potential customers. Start reaching out to them with a strategic plan. In addition, you can do the same for new target markets you wish to consider. For example, find the right customers and leads by creating your winning strategy.
Identify qualified leads: Save time and use your resources where they work best. A qualified lead is someone who shows interest in your product. For example, identify qualified leads and build a solid sales pipeline. Look at their interactions on their websites and reach out to them. Become familiar with their social media habits and interact with them at the right time.
Establish loyal customer relationships: It takes more than an email or a phone call. Take it a step further and show your customers appreciation on social media. Celebrate their successes, share their valuable content. Use your email to communicate with them and get involved in their activities. Make it easy for construction customers to reach out to you. Be active on social media, share updates and create automatic campaigns via your CRM.
Plan your meetings: You have your target market list, now what?! Take the time to schedule meetings with prospective clients. For example, it can be a virtual meeting via online platforms such as zoom. Or, if you have the time, you can meet them in-person for a lunch or even a coffee break. It is crucial to connect with at least one client per day, online, via voice, or in-person and get to know their goals.
Warm up prospects that have cooled off: You've been focusing on your main leads and identified some that are on the fence. You can turn them into customers by keeping them updated on your current activity and strategy. Social media channels are great to build trust with your potential customers. Show them that your current customers refer you on social media. This will increase their interest in your services.
TRACK YOUR SALES DATA
Being in the sales industry most likely makes you a goal driven and oriented individual. Because of this, it is crucial to track your sales data. Based on the metrics that you analyze, you can plan your schedule weekly, monthly, or yearly. You have to keep a keen eye on your data. Here are a few examples to consider when tracking your sales data:
Compare your sales performance against your SMART goals (Specific, Measurable, Actionable, Realistic, Trackable)
Winning percentage / conversion rate
Number of touch points it takes to get closer to closing the deal
Whether the type of work sells better or the geographic area of the work has more impact
Identify the right clients: Time is valuable and you want to make the best use of it. For example, there are five general contractors listed for a job and you take a closer look at their names. If you know that one of those GCs is hard to win a bid with, you will want to focus on the other four. Focus your resources on the clients that are more likely to win the job. You can also use a ranking method where you rank the opportunity and the general contractor based on your preferences.
Schedule your follow-up activities: Don't fall down the rabbit hole, if you don't have to. You most valuable asset is your time. Similar to your bid calendar, make a note of your follow-up activities. In other words, identify the right people you want to follow up with. Then develop a list of priorities for your follow up activities and stick to it.
Follow up, follow up, follow up: Followup activities (along with pricing and services) is what will win you the bid. Mix and match your methods of follow up. You can use the iDeal email follow-up tool for example to quickly send out client emails about open opportunities or proposals. Or pick up the phone and make a call if they don't respond via email. You can also interact with them via social media channels, such as LinkedIn and Facebook. If you want to put a personal note on it, you can drop by their office and check-in with them.
Learn more in the article Sales Followup Process Tips for Subcontractors or check out the Follow-up Process article library
COMMUNICATE WITH YOUR SALES TEAM
Your team can get as busy and overwhelmed as you. It is important to always check-in with them and make sure they have the necessary resources. You don't need to spend endless hours talking to them or schedule meetings going nowhere. For example, here are a couple tips for better communication with your team:
Give your team your full attention: They are part of the work behind the scenes. When you have a meeting or a call, make sure you interrupt all other distractions. Give them your full attention for the duration of the meeting. By avoiding distractions, you become an effective asset to the team.
Ask questions and listen more: Your team wants your feedback and input. Make sure that you plan your questions in advance. For example, you can set a meeting schedule at the beginning of the week together with a set of topics to cover. Since you already know the meeting topic, you can draft a couple questions to follow up on with your team.
Keep in touch and recognize your team: Your team is goal oriented and driven to succeed. It's important to celebrate small victories, as well as big ones. There are several communication channels that you can also use to create group messages. For example, Slack is a very useful tool that can create separate channels to stay updated. You can use Slack for updates, but also to inspire and celebrate victories. You can also take your team to lunch, or bring in breakfast, write thank-you notes, or say thank-you in person.
COLLABORATE WITH YOUR MARKETING TEAM
It is very important to make time out of your busy sales schedule to meet with the marketing team. There are certain goals and strategies that must be in sync between the two departments. For example:
Check your sales strategy and plan against the marketing strategy and make sure they are in sync
Similarly, collaborate with your marketing team to synchronize your social media activity
Also, develop marketing materials you need based on your findings
Review buyer personas with your marketing manager
Get supporting collateral for the sales activities such as:

Product sell sheets
Statistics sheets
Case studies by client type or category
Key Sales Activities That Top Construction Companies Perform
What is CRM (Customer Relationship Management)?
Eliminate 'I Forgot to Follow-up' from Your Company
Increase Your Closing Rate by Up to 35%
How to Build Trust and Win More Projects
Proposals: Create Clear, Accurate, Beautiful Proposals
Free or Inexpensive Technology Tools to Streamline Your Sales Process
15+ Key Metrics To Measure Your Construction Company's Performance