Opportunity Fields
So often we hear that sales software systems don't feature all necessary fields for construction out of box. For example, for opportunities: opportunity fields, multiple due dates (bid, follow-up, task), internal team, or design team.
In iDeal CRM, opportunity profile pages come equipped with all the opportunity fields you need. Due dates, value, cost, clients, awarded client, architect, engineer, bid docs, RFIs… all construction fields you need.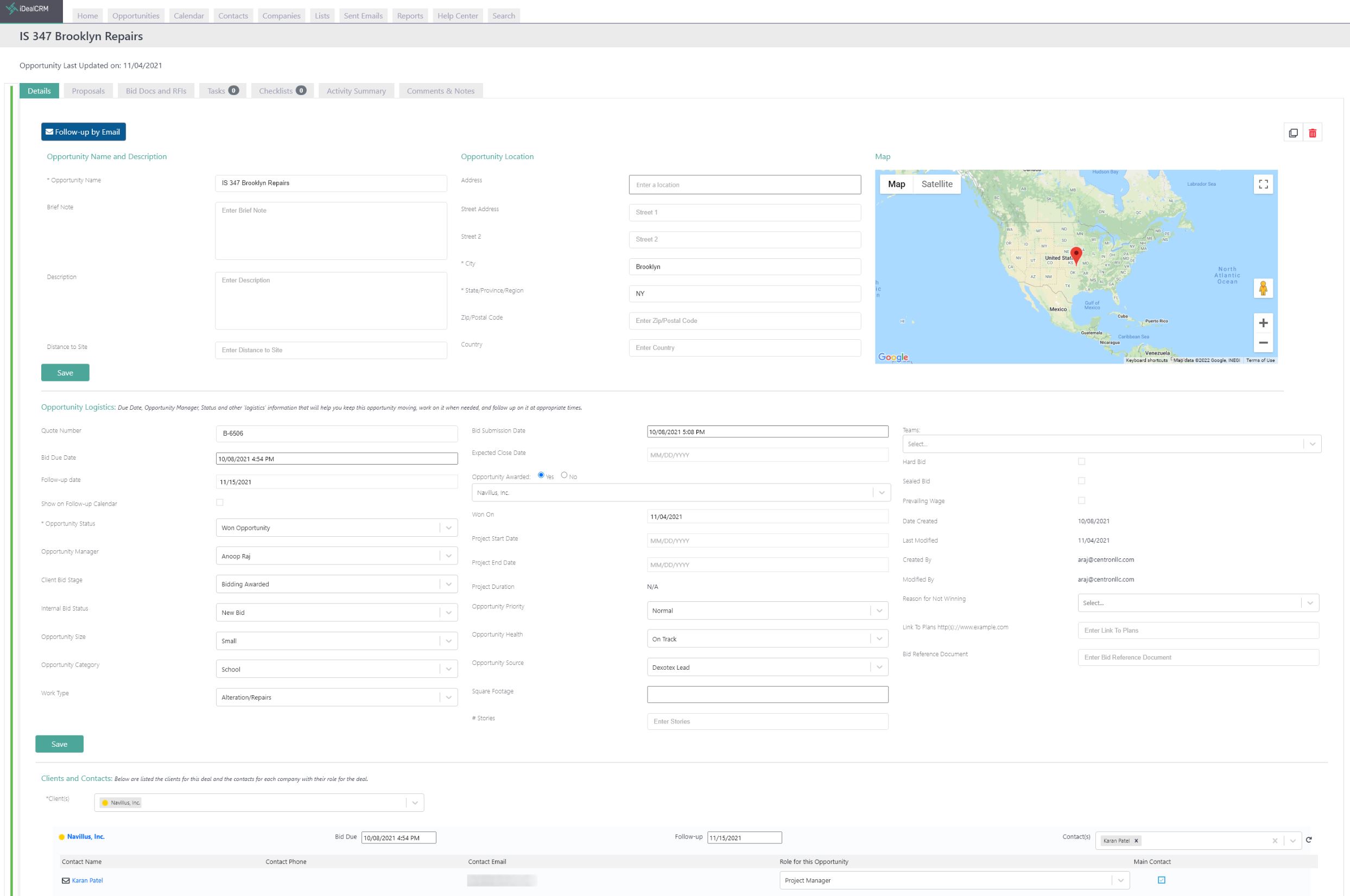 Opportunity Pages in iDeal CRM Are Equipped with All Opportunity Fields You Need
Name, Location, Description
Name, location, and description are common opportunity fields that most sales systems include these.
But iDeal CRM also includes more construction-specific fields such as distance to site, or brief note.
Due Dates & Opportunity Logistics
Multiple due dates are needed in construction which is why iDeal features bid due and bid submission date, follow-up and expected close date, project start/end dates. Also of note are construction logistics fields like client bid stage, link to plans, and more.
Clients with Contacts and Bid & Follow-up Dates
In iDeal, you can attach multiple clients to an opportunity which is what construction companies need. Not only that, but each client come can have a different price, bid due date or follow-up date. You can also add as many contacts as needed for each client and their role.
Internal Team and Building Team
Depending on how big the opportunity is, you may have different people working on it. Internal team is one of the opportunity fields that construction companies need. Also, storing architect, developer, engineer,… data in opportunity fields can come in handy.
Get All Opportunity Fields you Need Out-of-Box
See iDeal's Opportunity Profile Page in Action.
Explore All iDeal CRM for Construction Features.