Sales Pipeline Management Software • CRM Platform Features
Sales pipeline management software supports your sales team's pipeline of potential customers and new opportunities. It is essentially an opportunity and lead management tool for lead and project conversion that cues salespeople on what to do next to either convert a lead into a customer or an opportunity into a deal.
Yet, in b2b sales industries like construction, for example, the lead-to-customer sales phase doesn't capture the entire construction sales cycle. This phase achieves more marketing automation rather than sales automation. An opportunity-to-project phase is also needed, especially in the commercial construction space. Why? Because your leads or customers may all be competing for the same construction project.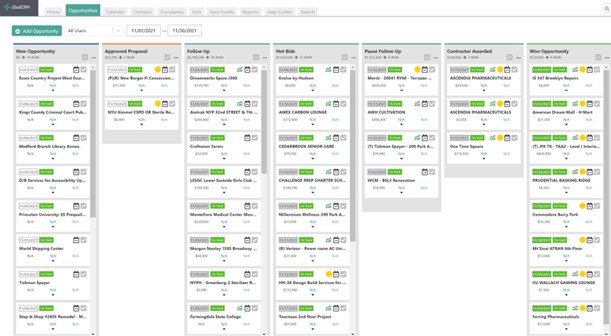 So let's look at all the construction sales processes.
First you pitch your product or services to a potential customer.
If you convert them to a customer, you receive the opportunity to bid on a project they are competing for.
As a result, most construction companies, even the small businesses, send out a high number of bids on a weekly and monthly basis. And using spreadsheets or other manual methods for pipeline management are not effective. The only way sales pipeline management for construction is successful is by using a customer relationship management (CRM) software solution built for the construction sales process. A CRM that has a built-in construction sales pipeline, or pay for customization.
This is where iDeal's CRM software for construction comes into play. Its visual sales pipeline tool helps you quickly view your entire company's sales pipeline, or narrow it down to individual salespeople. With just a click, and in real time, you can switch to and establish the status of all your company's opportunities.
There are many feature functionalities in iDeal CRM to help with the sales pipeline workflow. It supports the whole sales cycle:
Lead Generation
Contact Management
Visual Sales Pipeline Board 
Sales Calendar Integration
Proposal Generation
Follow-up Automation
Sales Metrics
Reporting (specific to the construction industry)
The integration of proposal software, calendar, follow-up and reporting functionality into iDeal CRM software provides a seamless sales experience for you and your sales team!
Visual Sales Pipeline Management Tools for Construction
With sales pipeline management software, you can take the pulse of your organization along your entire sales pipeline with the key features a visual sales dashboard provides you:
Visualize all your bids, opportunities, projects, or leads by stage
Customize stages to fit your sales process
Salespeople can customize the view of their sales pipeline
Filter opportunities by sales rep, team, or view all at once
Quickly move leads and opportunities through stages with drag-and-drop functionality
View critical info such as bid due date, proposal(s) details, and scheduled tasks
Add tasks straight from the pipeline board
Sales pipeline management tools like iDeal CRM provide you with everything you need along the way, from email marketing templates and email campaigns, integration with Microsoft and Gmail calendars, follow-up automation to revenue forecasting!
Customizable Sales Pipeline Stages
Each user in iDeal CRM can customize their sales pipeline stages. This feature is especially helpful when you have estimators, sales people, managers, and executives all using the same sales CRM system. All sales people track their sales pipeline differently, and your pipeline view should both be able to provide the custom fields for and streamline the whole sales process.
A CRM solution should allow your salespeople to:
Add and remove sales pipeline stages as needed
Choose which pipeline stages they want to see on the board
Customize the order of their pipeline stages
Color-code stages for clarity
Save pipeline stages in different categories
Whether you are a small business or an SME, with a CRM system, there is no need for manual data entry, from pricing to closing a deal!
In fact, you can send proposals to several clients at once with the click of a button. And process automation ensures you don't drop the ball at any point in the sales pipeline.
Sales Calendar to Track & Automate the Sales Cycle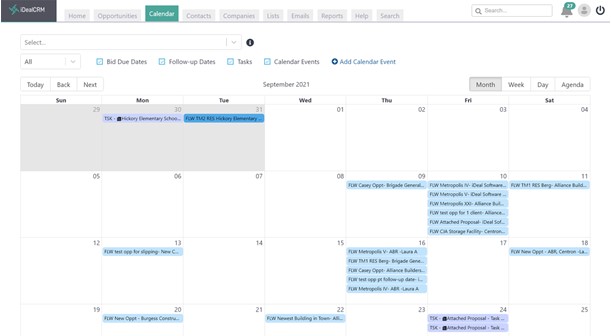 This calendar on a CRM platform or in a sales pipeline management software is built for construction sales teams to monitor and manage customer data, bids, tasks, and other events:
Construction sales activities including bids, follow-up, tasks, events
A filter by sales rep, sales team, or company view of all metrics
For opportunities with multiple clients, the different due dates for each client
Filters for calendar items that can be be turned on or off
Monthly, weekly, daily, and a printable agenda view
Drag-n-drop functionality to quickly move items on the calendar
Custom titles to show job name, sales person, customer name and customer relationship
Sales cycle apps require a sales calendar to track and automate the sales cycle to be effective and efficient. And the calendar preferably has to be integrated with the sales CRM to help your sales team stay on track.
Sales Reports to Streamline Pipeline Management for Construction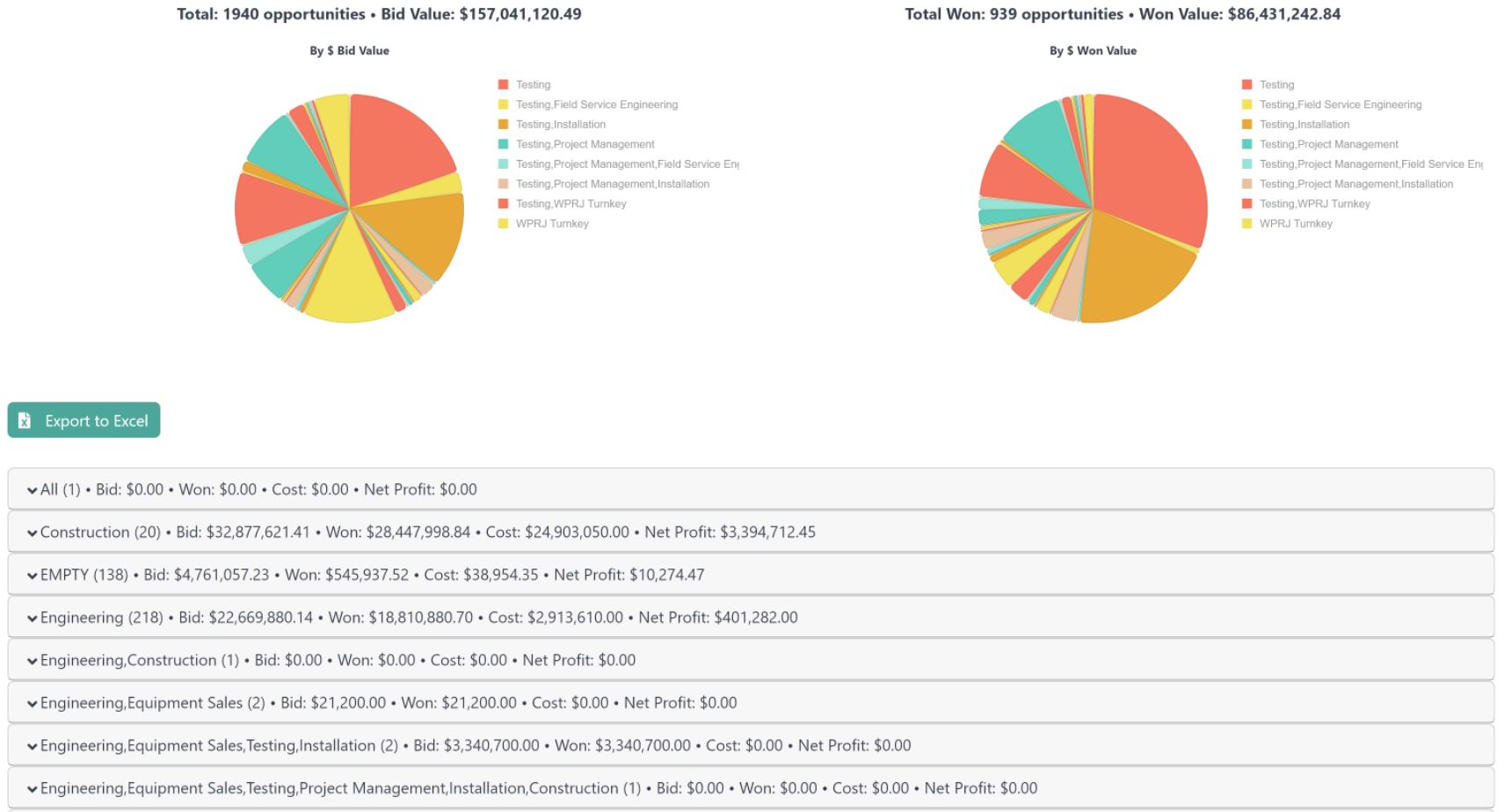 Sales reports on the iDeal CRM platform are built to record construction customer data and support sales forecasting. iDeal is the only CRM that allows you to tag the client that was awarded the job. This is crucial when bidding multiple clients.
First of all, it streamlines the sales cycle, because it allows you to focus outreach and close deals. But it also helps you build metrics to gain insights on, e.g., how many jobs you bid vs. how many opportunities your clients win and how many of those jobs you win with those clients. The integration of sales reporting into the iDeal CRM system provides important information when it comes to customer relationships and sales forecasting in the construction industry.
Sales reports by rep, team or entire company including YTD, quarterly, monthly
Sales & forecast reports that show remaining to quota, remaining to target, and profitability by client
Ability to choose which opportunities are included in the forecast and the winning chance percentage for each
Opportunities reports by bid date, won date, lost date, source
Win Rate reports by sales rep, team, client, job type, and more
Pipeline reports by sales rep, stage, client, and client awarded opportunity or not
Suffice it to say, reporting functionality supports sales forecasting and revenue forecasting, not to mention pricing, all critical to your company's bottom line.
How to Better Manage Bid Activity and the Sales Process
See iDeal CRM's Bid Management System in Action
Explore the Functionality of iDeal CRM Solutions for Construction