iDeal CRM FAQ Frequently Asked Questions
Below you will find a list of iDeal CRM FAQs and answers. If you need further assistance, please don't hesitate to contact us. We are more than happy to answer any additional questions you might have.
What Is iDeal CRM?
iDeal CRM is an opportunity-centric cloud CRM software built specifically for the construction industry. iDeal CRM helps you:
Manage and track your bids and opportunities
Create, send, and track proposals with the iDeal Construction Proposal Software (or you can upload your own if you prefer to create proposals with a different tool)
Keep track of follow-ups and send follow-up emails directly from the system with tracking
Never miss a bid or follow-up again with a catch-all calendar that displays bids due, follow-ups, tasks, and other events
View your customer base along with all opportunities that you've ever had with them and their success rate
Track your quota and progress to meet your quota at any given point in time
Analyze your successes and identify problem areas with comprehensive sales reports
How do I get started with iDeal CRM?
You get started absolutely free by registering an account, no credit card required. After you submit your registration form, your account is created, and you gain access to it immediately (60 seconds to be more exact). Once you're in the system, you can start adding client companies, contacts, and opportunities. Or you can import your clients and contacts. You can also create and send proposals, email contacts, or follow-up. Explore all CRM for Construction features.
Do I need a credit card to get started with iDeal CRM? (iDeal CRM FAQ)
No, you don't need to provide a credit card to get started with iDeal CRM. Simply head over to our sign-up page and submit your registration. You'll gain access in 60 seconds.
How does iDeal CRM work? (most asked iDeal CRM FAQ)
Once you are logged into your account:
You can start by adding your contacts & clients or you can import them from your Organization Profile.
Then you enter opportunities. iDeal can handle opportunities with 1 client or opportunities with multiple clients.
After your opportunity is in the system, you can use the iDeal Proposal Creator to create proposals, or you can upload your own.
Next, you can email proposals to your clients directly from the system and track if they received them or not.
After your proposals are sent, you can send follow-up emails to find out which client was awarded and to win the opportunity. The iDeal Follow-up Tool comes in very handy here.
When you find out whether you won or lost the opportunity you move it into the appropriate status.
The iDeal Calendar displays everything you need to do so you stay on top of your bids and follow-up.
You can set your monthly or yearly quota and track your progress towards meeting it at any point.
You can analyze your successes with comprehensive sales reports.
Can I import data in iDeal CRM?
Yes, you can import contacts and clients from your Organization Profile. Click on the round 'user' icon at the top right and select Organization. Go to Data Imports. Download the Excel templates provided on that page. You can upload your Excel sheets from this page when ready.
Opportunities can also be imported upon request. Contact our support team in the application for further instructions.
This iDeal CRM FAQ and answer are important because we want to make sure you can get started with all necessary data as soon as you register.
Can I add multiple clients per opportunity?
Absolutely. You can add multiple clients per opportunity. This is one of the differentiators between iDeal CRM and other CRM systems. For example, let's say Metropolis is a new building we received ITBs for from several of our clients. You enter Metropolis as an opportunity in the system and then you add all the clients you are bidding for it. Each client can have their own bid due date and follow-up date. It is all tracked from one opportunity.
Is the sales pipeline customizable? We have very specific steps in our sales process that we'd like to see in our pipeline.
Yes, you can customize your sales pipeline. When you register your account, you will see that iDeal CRM comes set up with an initial pipeline that matches the sales process at most construction companies. You can add or remove pipeline stages from the Organization Profile at any time.
Additionally, each user at your company can have their own custom pipeline. They can customize it in their Personal Preferences.
Does iDeal CRM have an online tool to create proposals?
This is one of the most frequent iDeal CRM FAQ. And the answer is absolutely!
iDeal CRM is equipped with 2 Construction Proposal Generators.
A Word-like generator that is a great tool for companies who have longer proposals with a lot of text.
An HTML proposal generator that is more flexible in terms of graphics and allows users to generate proposals that are a bit more creative.
Both construction proposal generators come with a variety of pre-designed templates. You can start from one of these or create your own proposal templates. Templates help expedite the proposal creation process and keep all your proposals consistent. You can create a proposal from each opportunity page. Simply navigate to an opportunity, click on the Proposals tab, and click on Generate Proposals with Word or Generate Proposals with HTML.
Using the iDeal CRM Proposal Generators is not necessary. If you already have a tool you're happy with, you can simply upload your proposal(s) to the opportunity and email them to your clients from the system.
Here is a preview of some of the pre-designed templates that iDeal CRM is equipped with.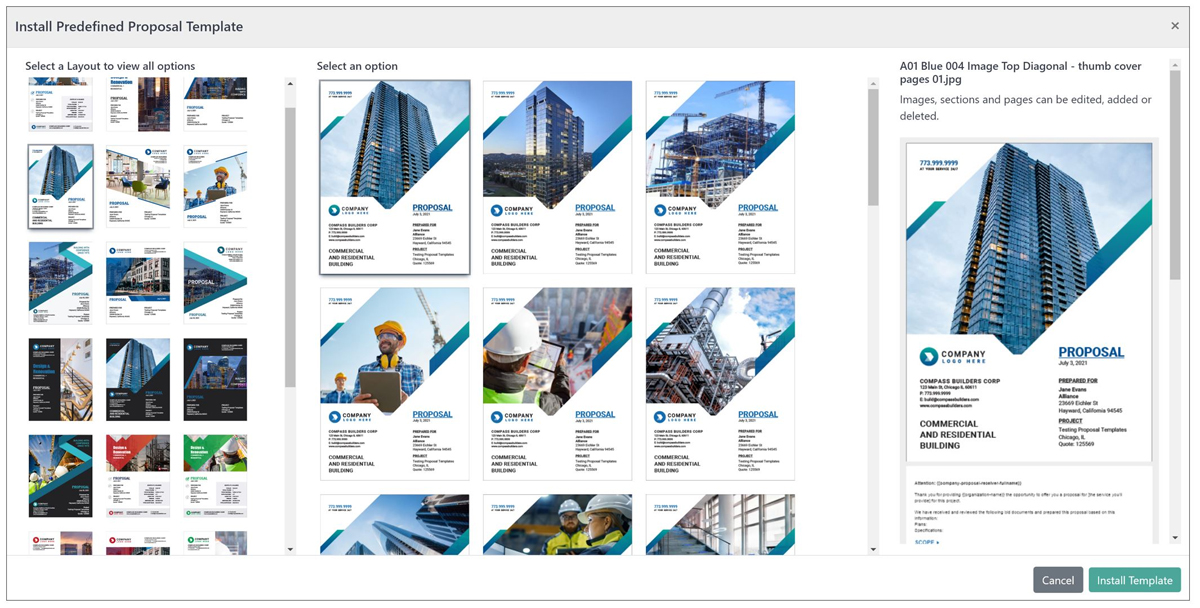 Can I upload my own proposals?
Yes, you are more than welcome to add your proposal PDFs to opportunities in the system. You don't have to use an iDeal Proposal Generator to create proposals. Once you upload your own proposals, you will be able to email them to your clients, track them, and follow-up on them.
Can I email proposals to my clients from iDeal?
Yes, proposals can be emailed and tracked directly from the system. Moreover, if you choose to connect your email to iDeal, the emails will go out through your email address and you'll see them in your Sent folder.
Can I connect my email to iDeal CRM?
Yes, you can connect your work or personal email to iDeal and we encourage you to do so, so all emails you send from the iDeal system go out from your email. If you choose to do so, please note that iDeal doesn't have access to your Inbox. The connection is solely used for sending emails from the application.
Does the system notify me via email when something is due?
Absolutely. There is a Daily Notification email that will list any opportunities with bids due that day, or follow-ups, tasks, and other events due that day. The Daily Notification email also contains any proposals that you might need to review or that have been approved.
Can I send mass emails from iDeal CRM?
You definitely can. On the Contacts page, when you select multiple contacts, the Email Contacts function comes up and you can even select from pre-designed email templates to send all emails. The recipients won't see who else the email was sent to.
Can I export my data from iDeal CRM?
Any time. There are export buttons for opportunities, contacts, clients. You can download all your data any time you want or need to.
Is my data secure?
Yes, your data is 100% secure. Our software and infrastructure are regularly updated with the latest security patches. Additionally, our cloud software is hosted on the latest and most secure AWS servers. Nobody but you and the users in your organization have access to your data.
I need help, what do I do?
If you haven't registered yet, head over to our contact page and let us know how we can help.
If you're in the app already, simply click on the Chat icon on the bottom right. Our support team is always eager to help. Our entire support team is in the United States, so there may be a few hours when you'll only be able to leave a message. But as soon as we are online, we will contact you regarding your needs.
Like the answers to all these iDeal CRM FAQs?