Client Management Software with iDeal Construction CRM
Managing clients and growing the roster of active clients is every business's bread and butter and the best way to accomplish it is with the help of client management software.
Client management software or, as it is also called, customer relationship management software (CRM software), covers the entire sales process, including customer service. It is where your sales team and customer service teams collect and store complete details for clients, fosters client relationships, and provides ongoing customer engagement and support. The software provides one version of the truth so you and your team have visibility into the sales process at your business, in other words, where you are with what or whom and what to do next.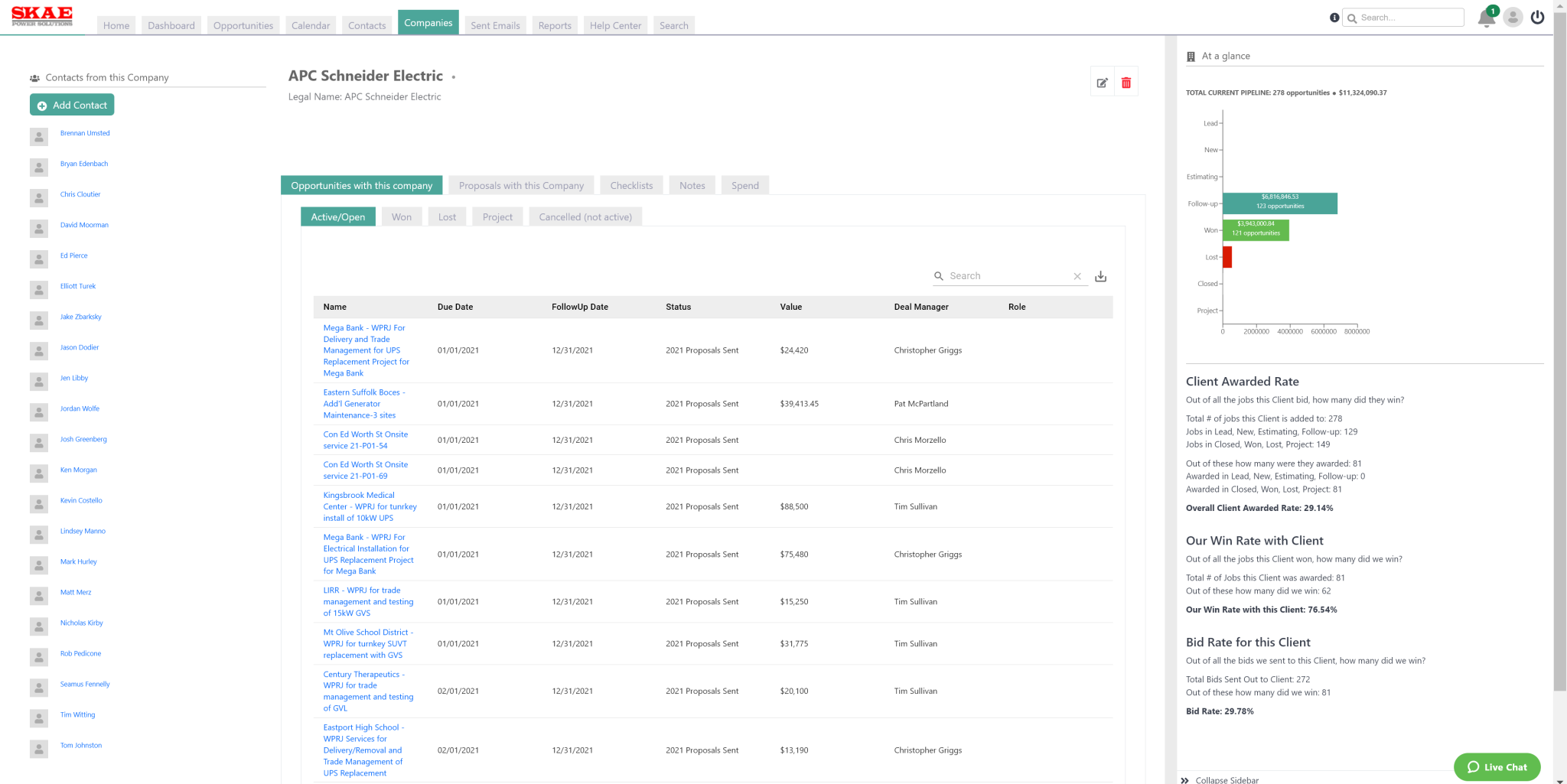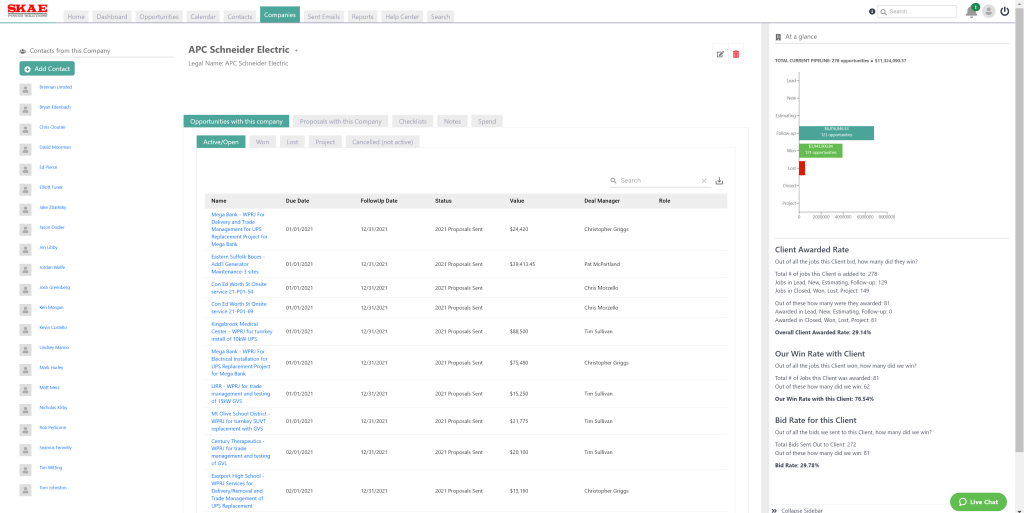 Customer relationship management software benefits companies of all sizes because it eliminates manual data entry and consolidates customer data in one place. What's more, a powerful client management software tracks the entire sales cycle, including project management and customer support. It makes it possible to maintain strong customer relationships without dropping the ball between, your calendar, your email, and manual notes. Follow-up is typically automated. And reporting makes it possible to identify where best to direct your sales efforts. All in one place.
And in construction customer management, it is necessary to dig deep into customer numbers, for example, win rates. It is important to know not just the overall closing rate with a customer (your win rate with a customer), but also how much work they win. If you win 90% of the bids with a customer, but they only win 5% of the bids, it may not necessarily be a good situation. This is where you'd want to drill down and see which types of bids they win and only bid those. Not waste time with the others. This type of detailed and valuable client information is exactly what iDeal's Client Management Software provides.
iDeal's Client Management Software Features
With iDeal Construction CRM, you access all your customer and client data from your customer management software dashboard. Customers, contacts, leads, bids, opportunities, and projects are all linked together, so you can see who your contacts are at a client company and what projects and opportunities you have with them and vice versa. You can update both records simultaneously, whether you start with the contact or the client. The data between the two sets of records, e.g. a client communication with a contact also shows up in the company record for optimum customer management.
iDeal CRM Client or Customer List View. More than A List. A Snapshot of Your Current Clients and Pipeline.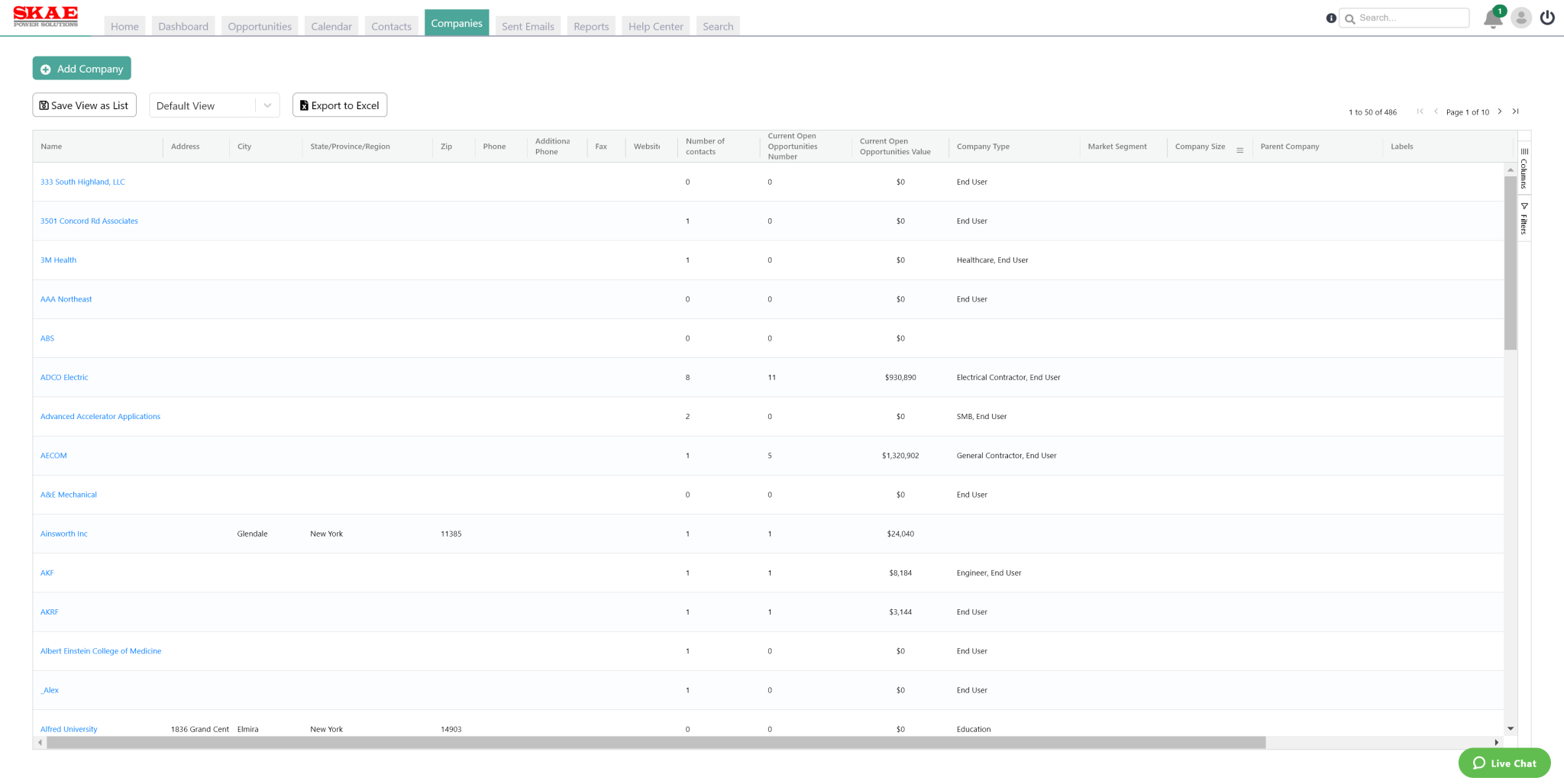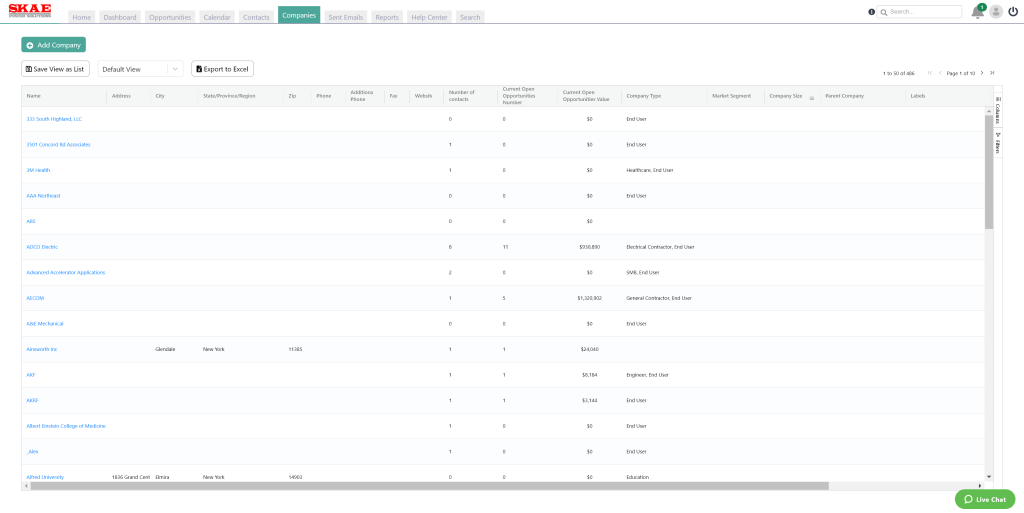 Keep the pulse on important customer data in one view with a bird's eye summary of all the basic information like market segment, pre-qualification and current sales pipeline and open opportunities. The client list view of companies is easy to navigate:
Arrange data columns clicking on the column heading and dragging it to where you want it.
Click on a column heading to sort the list, e.g., alphabetically or numerically.
Segment your list as needed and save it for future access. The data will always be fresh when you load a segment.
Click on a record in the list for a detailed view of the customer.
Deep Into Your Customer Data, Pipeline, Win Rates, and more.
With the customer detail page in iDeal's Client Management Software you can dive deep into your relationship with each customer to provide customer support. See a list of all won or lost opportunities and the active ones and their status. View the current pipeline status. Access note and spend on the company. And get crucial information about your win rate with the customer, and their win rate!
In construction, it is necessary to dig deep into customer numbers, especially win rates. It is important to know not just the overall closing rate with a customer (your win rate with a customer), but also how much work they win. If you win 90% of the bids with a customer, but they only win 5% of the bids, it may not necessarily be a good situation. This is where you'd want to drill down and see which types of bids they win and only bid those. Not waste time with the others. With the iDeal client detail page you have that information at your fingertips.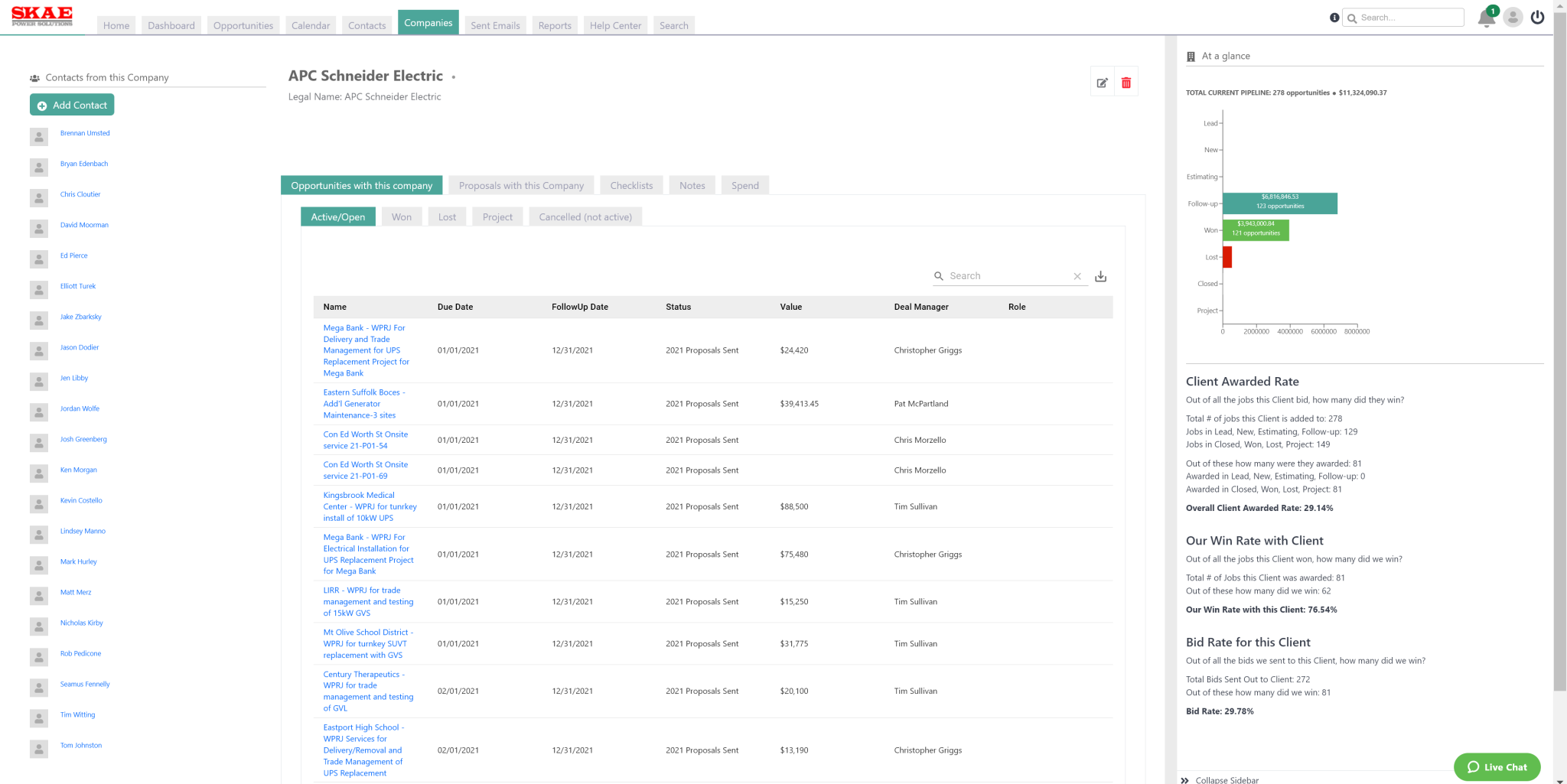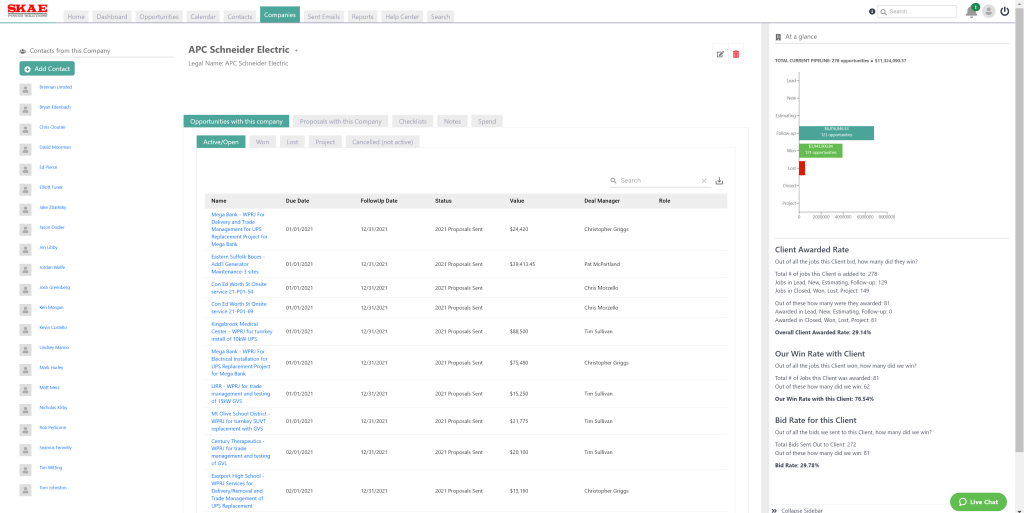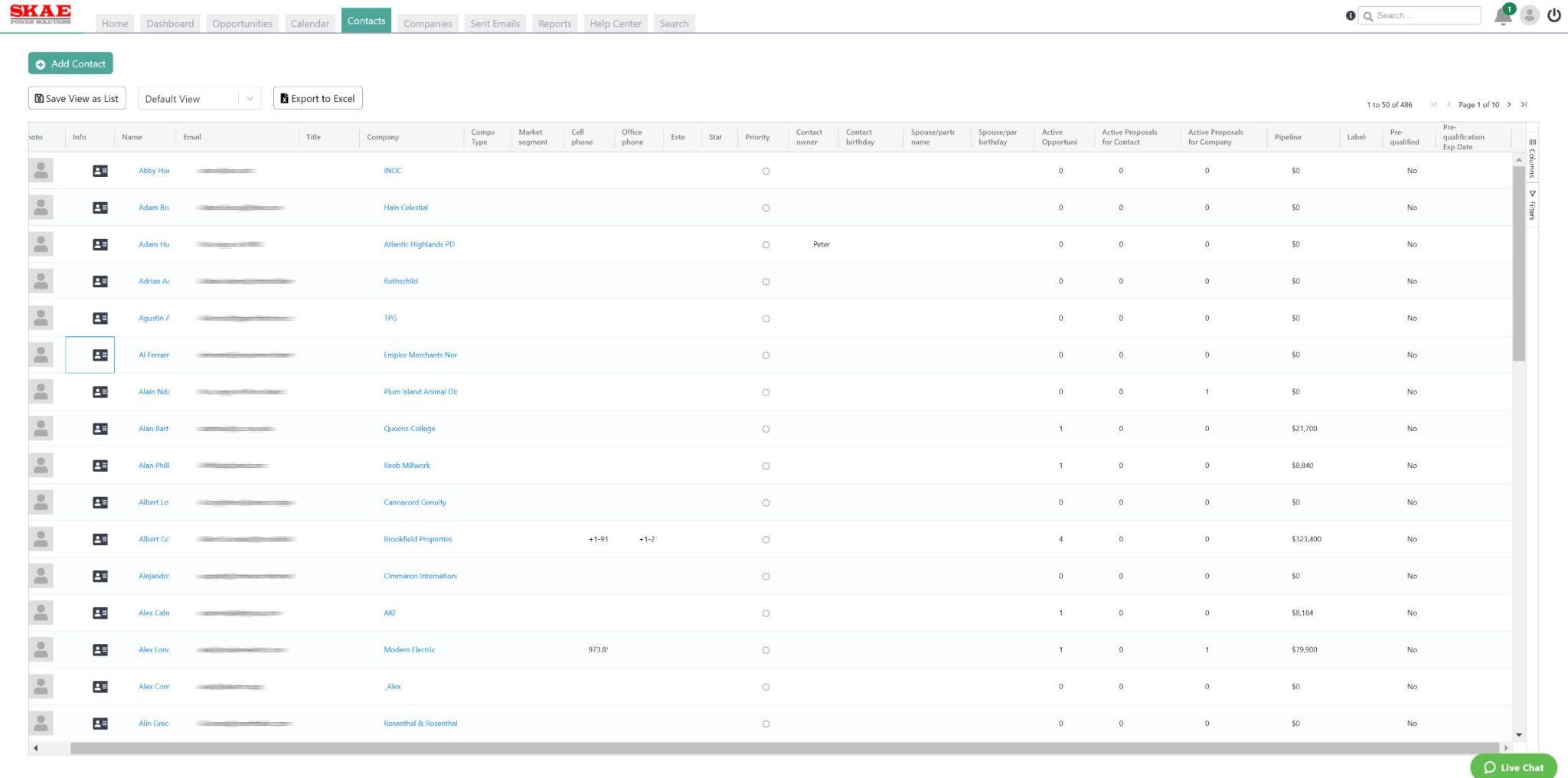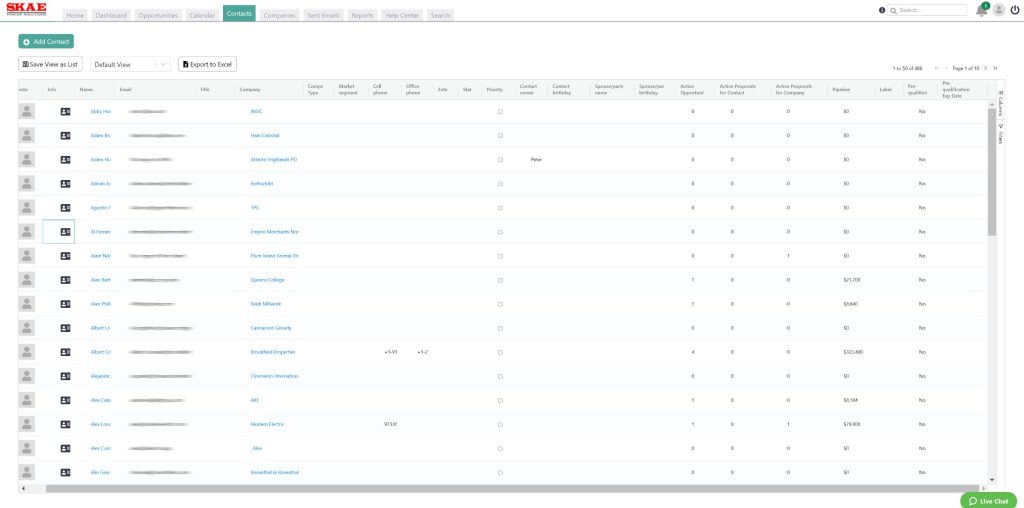 Contact List View in iDeal Client Management Software
Our customer management software allows you to pull up a list of contacts and navigate to a detail page for a contact.
Click and drag the data columns to the position you want it to be in the view.
Click on the name of the column to sort it alphabetically or numerically.
View specific sales data for each contact such as pipeline value, won opportunities value, number of open or won opportunities and more.
Segment your contact list by any criteria and save these lists for future reference.
Bulk email contacts straight from the contact list view.
Contact Detail Page in iDeal Customer Management Software
Maintain customer relationships by building your relationship through contact engagement. Manage all interactions, from proposals you've sent, opportunities you've won or lost, to client communication you've had. Yes, the entire conversation history. Follow up on the ones that are still active. Provide customer support straight from the system. Email contacts directly from the system and save all communications to both the contact and the corresponding customer records. Quickly search and find any customer or contact and see your entire history with them and their respective companies.
Edit contact details, send contact an email, or delete contact.
View your current pipeline with the contact, won or lost opportunities.
Navigate to the contact company from the contact detail page.
Access checklists and notes you've created for the contact.
Keep score of spend on the contact.
Track opportunities with and proposals you've submitted to the contact.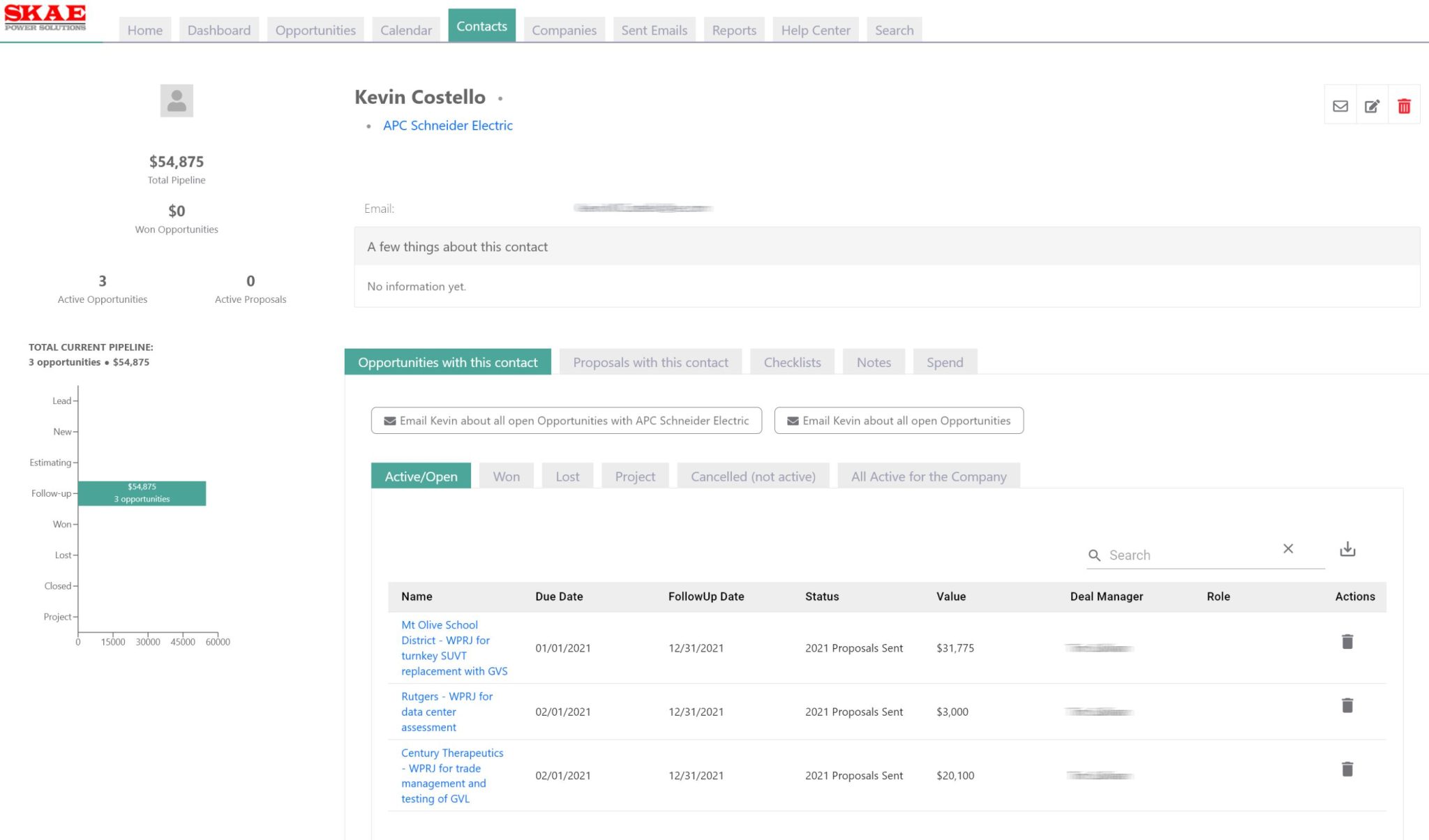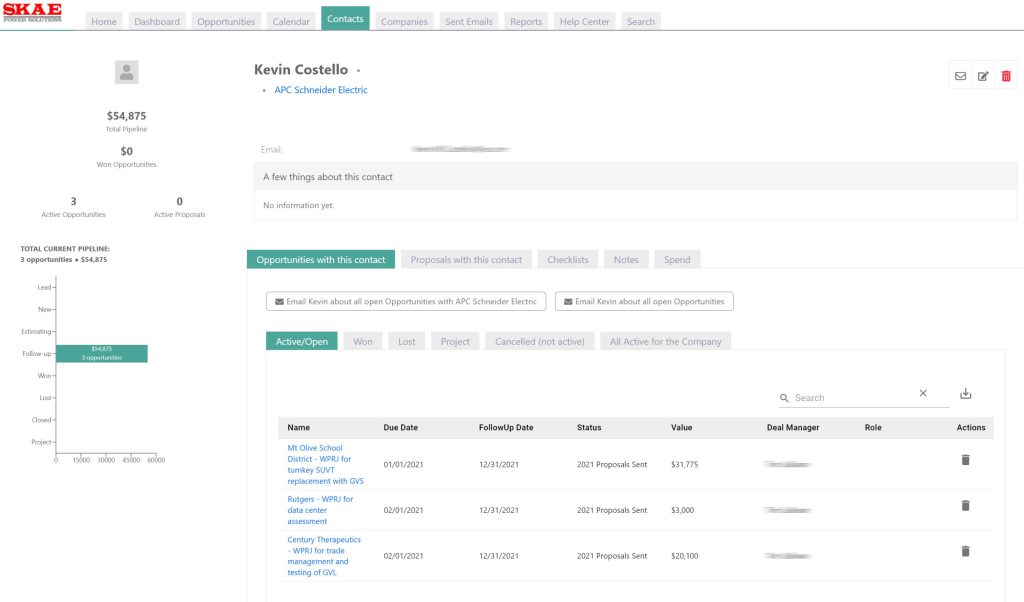 Benefits of a Client Management Software
A client management or customer relationship management system sounds like a sales pitch for technology that does exactly what you have been doing at your company, so why would you switch to CRM software? You already have a customer management system. So, let's examine the benefits of client management tools.
Save money by eliminating manual data entry. It frees your sales team up to do what they do best, sell your services or products.
Facilitate customer engagement with reminders for follow-up, getting feedback, and upselling, so you and your team stay top of mind.
Automate sales tasks, e.g., email and follow-up. It's so easy to drop the ball when you are juggling opportunities and proposals with multiple clients and contacts. CRM software provides service management with auto-generated reminders and emails.
Consolidate all customer and contact data in one place. There is not need to cross reference your notes, your emails, or calls with a client. It's all there and accessible from your dashboard.
Support sales project management. Drag and drop, then assign tasks so you and your team stay on task, on time, and on budget.
Client management tools track where you are with whom and what you need to do next. Again, software captures the whole sales trail, including customer service. In one view.
And because they do, they directs your sales efforts for maximum profitability in addition to saving time and money!
What Is the Best Client Management Software?
What is a powerful client management system, no matter what the industry is, or whether you need small business client management software or large enterprise software? Use the checklist below when you choose your CRM software. The CRM tools you decide on should:
Include a client database with complete details for client and contacts to support client relationships
Eliminate the need for manual data entry
Provide a user-friendly interface with visibility into the sales pipeline
Automate proposal and email generation and distribution
Include sales task management / assignment capability
Integrate the sales process components, e.g. email, calendar, customer data, contact details
Report company analytics to aid future sales efforts and success
Manage All Your Customer Data with iDeal's Client Management Software
iDeal CRM is the best client management for construction because it digs deeper into your clients data to show you a lot more than basic demographics and contact data. It shows you bid rates vs your win rate with that client vs their overall win rates. This is crucial information in construction, an industry where the amount of quotes and bids sent out on a daily basis is overwhelming.
We developed iDeal CRM specifically for the construction sales process so it handles bidding an opportunity to multiple customers as well. Our customer relationship management software tracks the entire sales cycle from lead to deal. Of course, price is a determining factor in sales, but so are customer relationships and customer service.
iDeal CRM client management software can support you and your sales team to build client and contact relationships, win deals, and make your construction bidding efforts more profitable – all from one dashboard. And more:
Includes a lead management tool that integrates with your sales pipeline.
Captures complete details of leads and customers.
Organizes all your construction opportunities on a visual sales pipeline.
Provides a drag-and-drop feature in its user-friendly interface to move opportunities from one sales pipeline stage to the next.
Creates detailed, accurate cost estimates for the projects you're bidding and professional-looking proposals and quotes.
Allows you to bid multiple clients for one job with just a few clicks.
Supports client service management by generating tasks directly from the system.
Captures tasks, comments, notes, and the entire conversation history on the client and contact profiles.
Features a construction calendar with bids, follow-ups, tasks, and events.
Provides actionable insights to your sales data with sales and forecasting reports.
Create Accurate Estimates Fast and Easy
See iDeal's Construction Estimating Software in Action'
See What a Construction CRM Can Do for Your Company