Powerful CRM for Construction Features
iDeal CRM delivers the best CRM software for construction features. It empowers construction teams to stay focused, organized, and on track to meet and exceed their sales goals. Keep your leads, opportunities, and jobs prioritized. Work your opportunities at maximum speed by leveraging the estimating tool, proposal software, and email integration to send and track the status of your bids. Bring it all together with insightful sales reports with remaining to quota & profit, year to date bids submitted vs bids won, bids by bid submission date, and many more.
The only way sales pipeline management for construction is successful is by using a customer relationship management (CRM) software solution built for the construction sales process. Excel spreadsheets and generic sales CRMs simply don't do for construction. This is where iDeal's CRM software for construction comes into play. Its visual sales pipeline tool helps you quickly view your entire company's sales pipeline, or narrow it down to individual salespeople. With just a click, and in real time, you can switch to and establish the status of all your company's opportunities.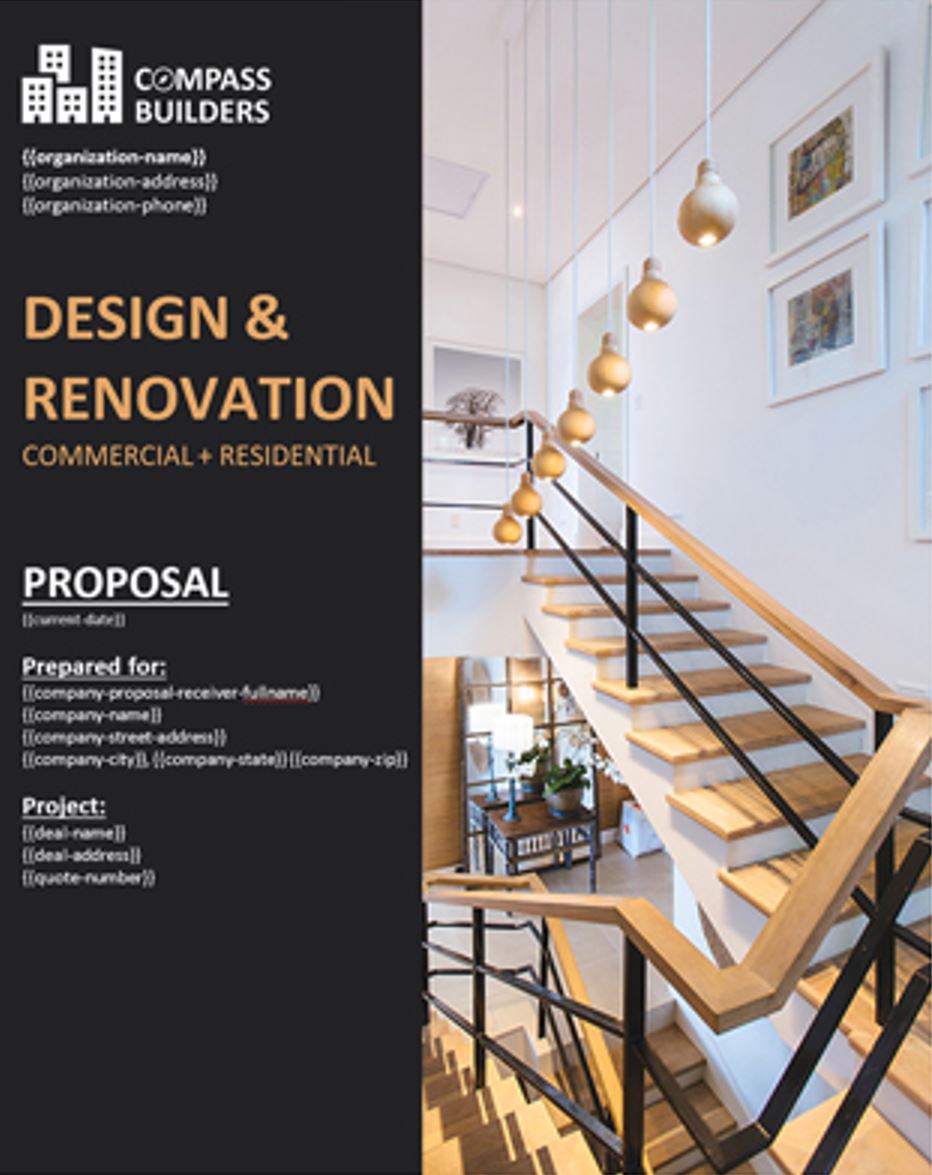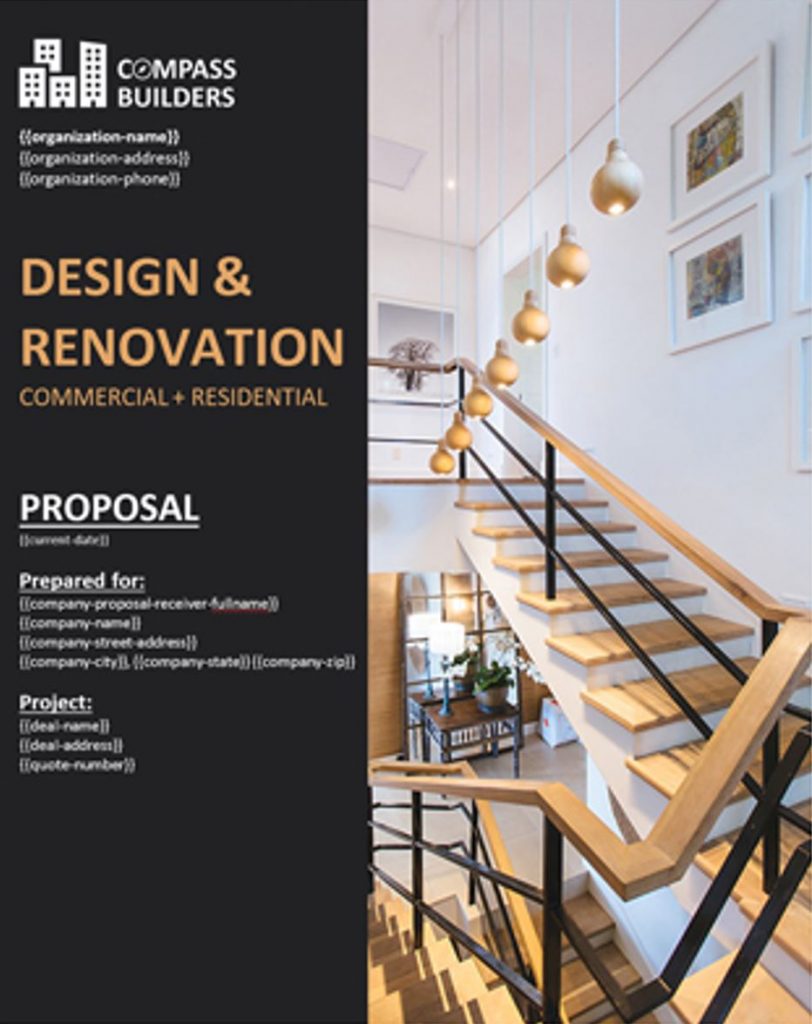 A construction proposal tool is one of the most important CRM for construction features. With iDeal's Construction Proposal Generator you can create professionally-designed proposals in minutes. You can use it to create, send, and track proposals.
Choose from hundreds of pre-designed proposal templates and edit them to match your brand, or create your own.
Save time with built-in automation that pulls the right data from the opportunity with merge fields and placeholders
Create multiple proposals at once for each opportunity. This is especially helpful when bidding multiple clients for an opportunity.
Email and track proposals straight from the system. Receive notifications when clients view your proposals.
With estimating being such an important part of the bidding process, only a CRM with an estimating tool is an appropriate sales management system for the construction industry. This is where iDeal CRM and its estimating tool comes into play.
Work through your estimates efficiently and save them on the opportunity. The iDeal estimating tool features all sections needed for your estimate. Simply add items in each to price your job. This CRM feature also comes equipped with a template area. You can save as many estimate templates as needed and load them on opportunities so you don't start from scratch.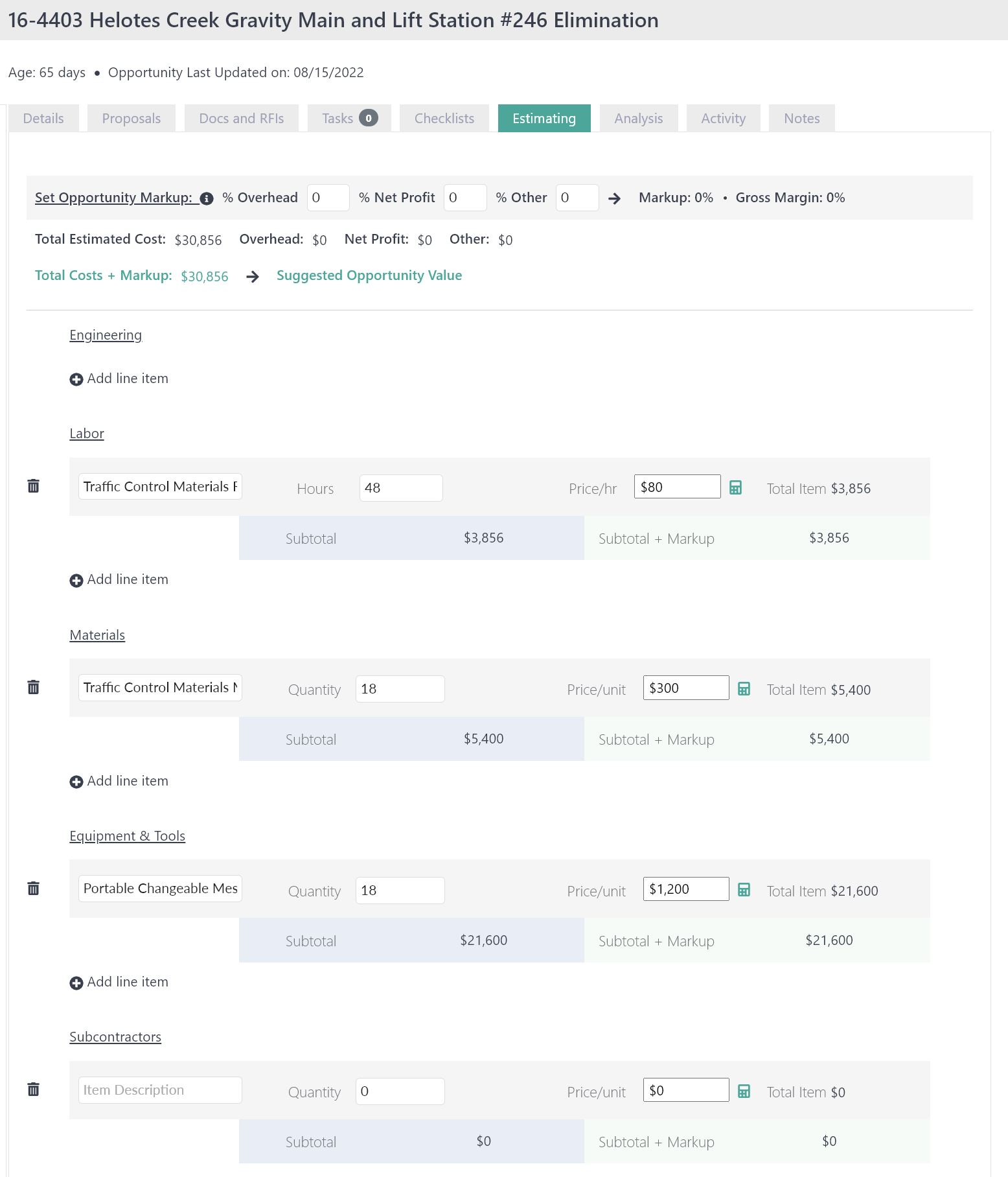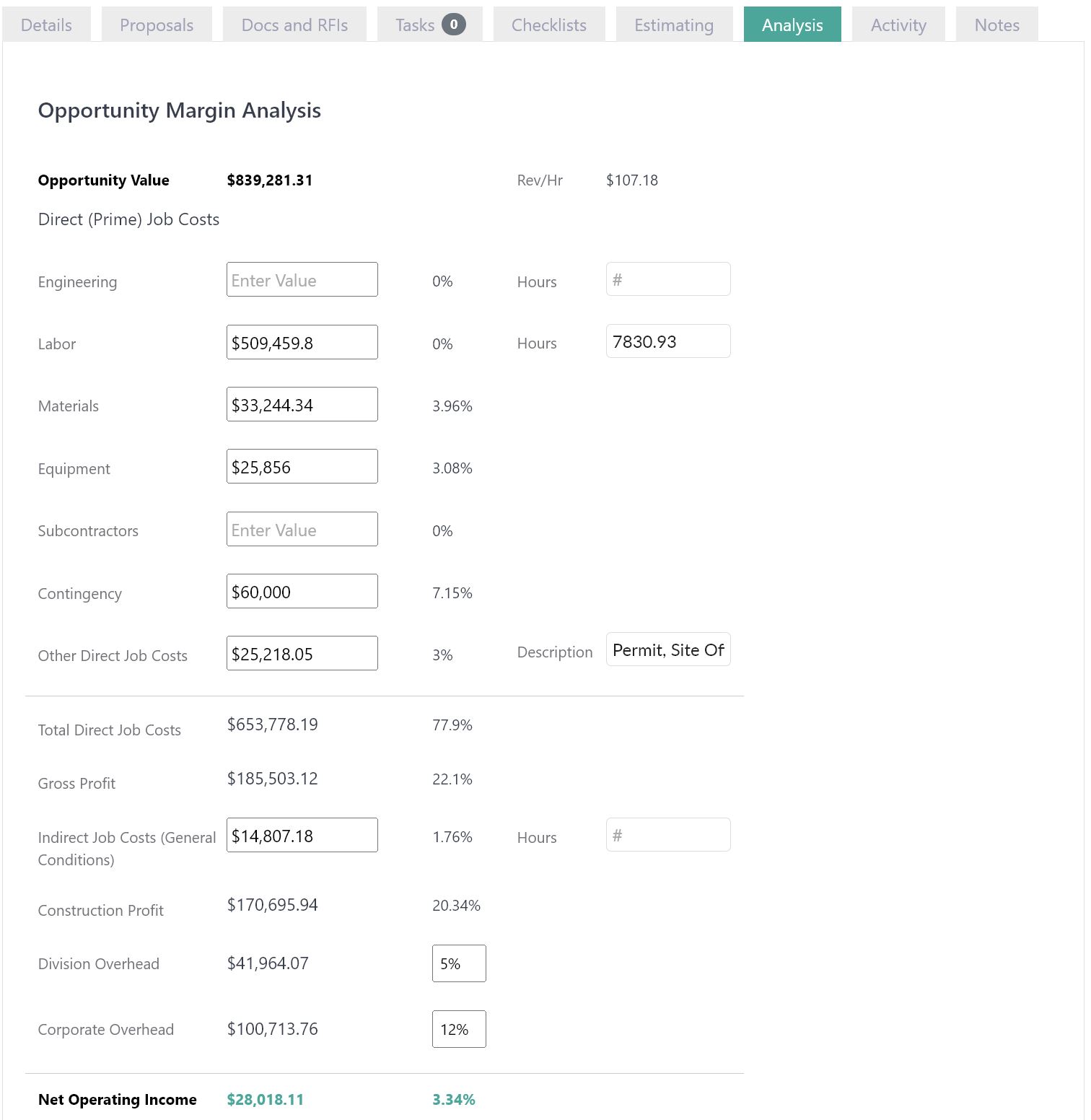 Project Management & Job Tracking – CRM for Construction Features
Being able to track job status after you've won the opportunities is an important additional feature of a CRM for construction. In addition to tracking open sales opportunities, the iDeal sales pipeline can be extended to include stages that fit your project management process.
Save and access drawings, RFIs, change orders, contracts, RFPs for your subcontractors and any other documents directly into the system.
Start and end dates help prioritize all your projects
Keep everyone accountable and your project on track with tasks.
The margin analysis tool helps you keep track of your true job profit so you can make informed decisions when pricing future jobs.
Lead Management Tool
Separating your leads from your current customers and opportunities is essential to keeping a clean database and outlook on your sales and that is exactly what the iDeal Leads Module does. Your outside sales and inside sales departments will have their own areas to keep them organized and focused on the right tasks. Your business developers will be able to create customers or opportunities when the leads are converted and hand them over to inside sales with all the data and history needed.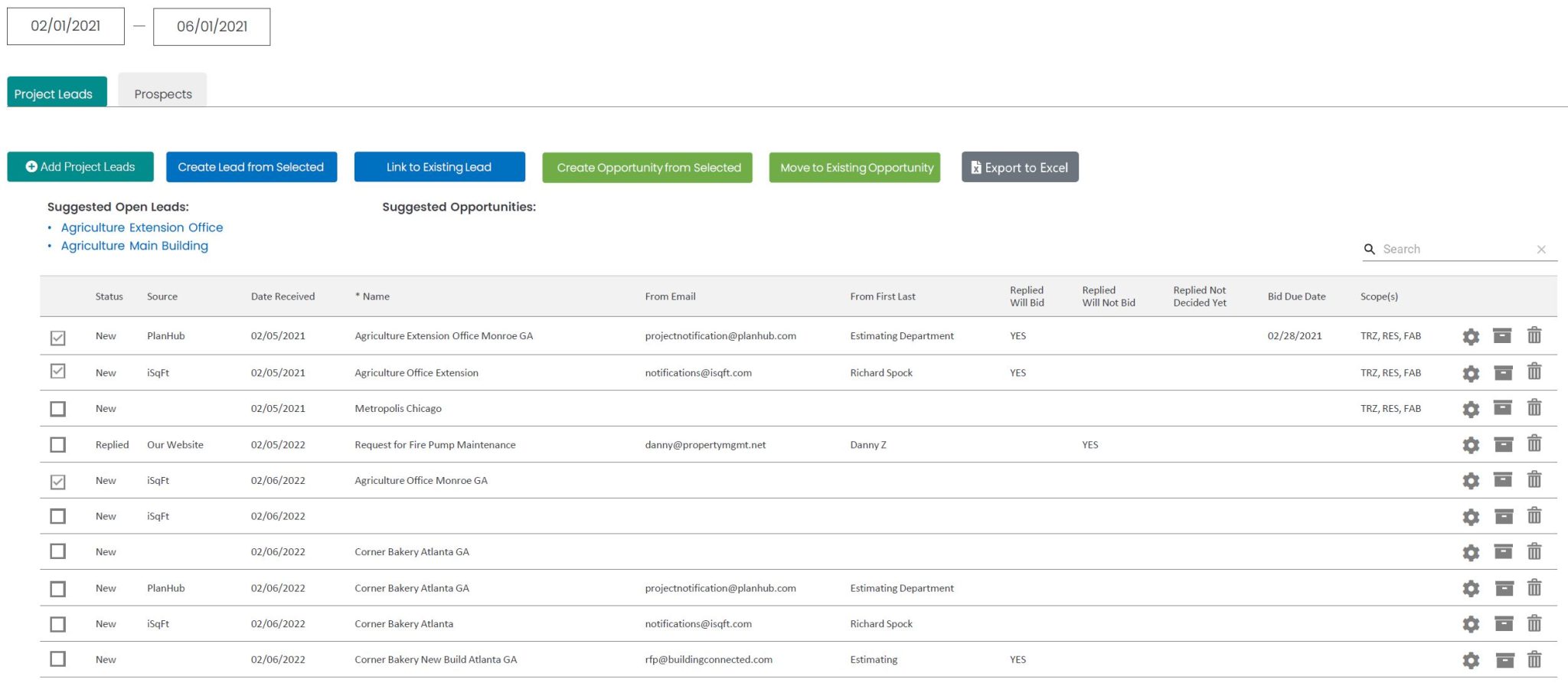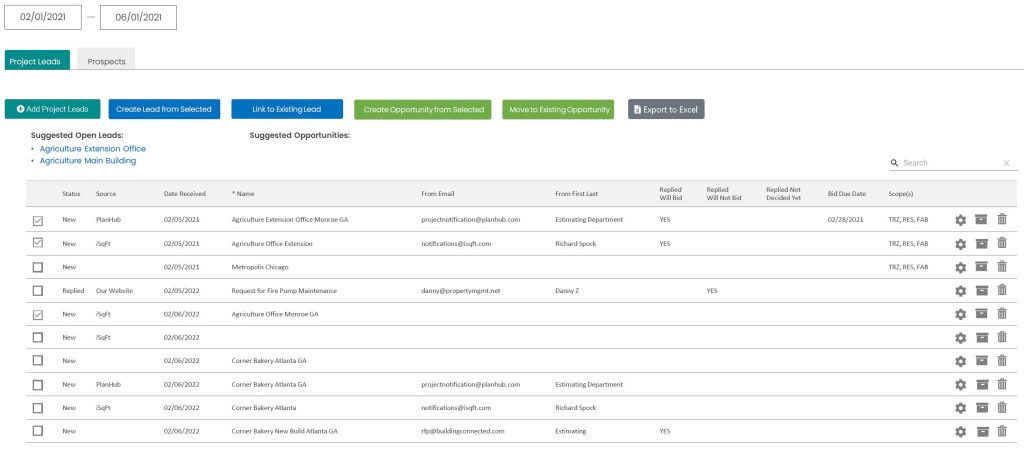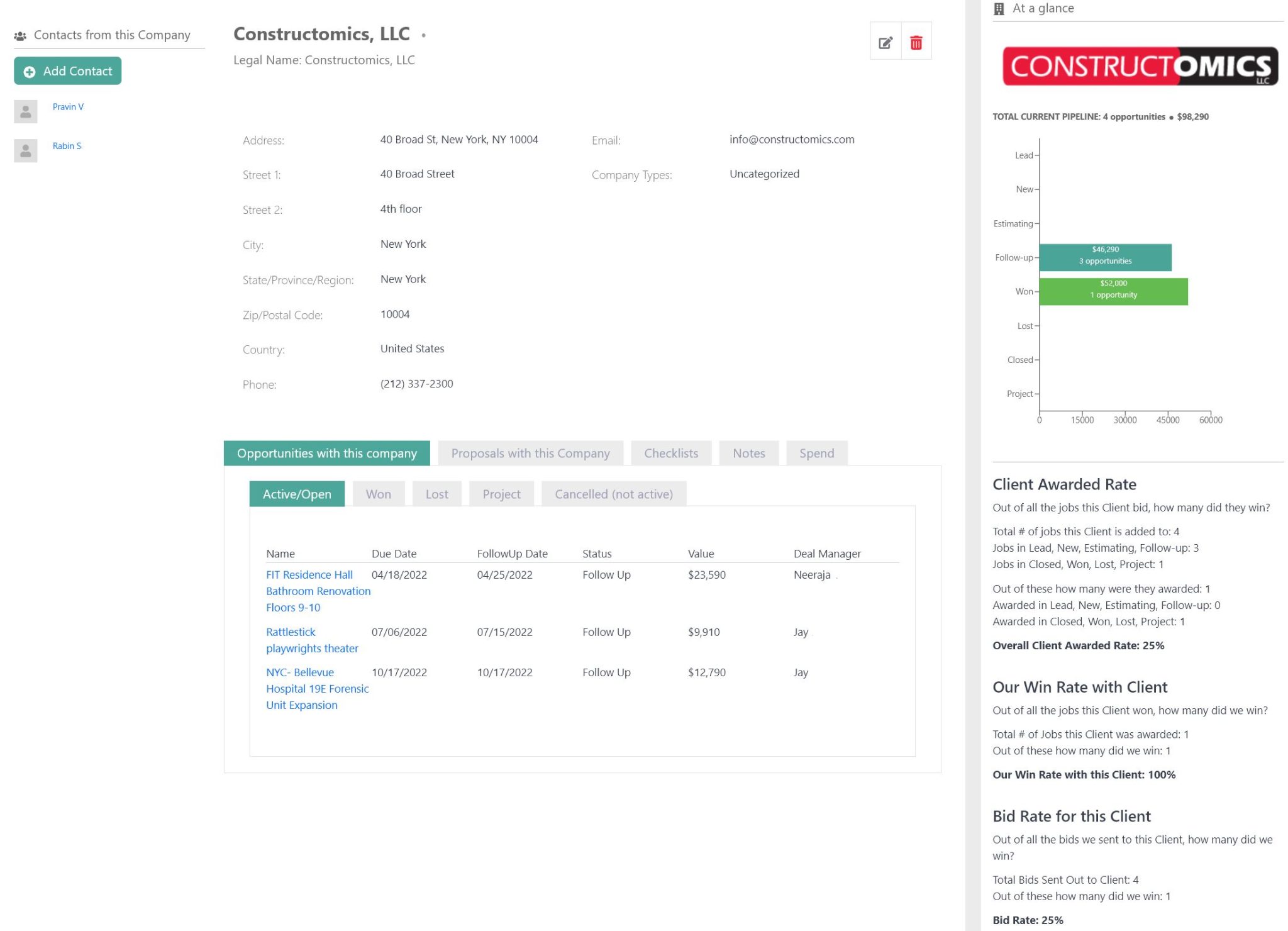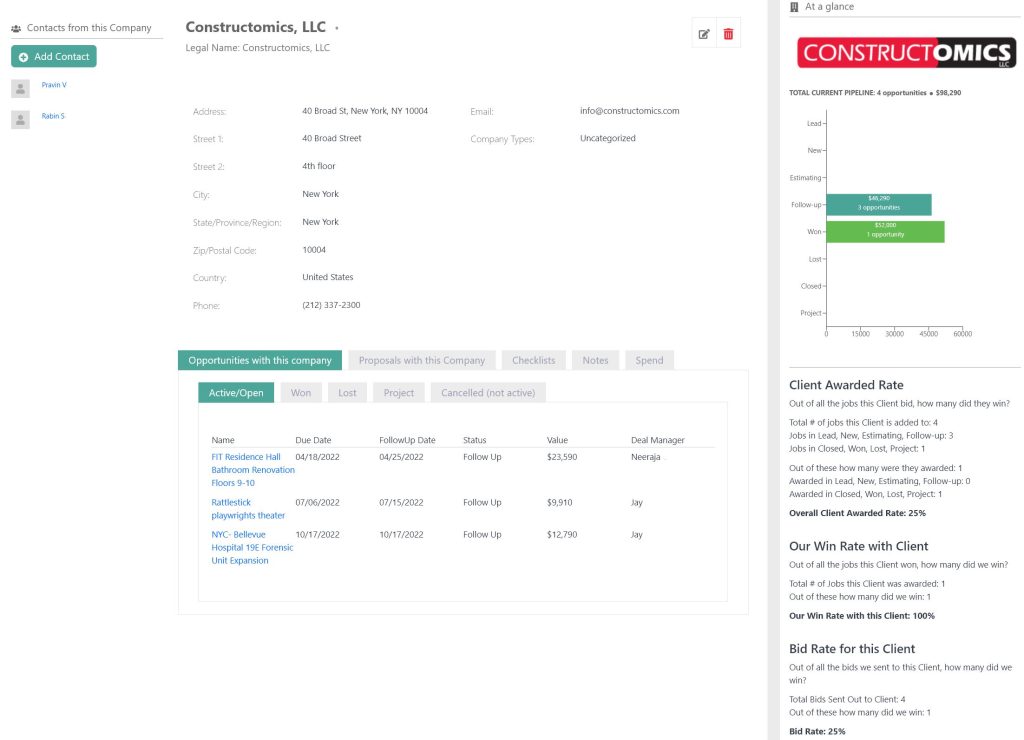 Customer and Contact Management
Customer and contact management is perhaps one of the most basic features of a CRM. However, due to the complex sales process, the construction industry needs more than just basic information and a list of opportunities. Salespeople in construction need to know not only their bid rate and win rate with a customer, but most importantly the customer's overall awarded rate. iDeal CRM for construction features deliver that and so much more when it comes to customer management.
Bid and Follow-up Calendar
A comprehensive bid and follow-up calendar is an absolute must-have feature of a CRM for construction. For example, the iDeal construction calendar shows bids, follow-up, tasks, ongoing projects, leads, job walk-throughs, meetings, and other events all in one view. Filter your calendar by event type, sales representative or team. View it by month, day, or week. Also, use the agenda view to print your personal daily to-do list or your entire team's to-do list and bring it to sales meetings.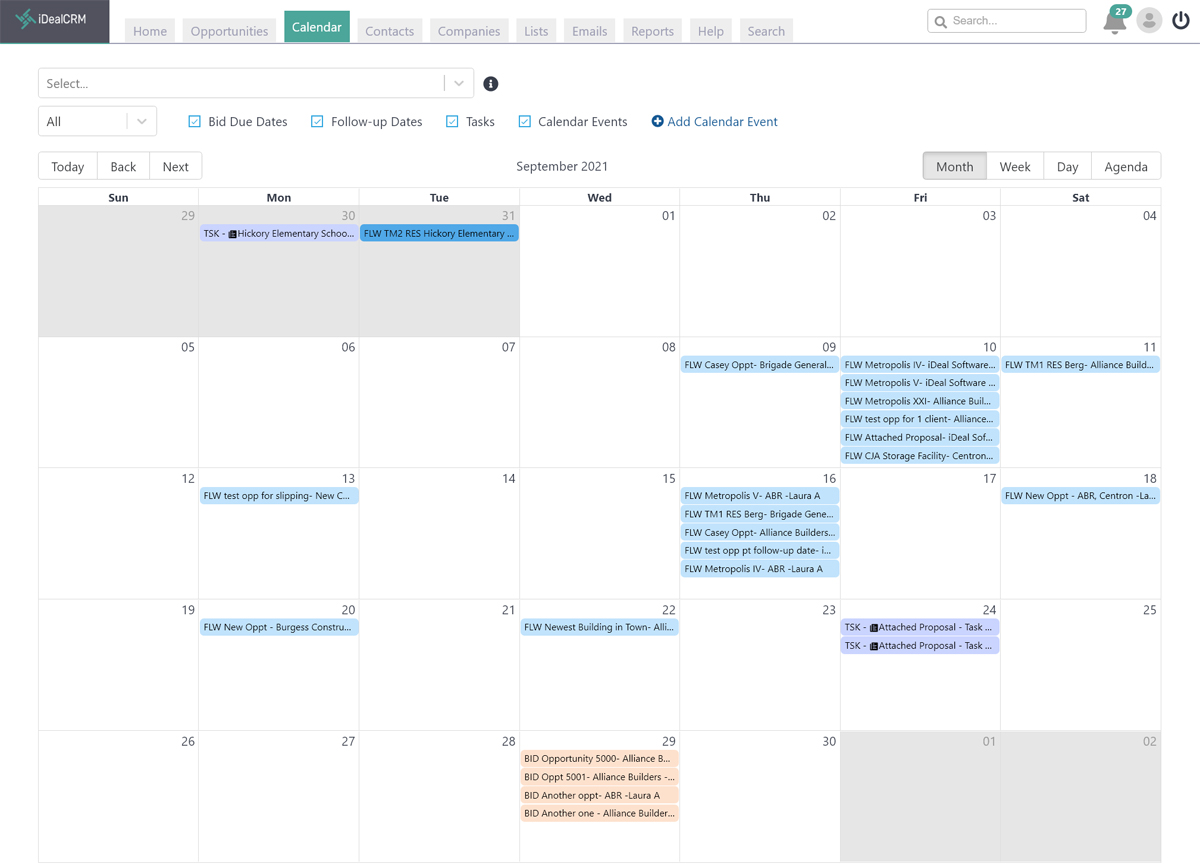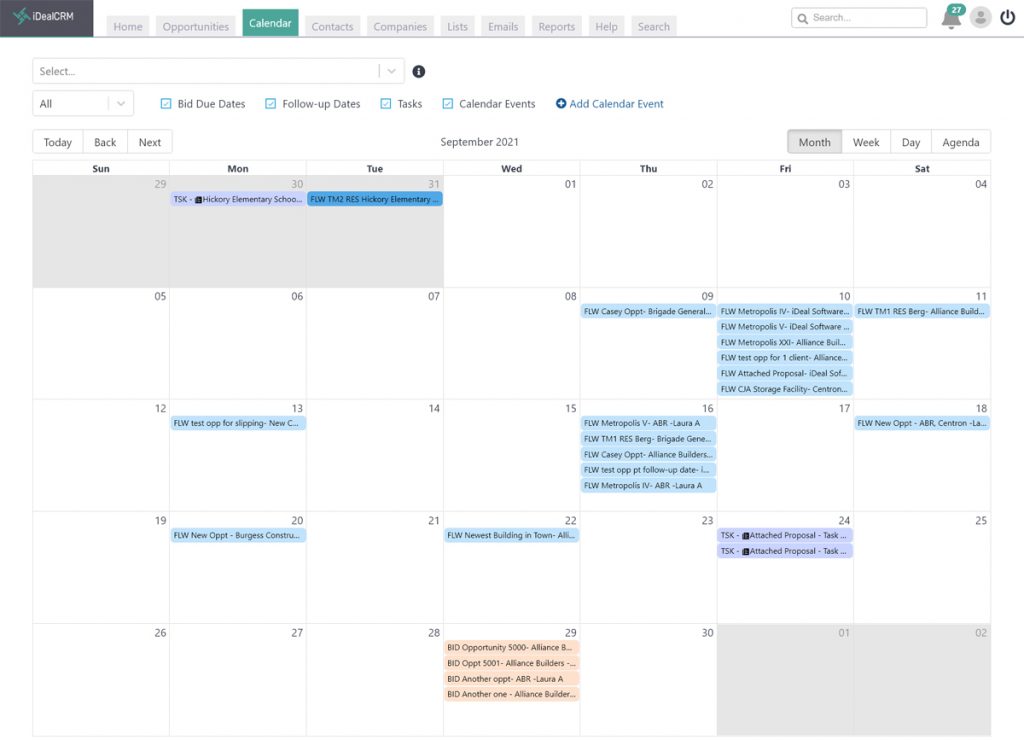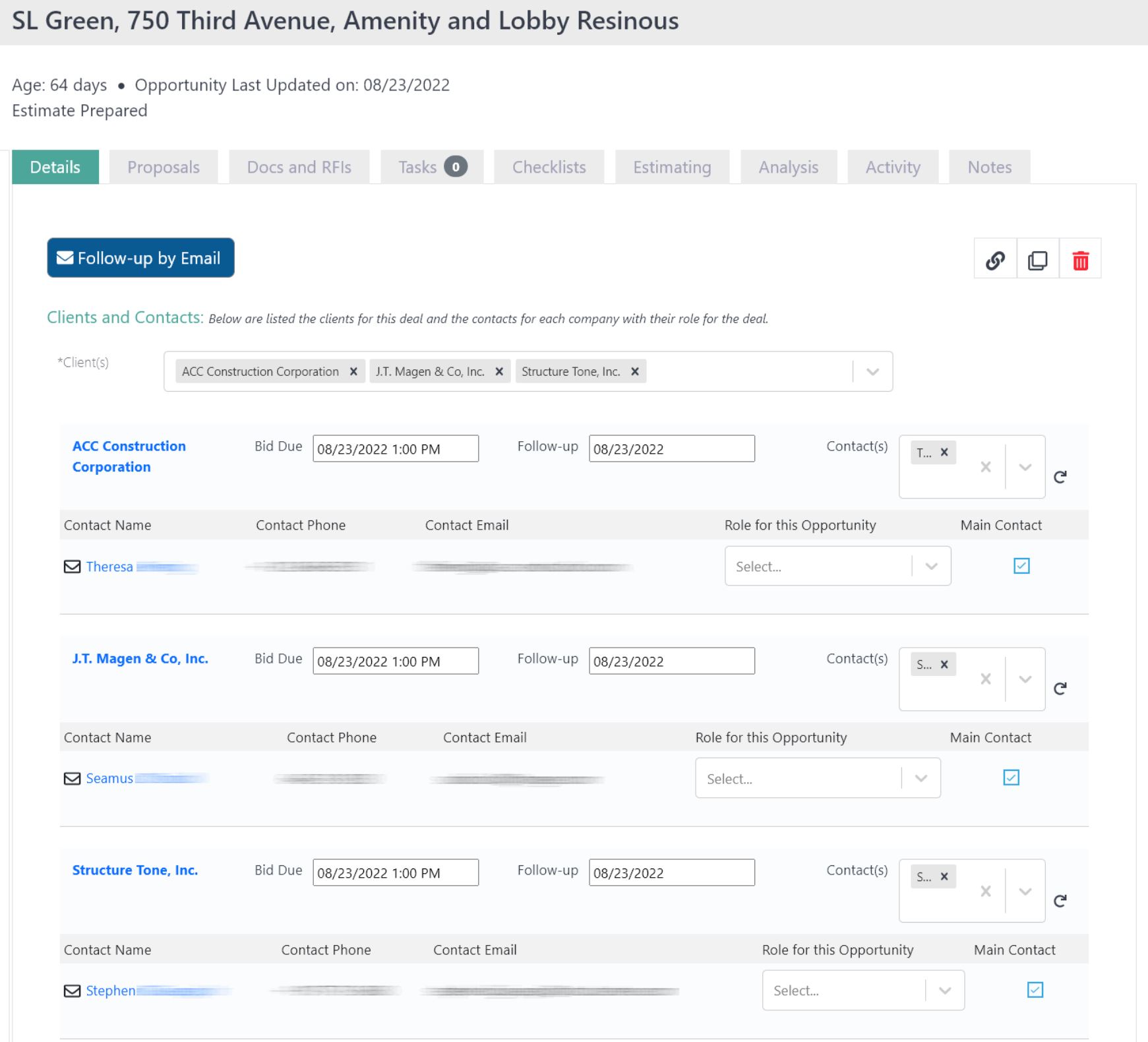 Bid Multiple Clients for One Job
An exclusive feature of iDeal Construction CRM (out-of-box feature without requiring expensive customization)! An absolute must-have feature for construction companies bidding multiple customers for one job. This CRM feature is extremely important because it allows you to add as many customers to an opportunity as needed. This means you don't have to enter separate opportunities into the system. It also means you won't skew your sales numbers or lose the ability to track all clients on a job.
Another important benefit of this feature combined with the iDeal Proposal Software, is that you can create all proposals for an opportunity at once. You don't have to create and edit multiple proposals. You do it once and generate as many proposals as needed. Also, you can email all of them directly from the system and track which customers viewed them.
Sales Reports and Forecasting – CRM Features
Bring meaning and give actionable insights to your sales data with iDeal sales and forecasting reports. These reports are built to fit the needs of construction executives, salespeople, business developers, and accounting representatives at the same time. Filter, sort, maneuver as needed and download all the data for internal use.