Bid Calendar: All Bids, Followups, Tasks, Events
One important piece of an well-organized sales team with an efficient bidding process is a centralized bid calendar or company bid calendar. With an overall view of all jobs you need to bid, proposals to follow-up on, tasks you need to complete, and events you need to attend, the bid calendar is a must-have tool for construction sales teams of all sizes.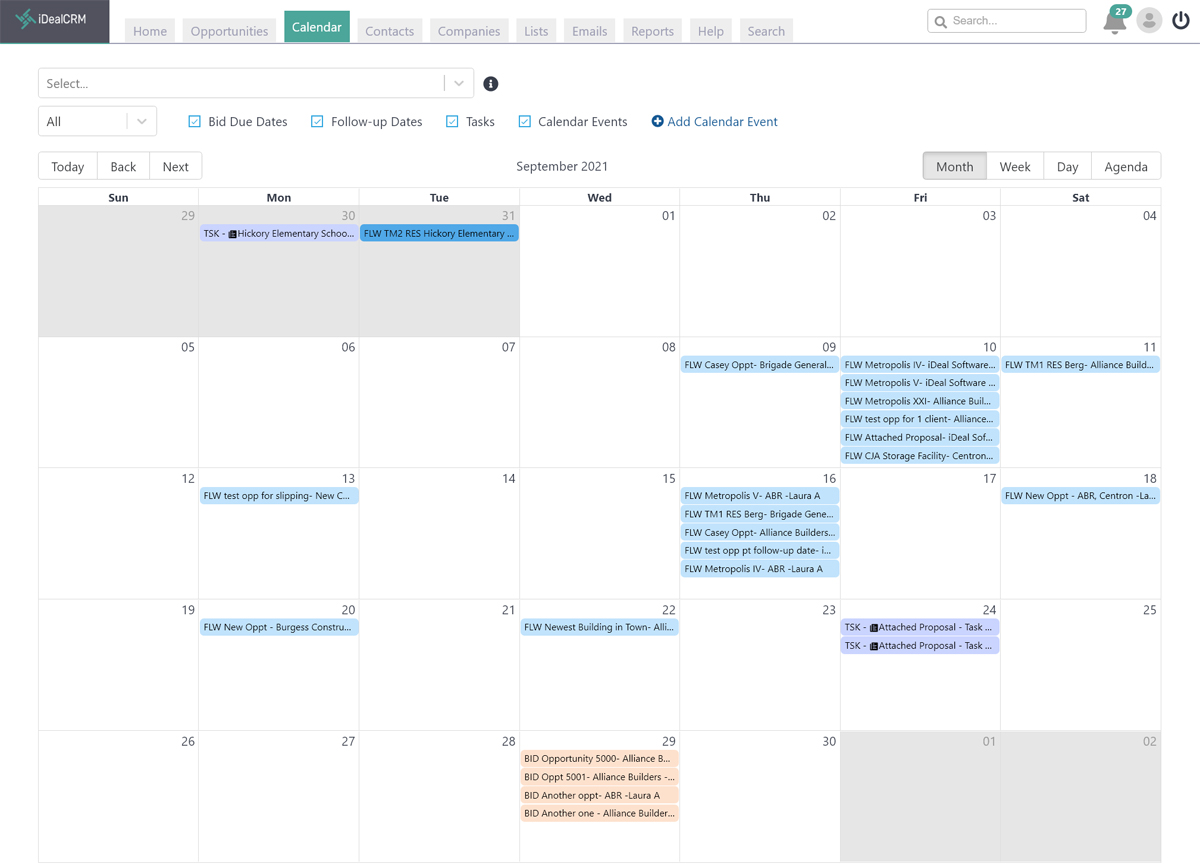 Bid Calendar Features Built for Construction Companies
All Bids
View all your bids on the bid calendar. For opportunities with multiple bidders, if client bid dates are different, you'll see that opportunity on the calendar on each due date.
With the iDeal Bid Calendar, you'll never miss any bids again!
All Follow-ups
Follow-up is one of the most important sales activities in construction, but it's hard to keep up with all follow-up calls and emails.
Seeing all follow-ups on your bid calendar is an important feature to help your sales team close more work!
All Tasks
Tasks are key for sales teams who prefer to organize sales activities at a more granular level. With the iDeal Calendar, each sales rep views their own tasks and their status. Also, managers can view their entire team's/company's tasks. Sales planning doesn't get more granular than this!
All Events
With iDeal Events you can schedule job site visits or walk-throughs, coordination meetings, face-to-face sales meetings, and more. iDeal Events work the same way as Outlook or Gmail events. You can invite attendees and set reminders. They'll see the event on their calendar.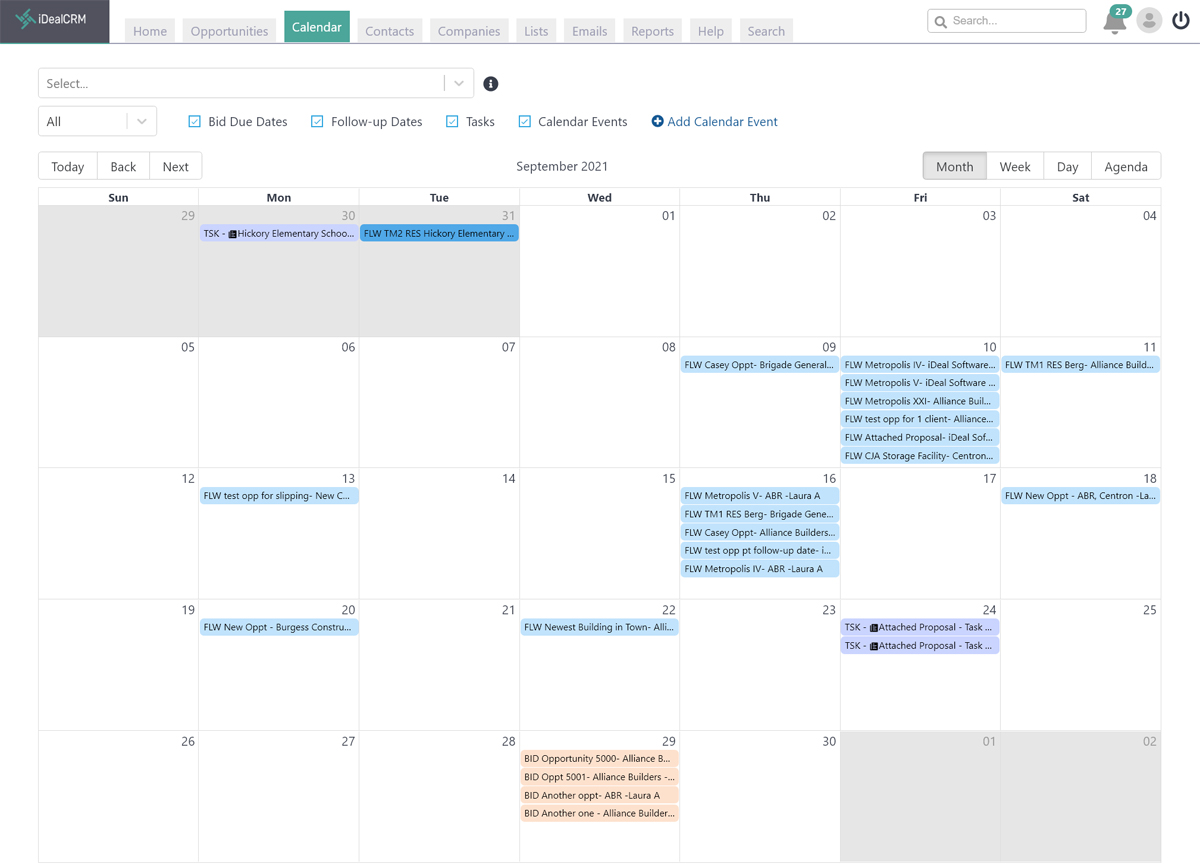 Monthly View of the Bid Calendar
The iDeal Calendar monthly view is the easiest way to see your monthly bid outlook and bid activities per sales rep, team, or your entire company. It becomes the conversation starter for your sales meetings.
Monthly view shows bids, follow-ups, tasks, events
You can filter what you see on the calendar by type
View all jobs and sales activities per sales rep, team, or entire company
Printable view to aid sales meetings
Color-coded per type and showing sales rep initials and teams
Calendar Agenda View
The iDealCalendar agenda view is printable and perfect for quickly identifying To Do's for yourself, your team, or your entire company.
Agenda view shows bids, follow-ups, tasks, events
You can filter what you see on the agenda by type
Can be filtered by type, sales rep, or team
Color-coded list view grouped by day
Printable To Do list for yourself, your team, or your entire company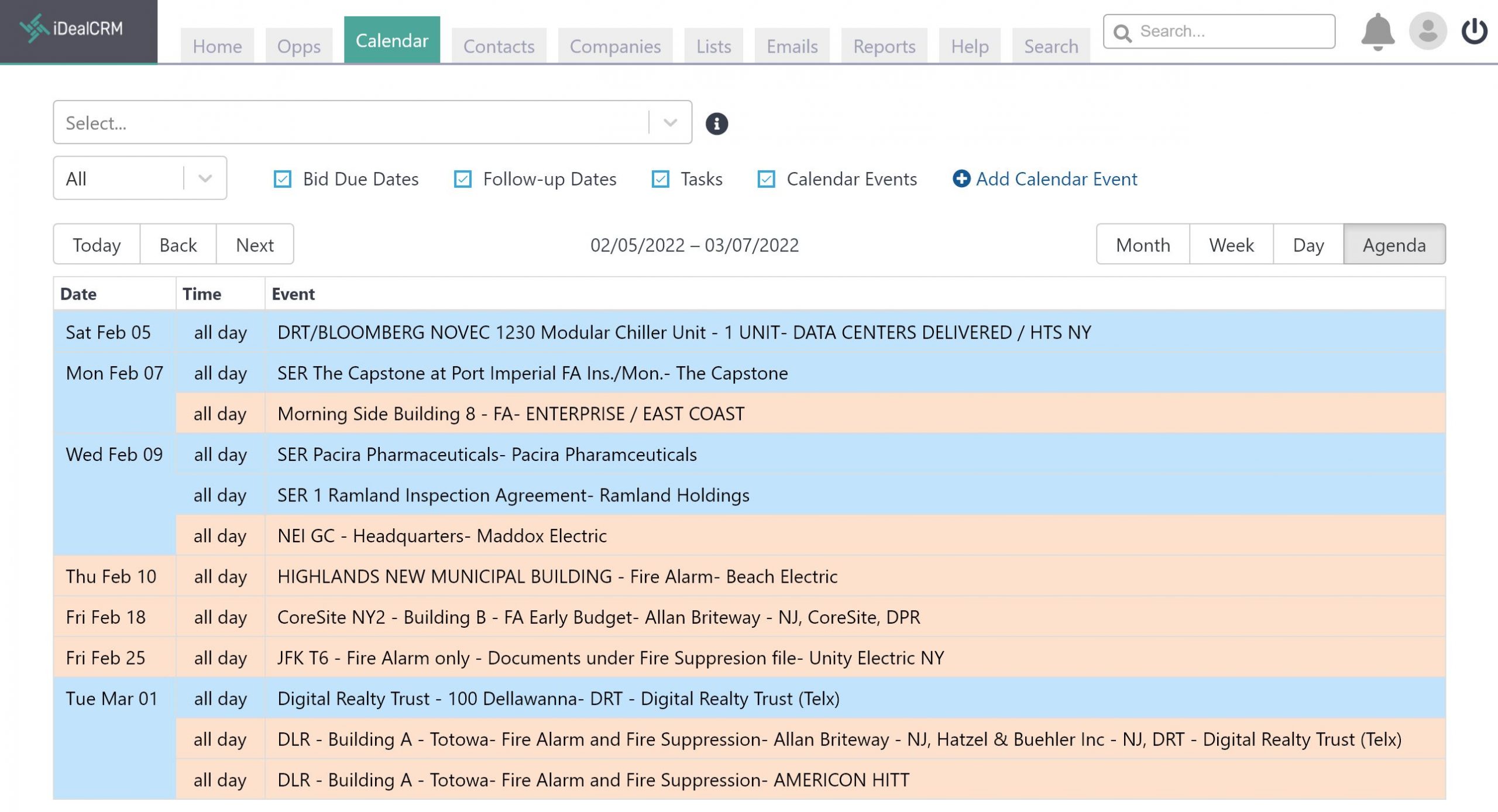 Get Your Construction Calendar
See iDeal's Construction Calendar in Action.
Explore All iDeal CRM for Construction Features.