Monitor and Manage Bid Activity • CRM Features
Sending out bids on time is crucial to a construction sales team. You can't win the job if you're not in the race. So how do you effectively manage bid activity? Are you sending your bids on time?
The visual pipeline board, ability to add multiple clients to an opportunity, the bid calendar, or bid activity reports are all features of iDeal CRM that will help your construction company manage bid activity.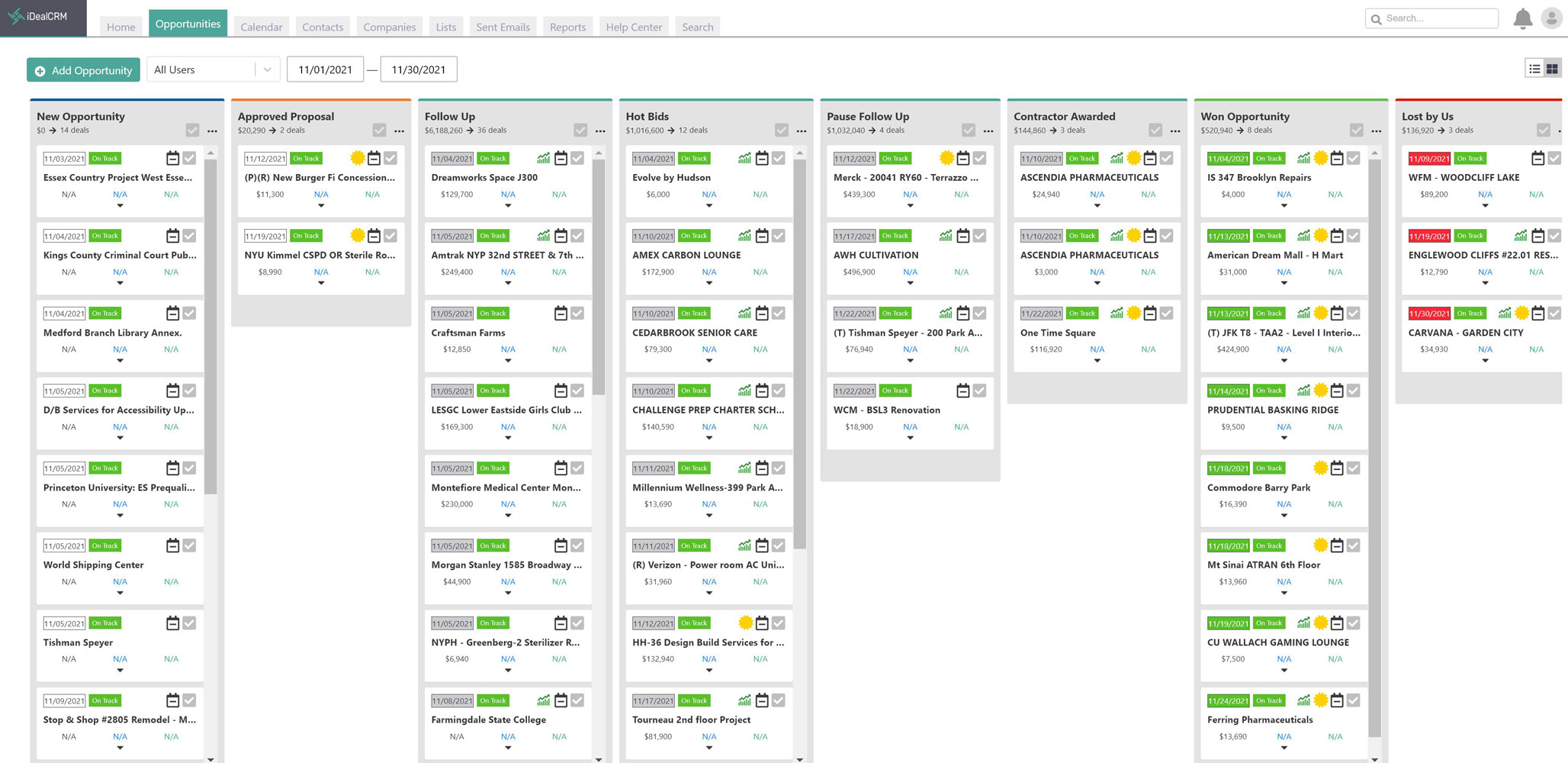 Visual Sales Pipeline Board to Manage Bid Activity
Take the pulse of your entire sales organization with one glance.
Visualize all your bids, opportunities, projects, or leads by stage
Customize stages to fit your sales and bidding process
Each sales rep, estimator, or exec can customize the view of their sales pipeline
Filter by sales rep, team, or view all at once
Drag-n-drop functionality to quickly move opportunities through stages
Each 'tile' or 'card' shows critical info such as bid due date, clients, proposal(s), tasks
Tasks can be added straight from the pipeline board.
Bid Opportunities with Multiple Clients
One of the biggest differentiators between iDeal CRM and the rest and the very reason why it fits the construction sales process to a 'T'.
Gone are the days when you have to enter 5 different opportunities in a system because you got 5 ITBs for a job. 1 opportunity with 5 clients does it in iDeal CRM.
Add multiple clients to an opportunity (no limit)
Create one or all proposals for an opportunity at once; huge time saver
Send and track proposals for each client
Customize bid due dates by client if needed
Set different follow-up dates for each client when needed
Follow-up with all clients at once or each at a time – your choice
Sales Calendar to Manage Bid Activity
This calendar is built for construction sales teams to monitor and manage bids, follow-ups, tasks, and other events.
Catch-all calendar for construction sales showing bids, follow-ups, tasks, events
Filter by sales rep, team, or view all at once
For opportunities with multiple clients – if clients have different due dates, job will show on the calendar for each date listing the appropriate client
Filters for calendar items to be turned on or off
Monthly, weekly, daily, and printable agenda view
Drag-n-drop functionality to quickly move items on the calendar
Custom titles to show job name, sales rep, clients
Sales Reports to Manage Bid Activity
Sales reports in iDeal CRM are built for construction. iDeal is the only CRM that allows you to mark the client awarded on a job. This is crucial when bidding multiple clients. It is also crucial to build reports based on how much you bid vs how much your clients win vs how much you win with those clients.
Sales reports by rep, team or entire company including YTD, quarterly, monthly
Sales & Forecast Reports with remaining to quota, remaining to target profit
Ability to choose which opportunities are included in the forecast and the winning chance percentage for each
Opportunities Reports by bid date, won date, lost date, source
Win Rate Reports by sales rep, team, client, job type, and more
Pipeline Reports by sales rep, stage, client, client awarded or not
How to Better Manage Bid Activity
See iDeal's Bid Management System in Action.
Explore All iDeal CRM for Construction Features.