What is a CRM or CRM Usage
If you are not familiar with the acronym, CRM, it's time to get your learning on. CRM stands for Customer Relationship Management. This is a form of technology that helps your business with managing client relations, opportunities, and converting prospects. CRM usage empowers professionals from any industry to maximize their resources. A CRM enhances your relations with current or potential customers. CRM usage can also benefit many areas of your business such as task management, data analysis, trend analysis, forecasting, or lead generation.
CRM software is one of the biggest software markets in the world. One of the key assets a CRM offers to all businesses is accessibility. You can access data in real-time and maximize the potential of your business. There are many ways a CRM can improve your business and help you increase revenue. We took the time to conduct research and highlight some of the most essential benefits.
Organize and Track Opportunities
Email & Communication Automation
Better Customer Experience
Lead Qualification & Conversion
Enhanced Collaboration
Increased Efficiency
Achieve Greater Insights
Increased Sales Productivity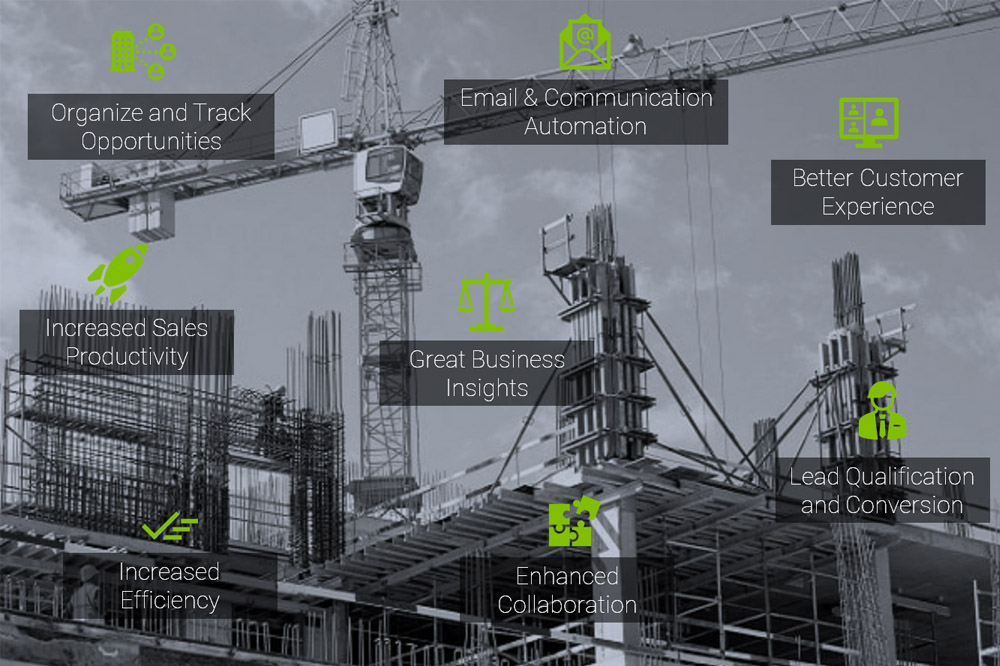 Organize and Track Opportunities
Using a CRM software will allow you to organize and track the status of your opportunities. It will also help automate administrative tasks like creating and sending out proposals or scheduling sales followup calls. CRM usage allows you to have an overall view of where your business stands. The less time you spend on busywork, the more time you have to dedicate to your customers.
Email & Communication Automation
A CRM can automatically send emails to your clients and prospects. This type of automation helps you focus on bringing and closing more opportunities. The triggers for automatic emails can vary from sending out a proposal for example to a proposal being viewed by a client, or client inactivity. Some systems also allow you to send emails to clients or schedule email communications. In general, any automation that reduces the 'busy' work and redundancy has a great impact on productivity and the bottom line. Email automation is no different.
Better Customer Experience with CRM Usage
Customers are your drivers to success. It's much easier to provide a positive experience for your customers when you know more. A CRM will help you not only store contact information. You also have the ability to store key details about your customers. For example, a CRM will allow you to make note of your customer's birthdays, hobbies, favorites. You can tailor the sale experience to each customer based on their like. You can make a note of any type of information that will help you score a "lead" in the sale process. On top of this, you can also provide the best support to your customers. A CRM software will allow you to identify any issues your customer might encounter. The logic behind all CRM software is to improve customer satisfaction and retention.
Lead Qualification & Conversion
So many leads, so little time. A CRM software has the capability to identify and track potential customers, or "leads". Identifying the right leads, will allow you to focus on opportunities. Once you convince your "lead" of your product or service, this turns into a deal. CRM software that is more sales specific will also be able to track your opportunities from initial stages to the closing ones. Knowing how many active opportunities you have with a company can come in very handy when you're trying to close as many deals as possible.
Enhanced Collaboration by Using a CRM
A CRM software will present a benefit, not only from a customer perspective, but also from a team's view. The software will allow team members to get up to speed with updates or changes to existing and new opportunities. For example, if marketing qualifies a new opportunity, an estimator can take it from there and create and send the proposal, and then the sales team can start following up on it. Team members are able to access the software and data from anywhere in the world. This will boost up collaboration, efficiency, and productivity among your team members.
Increased Efficiency
he ultimate goal for each business is to get done as much as possible, using very few resources. With a CRM software you can improve your sales process efficiency through a pipeline, proposal automation, email automation, and more. Customizing your own pipeline with a CRM software takes you to the next level. Not only will you have all information in one place, you can actually visualize it. Many times there is a piece of information that gets lots. With a CRM software you can design a pipeline that fits your sales cycle and process from start to end. This will help you improve efficiency and solve any complexities that you or the team faces.
Achieve Greater Insights with CRM Usage
With CRM usage comes a greater insight into your sales organization. You can keep track not only of your team's interaction with your clients, but also the stages that your opportunities are in. Knowing what's coming down the pipeline and how close you are to closing deals will help you plan accordingly. A CRM software will provide the necessary data to assess and forecast. CRMs with robust reporting capabilities will give you insight into which are your most profitable clients for instance. It is important for your business's future to gain insight into data about with your team and activity.
Increased Sales Productivity
Being able to track sales at each stage in the process, helps you get ahead of the game. Using a CRM software will allow you to take an active approach towards your sales game. When you're sending out proposals and bids for projects, your team will know which one to follow up on and when. Following up on all opportunities in an organized manner will maximize your chances to win more work. You will have the ability to identify trends, forecast, and conduct report analysis.