Sales pipeline management software supports sales activities and gathers data so your sales teams can do what they do best… sell your products or services to prospective customers! It ties in with customer relationship management (CRM), key to your salesforce's success and your company's revenue. But how exactly do you convert prospects into customers and increase revenue with sales pipeline management software? How does it gain you visibility into where you are with what and what needs to be done next to clinch a deal and grow revenue? This article will explain how to better manage your sales pipeline with the integration of sales pipeline management tools. You will also learn what exactly are the benefits that your company will reap.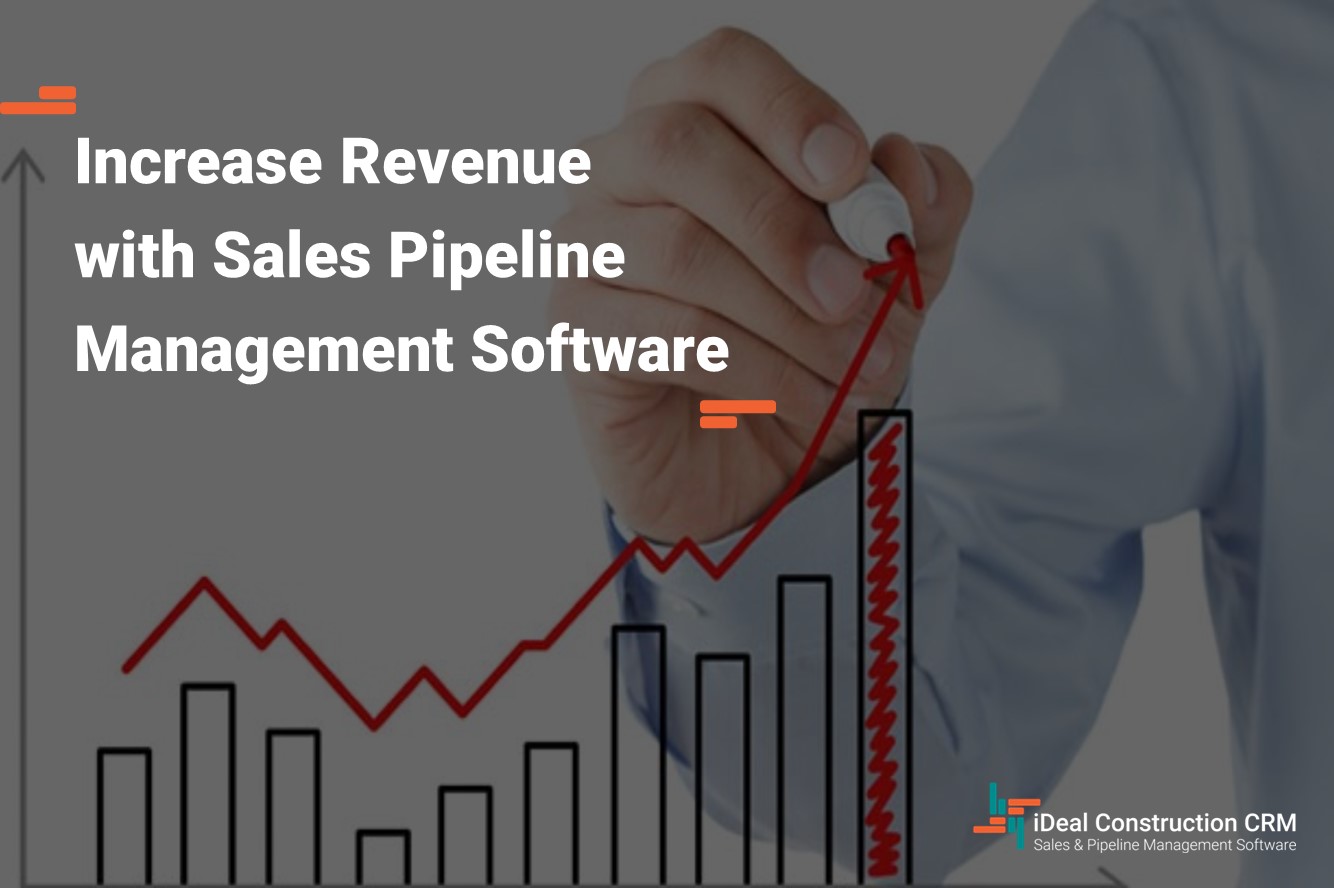 What is sales pipeline management software?
Sales pipeline management software provides the technology to manage a sales team's pipeline of prospects and/or opportunities. It involves building a workflow where the activities involved in generating new sales are integrated and automated. The sales software helps sales teams align their sales data and sales activities with the workflow at your organization. There are different types of pipeline management software, and they all work in a somewhat different way. The best software is designed to help sales teams manage all their opportunities, leads, prospects, and clients, and all the sales activities associated with them in one place. This type of software is often referred to as customer relationship management (CRM) software.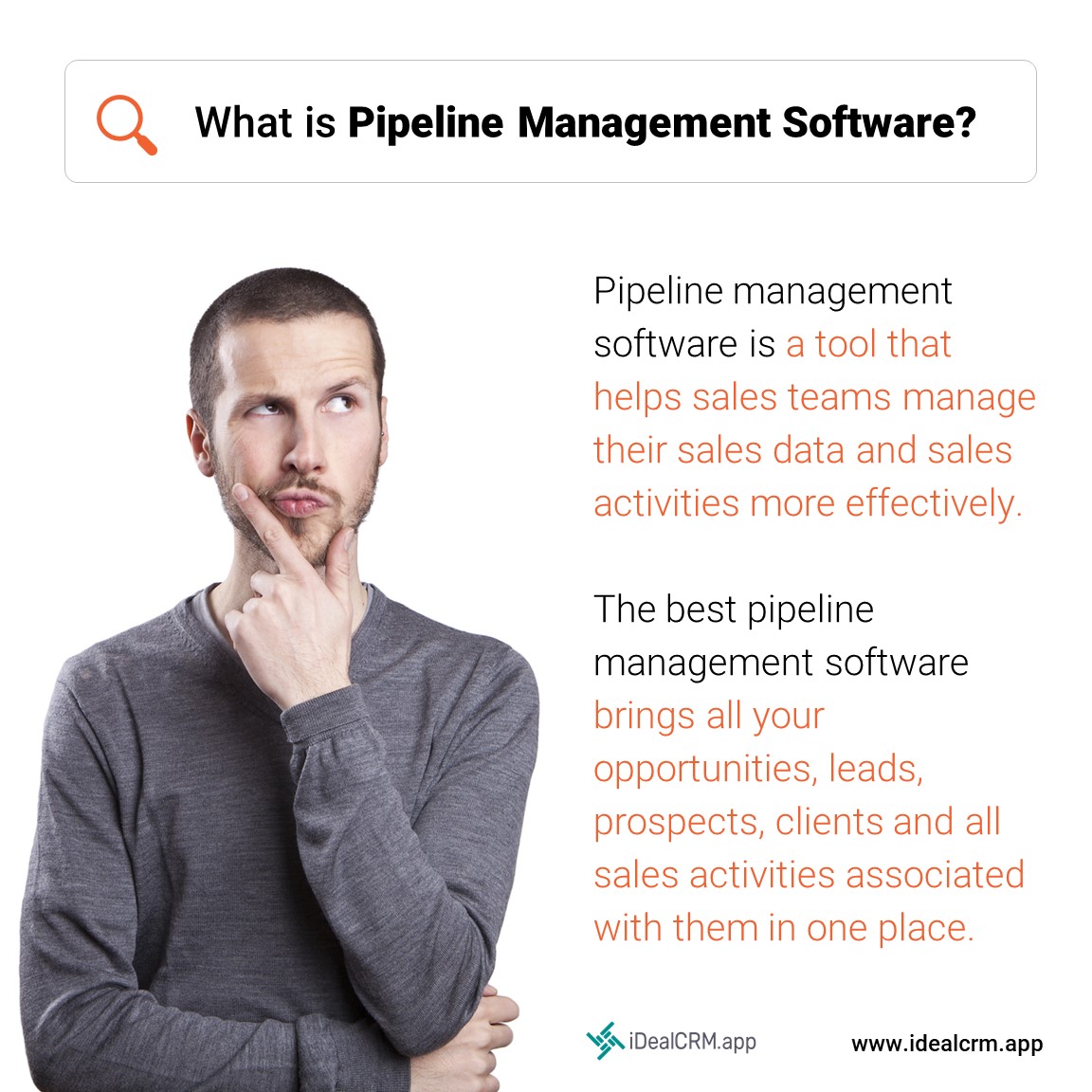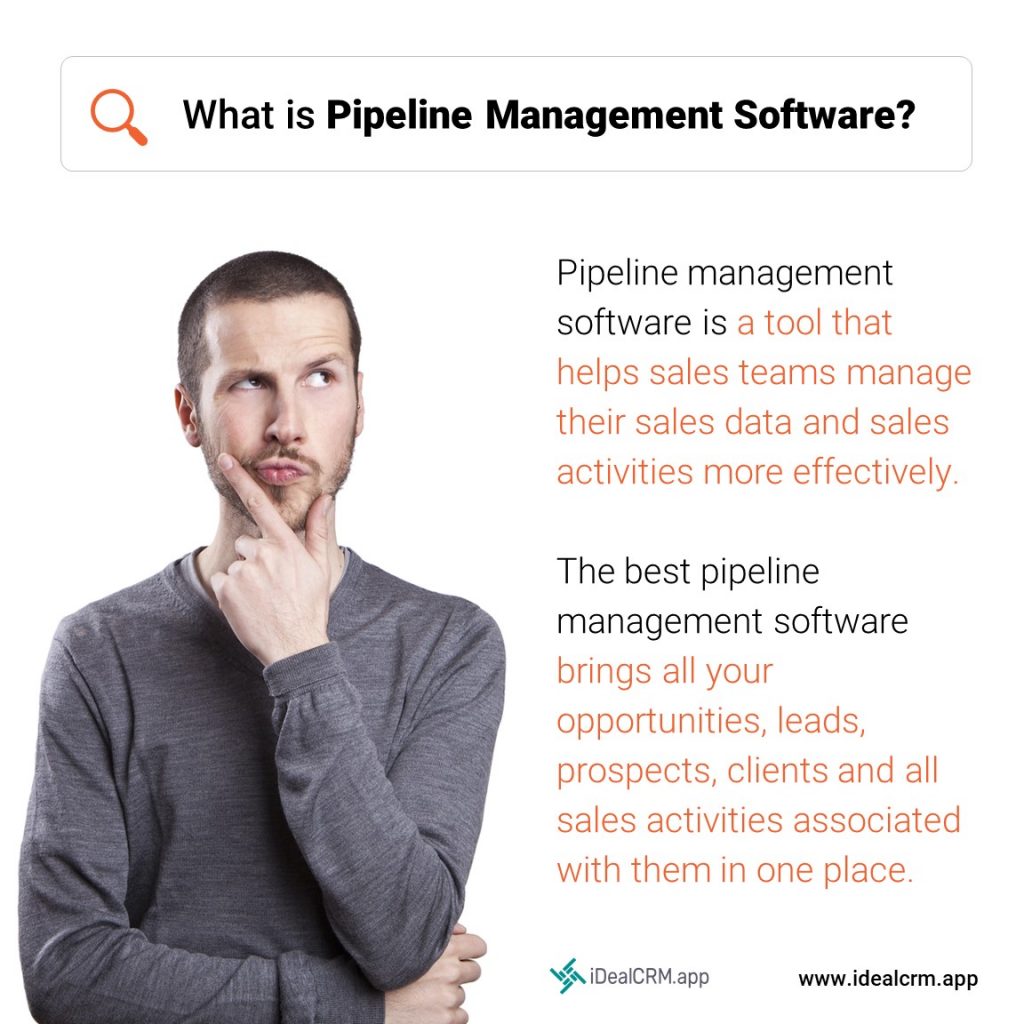 Why is sales pipeline management important?
Sales pipeline management drives the workflow along the sales cycle. In other words, it manages your salesforce to focus on the activities that generate the highest value for your business. Pipeline management supports the sales cycle all the way from lead generation down the sales funnel to closing a deal. Sales representatives know what to do in each stage to close the deal at the end of the pipeline. What's more, sales pipeline management factors in metrics that show sales reps exactly what activities to perform for increased revenue.
---
7 Benefits of using pipeline management software
1. Manage your sales pipeline in a centralized location
Sales pipeline management software automates the entire sales funnel and pipeline. It supports marketing, through lead management, and revenue forecasting. All in one central location, and in real-time.
2. Improve your sales process flow and method
The software provides a centralized view into the sales process. The functionality streamlines the sales process for your sales team, so team members know what they have to do next, when, how, and why. Your salespeople can shine, not spend their time on manual data entry and other cumbersome administrative tasks. And it provides transparency into the sales process for the entire sales team and management.
3. Simplify sales employee onboarding
One of the biggest challenges that many companies face is how to onboard new sales people. Pipeline management software makes it easier to onboard new sales people by automating certain steps in the sales process. This allows the new sales person to focus on building their relationships with prospects and clients instead of trying to figure out the sales process. When you have a sales process flow and method in place, onboarding sales people is easy. The newbies on the sales team also know what to do next and when.
4. Focus on the leads and prospects most likely to convert
This benefit is directly related to your company's profitability. Pipeline software helps you track leads and prospects, sales activities, and the probability of conversion. This makes it easier to determine which prospects should be at the top of the priority list for further development and sales call scheduling. It will also help to automate sales process flows so that the sales team is able to focus on the prospects most likely to convert. In fact, it also identifies the activities that convert prospects into customers and win you repeat business.
5. Identify highest revenue generators
The integration of sales metrics and reporting pipeline management tools not only supports sales forecasting, but allows you to easily identify which opportunities, leads, and clients are generating the highest revenue for your business. These are the very ones your sales team should be focusing their time and efforts on.
6. Identify low-performing clients and opportunities
Pipeline management software supports your sales process with actionable data for revenue forecasting. The sales forecasting tools capture sales information about what works and what not, so you can focus your future efforts on where they pay dividends. The software provides you with insights into how to better direct your marketing efforts, managing leads, and what deals are not worth your while to pursue.
7. Increase sales team productivity
Use your sales pipeline management software to define specific objectives and processes so sales reps know exactly what is expected of them. That in turn will empower and hold them accountable for achieving those objectives. Transparency of the sales pipeline each step of the way increases the productivity of the salesforce.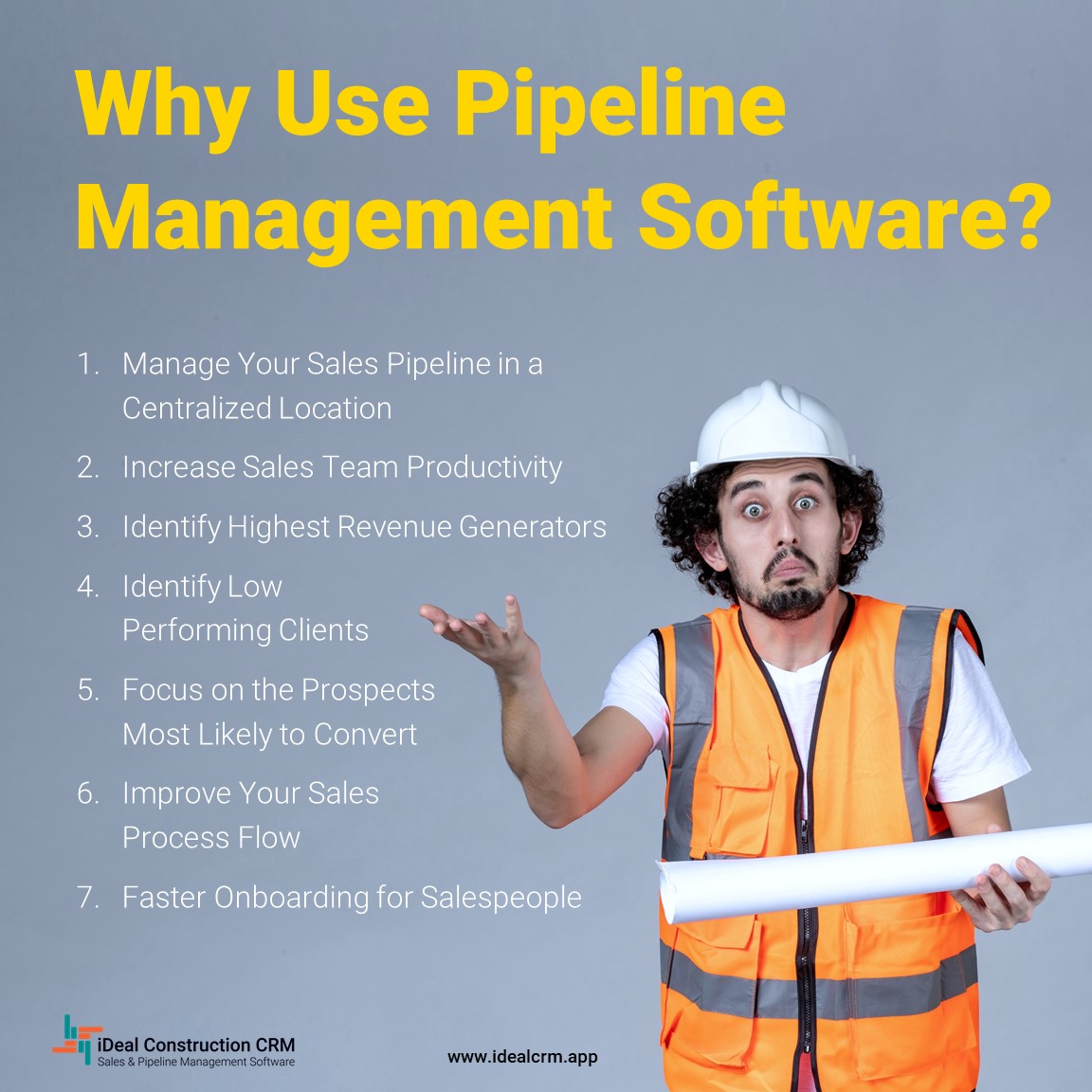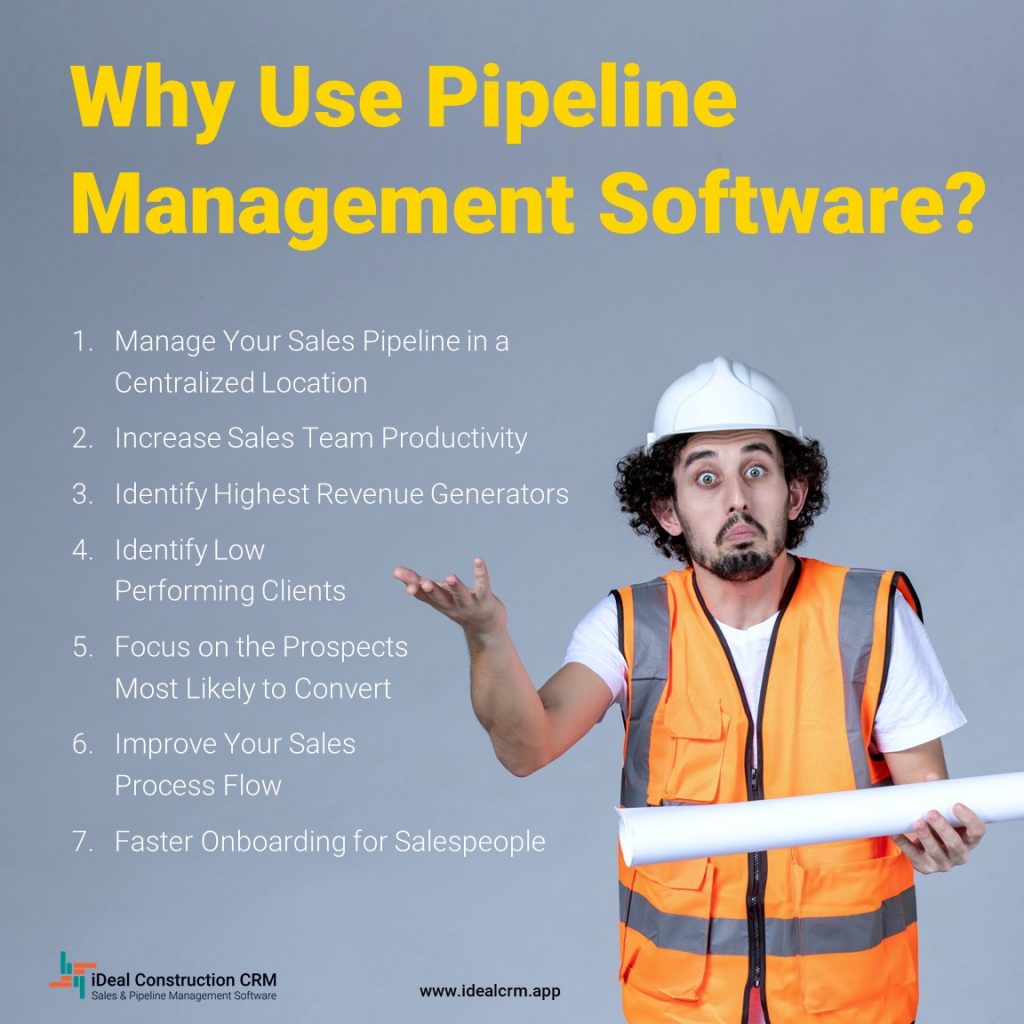 ---
Must-have Features of Pipeline Management Software
Sales Pipeline Management is just one piece in the larger enterprise performance management suite of solutions. While you don't have to put in place all solutions, successful companies have at least a financial system and a sales pipeline management software solution in place.
Sales pipeline management software like iDeal Construction CRM will help your team manage their sales pipeline in a more organized and logical way. The software you decide on needs to include key features that will allow your sales team to use their sales pipeline for the best end result. For some companies, Excel spreadsheets may do the job, but a sales CRM app expedites the sales process even for small businesses. You can also leverage iDeal CRM in industries other than construction where you have a one-to-many sales relationship that involves bidding general contractors for a single job.
Here is a list of what we consider to be must-have sales CRM features for construction:
A visual sales pipeline with a drag-and-drop interface and distinct sections for all your sales pipeline stages.
Lead management functionality that will allow you to track leads and all the activities related to them.
Detailed client and contact pages that show open and closed opportunities with those clients and contacts, including your sales history with them.
Construction Proposal software , especially for companies who bid many projects. Proposal software is crucial for expediting proposal creation and standardizing the look and feel of your company's client-facing documents.
Customizable fields to fit contact management and sales pipeline stages at your organization.
A sales dashboard that will allow sales management and teams to track their sales pipeline.
A sales calendar to track bid due dates, follow-up activities, tasks, events, and other important dates.
Email marketing functionality that will allow you to email leads and contacts but also email proposals directly from the system.
Sales reporting functionality, for example, sales reports, forecasting and win rate reports, and activity reports, to name but a few.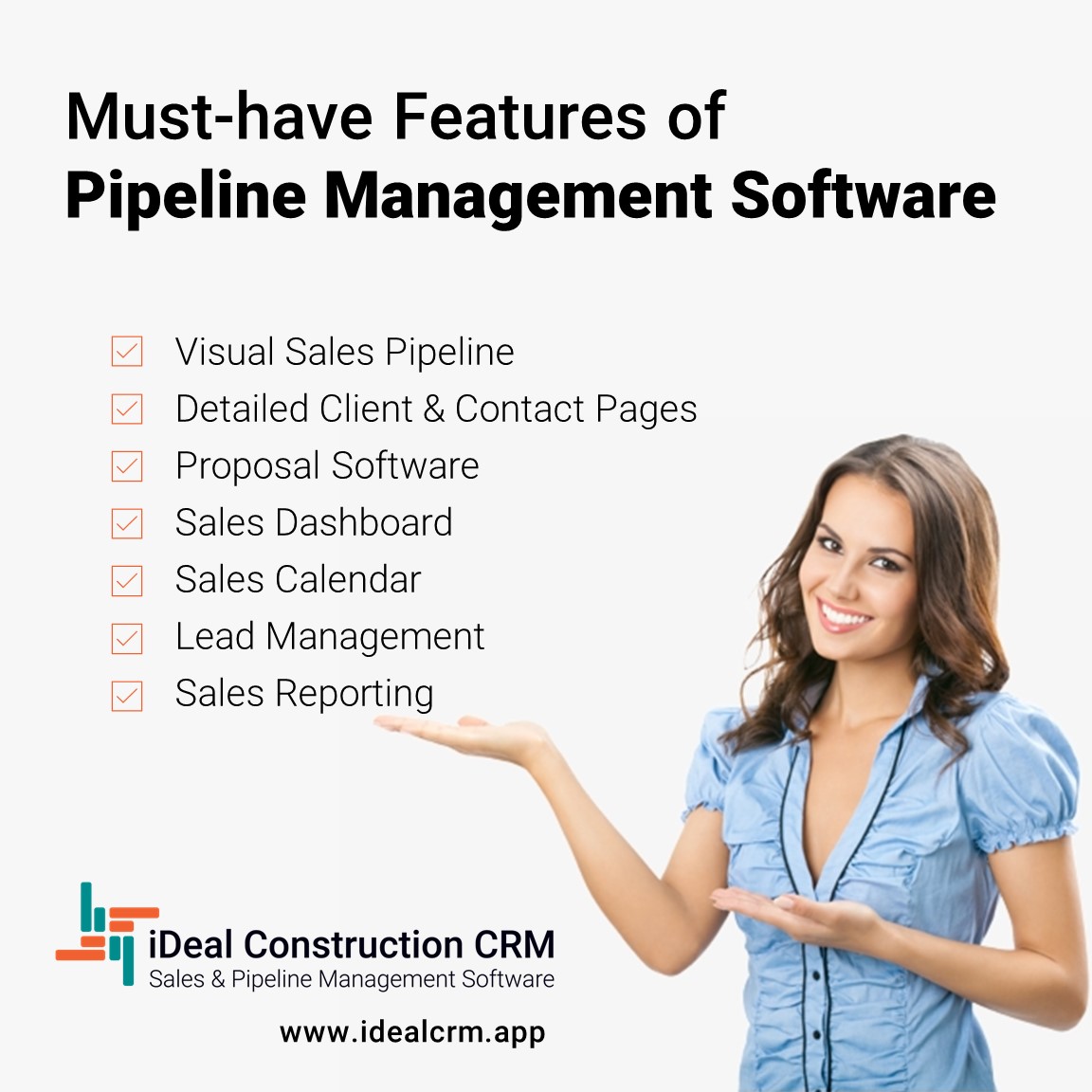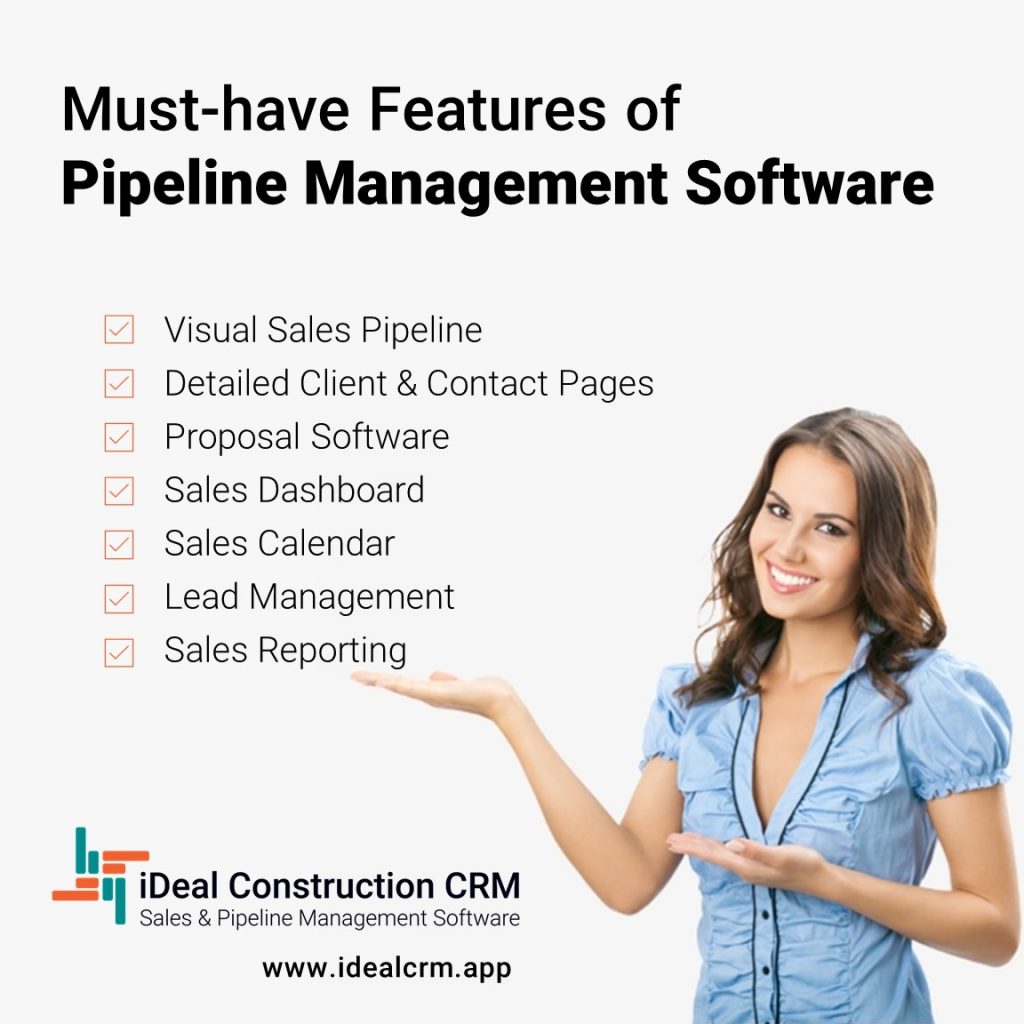 Why iDeal CRM is the best pipeline management software for construction
So, if you are ready to get started with construction sales pipeline management software, we recommend iDeal CRM. It has all the must-have features of pipeline management software for construction listed above and then some. Best of all, you can try it for free and get instant access to all the features.
iDeal CRM features for pipeline management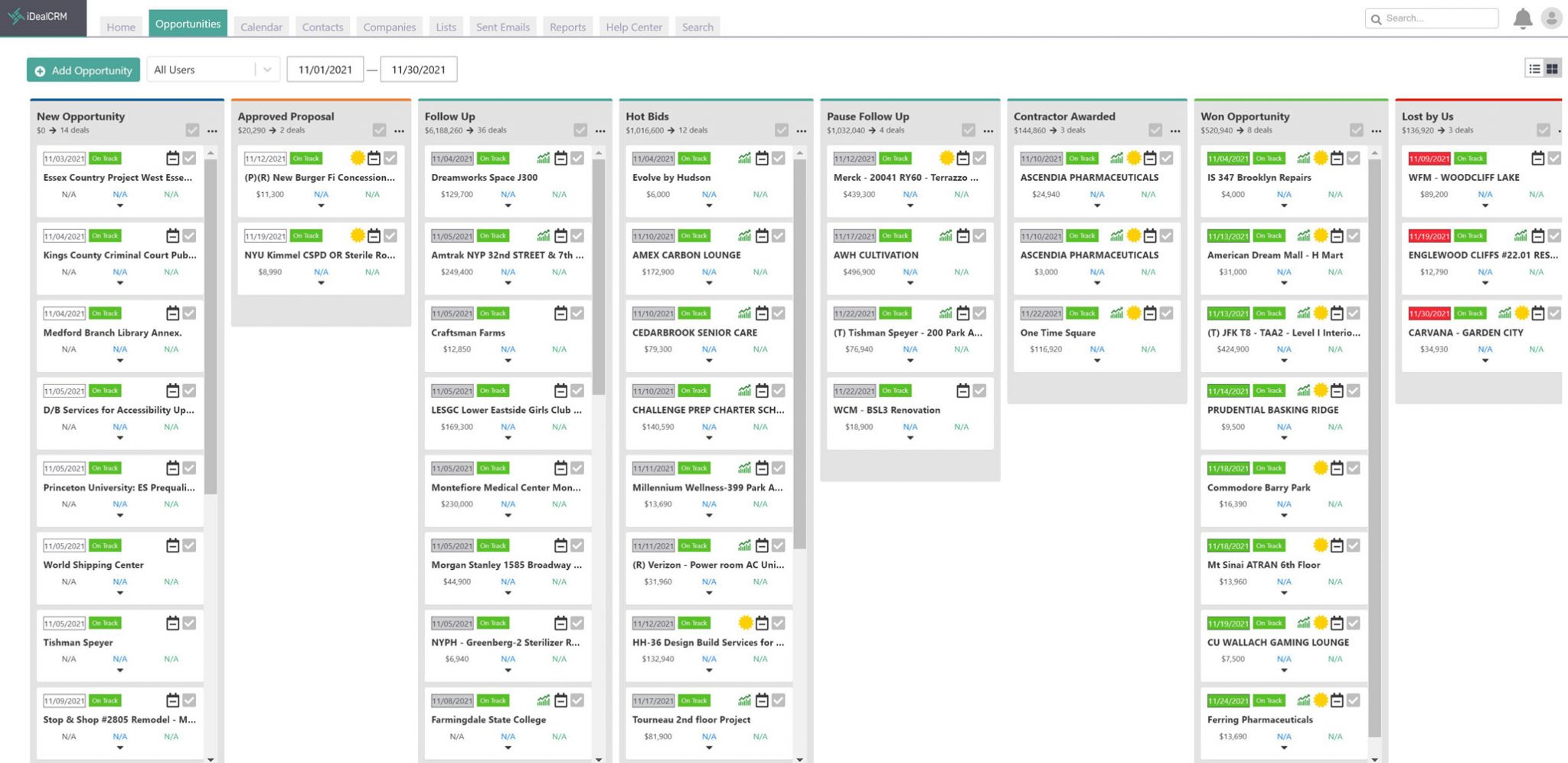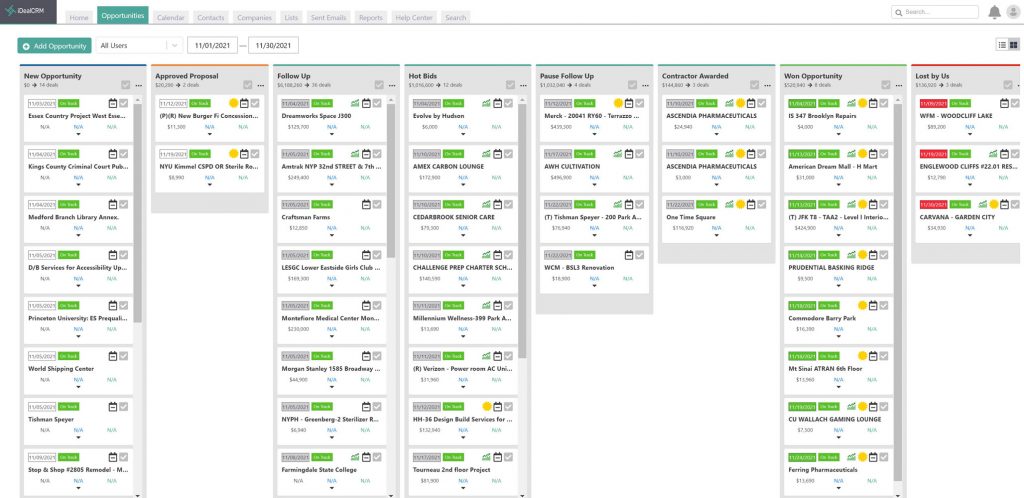 Here are a few of the features that make iDeal Construction CRM a great Customer Relationship & Sales & Project Management software for construction:
Manage leads, opportunities, projects, estimates, proposals, customers in one place
Move prospects down the sales funnel
Watch and manage bid activity in real time
Bid multiple clients for one job
Save time with construction proposal software and proposal templates
Save time and effort with built-in templates for bidding, marketing, and email
Gain visibility into sales activities with the sales dashboard user interface
Nail down bid due dates, follow-up activities & project tasks via the construction calendar
Leverage construction reporting & quota tracking features
Manage all client data in one place
iDeal CRM Pricing
What also sets iDeal Construction CRM apart from the competition is free access to try out the software. If you're looking for a sales management software without any commitment to buy, iDeal CRM is the solution for you. You can test drive the features at your own pace without incurring any fees or obligations.
Secondly, there is no need to customize the software; iDeal CRM was developed specifically for the construction industry. But we are happy to accommodate any construction-specific requirements on your part in future iterations of the software. And it is easy for you to set up and customize your sales pipeline with the iDeal CRM dashboard!
So, once you decide to move forward with iDeal CRM, you have 3 subscription options depending on the number of users you want to use the system.
In conclusion, the benefits of using construction sales pipeline management tools are many. The process of onboarding sales people becomes seamless. You get a 360-degree view of your entire sales pipeline. Your sales team expedites your sales process flow and can easily identify which opportunities are most likely to close, then pursue them. The automation of administrative tasks frees them up to focus on closing deals. The end result? A sales pipeline in place that will increase your revenue, no matter construction services or products you sell, or whether you are a small business or not.
Try iDeal CRM for free today as your sales pipeline management software.
Wishing you more leads, clients, and jobs going forward!
---
Further Reading