A sales pipeline is key to business success. It represents the sales stages that a qualified prospect needs to move through to become a customer. Or an opportunity to become a deal. It helps you and your sales team to stay on top of the sales process, determine where bottlenecks are, and identify growth opportunities. 
Whether you leverage an Excel spreadsheet template or a sales management tool, a sales pipeline provides you with a visual into the health of your business. It covers the different sales pipeline stages in your company's sales process. In other words, it gives your sales team direction – where to start, what action to take next, and how to close a deal.
In this article:
What Is A Sales Pipeline?
What is a sales pipeline, and how is it different from a sales funnel? To summarize, a sales pipeline is a visual representation of all your opportunities and potential customers in their respective sales pipeline stages. It may actually also apply to new sales opportunities with current customers. The different stages of the pipeline cue your sales team what steps to take or activities to perform to get your company closer to sales targets.
You can think of a sales pipeline as a map of the steps and activities that a sales rep needs to perform to transform an opportunity into a project or a prospect into a customer. When you look at your sales pipeline, you and your sales reps will know exactly what to do to turn prospects into customers and opportunities into project deals. The sales activities can include cold calling new leads to introduce themselves and your company's products and services. Or phone calls to qualified leads or current customers to determine what their pain points are. A sales funnel is a customer-focused journey that creates awareness, gauges interest, and qualifies a lead in your target audience before your salespeople start making any sales efforts. In other words, the process that leads up to a sale or a project. It does not clinch the deal, but identifies potential customers through both inbound and outbound channels.
A sales funnel includes outreach through cold calling, social media channels like LinkedIn and, of course, inbound email campaigns. It focuses on getting contact information for decision makers in the target audience so sales reps can direct their efforts at qualified leads. In turn, your salesforce can help them identify a buyer persona and an ideal customer profile to target or provide them with the necessary demographics for marketing campaigns. These two teams work hand in hand at sales strategies and identifying the optimal stages of the pipeline to achieve your company's revenue goals.
How to build a sales pipeline?
Building a sales pipeline for the salespeople in your organization is a methodical process with several steps that need to be executed and tested. First, you need to define and document your company's unique sales process. Next, you create sales pipeline stages to match and support your sales process. Then you put in place a sales pipeline tool to help your sales team manage the sales pipeline efficiently and effectively. After the initial implementation, you can fine tune the steps and the activities to increase your conversion rate and focus your efforts on the sales activities that impact your bottom line.
Step 1: Set Up the Pipeline Process
The process of creating a sales pipeline starts with the sales process at your company itself. A sales process is a step-by-step process with instructions for salespeople in your organization to know exactly what to do to transform a qualified lead into a customer and an opportunity into a project. As a reminder, your marketing efforts focus on gathering leads and qualifying them, they're not responsible for bringing in new customers. That is a sales responsibility.
Depending on the industry, your sales process may include several phases and each phase may be executed by a different department. Typically, the Marketing team handles lead generation and lead qualification. And for a salesperson, turning a qualified lead into a client! But not always. Sometimes your team of sales professionals take it all the way from lead generation to closing a deal.
In most industries, the sales process comprises only the Lead-to-Client Phase. Once a person or company becomes your client, you earn their business. Yet, in b2b sales industries like construction, for example, the Lead-to-Project phase doesn't encompass the entire construction sales process. An Opportunity-to-Project Phase is also needed. Why? Because your leads may all be competing for the same opportunity. But let's look at all the construction sales process steps, as this process is a rather complex one.
Lead to Client Sales Process Phase
This is an 8-step sales process in which your business development team is working to get your company's name on the prospect's bid list. The sales cycle length is different for each industry, but the general steps in this lead-to-client phase are:
Prospecting – The first stage in this process, prospecting refers to lead generation from events, your website, referrals, advertising, webinars and marketing efforts that result in a list of potential buyers.
Contact – This is a first discovery call or meeting to find out what the potential client's needs are. Actual qualification happens in the next stage.
Lead Qualification – This is a decision-making stage when you analyze if the prospect is a good fit for your company and the services you offer or not.
Lead Nurturing – In this step, your business developer will build rapport with the prospect and drill deeper into their needs and requirements.
Presentation – The presentation step of the lead-to-client sales process is an important one. Each presentation you give has to be personalized to the prospect's needs. Read our Construction Sales Process Guide for more information about presentation content and delivery.
Follow-up – This follow-up step is to overcome any objections your prospect may have, and convince them to send an opportunity your way.
Receive the Opportunity – The request for pricing (RFP) or invitation to bid (ITB) on a project makes its way to your email.
Close the Lead – At this point you have your first opportunity with a lead, and you can move the lead to your client list.
Opportunity to Project Sales Process Phase
In the next phase of your sales process your sales team is focusing on winning the opportunity and closing the deal. What you want to see in this phase of your pipeline is that the number of deals you close increases consistently over time. We'll again look at an example from the construction sales process. The 8 steps in this sales process phase are:
New Opportunity – Enter the opportunity in the tracking system as a new opportunity.
Gathering Information – Gather more information on the project.
Go/No-Go Decision – Decide whether the opportunity fits your company's services and schedule.
Take-off – This is the list of materials needed to complete the project. Use take-off templates so all take-offs follow the same format.
Estimating – In this step, your estimating department is going to price the opportunity.
Proposal Creation – Once a price is established, the salesperson assigned to the opportunity will move on to putting the proposal together for the project. Check out Elements of a Construction Proposal to know what to include. Also, you can download a free library of construction proposal templates to get you started on your proposal design and content.
Proposal Sending – Email your proposal right on time with an email tracking system or customer relationship management tool like iDeal CRM.
Follow-up – Of course, pricing is important in sales. So are customer relationships. Research has shown that follow-up in the opportunity-to-project phase can be a deciding factor in the sales cycle. Learn more about this step in the construction sales process. Also, make use of these follow-up email examples for the construction industry. And don't forget to read what the 10 must-haves of a follow-up tool are.
Close the Opportunity –In construction, closed opportunities can be: won, lost, no-go, opportunity died, lost by all clients you bid.
Step 2: Set Your Sales Pipeline Stages
Most of the time, your sales pipeline stages will mirror your sales process steps. Each sales pipeline stage also defines the stakeholders and the sales activities that need to be completed during that stage.
Let's turn our attention again to the construction sales process and look at a sales pipeline stages diagram and roles and responsibilities.
In the lead-to-client diagram you will notice that the responsibilities may be split between the marketing and the business development department. As we mentioned earlier in the article, you may charge your marketing team with generating leads from your website, email campaigns, and/or industry events. And to qualify leads for your sales team. And put your sales team in charge of lead nurturing, presentation, follow-up, and closing the deal.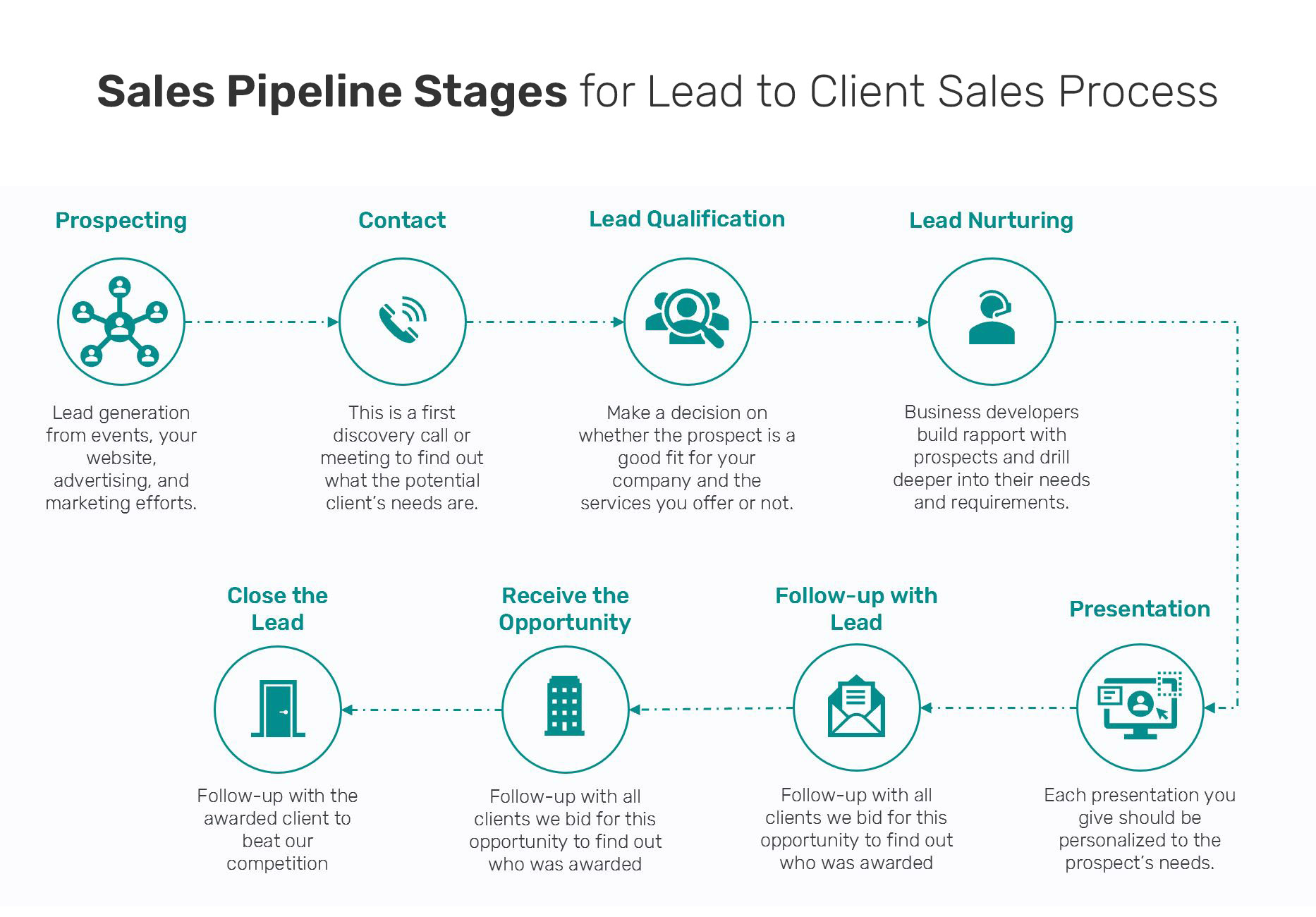 In the opportunity-to-project diagram you'll see that all responsibilities may be carried out by an estimator in smaller companies, or they may be split between estimators and sales representatives in a larger organization.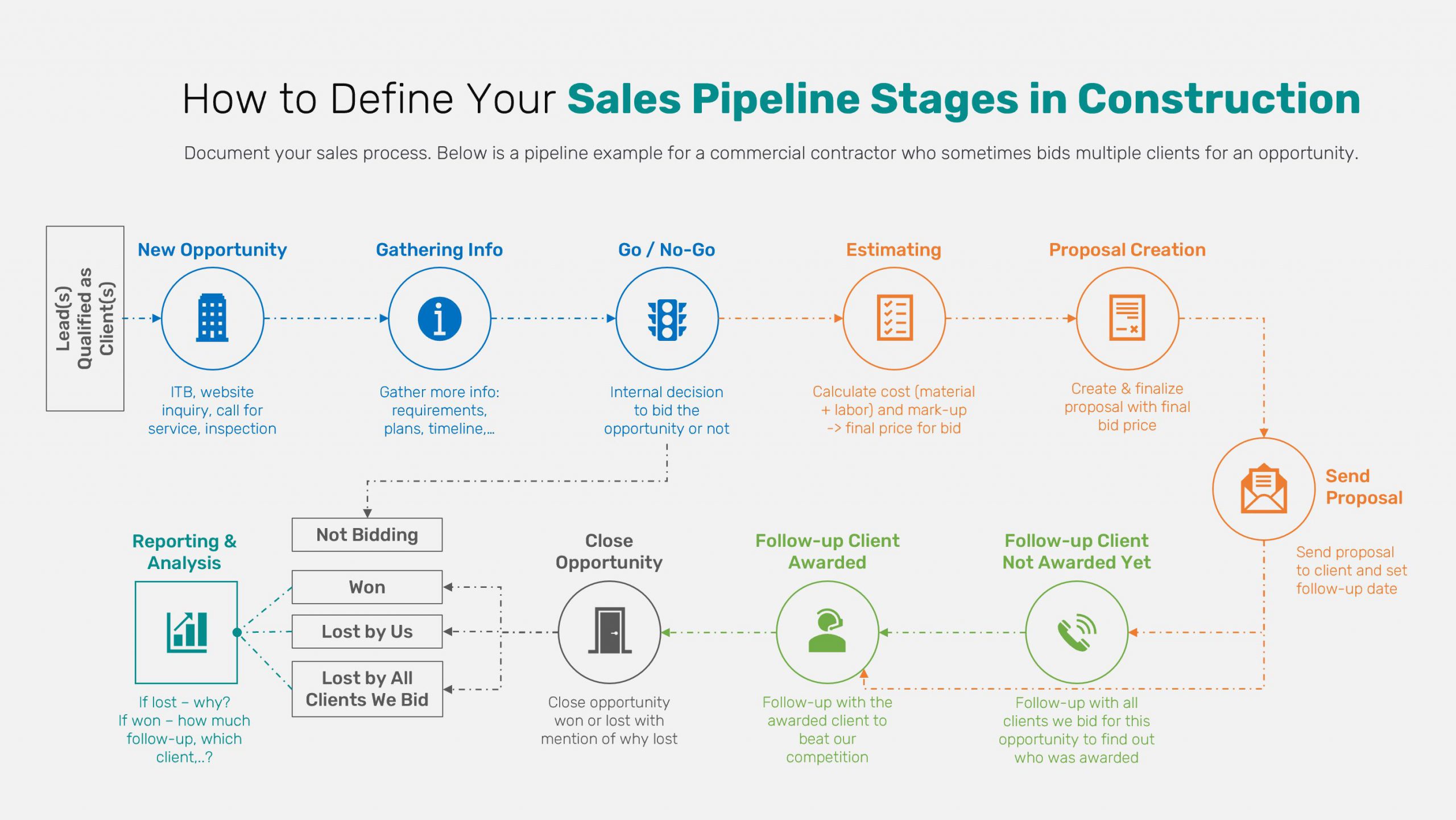 Step 3: Establish Pipeline Visualization
The visual representation of your sales pipeline is as important as establishing the sales pipeline stages. The best pipeline visualization is simple, practical, and contains all necessary information for your salespeople to perform their duties. We recommend you leverage software or a template to implement an effective sales pipeline.
So, we recommend a vertical-column representation with each stage becoming a column, and each lead or opportunity listed as a 'card' or 'tile' in its respective stage column. In this vertical representation of your pipeline, the leads and opportunities move naturally from left to right as you progress through the sales cycle.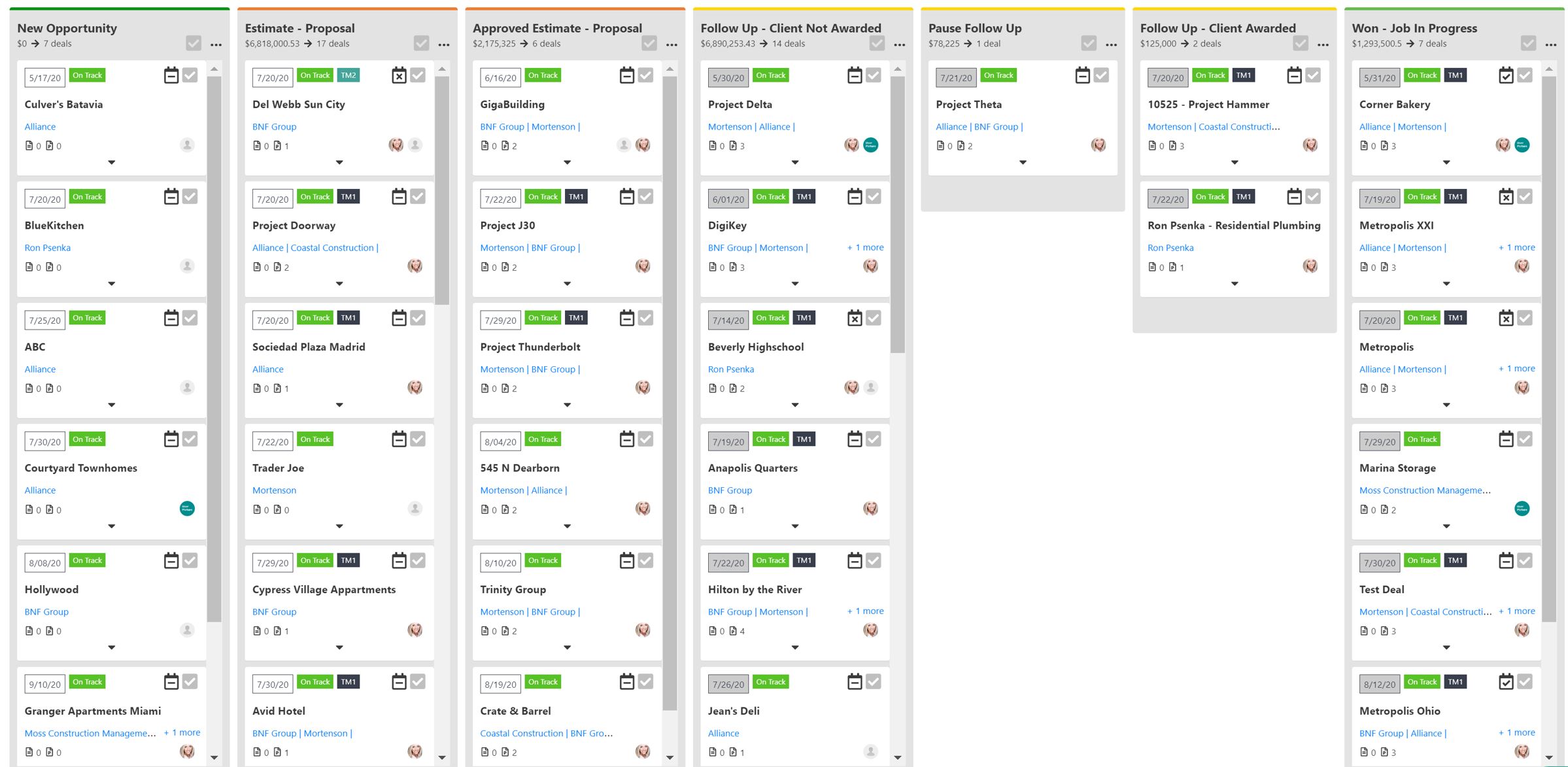 A list representation like the one in the example below is also workable, but it is not as practical or clear as the vertical vertical-column visualization. But if you choose the list view, we do recommend grouping by due date and then by sales pipeline stage so you can at least identify your To Do's on any given day.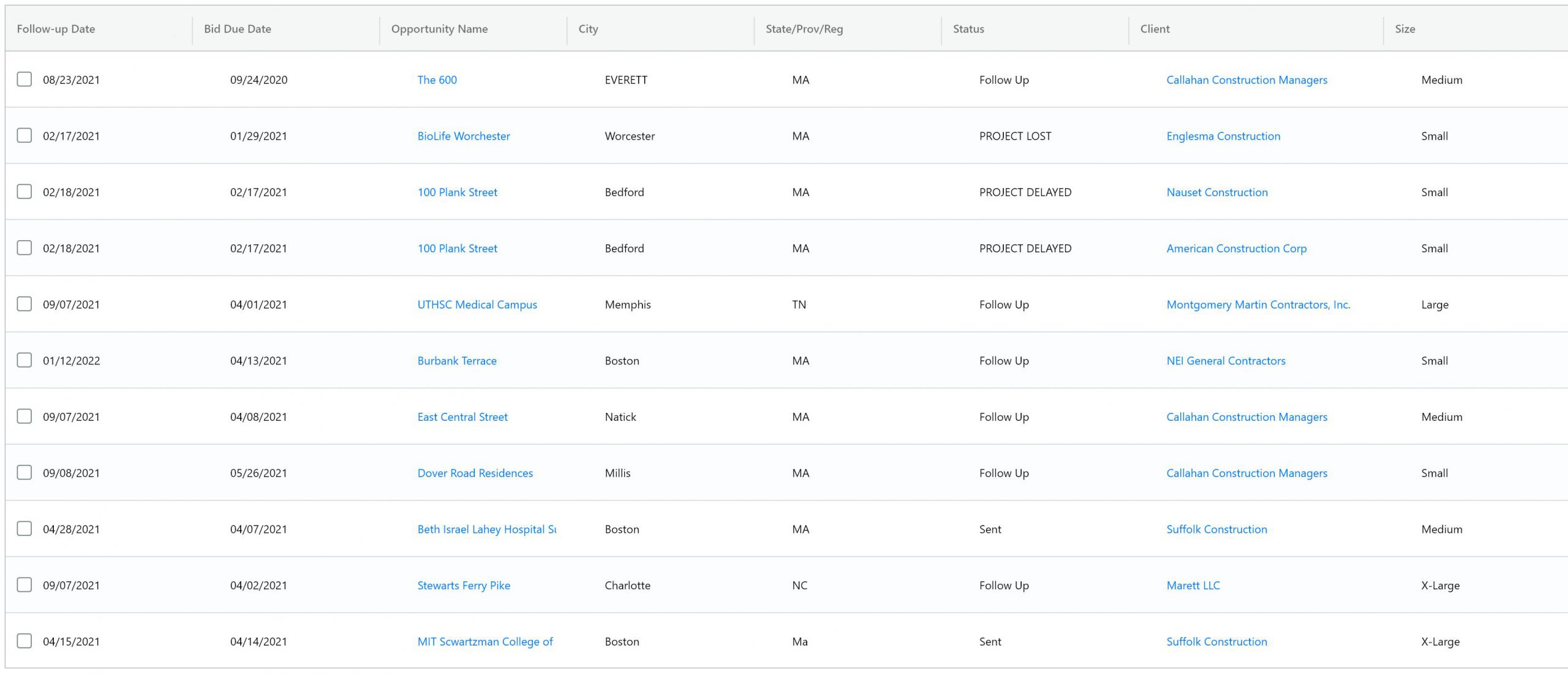 Sales Pipeline Management
Sales pipeline management is the process of organizing and tracking qualified leads and opportunities and assigning the sales activities associated with each of them at every stage of the sales process. With the ultimate goal of winning new clients and opportunities and reaching established sales goals and milestones.
Sales pipeline management best practices
When it comes to sales pipeline management, there are a few best practices to operate by to make your sales process as efficient and effective as possible:
Establish sales pipeline stages that match your sales process.
Define clear quarterly sales goals that are measurable and attainable for lead generation and sales.
Define the milestones (performance goals) and metrics (number of deals, deal size, conversion rate, etc.) that you need to measure.
Identify the sales metrics that matter most to reaching your goals, and track them. Less is more here. Select the sales pipeline metrics that help you and your team members measure performance against goals.
List the sales activities that need to be performed at each pipeline stage.
Establish roles and responsibilities; who does what, when, and how.
Develop a pipeline management standard operating procedure (SOP) document.
Put in place a sales pipeline tool to help your sales team execute necessary sales activities and keep track of the pipeline. A pipeline software tool or an Excel template will serve you well.
Build a library of supporting sales collateral and templates for your sales team. There are many you can download for free to get started.
Train your sales team on the sales process, SOP, and the sales pipeline management tool.
Perform sales pipeline analysis weekly, preferably at a weekly sales meeting, and identify sales team To Do's.
Fine-tune your sales pipeline in small increments and measure the improvements. Small changes here can be key to addressing pain points and streamlining the sales process.
Reporting and Analytics
Metrics: Pipeline health metrics
Sales pipeline metrics are important to track the health of your sales process, the performance of your sales team, and the state of your company.
Metrics reveal viable project sources, measure sales conversion rate, and identify effective sales activities, for example follow-up email automation. Here are some examples:
Open Opportunities by:
stage
client
due date
project source, type, category, size
location
Conversion Rate or Win Rate (% of opportunities won from opportunities closed)
overall win rate
win rate by client
by sales representative
win rate by team
by project source, type, category, size
Won opportunities by source, category, size, location
Lost opportunities by reason, region, project type
And more…
Reports: Pipeline report examples
The pipeline reports you want to set up are the ones that reflect the sales metrics you want to measure. But even more important are the comprehensive reports that combine some of these metrics and provide you with actionable insights.
Here are a few pipeline report examples that you can easily set up:
Opportunities by Bid Submission Date
Overall Win Rate: Won from Bid and Won from Closed
Client Win Rate – How many jobs did they win and how many of those did you win with them
Sales Quota Tracking – Sales quota progress by sales person
Sales Forecasting – these reports are especially important to make sure that you have enough opportunities and clients in the pipeline
And more…
Sales Pipeline Tools
To successfully manage your pipeline, a tool or set of tools are needed. We recommend these components for an efficient and effective sales pipeline:
A sales pipeline management solution – a way to track prospects and opportunities in the form of sales management software or a spreadsheet.
A calendar of sales activities and reminders – this is usually part of the sales tool software, but just in case you are using a spreadsheet you'll also need to implement a calendar.
A library of proposal templates and bid templates – you can download a variety of construction proposal templates for free.
Follow-up email templates and call scripts that your sales team can use to quickly get in touch or follow -up on prospects and opportunities.
Supporting documents for sales enablement and increased productivity – the faster your sales team can respond with the right information, the higher the chance to win the client or the opportunity. Your sales tools kit can be developed over time, as the need arises. For example, sales collateral and supporting documents can include:

sales process diagrams – see above
operational information that is sometimes needed, such as insurance
call scripts
videos
Excel vs Google Sheets
A sales pipeline in Excel is a suitable sales tracking solution for small businesses, new businesses, and companies with a low number of opportunities and clients. However, there are some downsides to using a sales pipeline spreadsheet instead of sales pipeline management software. For example, not receiving notifications when a bid is due or when a client opened your proposal. Collaboration on an Excel pipeline is difficult as changes are not visible in real time. Proposal creation is not possible from an Excel list of opportunities – proposals will have to be created separately. A calendar of sales activities and deadlines is not automatically generated. Reporting is difficult to build. Also, there is no automation you can build into a spreadsheet and it is pretty hard for the business development team to keep track of all sales activities.
You can download these Excel sales pipeline templates to see whether it would work for your organization or not.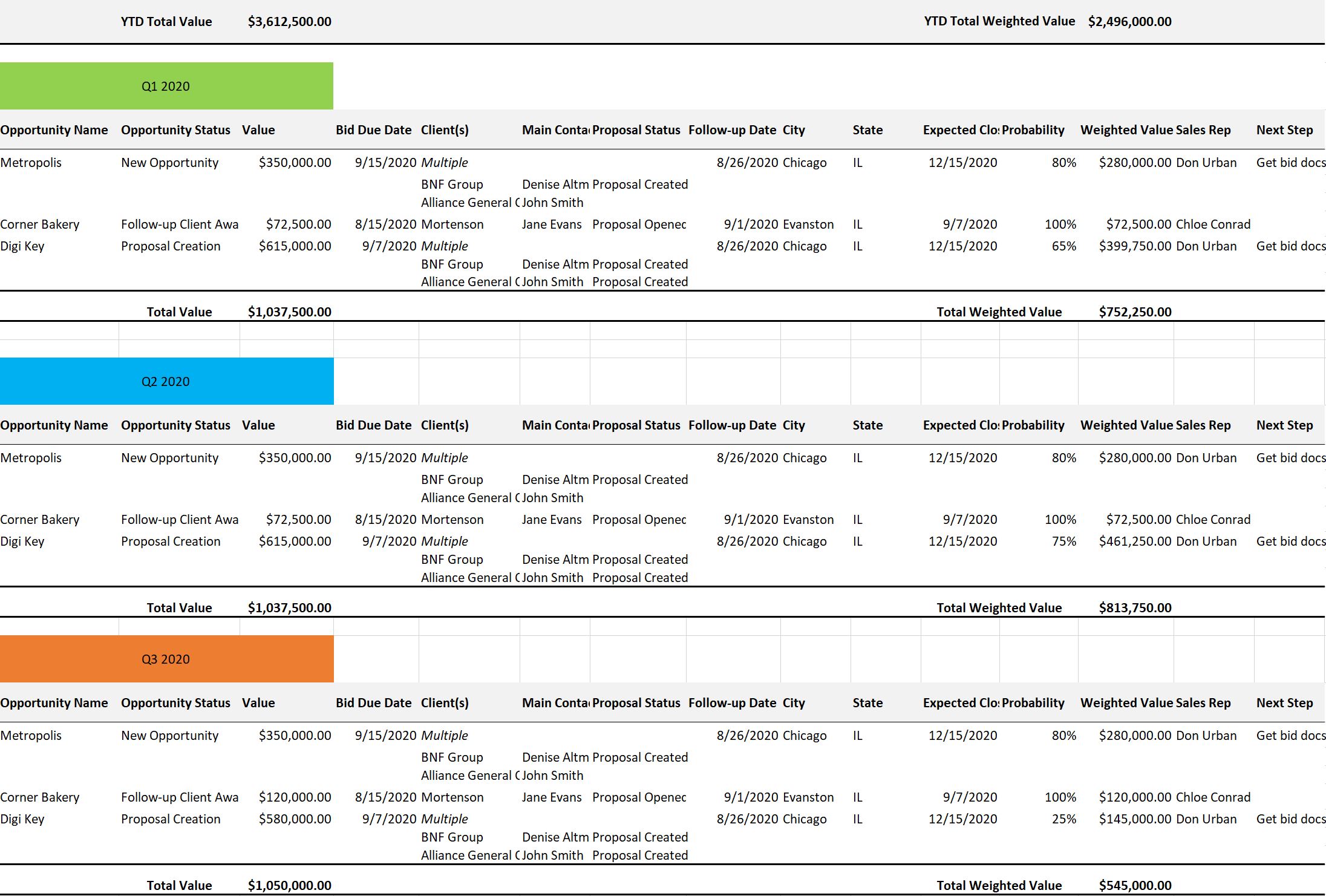 While Google Sheets can't compete with a sales software solution either, it is a better-suited solution than an Excel spreadsheet. All Excel functionality needed to track your sales pipeline is available in Google Sheets.
The difference is that your sales team can collaborate and changes made by one sales rep are visible in real time to the entire team when you share the Google Sheet. The downsides are that you still can't have sales-related notifications or a sales activities calendar. Reporting is difficult to build. Also, proposal creation and follow-up automation are not possible.
Sales pipeline CRM software
Sales pipeline software is preferred when it comes to managing your pipeline. If your sales cycle is a simple one with steps from the Lead-to-Client stage, a marketing customer relationship management (CRM) software like Hubspot or Freshworks is a good solution. You can automate follow-up, move your target audience down the sales funnel, and qualify leads. However, a construction company with a complex sales cycle, i.e., leads, bids, opportunities, and projects, requires an opportunity-centric or sales pipeline CRM. iDeal CRM for Construction is a great example of an opportunity-centric CRM that includes lead generation. It is suitable for both small businesses and new businesses.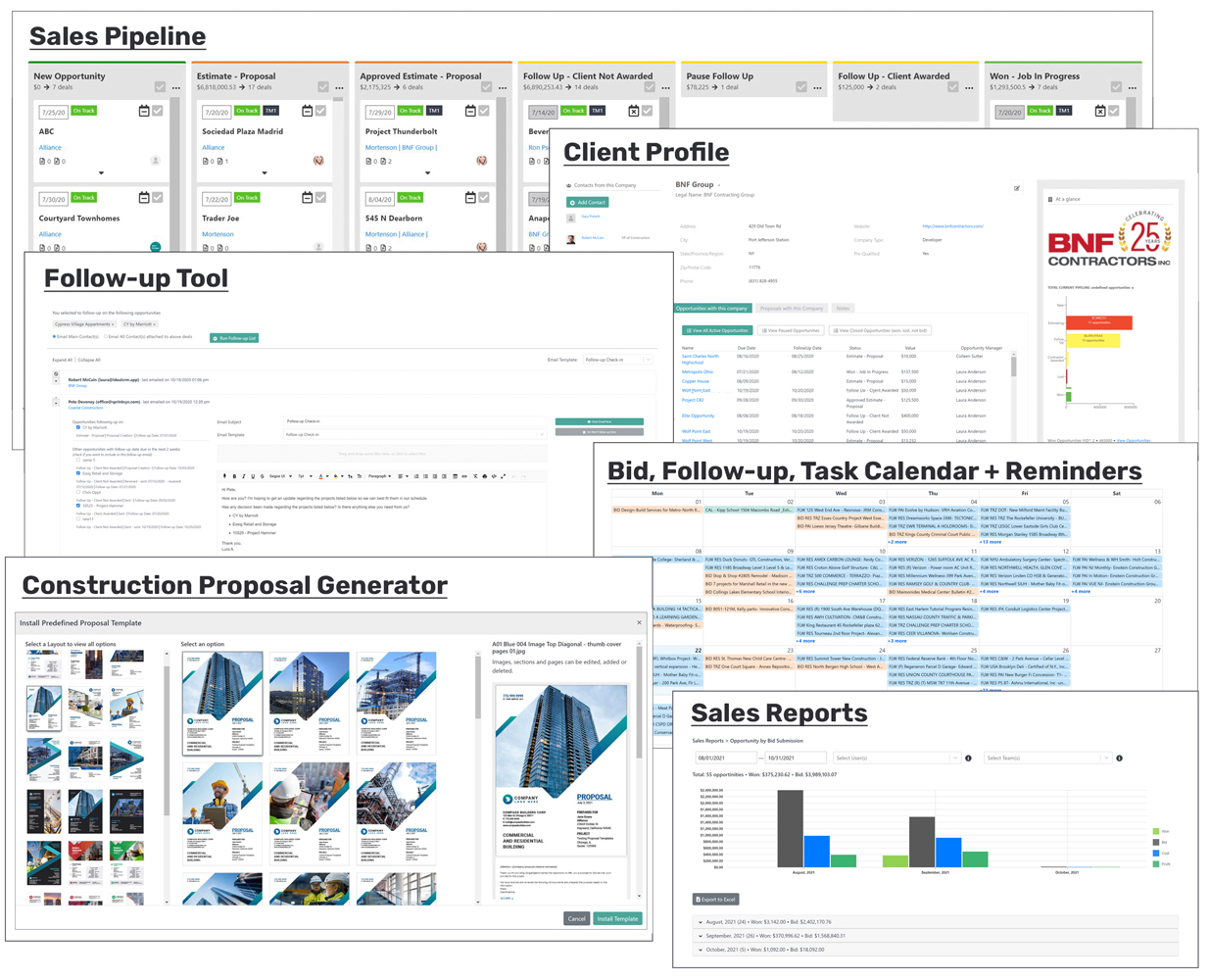 iDeal CRM for Construction features
iDeal CRM is a cloud-based application developed specifically to manage the sales cycle in an industry like construction. It covers the lead-to-client and opportunity-to-project sales phases. This type of sales management, also known as customer relationship management (CRM) software, enables sales teams to:
Organize leads, clients, and opportunities.
Track opportunities, including the ones with multiple bidders.
Create, send, and track proposals (or tenders) with a few clicks.
Streamline and automate follow-up activities.
Leverage a calendar of sales activities, tasks, and deadlines.
Access meaningful reports.
Centralize ALL sales data in 1 single source of truth.
You can create a free account for iDeal CRM and test to see how your company can organize and improve sales with software. Try it free. No credit card needed. No strings attached.
Frequently Asked Questions
What Is Sales Pipeline?
A sales pipeline is a visual representation of all your opportunities and prospects in their respective sales stages. It shows next steps and the activities needed to get them closer to closing deals.
You can think of a pipeline as a map of the steps and activities that a sales rep needs to perform in order to transform an opportunity into a project or a prospect into a customer. For example, when you look at your pipeline, you know exactly what to do next to move those items closer to the won stage.
What are the stages of a sales pipeline?
Most of the time, your sales pipeline stages will mirror the steps in your sales process. Each stage also defines the stakeholders and the sales activities that need to be completed. An organization may have multiple pipelines. For example, you can have a pipeline to move potential customers down the sales funnel, and a pipeline to manage opportunities.
Lead to Client Pipeline Stages:
Prospecting
Contact
Lead Qualification
Lead Nurturing
Presentation
Follow-up
Close the Lead (or closing deals for construction companies)
Opportunity to Project Pipeline Stages:
New Opportunity
Gathering Information
Go/No-Go Decision
Estimating
Proposal Creation
Proposal Sending
Follow-up
Close the Opportunity
Further Reading