A great followup tool and followup process are must-haves for any organization that sells a service or a product. Having well-defined and effective sales processes in place is not only important but could very well be the competitive advantage that one company gains over another. As our discussion unfolds, we will analyze the followup process and see how it becomes one of the tipping elements in your strategy. We will also look at follow up software as a follow up tool to support your sales team and calculate the follow up value.
Organization Structure and Processes
Each organization, regardless of size or industry, consists of several departments. The most common ones are: Operations, Finance, Human Resources, Sales, Marketing, IT. Examples of industry-specific departments would be:
Construction: Pre-construction, Engineering, Project, Estimating, Purchasing
Manufacturing: Production, Quality, Research and Development, Purchasing
What's important to note here is that every department has its own strategy and processes in place to execute on its purpose in the organization. So for each strategy, the organization will provide tools to help its employees execute the processes efficiently and with best results.
The Importance of the Sales Department
The sales department plays an important role within the organization. Your sales department is the direct link between your products or services and your customers. It is responsible not just for bringing in new business but closing transactions to keep the bottom line healthy and on the rise. Sales is also responsible for retaining and growing business with existing clients and entering new markets.
Larger organizations have a fully organized sales department with salespeople and a director or vice president managing it. Smaller companies may not have a structural department in place for sales, but the sales organization exists regardless of that. For example, you may have the CEO or a co-founder performing sales activities along with an estimator and an assistant.
Construction Sales Process and Sales Activities
The construction sales process is a complex one due in part to the industry's size and inner workings. But also due to the highly-competitive landscape and importance of relationship building. Having well-defined and effective sales processes in place is not only important but could very well be the competitive advantage that one construction company gains over another.
Sales activities in a construction company fall into a few different categories such as prospecting, lead qualification, estimating, follow-up, and closing the deal. And construction follow-up gets complicated!
The Follow-up Process in Construction
What is Followup?
Follow-up is an activity that is performed at every level of your construction sales organization. A business developer or outside sales representative will follow up with prospective customers or leads. An estimator does followup on the proposals, estimates, or tenders he sends out. An account representative follows up with existing clients to make sure their needs are met and gage cross-selling opportunities. We may not see follow up as a separate process because follow-up activities are spread across the entire sales process. Still, we can and we should consider follow-up a standalone process. A process that is well defined with activities, roles, and responsibilities. A business process supported by a great followup tool.
How to Define a Construction Follow-up Process
The basics of setting up your construction follow-up process, without going into too much detail, are:
Establish who should perform follow-up activities (i.e. business developers, estimators, account representatives).
Set timeframes and frequency for each type of followup. For example:

Same day – Send follow-up via email with a prospect from a tradeshow.
Immediately – Send follow-up email to a client you left a voicemail.
1 Week for small and medium opportunities | 2 weeks for large and x-large opportunities – Send email follow-up for proposals; if client doesn't reply in 1-2 days, follow up with a call.
Immediately – Send follow-up email to awarded client; if client doesn't reply in 1-2 days, follow up with a call.

Also develop a 'How to follow up with customers' document including a diagram of this process. We retain information much better when receive it in visual format.
Find a followup tool to help your sales team manage their follow-up activities.
Train your sales team on how to follow up with customers and on the followup tool they will use.
Followup Tool: 10 Things It Needs to Do
A great followup tool for a construction company needs to have all the elements that are specific to construction and also fit your unique follow-up process.
Organize opportunities, bids, clients, prospects based on follow-up priority.
Include follow-up date fields for prospects, clients, opportunities.
Allow task management so salespeople can create and assign follow-up tasks.
Visualize all follow-up dates and tasks on a calendar and in agenda views.
Provide or allow users to create and store email and other templates to speed up processes.
Send automatic follow-up emails to prospects at specific timeframes or under specific conditions.
Allow salespeople to follow-up via email with contacts on all related opportunities at once.
Send auto follow-up reminders to the sales team.
Flag clients and opportunities that you are in danger of losing.
Report on follow-up activity so you can identify what works and what doesn't.
Followup Tool for Construction: Follow Up Software
Based on the 10 things a followup tool should do, the only type of solution that can satisfy all follow-up needs is follow up software. We may have thought at some point that we could manage followup with spreadsheets of prospects, opportunities, clients plus an email program and calendar. But that is simply not possible. Nobody can keep up with all these just to perform follow-up activities. And the lack of an appropriate tool is the main reason why follow-up falls through the cracks in the construction industry.
The appropriate follow up software for construction needs to be:
Lead follow up software
Customer follow up software
Opportunity follow up software
Email follow up software
All in one. In other words, you need robust sales management & follow up software that fits the construction sales process. An advanced customer relationship management (CRM) software tool with a focus on sales (i.e. sales automation vs. marketing automation) that includes a followup tool and is built specifically for construction.
Free Customer Follow-up Software: Followup Tool
Now that we established only a software solution can meet the 10 requirements of a great follow-up tool, let's look at an example.
We are showcasing iDeal CRM Followup Tool as a free customer follow-up software so you can implement the solution into your processes for free and see how it works. With the 'Free Forever for 1 User' plan you can test out this type of system at low risk and without commitment.
Let's look at iDeal Sales CRM features and the role they play in the follow-up process.
Sales Pipeline Board or Opportunities Board
Visualize all your opportunities in their sales stages sorted & prioritized by follow-up date where appropriate. For example, for follow-up you could have the following stages: Follow-Up, Follow-up Client Awarded, Paused Follow-Up.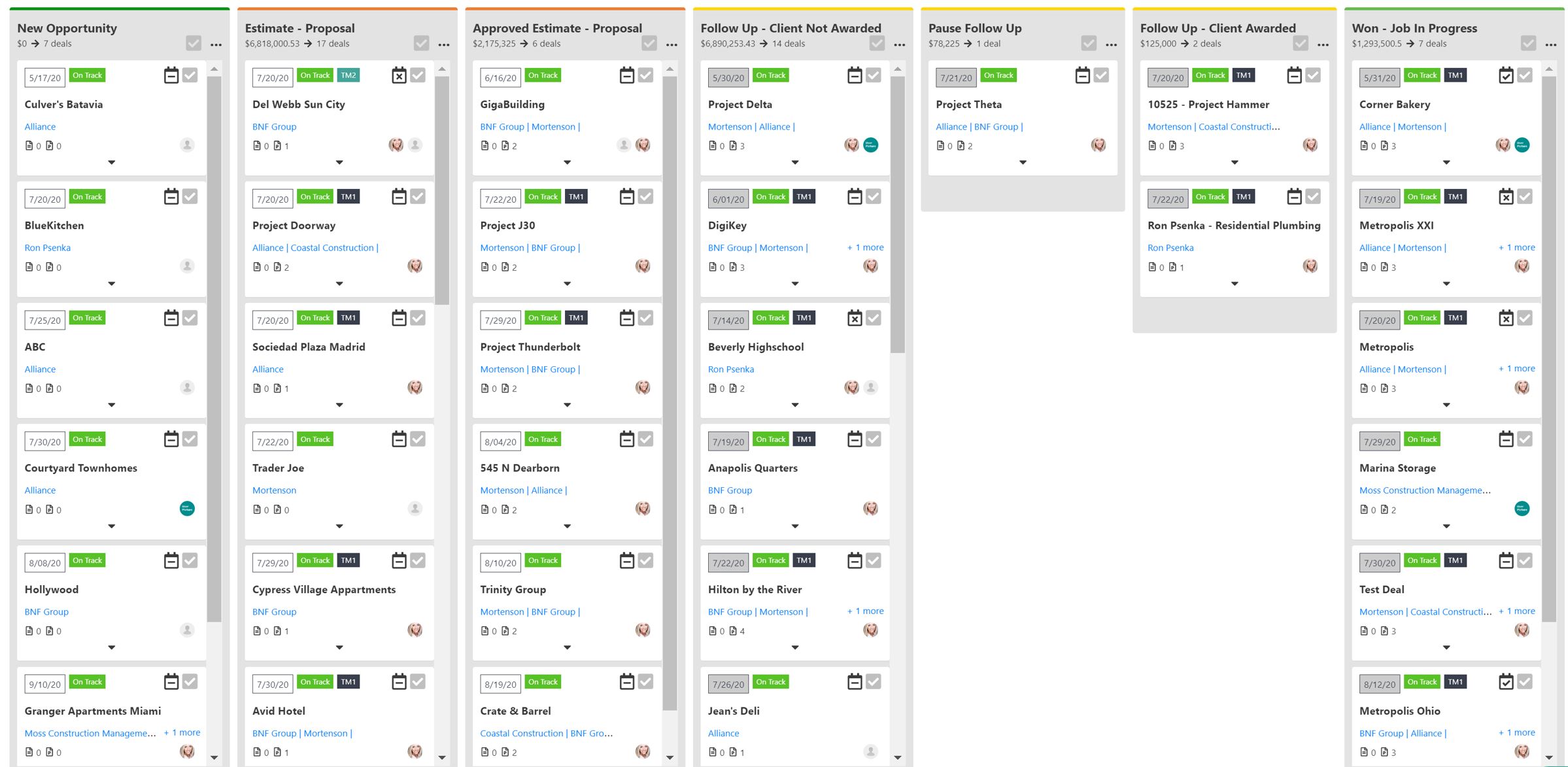 iDeal Followup Tool
Follow up seamlessly. One of the most important components of the follow-up process is a followup tool. The iDeal followup tool allows users to follow up on multiple opportunities at a time. It is a proprietary tool designed and developed to match the specific needs of construction companies.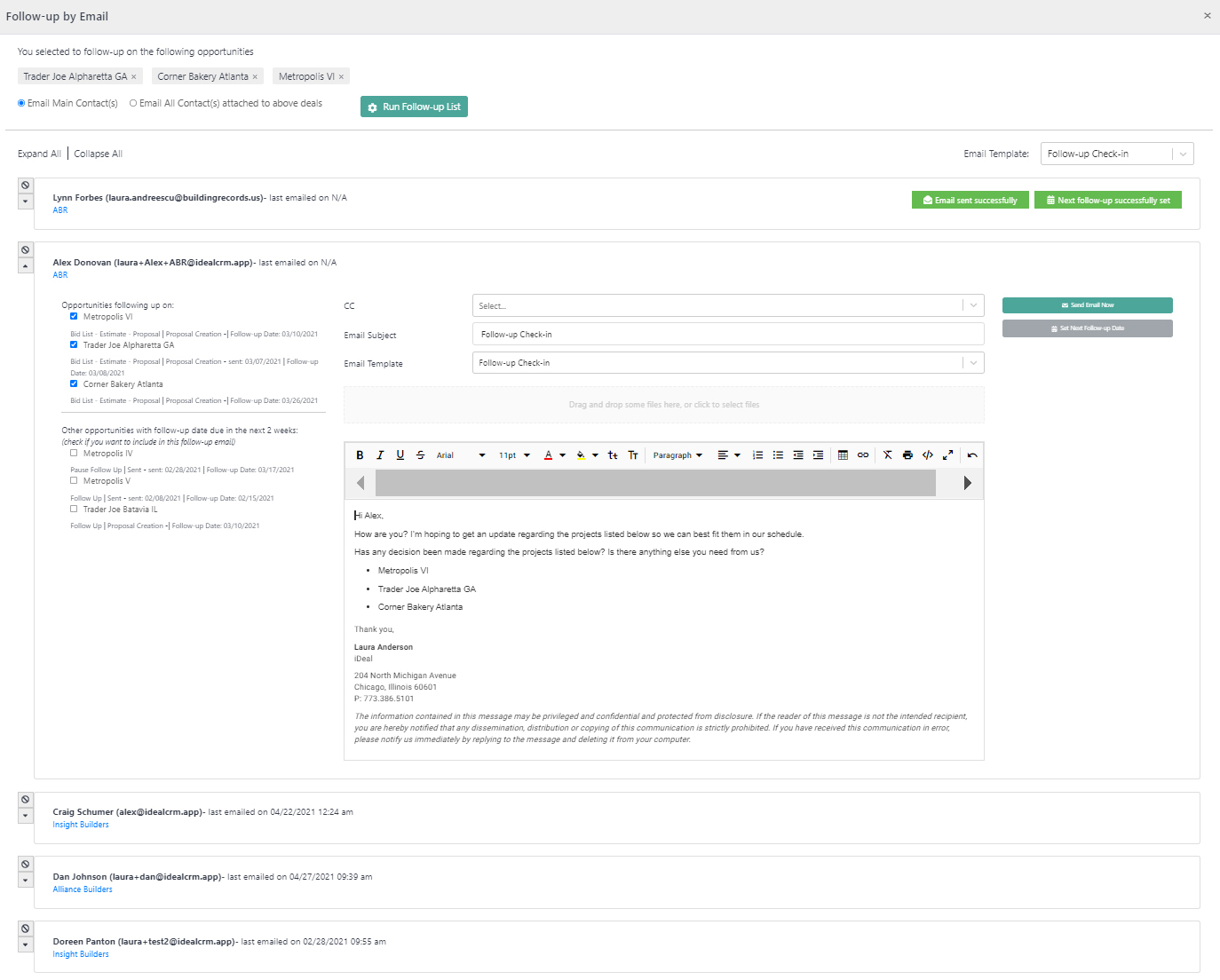 Task Management
Schedule follow-up tasks for each opportunity or client. You can also assign them to the appropriate team member.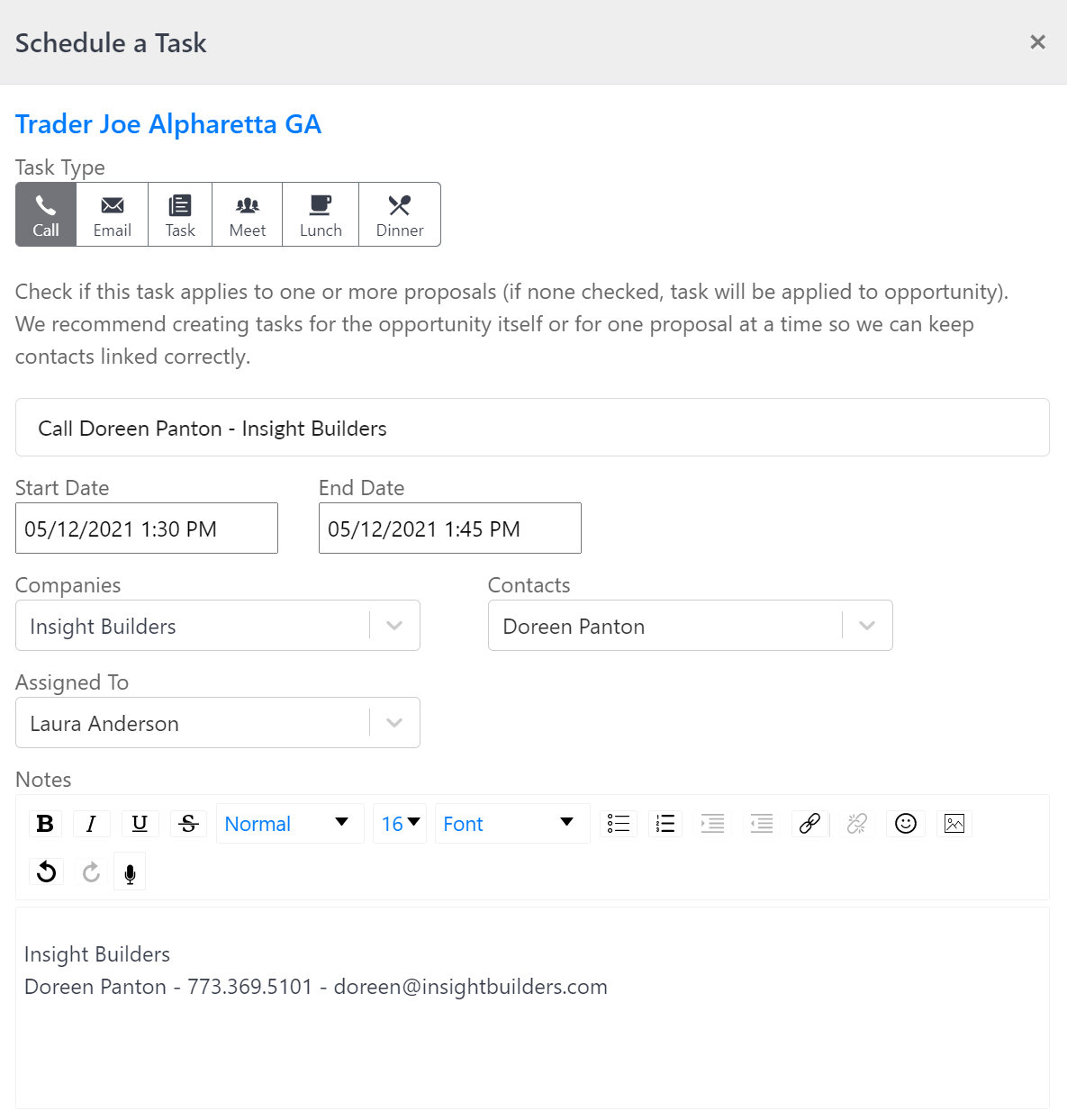 Calendar Follow-up Tool
Quickly identify follow-up dates and follow-up tasks on a calendar along with all your other To Do's. This will help manage workloads and ensure that follow-up doesn't fall through the cracks. Print agenda views of the calendar and pin it on your desktop.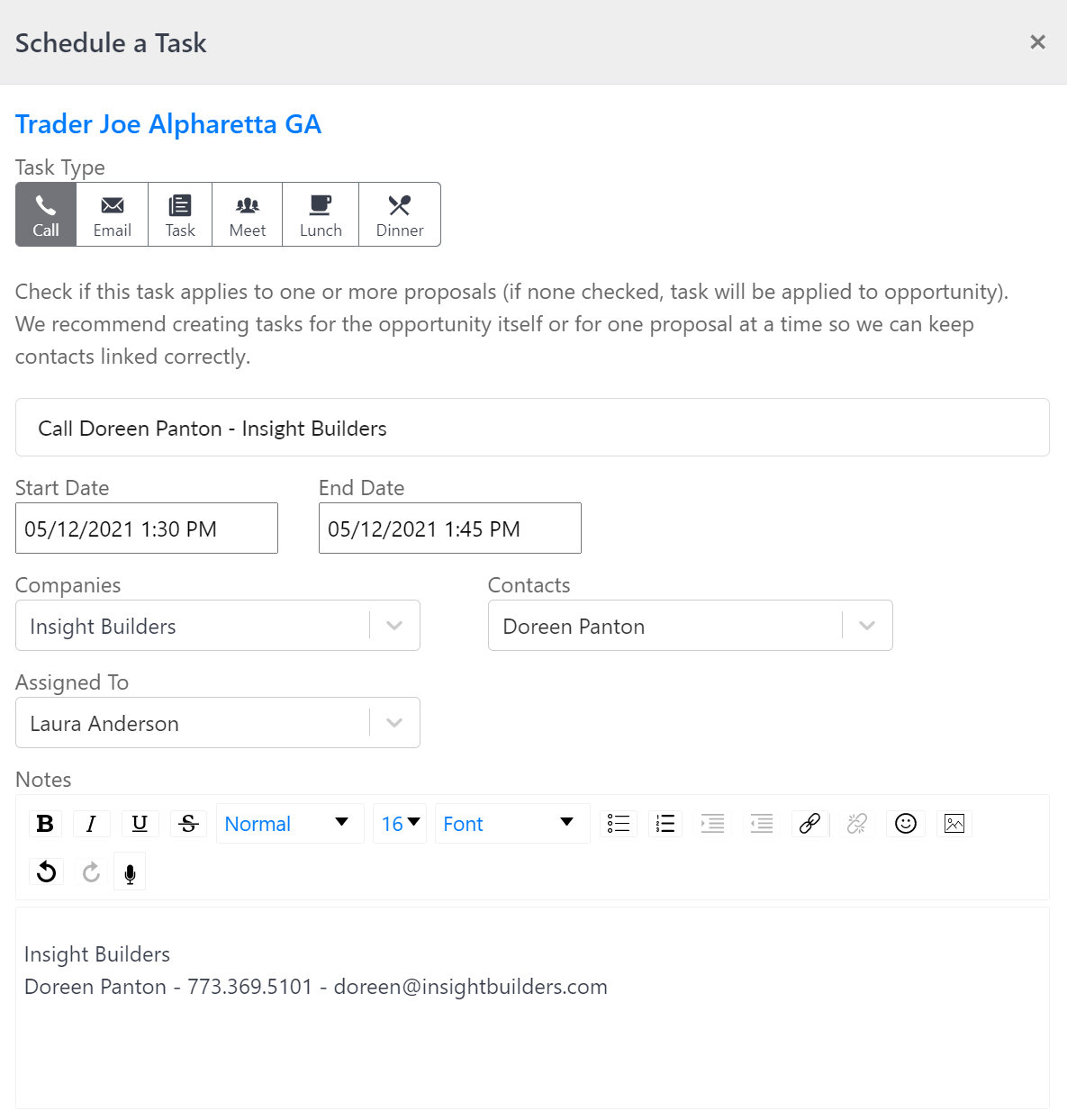 Daily Notification Email
Set a time you want to receive your daily notification email that includes a list of opportunities you need to follow-up on and any other followup tasks. So you can make sure that no follow-up falls through the cracks.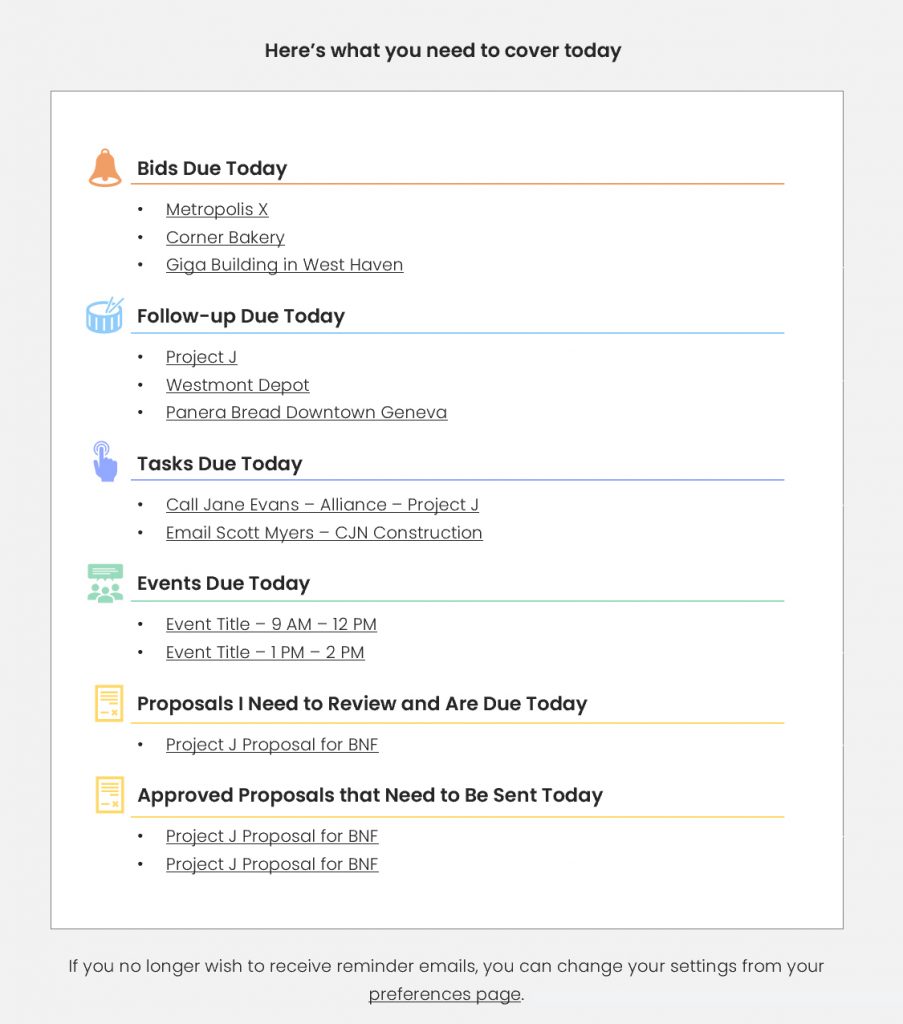 Organization Branding and Templates Library
Proposal creation and following up are two of the most time-consuming processes in construction. iDeal CRM makes this process easy. For example, you can save proposal templates and email templates to expedite both processes.
Labeling Opportunities and Clients
Slipping labels that are automatically assigned to opportunities to help users prioritize their follow-up activities in order to not lose business. The ability to tag contacts based on different levels of engagement is also important in setting priorities.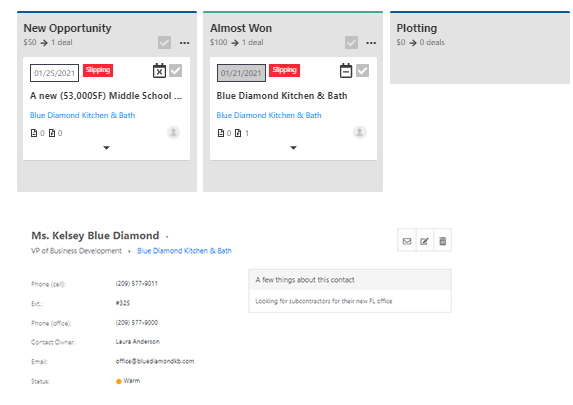 Follow-up Reports
Take advantage of the sales team activity reports, opportunity activity reporting, and win-rate reports. They all play an important role in identifying what works and what doesn't, how much followup is required in order to win, and what the best follow-up methods are.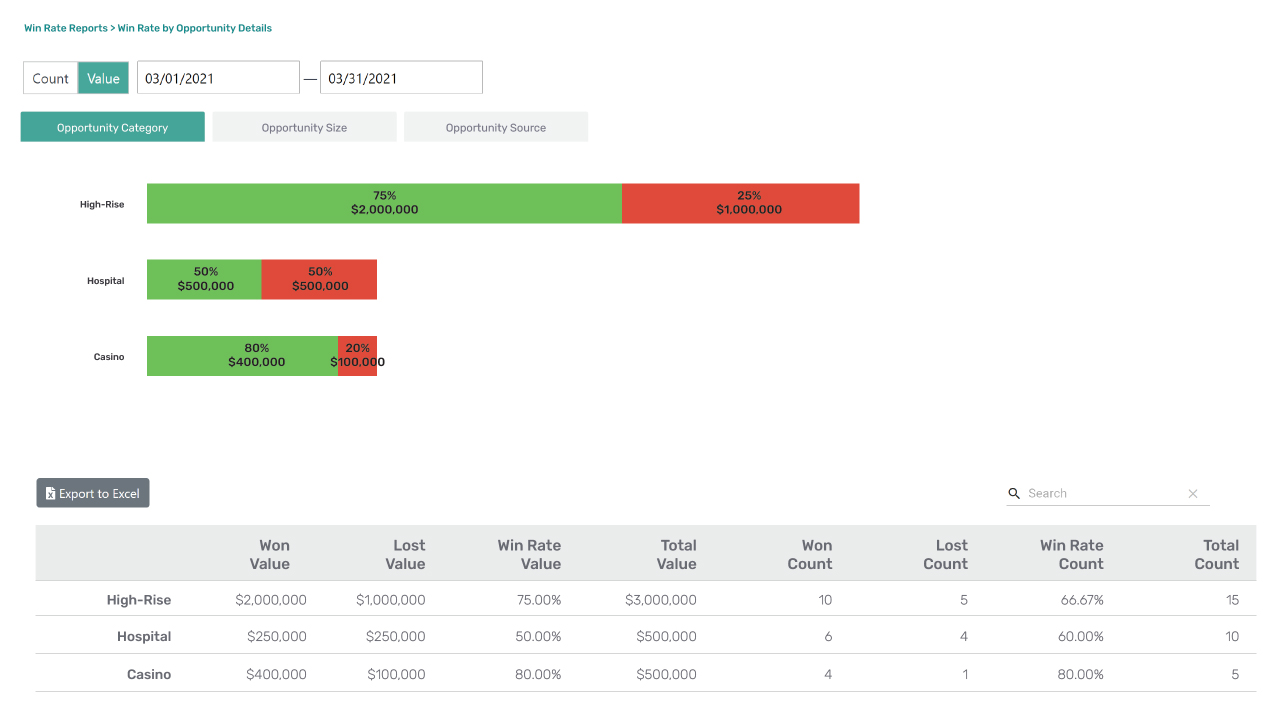 In Conclusion
Even though we may not see it as a separate process because follow-up activities are spread across the entire sales process, we can and we should consider follow-up a standalone process. A process that is well defined with activities, roles, and responsibilities. And a process that is integrated and supported by a great followup tool.
Further Reading