Follow-up is both thrilling and daunting, whether it's in the form of a follow up email, call, or meeting. On the one hand there is the potential of a new client or opportunity; on the other the possibility of rejection! But follow-up is key to success and therefore a topic worth tackling.
So we decided to not just research it, but come up with some guidelines for follow up scenarios, and provide follow up email templates as a starting point. Why did we choose to focus on email as a followup tool? Because calls so easily end up in voicemail. And voicemail just does not allow you to be as thorough with follow-up as email does.
Do Follow Up Emails Work?
Yes, follow-up emails not only work, but they increase your win rate. Research has proven over and over again that follow-up activities, including follow up emails, are a significant factor in the win rate. In construction, follow up is responsible for about 25% of the win rate, with price accounting for 50% and relationship for the rest of the 25%. You can see for yourself what the dollar value is for each of your follow-up activities with this follow-up value calculator.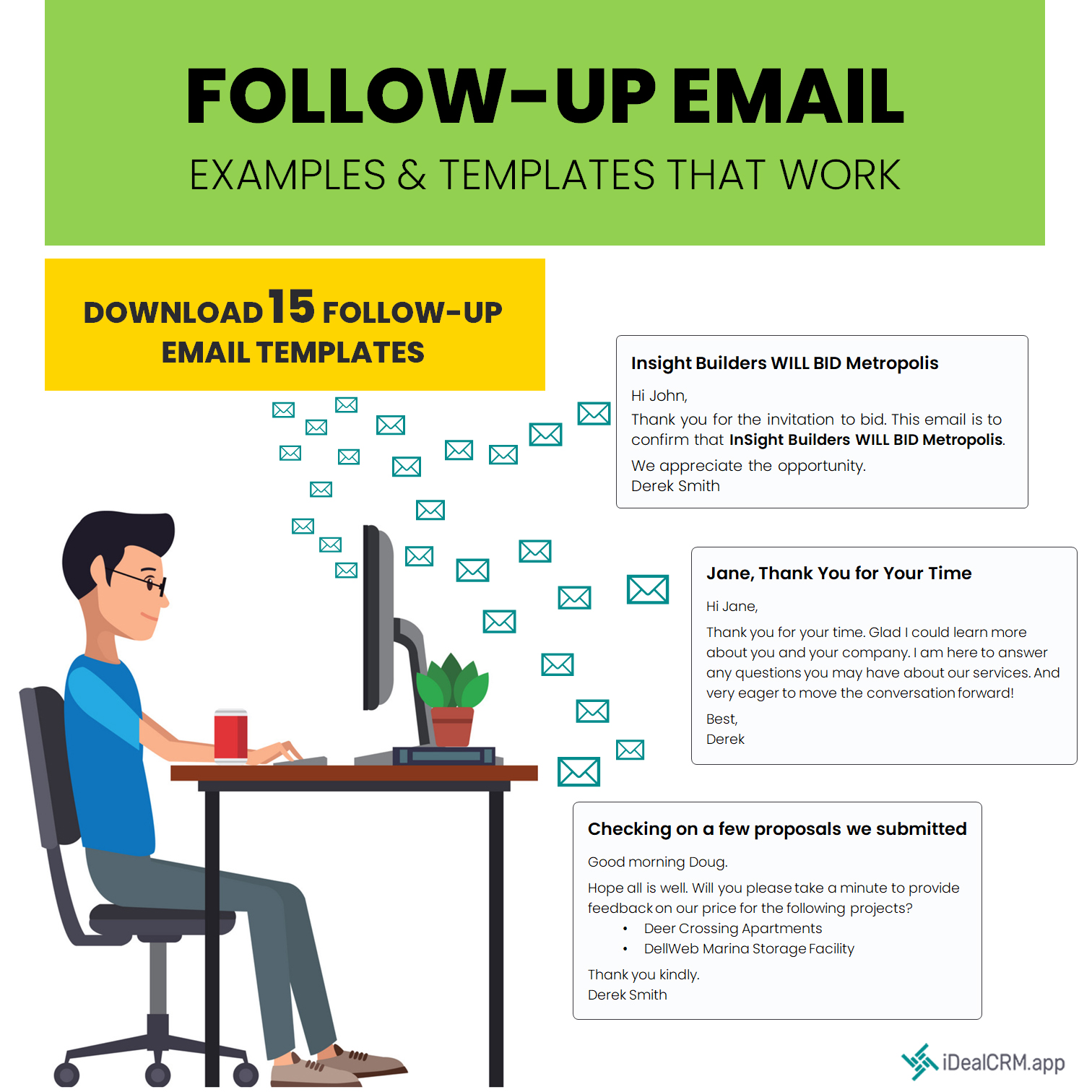 How Do You Write a Follow Up Email?
Suffice it to say, it is important to put thought into it before you start out. First of all, you need to "frame" your email. Are you following up on a chance encounter at, say, an industry event, or on an introduction, an invitation to bid, or the proposal you submitted? Or the voicemail you just left? The golden rule is to keep your followup email to the point and personable. Include the value proposition and a call to action, yet refrain from being salesey or pushy. Include a call to action that makes sense. And be sure to make it easy for the recipient of your email to respond.
Steps to write a follow up email:
Make the subject line specific
Email should be short and to the point
Start directly with what you're following up on
Ask the question(s) you want answered
If necessary, include a table or buttons where recipients can answer the question
Thank the recipient for their time
Here's a follow up email proposal example. Let's say that our company name is InSight Builders and we want to follow up on a proposal we sent out for a project called Metropolis.
Proposal Follow-up Email Template
Subject Line: Following up on Insight Builders Proposal for Metropolis
Email Body:
Hi John,

Thank you for the opportunity to bid Metropolis in Chicago. We submitted our proposal on May 5, 2021.

Can you please let me know if you received our proposal and what the status of the project is?

Thank you in advance for your time and consideration.

Kind regards,
[your name and contact information]
For more examples, check out the follow up email templates section below or download the Best 15 Follow-up Email Templates for Free.
How to Write a Second Follow Up Email
Again, it is important not to be salesey or pushy. And remain respectful of the recipient's time. But by all means add some information that would prompt the email recipient to take action. Strive to establish a relationship with the contact or client by focusing on their company needs. If possible, demonstrate the value your company can add to theirs with some collateral, e.g. use cases, you attach to your email for them to download.
We include some email and email subject line examples in the article for you to use as templates. For more tips on subject lines that improve open rates, read our articles on Email Subjects Lines for Networking and 13 Best Practices for Email Subject Lines.
How to Build a Follow Up Schedule and Stick to It?
Sales activities in a construction company fall into a few different categories such as prospecting, lead qualification, estimating, follow-up, and closing the deal. Even though we may not see follow-up as a separate process because follow-up activities are spread across the entire sales process, we can and we should consider follow-up a standalone process. A process that is well defined with a schedule of activities, roles, and responsibilities.
Steps to build a follow up schedule:
Outline your company's follow-up SOP (Standard Operating Procedure)

Establish how often you follow (based on lead type or project size)
Who is responsible for follow-up

Build a follow-up email template library (and a voicemail script library)
Implement a scheduling tool

You can implement a task management tool and schedule tasks for each follow-up. Sales management software usually comes with such a tool.
It can be a calendar that's part of a sales management software (see iDeal CRM Calendar feature)
Or it can be a Google or Outlook Calendar

Take notes and share them with the team

Sales management software is the best solution here
Keep notes in Excel for each opportunity or prospect
Add notes to the meetings you scheduled on the calendar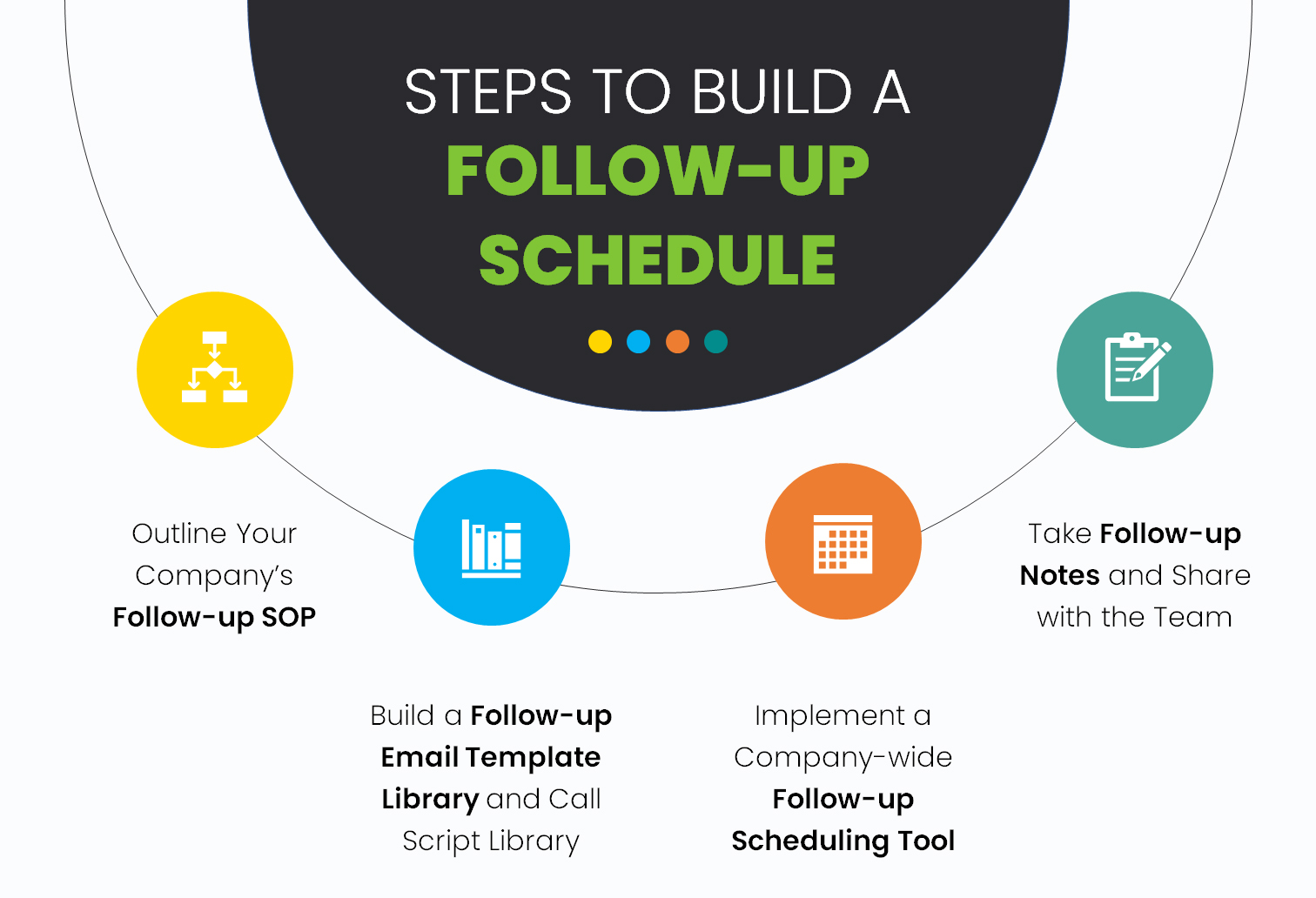 Outline Your Company's Follow-up SOP
When to Send a Follow Up Email?
As we mentioned before, when you send out a follow up email depends on the type of follow-up you do. If this is a follow up email for a proposal, you'll want to wait on sending it out depending on the size of the project. For instance if this is a small contract, you'll want to follow up in 3-5 days. If this is a large project that won't start for a while, wait for a week or so before following up. Also, if you are following up on an inquiry you received via your website or through your office, do that right away. In this instance, the quicker you respond, the higher the chance you'll get the work.
If you're following up with a prospect you met at a networking event, the best practice is to do so the following day.
Who Is Responsible for Follow Up?
Chart out the roles and responsibilities for follow-up as part of your follow-up standard operating procedure. Outline who is responsible for what type of follow-up. For instance, you may want your business developer who owns the relationship with the client to follow up on a proposal instead of the estimator who sent it out.
Build a Follow-up Email Template Library and A Voice Script Library
Having a company-wide library of follow-up email templates and voice script templates is important for several reasons. First, it helps keep your communications consistent and on brand. Secondly, a template library provides new employees with a solid starting point. And last but not least, it speeds up the follow-up process. Not having to type up every follow-up email reduces the execution time significantly.
Check out the follow-up email template library below for examples.
Implement a Scheduling Tool for Follow Up
A scheduling tool is crucial for follow-up. Without a schedule, a calendar, and reminders follow-up activities can easily be missed. Most CRM systems offer a calendar and task management to keep track of follow-up. But Google or Outlook calendar can also work as a scheduling tool.
Follow Up Email Templates for Sales Teams in Construction
Opportunity Follow-up and Bid/Proposal Follow-up

Intent to Bid
Proposal Follow-up
Find Out Who Was Awarded the Project
Price Check
Follow-up on Multiple Open Opportunities
Find Out Why You Lost the Bid
Follow Up Email to Client on Won Opportunity

Prospect Nurturing

After Initial Meeting
Compliment a Recent Accomplishment
Follow-up Email After You Just Left a Voicemail
Sending Requested Information
Follow-up After a Tradeshow, Event, or Conference

Re-engagement Follow Up Emails

Re-engaging Cold Clients
Touchpoint with Client You Don't Win a Lot of Work With
Here are a few follow-up email examples from the library of the best 15 follow-up email templates
Intent to Bid Email Template
Subject Line
Insight Builders WILL BID Metropolis, Chicago

Email Body

Hi John,

Thank you for the invitation to bid <project name>.

This email is to confirm that InSight Builders WILL BID <project name>.

We appreciate the opportunity.
<your name and contact information>
Proposal Follow Up Email Template
Subject Line
Following up on Insight Builders Proposal for Metropolis

Email Body

Hi John,

Thank you for the opportunity to bid Metropolis in Chicago. We submitted our proposal on May 5, 2021.

Can you please let me know if you received our proposal and what the status of the project is?

Thank you in advance for your time and consideration.

Kind regards,
[your name and contact information]
Follow Up Email to Client Who Won Opportunity
Subject Line
Congratulations on Getting

Email Body

Hi John,

Happy to hear was awarded . We are still keen on the project and would
appreciate feedback on our pricing

Please let us know if there's anything else we can do to further our chances of working with you on this project.

Thank you kindly.
<your name and contact information>
Sending Requested Information
Subject Line
Here's the Info You Requested

Email Body

Hi John,

Thank you for your time. I enjoyed talking to you earlier today and learning more about you and your company.

Attached you will find more detailed information on the projects / services you were interested in learning about more.

When you've had a chance to review the documents, please let me know when you would like me to give you a call to go over any questions you have. Of course, you are welcome to call me any time too.

Best,
[your name and contact information]
Further Reading