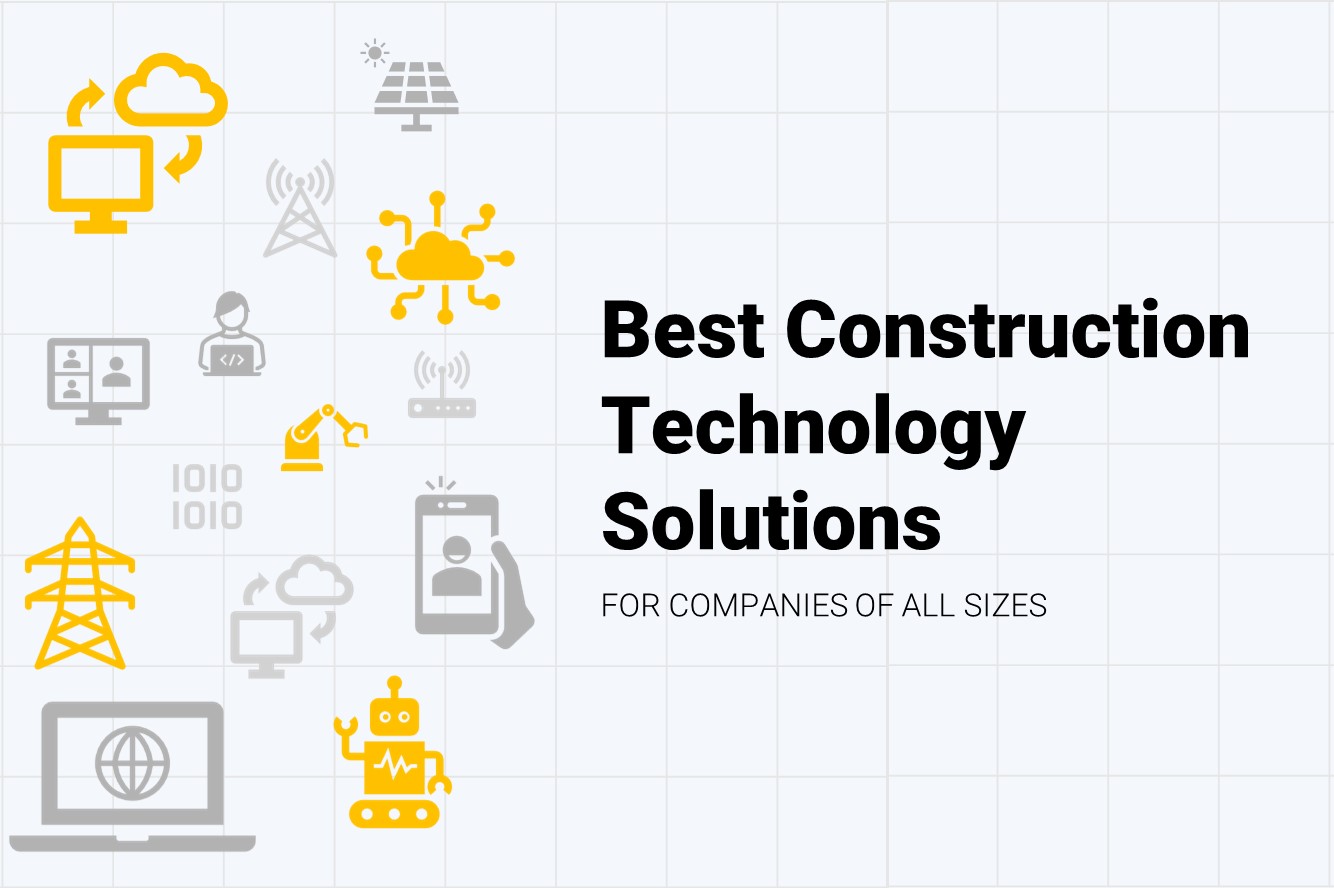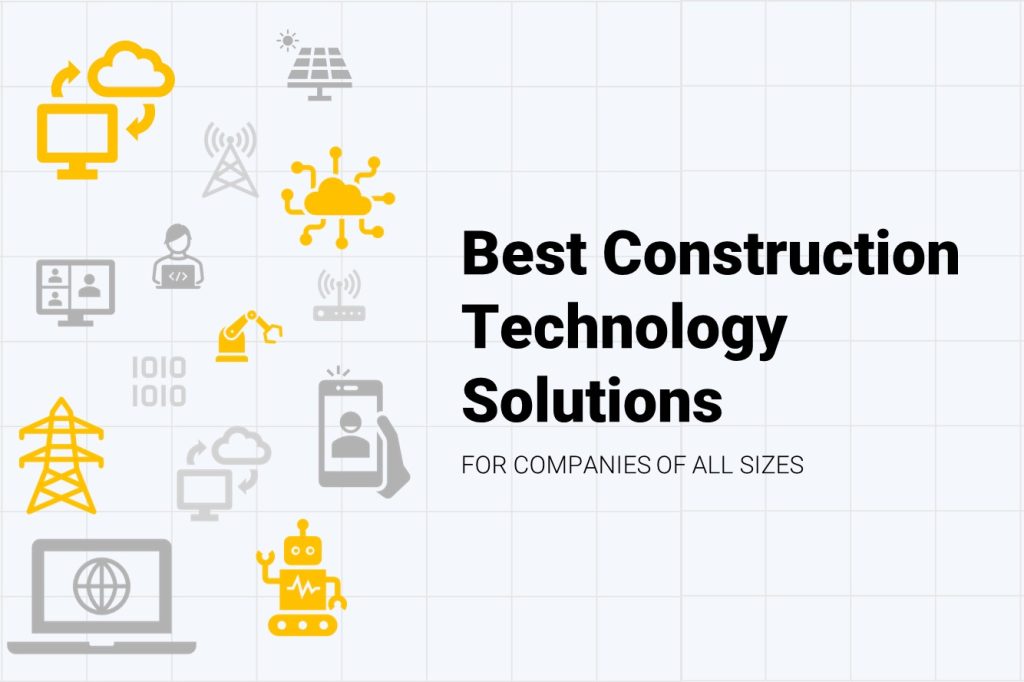 As far as technology goes, one of the biggest challenges that construction companies face today is keeping up with the multitude of construction technology solutions and selecting and implementing the ones that fit their needs best.
It's not enough to simply purchase new technology products. Construction companies of all sizes need to make sure that these technologies work together effectively. That's why it's so important to identify the best construction technology solutions for your company. While the list below is not an exhaustive one, it will provide you with construction technology examples to jump-start your search.
According to Deloitte's 2021 engineering and construction industry outlook, "76 percent of engineering and construction executives indicated that they were planning to invest in digital technology the past year."
---
What is construction technology?
Construction technology is a broad term that refers to hardware and software technology solutions that construction companies can implement to improve business processes, increase productivity, and finally, save time and money.
---
Types of construction technology
There are two main categories of construction technology: software and hardware. Hardware help to operate tools, machinery, and other equipment. Software solutions include everything else, such as CAD systems, sales and project management systems, and more.
In this article we focus on construction software technology to help you find your way through these types of solutions and select the best ones for your company.
These technology solutions can be further split two types:
Technology for the Construction Business Side
Technology for the Construction Execution Side
As you will see below, each type of construction technology is divided into several other distinct types of software.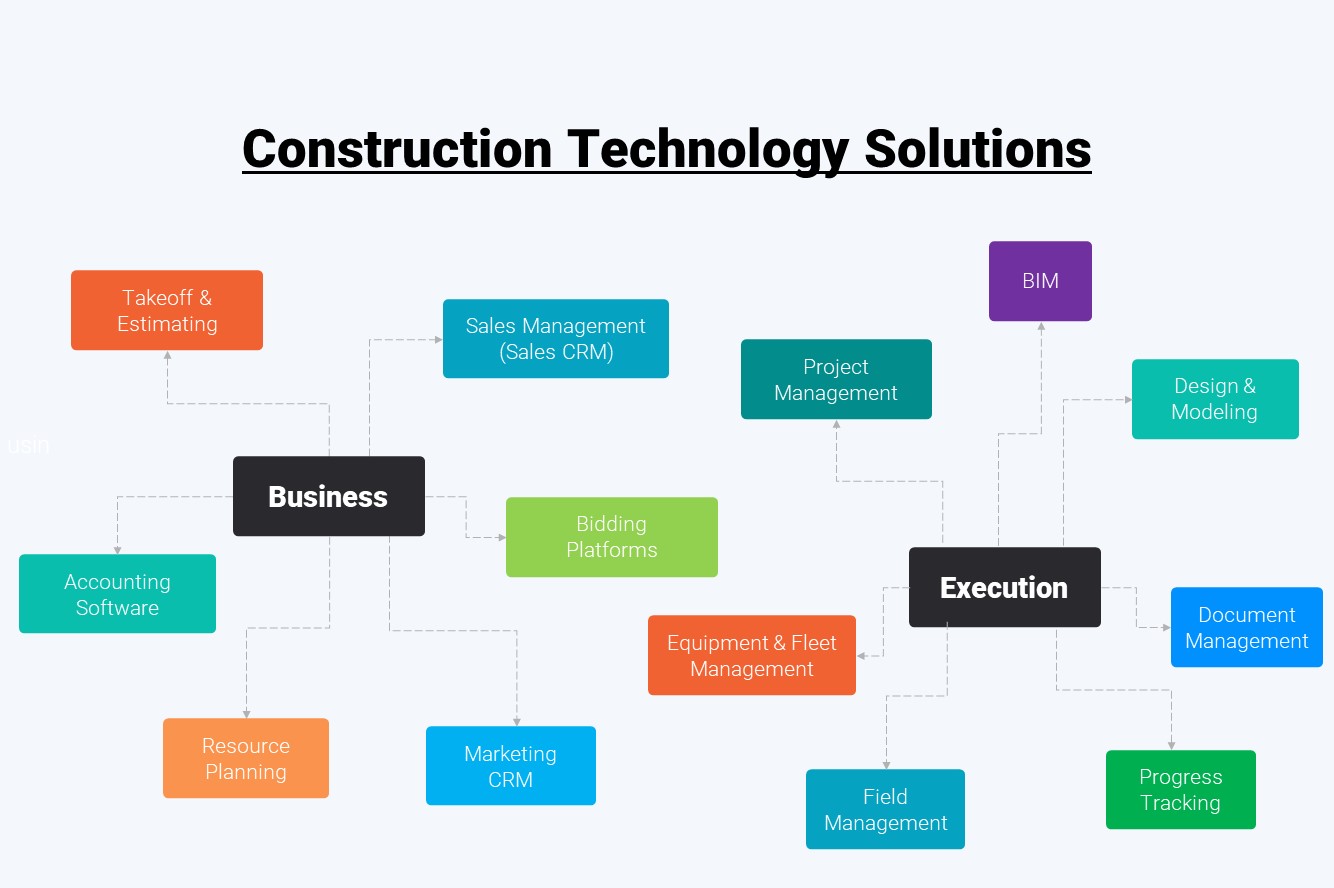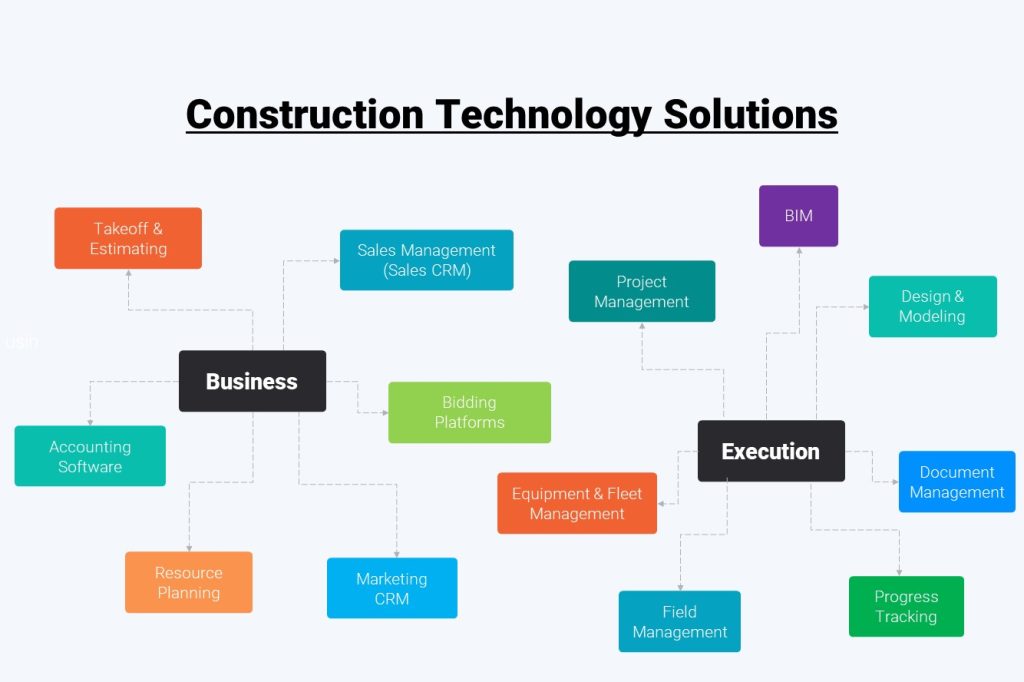 ---
Construction Technology for the Business Side
Construction technology tools for the business side include software that improves the sales, estimating, and bidding processes, marketing efforts, as well as accounting and resource planning.
Takeoff & Estimating Software
Construction estimating is a crucial step in every construction project. It includes detailed cost estimates, schedules, and construction plans. Some construction technology solutions like iDeal Construction CRM, include a simple estimating module to expedite this process. But others more specifically focus on the nitty gritty of creating the line-by-line cost and quantity estimates for materials and labor. For example, these tools include cost summary templates, formulas and calculations, and regional part / material cost databases.
Here are some examples of takeoff and estimating software you may want to investigate and a great article by Construction Coverage that takes a deep dive into the subject! They recommend:
Stack – all-in-one takeoff and estimating system works anytime, anywhere
PlanSwift – takeoff and estimating solution designed for commercial, industrial, institutional and residential GCs and Subcontractors in almost every construction trade
Trimble Accubid – flexible estimating tool to quickly and accurately create estimates
Proest – works with commercial contractors, delivering estimating solutions for better bids
Clear Estimates – for home builders and remodelers, comes with over 60 templates for common jobs like kitchens, bathrooms, garages, additions, and much more
Sage Estimating – create more accurate estimates In less time & increase your bid-to-win ratio
Sigma Estimates – modern and easy to use estimating software, widely used among architects, engineers and contractors in the building industry
Stratosphere – cloud-based construction takeoff software that helps construction estimators and contractors measure and markup digital blueprints
Check out the pros and cons of each in this Construction Coverage review!
Construction Sales Management Software (Sales CRM)
Customer relationship management (CRM) is key to any business, from managing relationships with leads to those with clients, and turning sales opportunities into deals. And there are many such sales management tools specifically for the construction industry. They typically automate the proposal and follow-up processes, but also store valuable information about contacts and clients. Many, like iDeal Construction CRM, provide marketing and sales support. And many also include a sales calendar and metrics for reporting. Examples of highly-rated construction CRM providers are:
iDeal Construction CRM – sales and customer management for construction; proposal and follow-up automation software
Pipedrive – sales customer relationship management tool; not specific to construction
Unanet (formerly Cosential) – cloud-based CRM and proposal automation tool; part of a bigger suite now
Marketing CRM Software
Marketing CRM software and sales management are often confused, but there are important differences between the two. Software like a marketing CRM addresses the top of the sales funnel. It provides leads via email campaigns, social media or website visitors and also helps qualify them. Once leads are qualified, they move over to the sales pipeline. According to this list, some of the top marketing CRM technology solutions in 2022 are:
HubSpot – CRM for marketing and customer support
Mailchimp – email marketing platform with automation capabilities
ConstantContact – email marketing platform with automation capabilities
OnePage CRM – contact management with follow-up automation
Bidding Platforms
The construction bidding process is a complex one. Top construction companies get projects to bid on from online construction bidding sites. Therefore, getting the right online platform for your construction projects is crucial. This is an easy one: Check out some of the top bidding platforms in this article on our blog. Some of the best bidding platforms are:
PlanHub – leading construction bidding software for construction professionals who want to expand networks, post projects, win bids
iSqFt – now part of the ConstructConnect platform. All the projects, GCs, and tools you love and so much more. From project discovery to bid management
BuildCentral – develops and markets innovative construction databases and location analytics products that help builders, manufacturers, suppliers
Construction Bid Source – helping contractors find local construction projects out to bid by state and county
Building Connected – the largest real-time construction network that connects owners and builders through an easy-to-use platform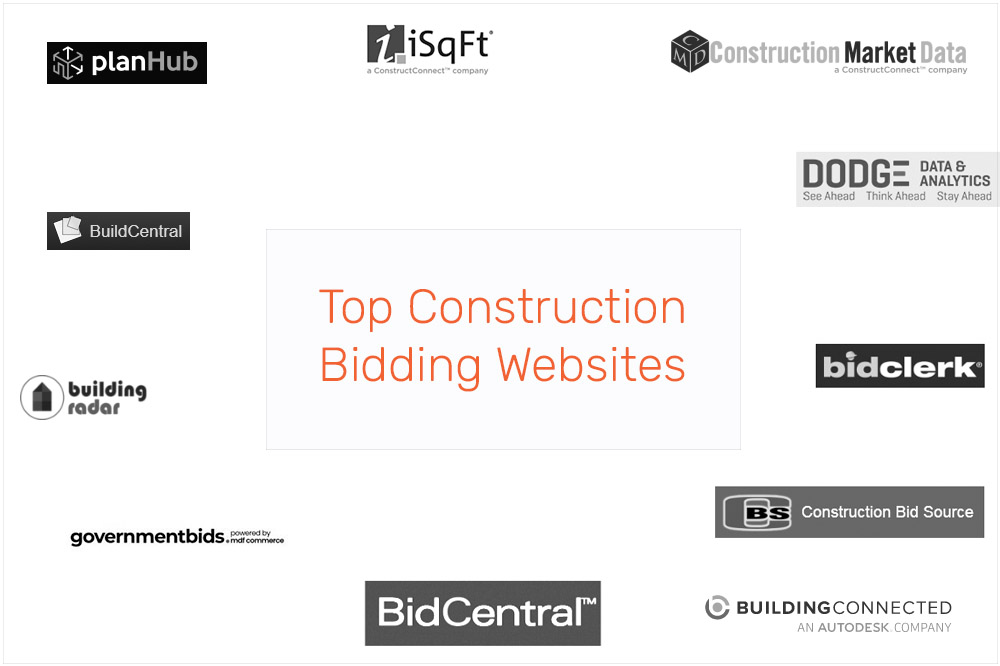 Accounting Software
It has been said that "Construction companies are really accounting companies that just happen to build buildings." But construction companies require software that expands general accounting features to track job-specific costs and revenues, manage payroll, and handle billing and procurement. Accounting software like Quickbooks may not cover that integrated process with enough detail and depth. And an enterprise resource planning (ERP) solution may not include construction-specific functionality. For a 360-degree view of all the factors for consideration, read this comprehensive article and the six recommendations by Michael Stromberg of Construction Coverage. These are some of the accounting software solutions that come highly recommended as construction technology in the article as Best Overall, Runner Up, and Best for Accounting & Project Management.
CMiC – construction management software is the industry standard for construction businesses looking to better manage their accounting, projects and people
FOUNDATION – dedicated construction accounting software for contractors
Sage 300 CRE – keep up with subcontractors, compliance paperwork, certified payroll & more
Resource Planning
What is construction resource planning technology? What is the difference between project management and resource planning? Project management tracks time, tasks, and resources related to a specific project. Resource management, on the other hand, keeps track of every resource in the company, especially employees, their skills, and their time. Resource management software supports planning, scheduling, and allocating people, money, and technology to projects.
Resource Management by Smartsheet – simple resource allocation; effectively find and schedule the best project team, resolve staffing conflicts in real time, and forecast hiring needs
Wrike – empower your teams to do the best work of their lives with 360° visibility, true cross-departmental collaboration, and powerful automation
VIZZN – focuses on estimating, dispatching, scheduling, job-site logistics, and construction management
You can also check Get App for more construction resource planning recommendations.
---
Construction Technology for the Execution Side
Technology solutions for the construction execution side support the nuts and bolts of the construction process, i.e. design, execution, project management, compliance, and documentation of the building process. Execution software is "built" on top of what the business software puts in place.
Construction (Project) Management Technology
We all joke about scope creep, but for a construction project to be profitable, it needs to be on time, on budget, and on scope. That is where project management technology comes into play, whether it is via an Excel spreadsheet, or more sophisticated software like these featured and highly rated on Software Advice:
Plangrid – free with Autodesk Build; mobile app that comes with Autodesk Build, our new, all-in-one field, project and cost management tool for builders
Procore – all-in-one construction management software
Buildertrend – construction management software for homebuilders, specialty contractors, home remodelers
AutoDesk Construction Cloud – connects teams and project data from design to done—reducing risk, protecting profits, and increasing predictability
ViewPoint – supports the construction accounting, project management and field teams
CMiC – construction management software is the industry standard for construction businesses looking to better manage their accounting, projects and people
For some construction project management best practices, check out this comprehensive article on the Construction Coverage blog.
Construction BIM (Building Information Modeling) Technology
Now we are venturing into some high-level construction technology solutions! And it's not for everybody in the building industry, but still worth exploring.
"Building information modeling is a process supported by various tools, technologies and contracts involving the generation and management of digital representations of physical and functional characteristics of places." – Wikipedia
Needless to say, BIM is an emerging technology utilized by architects, engineers, and building contractors. BIM creates and manages information on a construction project throughout its whole life cycle.
Pre-construction, it ensures the design is coordinated with and available to those involved in the construction and operation stages.
As the project enters the construction stage, the information developed can be used to plan and build more efficiently.
After the construction project has been completed, the information can be used to operate the built asset.
Best construction technology examples for BIM are:
Autodesk Suite
Autodesk Navisworks – 3D model review software for architecture, engineering, and construction
Infurnia – cloud-native architecture software that enables you to seamlessly implement BIM
Vectorworks – 3D design software; fully-integrated BIM
Autodesk Revit – plan, design, construct, and manage buildings
Trimble Connect for Windows is considered the best BIM freeware by some
If you are interested in further exploring this technology, here is a recent article on the topic by Ben Aston of Project Manager News on the leading BIM software tools in the market.
Design and Modeling Construction Technology
Design and modeling construction technology are often tools in a building information management (BIM) software suite. It allows you to create a 3D model to better communicate and visualize complex site conditions, structural connections, and building systems.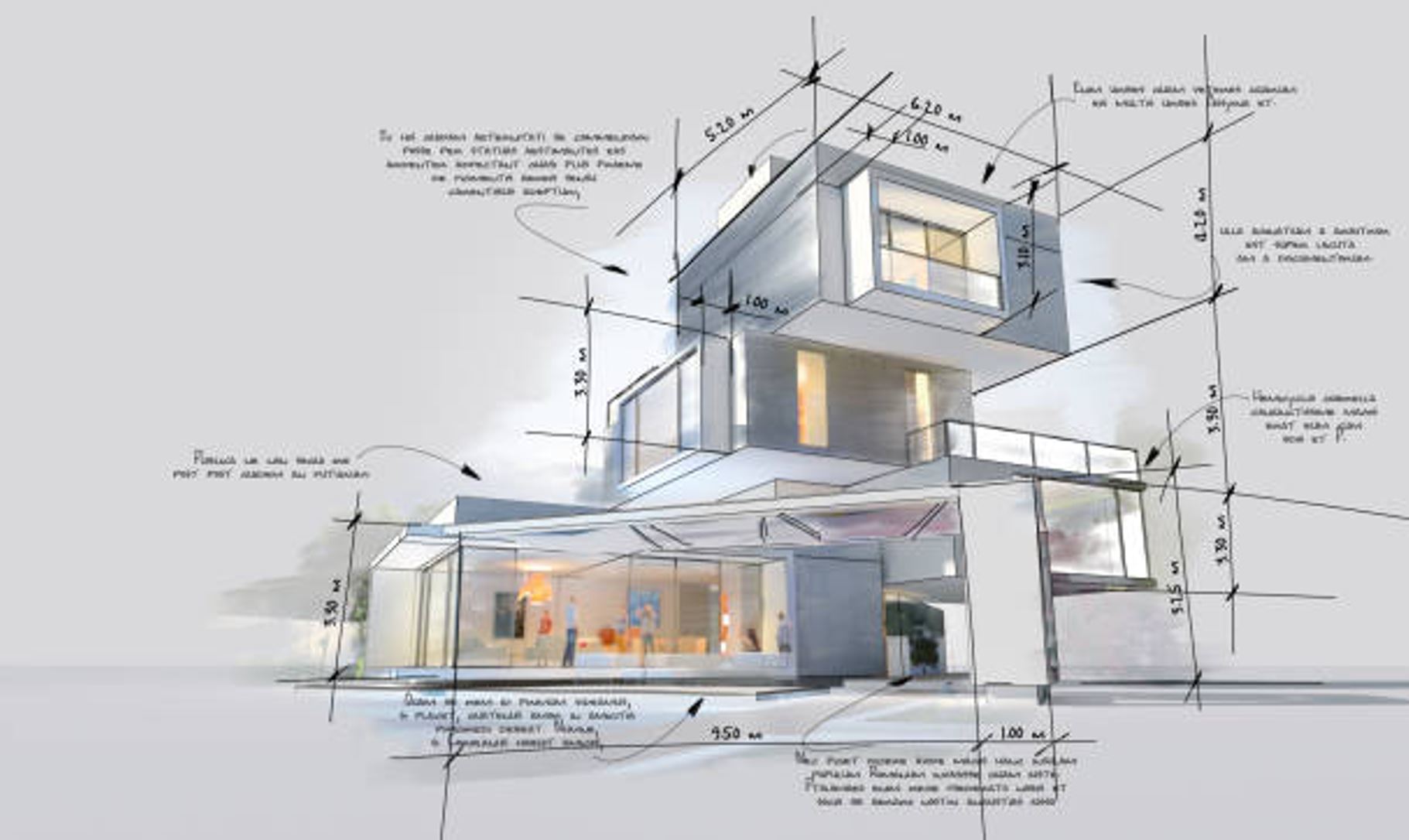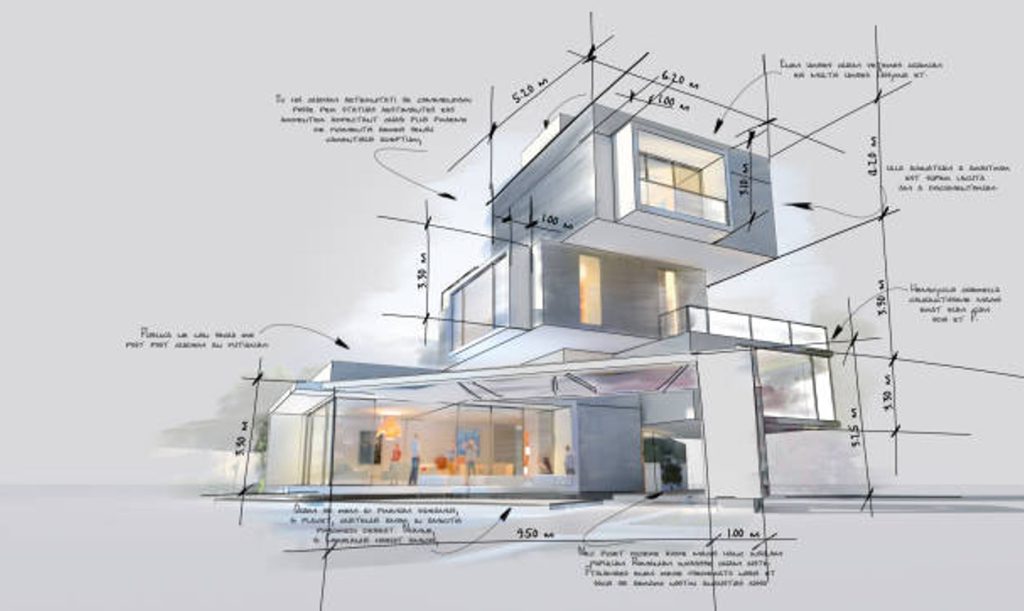 Construction design software, also known as construction drawing software, can include 3D and architectural CAD tools as well as drawing tools for construction plans.
3D modeling software is an essential tool if you're working in the architecture sector. However, it can be used by architects, interior designers, students and civil engineers to better visualize their projects. For example, ArchiCAD is architectural software technology that provides a complete toolset for architects to do 3D and 2D drafting, visualization, or building modeling. Other examples of design and modeling software are:
AutoCAD – design and drafting application; most widely used
ArchiCAD – professional architectural visualization tools; the first BIM software
Sketchup – 3D architecture design technology
Vectorworks – 3D design software; fully-integrated BIM
ALLPLAN – 3D BIM design and detailing software for precasters, rebar detailers, civil and structural engineers.
SkyCiv Structural 3D – online structural analysis technology with a full suite of modeling
Rhino 3D – design, model, present
IntelliCAD – 2D & 3D CAD tools, BIM import
ActCAD – part of IntelliCAD
ArcSite – CAD app for sales and inspection
Houzz Pro – solution for interior designers, remodelers, and home builders
Document Management
Document management technology for construction industry can cover a wide field. For example, CrewTracks records scheduling and dispatching information, injury reports, job photos and notes, and time sheets, as well as job and payroll and equipment and materials costing and purchasing. Some platforms like Quickbase even include compliance and accounting functionality. And some, like Procore's document management platform, even provide revision control and archiving tools.
Document360 and greytHR are highly ranked by more than 50 customers on Software Suggest but visit the complete list here. Interestingly Google Doc takes third place! Autodesk Construction Cloud, on the other hand, comes recommended by Capterra as document repository for construction documents, drawings, and 3D models.
Dropbox – brings everything—traditional files, cloud content, and web shortcuts—together in one place
Document 360 – enables users in businesses across various industries to create, collaborate and publish self-service knowledge bases for their products and services
Procore – users can upload documents to projects
Autodesk Construction Cloud
iDeal Construction CRM – you can store all documents for each opportunity (drawings, contracts, change orders, RFIs,…)
Construction Progress Tracking Technology
It is very important to track construction projects in real time to:
Avoid delays and address issues on an ongoing basis
Provide the construction team visibility into the project
Support decision making along the project timeline
Encourage accountability among the whole team
Yet, many construction companies still use manual processes to support this crucial process. while there is construction-specific management technology like these contenders for market share to support them:
Wrike – empower your teams to do the best work of their lives with 360° visibility, true cross-departmental collaboration, and powerful automation
Procore – all-in-one construction management technology
Plangrid – free with Autodesk Build; mobile app that comes with Autodesk Build, our new, all-in-one field, project and cost management tool for builders
Knowify – distributed system, accessed and used by all of your employees. Built-in workflows and collaboration capabilities
And here is a great game plan for real-time tracking from the Autodesk blog.
Construction Equipment & Fleet Management Technology
Equipment and fleet management construction technology is a must-have especially for larger companies or firms with expensive assets. With this type of technology you can track all your field assets, get alerts on maintenance and driving, and report on your fleet, field, and shop.
Fleet IO – manage all aspects of your construction equipment and vehicles; trusted by construction fleets around the world
Tenna – construction fleet management solutions from Tenna include asset tracking, cameras, reporting, telematics and more
Samsara – live tracking; ETA sharing; alerts for maintenance and driving; DVIR with Driver App; easy install; works on all vehicles
Chevin Fleet – helps you keep track of essential & expensive fleet assets with our easy-to-use construction fleet management software
HCSS Equipment 360 – is our construction fleet maintenance & management software that provides a full view of your fleet, office, field & shop
Field Management Technologies
Plangrid – free with Autodesk Build; mobile app that comes with Autodesk Build, our new, all-in-one field, project and cost management tool for builders
FieldWire – The construction field management platform designed for the jobsite; view plans, photos, and tasks in real time
CrewTracks – see daily variance based on labor cost and production; simple daily reporting app for construction; field management app
---
Conclusion
As you no doubt can see, some construction technology solutions have a wider application than say, just marketing, bidding, or accounting. But hopefully our article can connect those dots for you, and help you find the technology that will serve you best all round!
Wishing you more leads, clients, and jobs going forward!
---
Further Reading