The construction project estimator collects and analyzes data to determine all necessary resources for construction projects. Their input is essential to a project. A construction project estimator can earn as much as $107k a year. A bachelor's degree and specialty certifications help with higher income.
Construction Project Estimator Role
A construction project estimator plays a crucial role in any construction project. Their input can either make or break a project. Project estimators collect and analyze data to determine all necessary resources for projects. Such resources include the following:
Time
Money
Construction materials
Labor required to construct a building
This article highlights a construction project estimator's responsibilities, salary, education, and experience.
Construction Project Estimator Responsibilities
Construction project estimators have a very complex job to fulfill. They may complete some or all the tasks listed below:
Review plans, analyze blueprints, specifications and other documentation to prepare estimates and construction bids
Use special formulas to calculate, record, and track estimates
Create, send, and track proposals for opportunities. (Check out the Construction Proposal Elements article to find out what to include in your proposals.)
Complete projects budgeting, scheduling and track them
Prepare clear detailed quantity take offs on assigned projects
Organize subcontractors quotations
Negotiate to ensure quotes meet contract documents
Issue proper documented sale orders
Track progress for on-going work
Identify potential risks for on-going work
Requisition price change orders for on-going work
Receive and reply to invitations to bid
Request bids from subcontractors and review bid schedule
Provide and maintain unit pricing and database for material and labor costing
Maintain relationships with subcontractors and clients
Meet with clients to discuss options for proposed services
Ensure site personnel have proper documentation for projects
Construction Project Estimator Education and Experience
Education:
Employers in the construction industry don't always ask for a bachelor's degree. Yet, to get to a higher level pay grade as a construction project estimator, it's recommended to earn a degree. As a construction project estimator, you can get a degree in construction management. There are different organizations that offer certifications for construction project estimators. There are three organizations that offer such certifications:
American Society of Professional Estimators (ASPE)
The Association for the Advancement of Cost Estimating (AACE)
International Cost Estimating and Analysis Association (ICEAA)
Experience:
Most employers will seek candidates who already have some experience in the field. Businesses provide on-the-job training to get new hires up to speed with their own standard procedures. This will give new hires the chance to learn organizational protocol for:
Writing proposals
Preparing estimates
Dealing with bids
Customer and client relationships
Project Estimator Salary
The average base salary for a construction estimator is $78,849 per year. Salaries range from $64,766 to $83,487. Currently, Minnesota, Arizona, Ohio, Washington, and Nevada are top payers for estimators. Project estimators can also earn bonus or profit sharing. The bonus can rage between $506 to $18,000 per year. Profit sharing can go from $49 to $12,000 per year. Salary and all other monetary incentives vary based on the location, project, skillset. Experience also plays a crucial role in the compensation factor. The more experienced the professional, the more income they earn.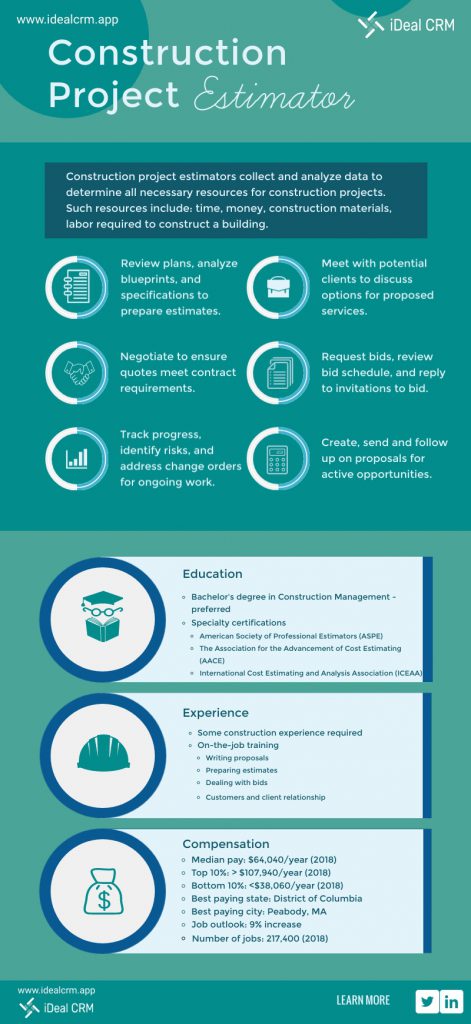 You may also be interested in: