Great sales collateral examples and templates are difficult to find in the construction industry. This is the very reason why we put together an entire library of sales collateral examples and editable sales collateral templates that you can download, edit, and use as you wish.
Sales collateral design can become a challenge especially when you don't have an in-house graphic designer. All of the sales collateral examples in this article are part of our free library of collateral, proposal, and email templates. Get these sales collateral examples and use them for sales collateral ideas or as sales collateral templates.
What Is Sales Collateral?
Sales collateral is a collective term for any materials you can produce either digitally or in print to increase your exposure and therefore your footprint in the construction industry. Collateral also serves as sales enablement, in other words not just to market your company in the AEC industry but SELL its reputation and services. Sales collateral is what you pass out at building conferences and construction trade shows you attend. It is also what you leave your prospects with at the end of a face-to-face presentation. You offer your sales collateral for download on your website in exchange for email addresses to generate leads. Sales collateral helps build your company image.
Sales Collateral Examples and Sales Collateral Templates by Type
So, what are some sales collateral examples? And best practices for each type? And where in your sales pipeline do you them? Let's take a closer look at each type.
Product and Service Sell Sheets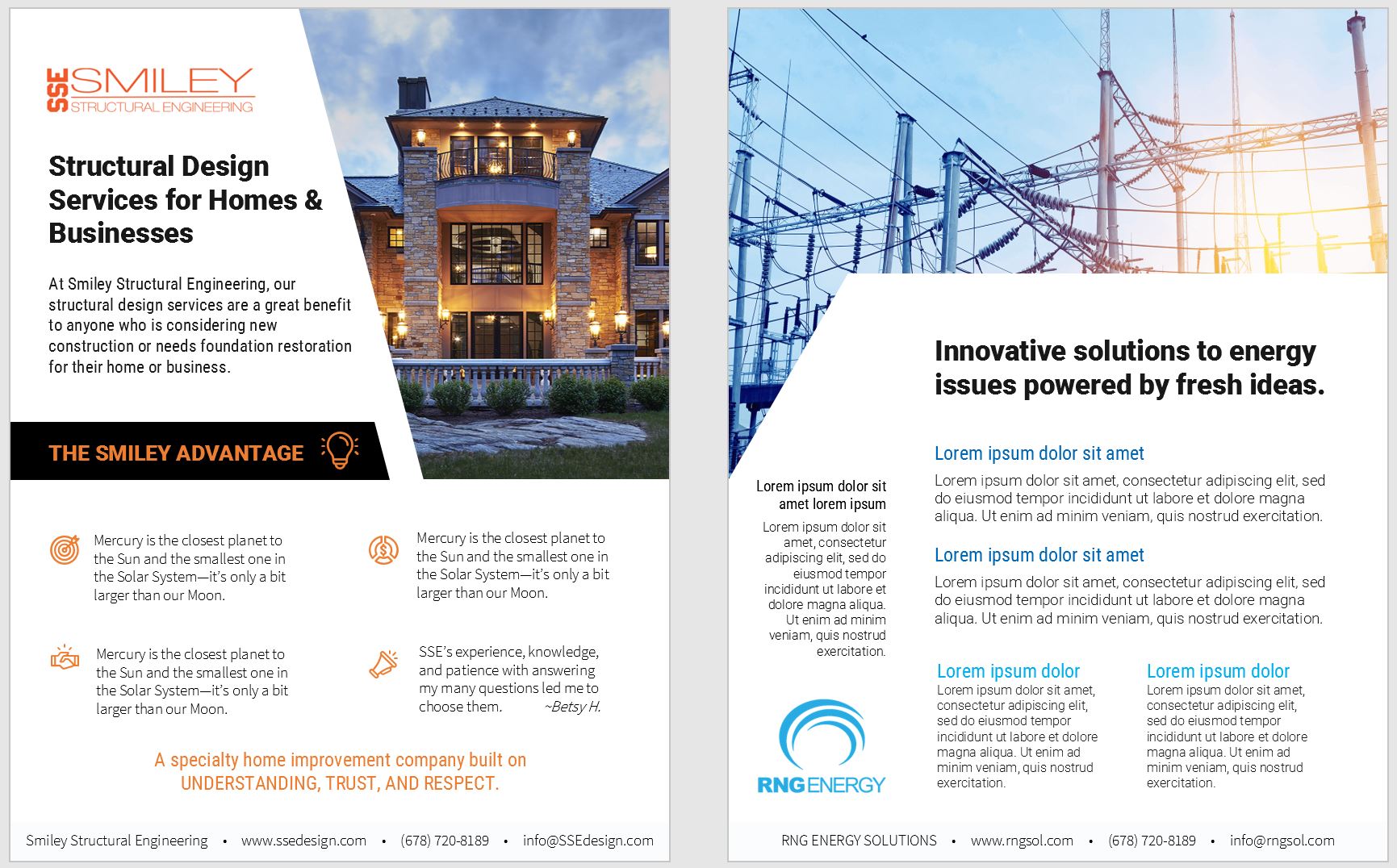 Sell sheets are some of the best sales collateral examples. This is the printed collateral sheet that you leave with your lead after your pitch, and should help you move the needle to the next phase in the sales process. Rule of thumb is to keep it simple. Provide examples of similar projects you have completed. Images. State your bottom line or range. And include guarantees that instill confidence. Download the Sales Collateral Templates for 2 editable templates that you can use to build your own product and service sell sheets.
Company Brochure – Sales Collateral Examples

A company brochure is a very valuable collateral resource for marketing, i.e. early in the sales pipeline. It shows who you are, what you do, and how you do it. It can be printed and available online. Typically it includes:
cover sheet with an image, company logo, and name.
introduction to your company (history, your mission, and vision)
description of services
portfolio of projects
contact and social media info (and if digital, a link to request an appt. for example, email or an online form)
Pamphlets are also branded but condensed versions of a brochure, and often utilized to provide information about a specific service or product a company offers. For example, in the construction industry, your company may have separate pamphlets for commercial vs residential construction services.
Projects Portfolio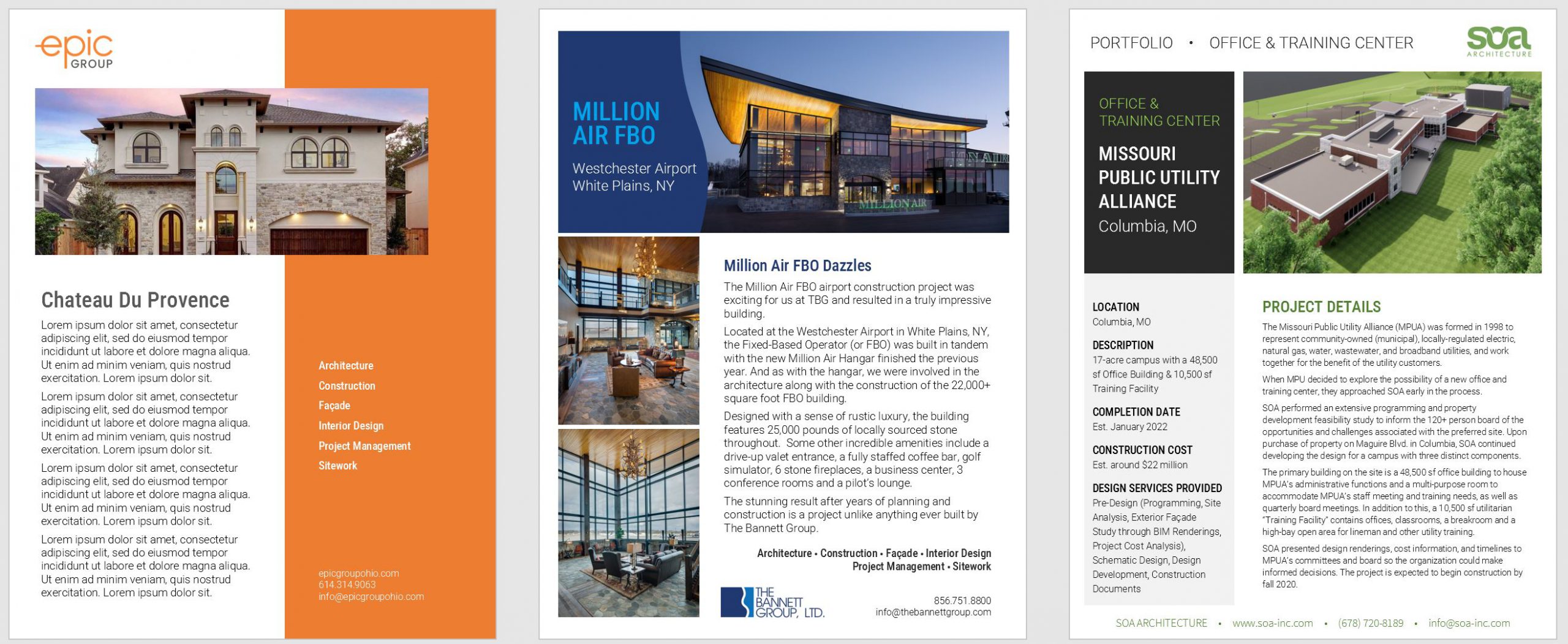 A Projects Portfolio is one of the best sales collateral examples because it showcases your capabilities with concrete examples. This is the collateral that you dedicate a page on your website to. It is also a good sales collateral example that every business representative should carry in their briefcases whether they are attending a construction event or meeting a prospective client so, early on in the sales cycle. Also keep a digital copy handy so you can email it to prospects and leads when necessary. Again, it is important to stick to the salient features of the projects you have completed and images that showcase your services. Nothing speaks louder than evidence! And, keep it branded…
Case Studies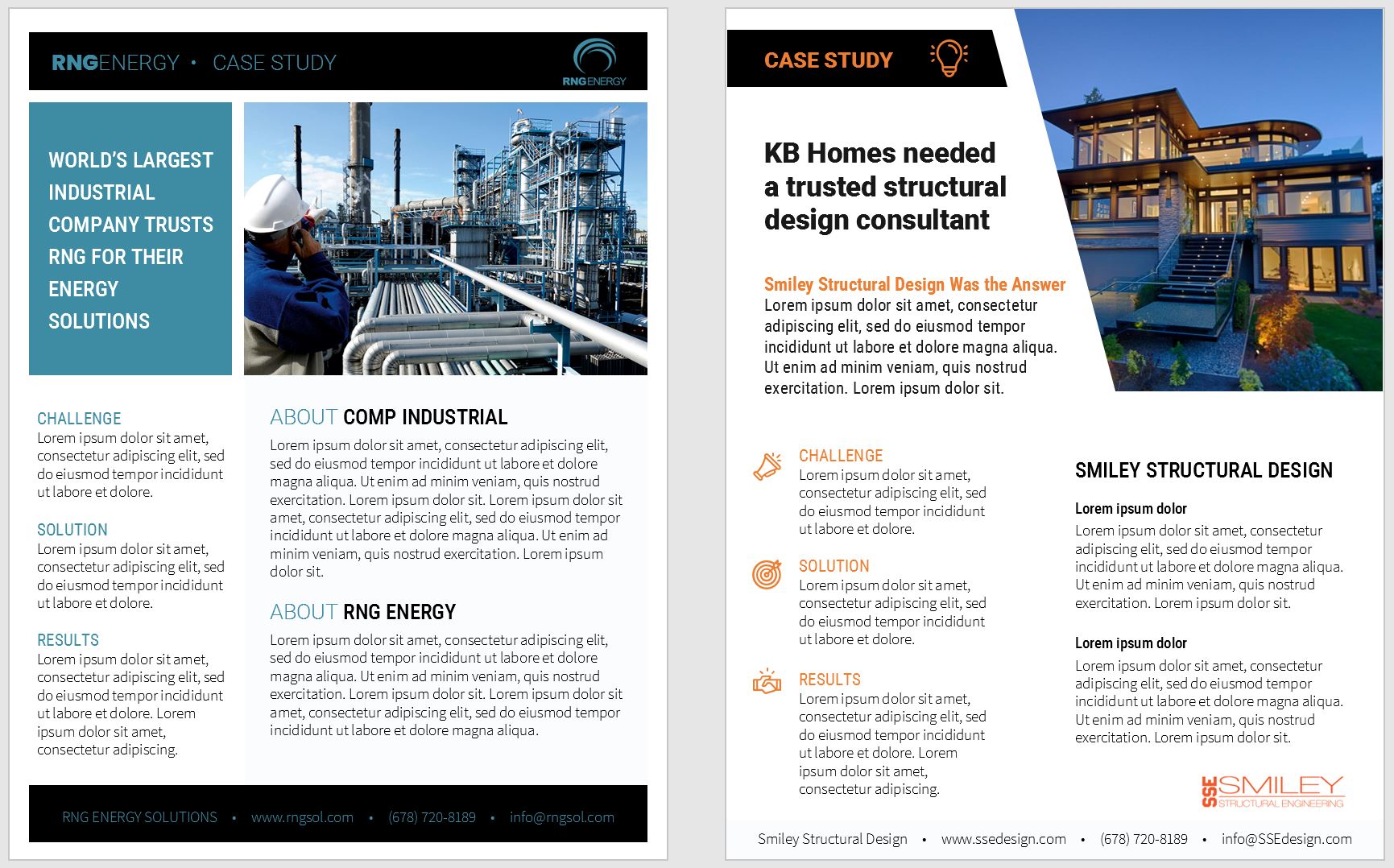 Wikipedia defines a case study as "an in-depth, detailed examination of a particular case (or cases) within a real-world context". In construction, you can create a case study for a particular project you have completed. You can also have case studies around long standing clients that have used your services for a long time. Whichever the topic, remember to kKeep it brief (i.e. one pager) but be sure to include:
The opportunity
The challenge
Your solution
Your client's experience
The results
Lessons learned and other insights
Case studies are great sales collateral examples that can serve you anywhere in the sales pipeline. It demonstrates that you honor your company mission, respect the client, and deliver results. And that you analyze each project to determine what you did right and what you could do better.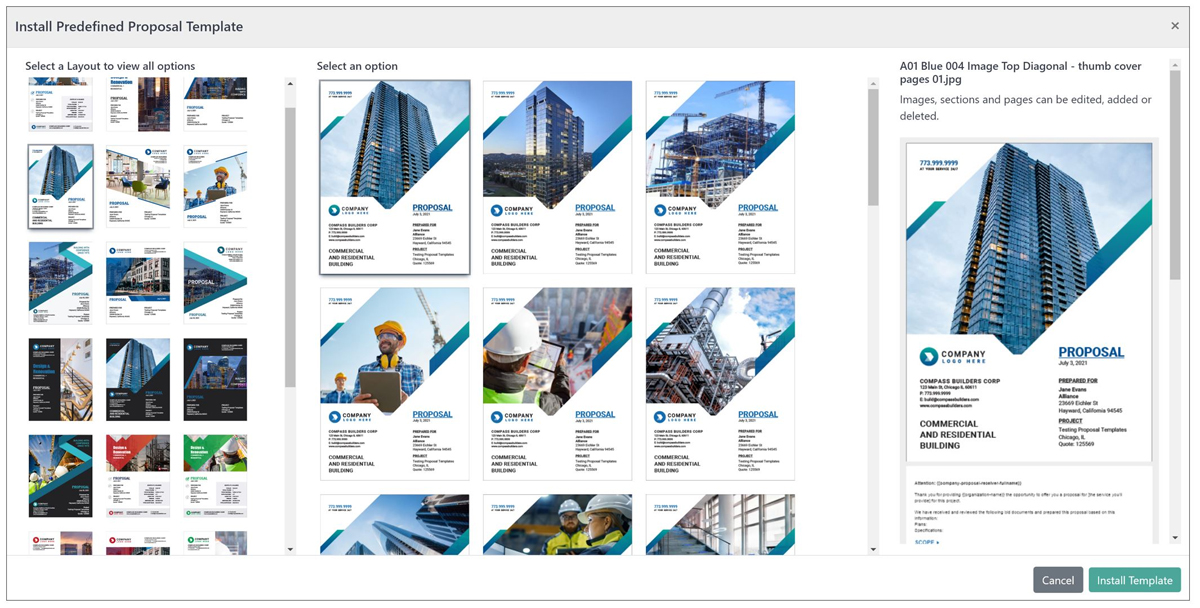 Now this is an unusual piece of collateral applicable to especially the construction industry. Yes, it is a proposal with products/services and their costs, but it can serve as so much more, yes, collateral in the final stages of the sales pipeline. First of all, it has to reflect your brand so your company stands out. Secondly, it does not hurt to weave in some success stats and remind prospective clients who you are and what sets you apart from the competition.
Email Templates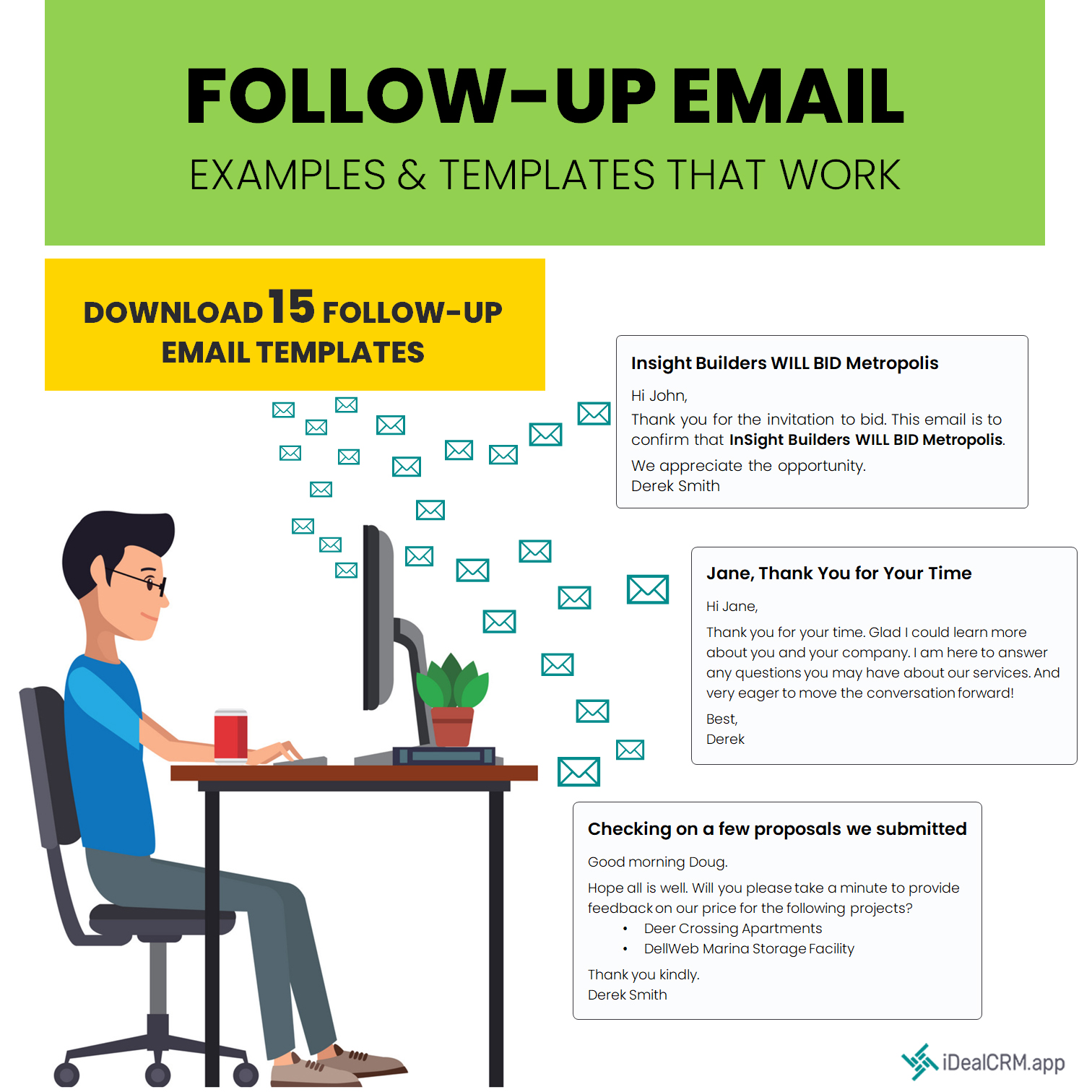 Throughout the sales process you will be communicating with leads and prospective clients via email. Leverage it to stay top of mind:
Brand it (with a logo, company tagline, mission statement, etc.)
Include links to

similar projects
company fact and sell sheets
social media
your company website

Add an image of a project
Company Presentations
A company presentation (not talking death by PowerPoint here!) is indeed a powerful collateral tool in the sales process and especially useful further down the sales pipeline. You may need one once you get your foot in the door and have an opportunity to pitch your services in person. Again, make sure your branding is on point, use bullet points sparingly, leverage images of past projects (to talk to), display existing customer names/logos, and include any and all relevant metrics to support your pitch. But stay to the point and leave time for questions!
Work Fact Sheets
Work fact sheets are portfolio-type sheets but organized by market segment, industry vertical, or work type and without all the project details. This type of collateral comes in very handy when trying to convince a potential client to use your services as it speaks exactly to their needs and market. This particular sales collateral introduces the market segment or work type and then lists successful projects along with client names. For example, let's say you are talking to a potential client who mainly does high-rises and mixed-use buildings. You can email or hand the prospect two work fact sheets listing work and clients for those two specific market segments.
Whitepapers
With whitepapers you are establishing thought leadership in your industry. You communicate experience, commitment, and value-add in the construction industry. But what do whitepapers do? They typically tackle a problem in a specific industry, research the scenario, and then provide an in-depth analysis of issues and options to address them. Based on facts and figures. This collateral can be made available on your website and serves your credibility throughout the entire sales cycle. As with other collateral, it has to have your brand stamped on it!
Videos as Sales Collateral Examples
Videos are your company brochures, presentations, case studies, project portfolio but in video format. It's been proven over and over again in the last few years that video content is better received and digested than other formats. Create videos from your digital or print collateral and post on your YouTube channel and link to it on your website. This tactic is one of the best ways to generate quality leads.
Sales Collateral Benefits
Building Your Brand
A distinct color palette, logo, and visuals and details of all your flagship projects creates brand awareness of your company. Make your company and services instantly recognizable via your sales collateral. Your company mission statement and your vision speak to your potential customers' needs. Of course, you do not build your brand just with collateral; everything you and your team do and how you do it builds brand awareness. And your collateral reflects that. All sales collateral examples above help you build your brand.
Generating Leads
Cold calls are challenging, but you can pave the way with collateral, providing prospects the opportunity to review your company's services and value proposition at their own time. Offer a downloadable portfolio, client case studies, how to and DYI sheets. Ask for their email when they download and turn them into leads. Then follow up with them to engage them. You immediately have a better chance of a lead taking your phone call or setting up a face-to-face appointment.
Showcasing Your Expertise
Use collateral to show prospects what you and your team can do and… they will show you the money! Include professional images and vital information about the projects you are proud of, and upload to your website. Every AEC company should have a portfolio of projects that showcases the types and quality of services they provide. It does not matter whether you have a website or a Facebook or Linked company webpage. Include project fact sheets and flyers to download. Or link to them. Showcase your expertise on social media too with branded collateral. That includes images and infographics for posts and ads, not only the logo on your company page. All sales collateral examples above will showcase your expertise.
Helping Your Sales Team Sell Your Services and Products
Make your services and value prop tangible with collateral. Collateral supports both the marketing and sales efforts at a company. Attach it to email marketing campaigns and make it available to download on your website. If you have the budget, have collateral professionally printed, and mail to prospects via regular mail. Provide printed collateral to the sales team for face-to-face calls. It communicates professionalism and attention to detail. It helps to get your foot in the door. All sales collateral examples above help your sales team sell your services and products.
Providing Key Information About Your Company and Services
Leverage collateral as case studies, fact sheets, metrics, and other key information to support marketing and sales efforts. Make your achievements stand out with graphs, pie charts and other infographic tools. Avoid too much text or detail; use only the pertinent facts about your company and its services. That also applies to any projects that you showcase in collateral. Keywords are facts and figures that count, i.e. demonstrate how you delivered value to a client.
Keeping Your Company Top of Mind
Remind leads and clients alike of your services and value proposition with collateral in all the channels available to you – your website, social media, and print. Update collateral regularly with success stories. Social media especially, can serve you well, once you have gained followers. A strong brand will also do that for you. Leverage emails and proposals to that effect. For example, create templates using your brand colors. Include your logo and company tagline. Use client quotes in your template. And don't be shy: Provide a link to a completed project of note. Use your collateral to keep your company top of mind!
Ensuring Potential Clients Make a Decision Favorable to You
Move to the front of the line with your company collateral. A cohesive package of collateral gives you have a better chance of winning a deal. Collateral:
Gets you noticed
Communicates your value
Boosts your reputation
Commands respect
Makes it easy to seal the deal
Of course relationships and the right price are considerations when it comes to bidding for a job, but collateral can take you far… get your foot in the door.
Sales Collateral Management
Now that you have the marketing and sales collateral you and your team need, it's time to talk about managing your library of collateral. You do not want the marketing and sales support materials to go unused. Yet, they invariably do. According to the Aberdeen Group, "Up to 65% of B2B content goes unused." So, what are some best practices? How do you make them readily available? Are there tools that can automate access to the collateral? Etc.?
Manage Your Sales Collateral
Take inventory: What do you have and what do you need to support your sales pipeline?
Categorize and organize by type (presentation, video, templates, etc.), purpose (intro, whitepaper, fact sheet. etc.), and location (digital or print)
Train the business development team:

What is there to support them?
How do they use it?
Where do they find it?

Review and update materials regularly, especially as you complete customer projects you would like to showcase. Or when you achieve a milestone or receive an award, for example.
Ensure ALL employees are in the know on the "what, where and how", especially if there are different departments involved in the sales process (e.g. marketing, estimating, sales).
Automate the use of collateral, i.e. make it available in the CRM software you use. Add a simple step with a drop-down menu that serves to remind your team to include collateral with whatever they are getting ready to send to prospective customers.
Further Reading