In this article, you will find at least one construction proposal example that you can use to persuade a client to add your name to their bid list or give you the job. Creating the proposal is one of the most important sales process steps in the construction sales process. Sending out a proposal is like handing out a business card. The construction proposal is the face of your organization. It has to be intentional, show your best work and best price. The construction proposal examples we showcase below all fit the bill.
We all know the construction industry is built on relationships. If you are a general contractor, you build and nurture relationships with building owners and developers. If you are a subcontractor, the more relationships you have with general contractors, the more invitations to bid you'll receive. As a construction business owner or salesman, you put a lot of effort into getting that invitation to bid (ITB). And when you get it, you want to make an impact with a construction bid proposal that is timely and clear. A construction proposal that establishes the trust needed for your client to award you the project.
In this article, we cover the differences between construction marketing proposals and construction bid proposals. We also outline how to write proposals and provide at least one construction proposal example every step of the way.
Download Construction Proposal Templates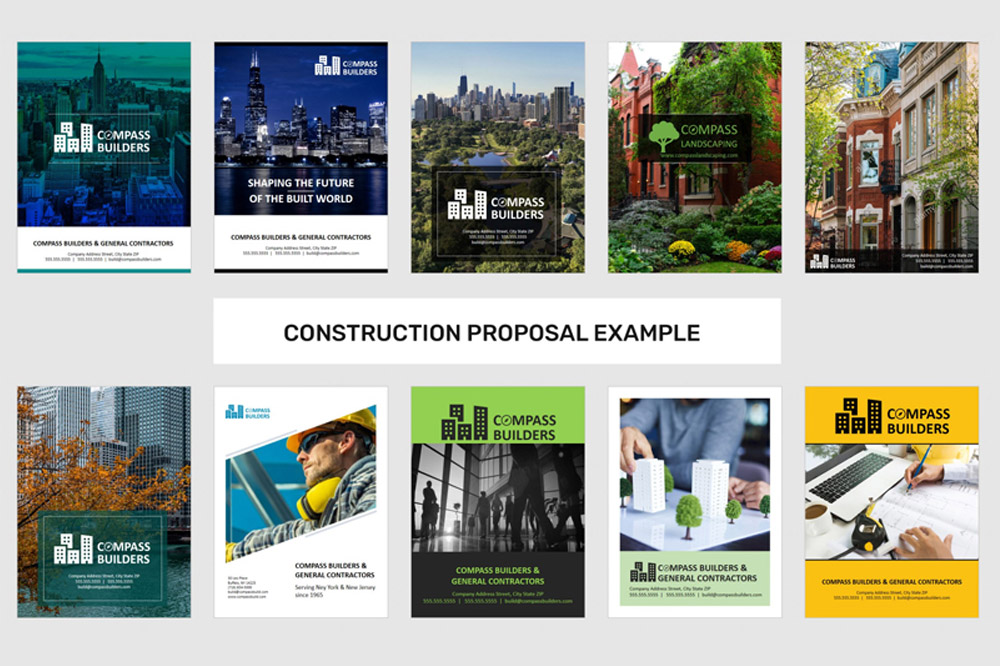 Create Your Construction Proposals Online in Minutes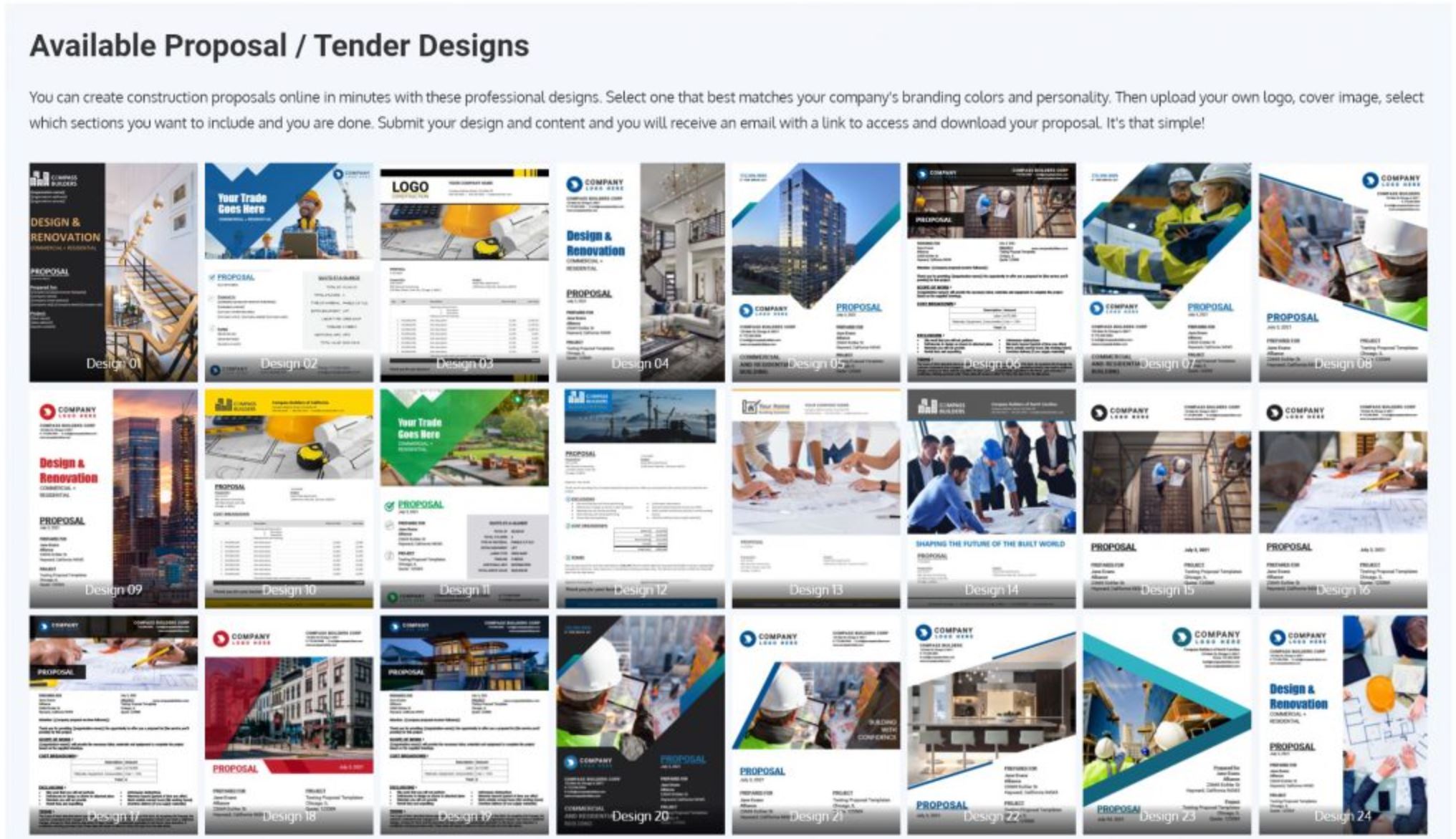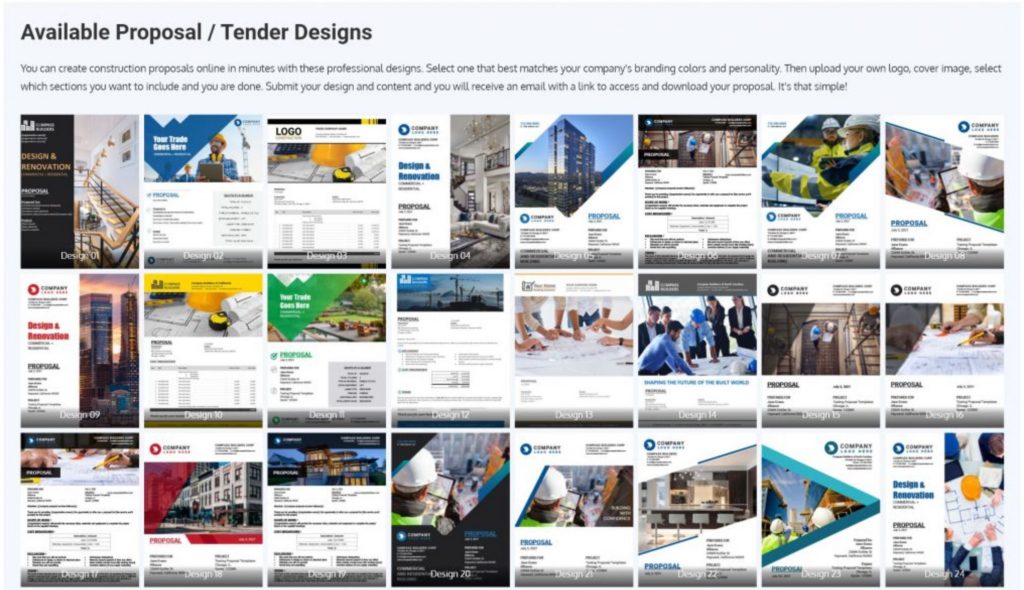 What Is a Contractor's Proposal?
A construction proposal is one of the most important marketing and sales tools a construction company has. With this article, we will give you at least one construction proposal example that you can use to persuade a client to add your name to their bid list or give you the job.
Whether you're a general contractor or a subcontractor, let's start the discussion by going over what a contractor's proposal is. There are two categories of construction proposals, each with its own purpose and format:
Construction Bid Proposals – These are proposals related to a project, responses to ITBs or, otherwise put, proposals with actual construction bids. The purpose of these proposals is to convince your client that your company is the right one for the job. In other words, to beat your competition for a specific project. A good construction proposal example for a bid is a short PDF document that includes project name, scope, and price.
Marketing Proposals – These are the materials you send to your potential clients to showcase your company, build a relationship with them, and persuade them to include your company on their bid lists.
How Do You Write a Construction Proposal?
How you write a construction proposal depends on the type of proposal: a marketing or a bid proposal. The former promotes your services; the latter gets you the job! As a best practice, if you have a sales team comprised of marketers, business developers, and estimators, it would be beneficial to create a construction proposal template library. It will help construction business developers and construction estimators with the bidding process.
Let's look at some construction proposal examples in both categories, what information to include, and how to organize them.
How Do I Write a Bid Proposal?
Bid proposals play an important role in construction bids and how to win work in construction. A construction bid proposal has to be timely, accurate, and clear. It has to establish the trust needed for your client to award you the project. What you include in your bid proposal is extremely important of course, but so are the design and layout that deliver this information.
What You Should Include in Your Construction Bid Proposal
So, how do you write a construction bid proposal? Before we look at bid proposal examples, we need to examine the construction proposal elements and what should be included in a construction bid:
Specification of parties
Scope of project
Cost Breakout
Terms and Conditions
Clarifications & Exclusions (optional)
Materials (optional)
Labor (optional)
Equipment (optional)
Time Table (optional)
Alternates (optional)
You don't always need to include all these elements. But the shortest proposal version should at least include specification of parties, cost and terms of payment. To read a detailed description of each element, head over to our article 'Construction Proposal Elements: What to Include'.
Construction Proposal Template
A construction proposal template is a document that an estimator can start from when creating a new proposal instead of starting from scratch. A construction proposal template contains the different sections you want included in your final document. It also includes placeholders and sample text to guide your sales team. Two of the most important benefits of having a construction proposal template are reducing time to create proposals and ensuring a consistent look across your bids / estimates that strengthens your company's image.
Below are examples of construction proposal templates – you can download the entire construction proposal template library and use it as needed.
1-page Construction Proposal Template Examples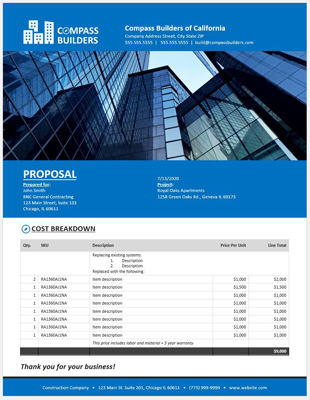 2-page Construction Proposal Template Examples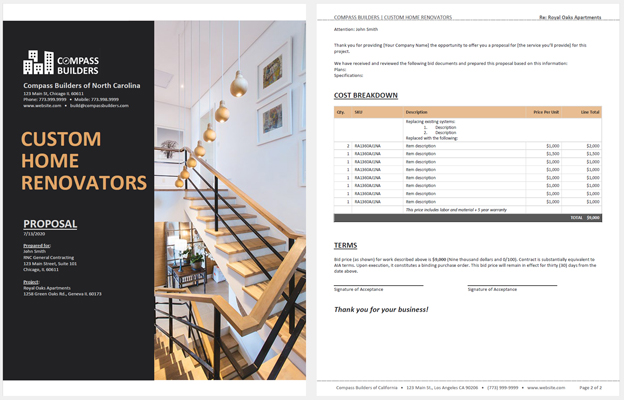 3-page Construction Proposal Template Examples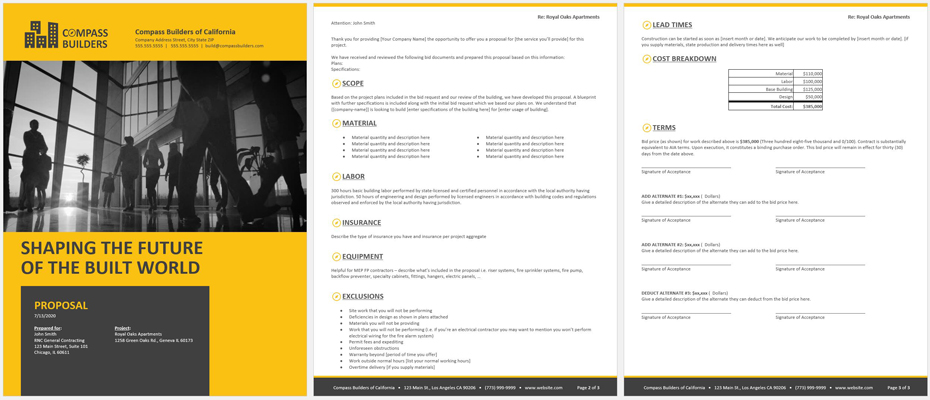 How to Design a Construction Bid Proposal
A good visual design will place the elements strategically in the document. This way, the reader is not just pleasantly surprised but will also remember the most important information through visual association. According to usability.gov, "A successful visual design does not take away from the content on the page or function. Instead, it enhances it by engaging users and helping to build trust and interest in the brand." Or as studies from the Visual Teaching Alliance confirm, "90% of information transmitted to the brain is visual."
Construction Proposal Example for Bid Proposals

How Do I Write a Construction Marketing Proposal?
Marketing proposals are what you send to your potential clients to establish a relationship and persuade them to include you on their bid list. Therefore, your purpose is to impress, build trust, and prove that your company is the right one to fill your potential client's needs. In summary, a good construction proposal example in the marketing category should include:
Business and Service Information Section
Cover – Company name, location, contact along with logo and relevant images

Services Section – Clearly state what services you offer and the states you're licensed in. If you offer commercial and residential services, be sure to state that. The same goes for 'design/build' and 'plan and spec' – it is important you establish these differentiators from the beginning. If your company offers design and engineering services along with installation, list them as separate services. This could be the advantage that positions your company as a one-stop shop for what they require.

Experience & Expertise Section
Project Portfolio – Think of the project portfolio as proof of the services you offer. Avoid including every project you've ever done. Select the projects that are relevant to the work you want to win. If this proposal is for a GC who mostly builds storage facilities, your portfolio should include warehouses, marinas, and other storage buildings. Including high-rise projects won't speak to your potential client's needs. Present each project with at least one photo, building name and address, building specifics and, most importantly, a description of the work that you did in that building. Not including a description of your work in the building is a common omission, seen in more than 70% of marketing proposals!
Testimonials – As mentioned in the project portfolio section, you don't need to include every testimonial ever received, but only the ones that are most representative of the type and quality of work you do, your professionalism, and your expertise.
Awards and Accolades – If you've won any awards, make sure to include them in your marketing proposal.
Insurance and Bond Information – If this information is important to your potential client, make sure you include it. For example, general contractors usually require a certain amount of insurance for their subcontractors. So by including this information in your proposal, you save them an inquiry call.
Persuasion Page – Summarize what makes you different from your competition, and include additional facts that demonstrate your expertise, experience, and work ethic. If you have a company mission statement, highlight it here.
Business Contact Information
Conclusion
A good construction proposal example is one that presents all the information needed for the prospect to make a decision. Construction proposals are key to your success in the building industry, whether your goal is to get your company on a potential client's bid list, or you are competing to get the job! Search in this article for a construction proposal example that fits your business and needs. Presentation is important in both marketing and bidding materials. Visually reinforce the impact you make with a clean proposal layout and add graphics, for example flowcharts, infographics, or photos that demonstrate your expertise and experience. Needless to say, both marketing and bid proposals need to be clear and concise, as well as accurate. Templates are helpful as consistency strengthens your brand and ensures you cover everything you need to get on that bidding list and… win the work!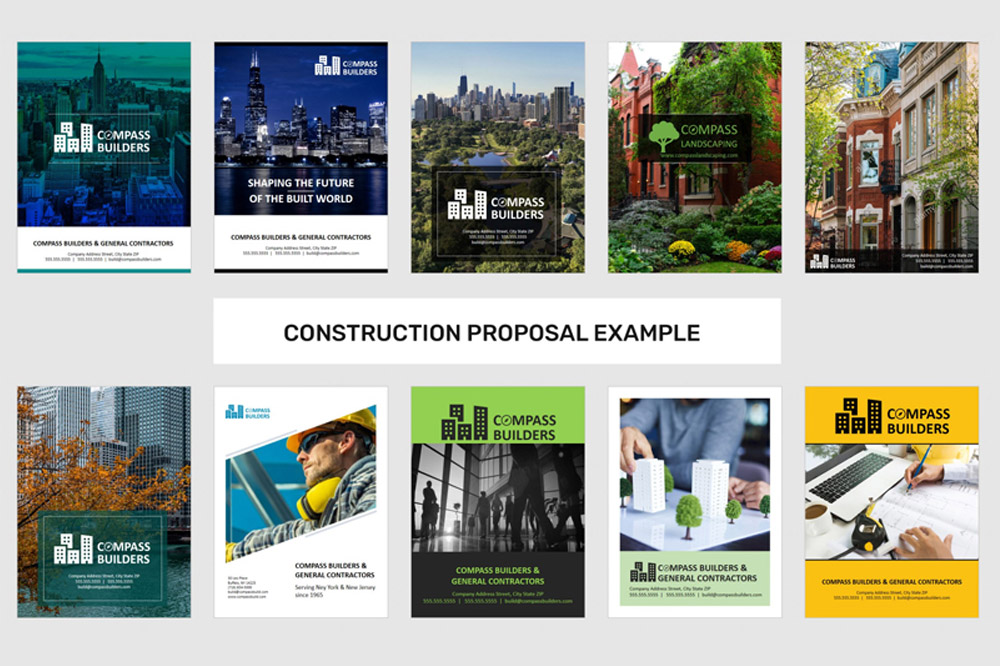 Further Reading