With an impressive number of startups and established companies, competition in construction is fierce. And construction bids stand tall at the center of this landscape. Securing, managing, and winning construction bids is crucial for construction companies to remain in business and grow. More than 3+ million small construction firms started in 2019 alone according to SBA (Small Business Administration). That is one of the highest yearly growth numbers this industry has seen, and the trend is expected to remain strong for years to come. In this increasingly competitive industry, securing and managing work is crucial for construction companies to remain in business and grow.
Securing Construction Bids
Whether you are just starting out or you are running an established construction company, getting and managing work are day-to-day challenges. One of the biggest challenges of running a construction company is getting construction bids right, so you bid enough projects and win the right work at the right time.
There are many things to account for when working towards winning construction bids:
How do you find construction bids?
How does construction bidding work?
Which projects should you bid on?
How to estimate hard costs and calculate mark-up and final price?
What should you include in the proposal?
How to keep track of your construction bids?
Let's dive in and see if we can answer these questions.
How Do You Find Construction Bids?
There are many resources that list construction projects, for example construction bids website or bidding platforms. Here are a few tips on how to find construction bids online to submit your bid:
How Does Construction Bidding Work?
In general, the construction bidding process involves the following steps:
Building Owner (or Developer in some cases) puts together a bidding package consisting of drawings, specs, and other related documents, and sends out RFPs (Request for Proposals) to General Contractors.
Each General Contractor requests pricing from their network of subcontractors.
General Contractors submit their bids by the requested deadline.
The Building Owner or Developer reviews all bids and selects the winning one.
Subcontractors compete against their own competition to win the project from the winning General Contractor.
The final contract is drawn up with the applicable construction and legal terms.
Construction starts.
Which Projects Should You Bid On?
An important thing to remember is that not all projects, invitations to bid (ITB), or contact form submissions are worth your time. Estimating projects and writing accurate proposals is time consuming and it's best to use your time where it matters. Here are some considerations before bidding an opportunity:
Check to see that you haven't already bid that project.
Make sure the scope of the project is not too large for you to handle or too small to be worth your time.
Check the project schedule to ensure you have the necessary resources available to complete the project on time.
Examine who you're bidding – If this is a client who very rarely awards you a job, it might not be the right project; if this is a client who doesn't pay their bills, you may not want to bid.
Inspect the competition – If possible, find out who your competitors are and make sure you're comfortable bidding against them (if the local "low bidder" is on the list, you may not want to put too much effort in bidding this particular project).
Make sure the location is an area you're licensed in and serve.
How to estimate hard costs and calculate mark-up and final bid price
Price is one of the key differentiators in construction bidding. In many cases (government construction projects for example) the owner must select the lowest bidder. So if you bid too high, you may not get any projects.
But price could also be the key differentiator between a profitable project or having to pay money out of your own pocket to finish the job. So if you bid too low, you risk bankrupting your business.
How to estimate hard costs for material and labor
Check material prices
Material prices are constantly changing. Make sure the cost sheet you are working from has up-to-date prices. If you're not accounting for price increases, you will more than likely decrease your profit margin.
Go over all the details
If this is an existing building, visit the job site and take accurate measurements. Also, sit down with the Developer/Building Owner and go over all the details you can think of.
If it's a new building, examine the drawings closely and clear up any ambiguities.
Count the material you need and price it out
This is especially important for businesses just starting out that don't have historical data. In an established business, you probably have reference sheets you can start your estimate from. However, in a new company, you need to start the documenting process somewhere and now is the time to do it. Count ALL the material you need, including hardware. You'd be surprised how many estimators forget the hardware when pricing out their first projects. When done counting, create a detailed list and price out the material.
Add 5% for material waste
A wrong cut, defective material, or a missed detail on the drawing can happen at any time. Account for these mishaps by adding a 5% waste estimate to your material list and material price. If you estimate that you need 100 fire sprinkler heads, order and price out 105 heads.
Add 5%-10% contingency cost
Unforeseen expenses are part of every construction project. Add 5%-10% of the total price to your final price to cover any extra cost that might come up.
Price out labor for the project
Establish the manpower and time needed to complete the project and calculate the total labor cost.
How to calculate mark-up
Mark-up, overhead, profit, and margin are terms that especially new construction business owners should pay attention to closely. Mark-up is the amount you will add to your hard costs to calculate the final bid price and it should cover your overhead and the profit you want to make. Let's get started
Mark-up = Overhead + Net Profit
Overhead – expenses incurred by being in business and are not associated with a project. Examples include equipment, office expenses, tools, insurance, accounting firm or software, other software used. As a contractor, you have to charge enough to cover your overhead, otherwise you may go out of business.
Net Profit – the amount left for the owner or the company after paying the hard costs to complete the job and the overhead.
Margin = Mark-up/Total Price (mark-up divided by total price and expressed in percentage)
How to calculate your markup? This is where things get a little tricky and construction bids miss the mark.
If you want a 20% margin you have to mark up your price with 25%. Here is why:
Project Hard Costs: $10,000
+ 25% Mark-up: $2,500
—————————–
Total Price = $12,500
Margin = 2,500/12,500 = 20%
In other words, if you are looking for a profit margin of 20%, your mark-up should be 25%.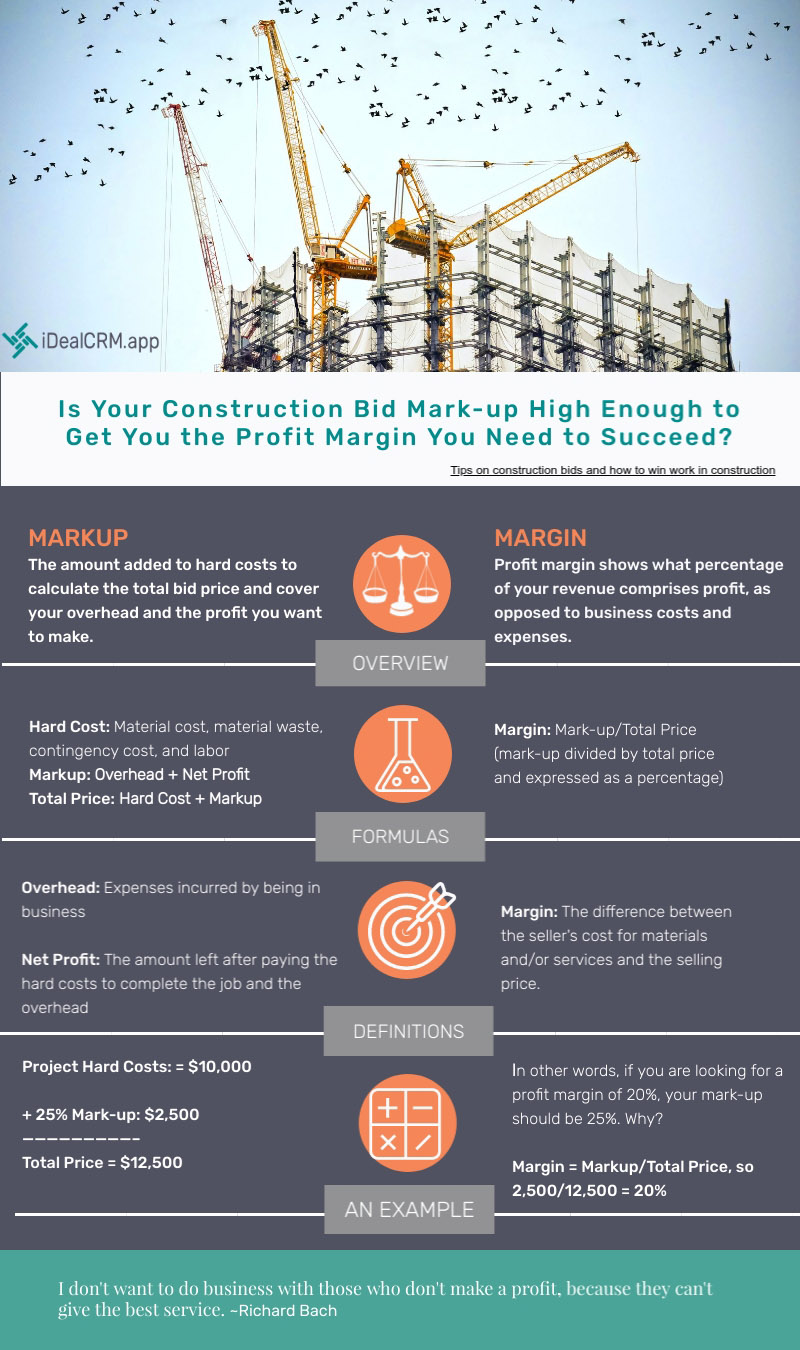 Bidding a few projects labor-only
In the beginning is a great idea to gauge how much material you need. Sometimes homeowners prefer to pay for materials themselves to keep the expenses and budget in check. If that's the case for your job, keep track of all the material you buy and the receipts. This way, you can build estimating take-off sheets for future reference.
What should you include in your construction bids or proposals?
Once you have the final price for your construction bid, you are ready to put together your proposal. It's important to keep proposals short and to the point. Equally important is including all necessary details so your client has the information they need up front. Also, having a construction proposal template library saves valuable time. Here's a list of what you should include:
Specification of parties involved: Client company name, address, contact, project name
Scope of project
Cost Breakout
Terms & Conditions
Clarifications & Exclusions
Materials (optional)
Labor (optional)
Equipment (optional)
Time Table (optional)
Alternates (optional)
Signature Lines (optional)
Details about each section are available in the Construction Proposal Elements article.
How to keep track of your construction bids?
Learning how to monitor and manage bid activity and gathering historical data is crucial for increasing your bid accuracy. You can track this information manually. But you can manage bid and client data more accurately with a specialized construction CRM. Construction CRM Software solutions like iDeal CRM allow you to:
Store client and contact information
Track leads and opportunities
Stay on top of your sales pipeline
Generate, send, and track proposals directly from the system
Follow-up on your construction bids with an automated follow-up tool
Run reports for your business – what are the most profitable jobs, which client awards you the most work?
And with a free subscription for small businesses, iDeal CRM won't add to overhead
Conclusion
Construction bids set the pace of your business success in the building industry. Therefore, you need to know your way around construction bid websites and platforms. Then it is important to weigh your bidding options. Is it worth your effort or not? Don't throw away the precious time it takes to bid when the odds are against you. Thirdly, keep up with the bidding process until that bid is awarded to a general contractor. Follow-up is crucial. Most importantly, accurately estimate hard costs and calculate mark-up and final bid price before you commit to a construction bid. And make sure you include all the elements of a construction proposal before you submit it. First impressions count. Last but not least, leverage a sales management tool to keep you on top of your sales pipeline. It does not have to add to your overhead!

Further Reading