Construction Proposal Template
Construction business developers and estimators need all the tools they can get to transform leads to clients and opportunities to won projects. For a construction salesman, a construction proposal template is a must-have tool.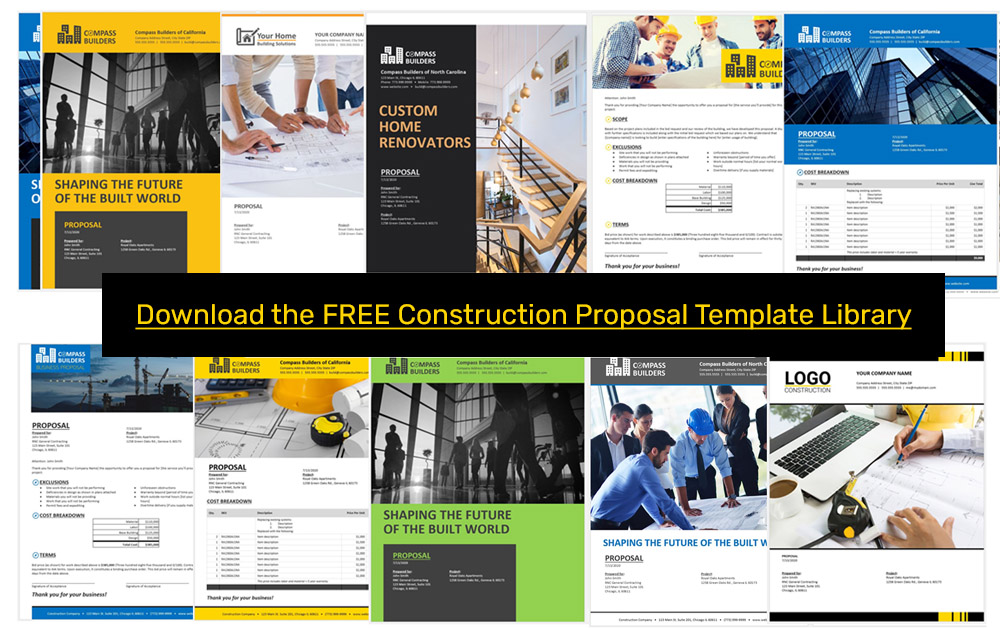 Construction business developers and estimators need all the tools they can get to transform leads to clients and opportunities to won projects. For a construction salesman, a construction bid proposal template is a must have tool. If designed and used properly, a simple construction sales proposal template will save time, ensure all construction bids are consistent, and eliminate embarrassing errors.
As we worked with several construction companies to streamline their proposal creation process, we realized how helpful a library of templates would be. So, we set out to build packages of free bid proposal templates that are fully customizable and… completely free. You can also use each construction proposal example with the construction CRM of your choice. We continue to add new templates regularly, so bookmark this page and check back often to get a new free printable construction proposal template when you need one.
You can download a free construction proposal template for your company or all the packages we offer. We hope you'll find a free proposal template to use whether you're looking for a residential construction proposal example or a commercial construction proposal example.
How do you write a construction bid proposal?
So, how do you write a bid proposal template? Before we look at how to use a construction sales proposal template, we need to examine the construction proposal elements and what should be included in a construction bid:
Specification of parties (who are you writing the proposal for, project name, address…)
Scope of project
Cost and terms of payment
Work schedule
Relevant authorities
Exclusions
Alternates
So how do you write a bid proposal? You don't always need to include all these elements. But the shortest proposal version should at least include specification of parties, cost and terms of payment, and a signature block if applicable. To read a detailed description of each element, head over to our article 'Construction Proposal Elements: What to Include'.
Benefits of using construction proposal templates
A proposal template is a re-usable file or bid proposal example that a construction salesman, estimator, or construction business development professional can use to speed up the proposal creation process and eliminate human errors that sometimes happen.
A construction proposal template includes all necessary sections for a bid with company-approved text and images. It usually features highlighted placeholders for the estimator or construction business developer to easily locate and fill out. A proposal template can also include merge fields. These are also placeholders, but they are automatically filled out by another program or source like a construction CRM, an Excel spreadsheet, or a financial program. Merge fields save time when you bid multiple clients for the same project. And you can download a free bid proposal template to get started.
How to create a library of construction sales proposal templates
Writing a bid proposal example and creating a library of templates are not difficult but need to be well organized and carefully planned.
First select the proposal tool that will be used to create proposals company wide. The examples in this article are construction proposal templates for Word, but you can also create them Excel, Adobe InDesign, or a sales construction CRM.
Then, get your artwork ready such as your company logo, cover or header & footer images, letterhead, and any project images you may want to include.
Establish types of proposals. You probably use a few types of proposals, such as short, long, and with or without cover. Identify what those are and list the sections each of them will contain. For example, a short proposal may only have a header image, specifications of parties, cost and terms section, signature block, and footer. A long construction business proposal may also include scope, materials, exclusions, schedule, and alternates.
Identify sales proposal template categories if applicable. Sometimes it's helpful to create separate proposals for different types of work or products. For example, if you bid high-rises, warehouses, multi-family buildings, and more, you may want to separate your proposals by those categories to include specific language that goes with each type of building.
Continue by listing all necessary sections for the most complex proposal you have. See a list of elements above.
Compose the language for each section. Once you have the list of sections, work with the company's management or legal team to approve the text for each section of your proposal tool.
Establish the placeholders and merge fields you need.
Now that you have all the elements ready, plug them into the tool of your choice and save each file with a naming convention. For example: Short Proposal – Warehouse, Long Proposal – Warehouse; Proposal with Cost Breakout – Warehouse, so on and so forth.
Free Proposal Templates
You can jump-start your proposal template library with our free sales proposal template packages. These proposal tools are fully customizable and free to use (including the images). You can download proposal templates for Word and/or Excel.
Construction Proposal Template Word Library
We donate 1 hour a week to helping construction companies with any graphic design needs. If you need help with these free proposal templates, please don't hesitate to contact us. We'll be more than happy to help you at no charge. And if you need support with how to write a bid proposal, read that short article on the topic for actionable advice. In the meantime, download the construction proposal Word templates for free.
DOWNLOAD CONSTRUCTION PROPOSAL TEMPLATE LIBRARY FREE
Construction Proposal Template Excel Library
We are currently updating this library. Check back soon.
Construction Proposal Template PDF Free Download
We are currently updating this library of free bid proposal PDF templates. Check back soon for a construction proposal template PDF free download.

Conclusion
Save time, effort, and money with construction proposal templates. Eliminate unnecessary errors in your construction business proposals.  Ensure your proposals are consistent and that you don't accidentally leave out an element. And last, but not least, make your company's bid stand out with branding, including project images. We hope these packages will get you started! What to include? How to calculate markup, etc.? Visit our article on how to write a bid proposal.