Construction Proposal Template
Construction business developers and estimators need all the tools they can get to transform leads to clients and opportunities to won projects. For a construction salesman, a construction bid proposal template is a must have tool. If designed and used properly, a simple construction sales proposal template will save time, ensure all construction bids are consistent, and eliminate embarrassing errors.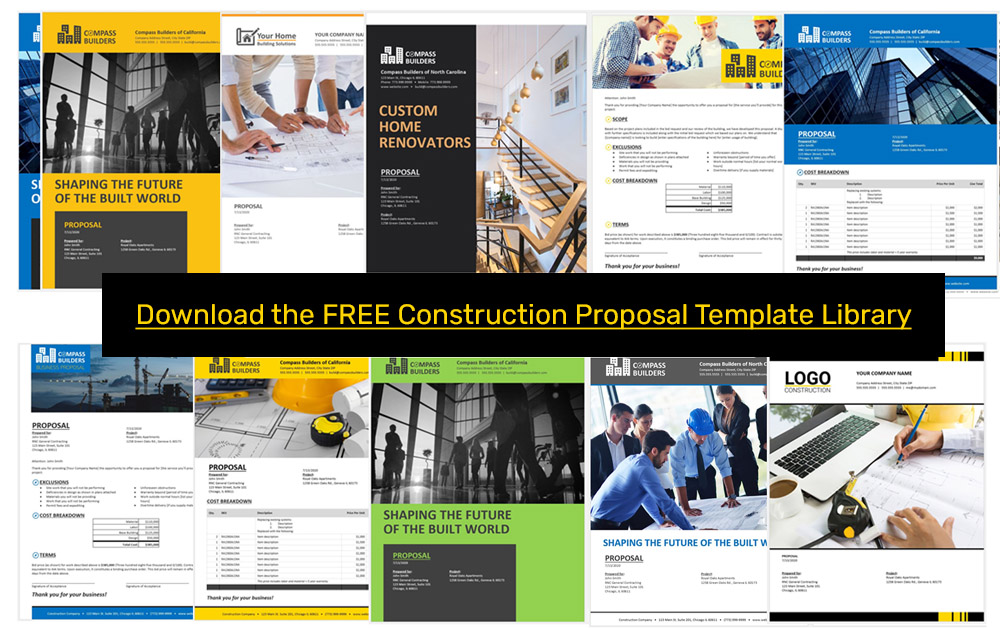 As we worked with several construction companies to streamline their proposal creation process, we realized how helpful a library of templates would be. So, we set out to build packages of free bid proposal templates that are fully customizable and… completely free. You can also use each construction proposal example with the construction CRM of your choice. We continue to add new templates regularly, so bookmark this page and check back often to get a new free printable construction proposal template when you need one.
DOWNLOAD CONSTRUCTION PROPOSAL TEMPLATE LIBRARY FREE
You can download a free construction proposal template for your company or all the packages we offer. We hope you'll find a free proposal template to use whether you're looking for a residential construction proposal example or a commercial construction proposal example.
How do you write a construction bid proposal?
So, how do you write a bid proposal template? Before we look at how to use a construction sales proposal template, we need to examine the construction proposal elements and what should be included in a construction bid:
Specification of parties (who are you writing the proposal for, project name, address…)
Scope of project
Cost and terms of payment
Work schedule
Relevant authorities
Exclusions
Alternates
So how do you write a bid proposal? You don't always need to include all these elements. But the shortest proposal version should at least include specification of parties, cost and terms of payment, and a signature block if applicable. To read a detailed description of each element, head over to our article 'Construction Proposal Elements: What to Include'.