Team building activities can help leaders foster trust, communication, and loyalty even when their teams work remotely or at different job sites.
Top-performing technology companies like Google have paved the way for all industries to build a people-friendly and productive work culture. Most companies are now adopting initiatives that encourage self-organization, communication, and creativity. In the new and improved workplace everyone on the team feels valued. And teams align themselves strongly with the company mission.
Team-building exercises also help to foster trust, communication, creativity, and a shared purpose. Even when your team works remotely or, as in the building industry, at different job sites.
"Escape rooms", bowling, ping-pong or other fun team-building activities are currently very popular and great fun. But there are also online activities you can use to strengthen the construction team spirit at your company construction site. Fostering teamwork at your organization strengthens your team by breaking down silos and other barriers, aligning employees to support one another for mutual success, and aligning them with company goals!
The Benefits of Team Building Activities
Let's look at some studies and surveys. A study by the American Psychological Association concluded that "…communication and shared identity within a team can mediate the effects of physical separation." TINYpulse surveyed 200,000 employees. Camaraderie and peer motivation were the top motivator for them in the workplace. Another survey concluded that learning and development were important. You can meet these objectives with team-building activities!
Team bonding exercises empower team members with problem-solving, project management and communication skills, including active listening (one had better listen or you may not get out of that escape room game!) Yes you are fostering company leadership and decision-making skills. Team members learn how to rally towards a common goal. Team spirit prevails and supports your mission and vision, what is there not to love about it?
Exercises for team bonding empower team members with problem-solving, project management and communication skills, including active listening (one had better listen or you may not get out of that escape room game!) Yes you are fostering company leadership and decision-making skills. Team members learn how to rally towards a common goal. Team spirit prevails and supports your mission and vision, what is there not to love about it?
Plan Team Building Activities in 3 Easy Steps
Whatever the goal is, there are three essential elements to team-building activities. They apply in person or online.
Find Unique Engaging Activities
First, you need to find unique, engaging activities for your team to take part in. Take the individual and team personalities in consideration. For example, not everyone feels comfortable to be put on a spot. They may be shy, or just introverted. Consider everybody's strengths and abilities. Pay attention to individual personality styles.. It will pay off dividends.
Schedule the Activities
Then you need to plan the activities, yes, establish a team-building calendar. This is important. Be mindful of your employees' time but most importantly, plan ahead. Bear in mind that participants may have to put child or pet care in place. It's a good idea to appoint a facilitator from the management team to collaborate with the team. Give everyone on your building projects team options that will ensure they can attend the team building exercise.
Make Team Building a Priority
Finally, you need to be consistent. Make team building a priority for the management team, whether you are doing it in person or remotely. Establish a cadence. You can, for example, pick a building challenge every month for all the employees to participate in. People are more likely to engage when they can anticipate what's up next and what's expected of them. In fact, they may even come up with ideas for team building activities themselves to build bridges to other departments, depending on their roles in your building projects.
Examples of Team Building Activities
Let's take a look at some examples of online team building activities you can do both at the office and across offices when employees work remotely:
Icebreakers
Icebreakers are simple activities to help team members to get to know one another. For example, employees can share what their favorite seasons or cities are. They can submit information their colleagues don't know about them, for example, "I have a black belt in karate" or "I sing in the choir". Then the team must match those facts to their colleagues. You could ask them to share their respective hobbies or bucket lists. They may discover shared interests! The object of the icebreakers is to get them comfortable with one another and build bridges.
Or build team spirit by asking the team to share milestones and challenges, work related or otherwise. Team members inspire others with their accomplishments. And they feel compelled to solve their teammates' challenges. That is the kind of team that will take your company to new heights!
Shared Activities
These activities promote a sense of shared purpose. Examples are fitness challenges, trivia games, book clubs, or activities that invite employees' input or ideas. Ask employees to share favorite recipes if it is not possible to bring home-baked cookies or a Thanksgiving dish to the office.
Use the trivia game activity to educate employees about construction. Employees feel empowered when they are fully versed in an industry, be it on the topic of construction materials or construction technology. Make everyone on the team feel included, including construction management. Get employees to vote and reward their efforts with fun prizes.
When people have a sense of unity and purpose, they are more likely to succeed.
Cross-Team Activities
Team employees up to encourage them to bond across the silos that can exist at companies. But be mindful. Organize an activity over a brown-bag lunch when all employees can take part.
It does not need to be a team building exercise like an escape room challenge, which can be threatening to some. Try March Madness, a fun game of online Taboo, or a scavenger hunt! These team-building activities also establish a common goal and encourage teamwork. They also promote an understanding of everyone's communication styles. And, as the saying goes, humor is the best medicine; there is nothing like laughter to draw people together. Make it fun. Use this type of activity to show your team how everyone contributes to the company's success.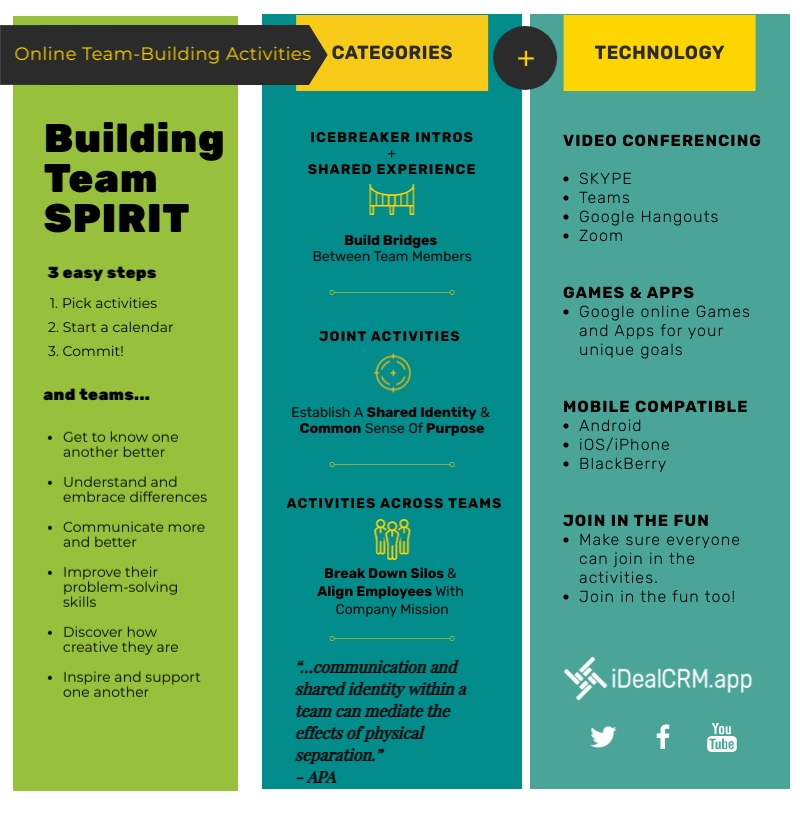 Team Building Technology
Technology for executing virtual team-building activities is an important consideration to ensure engagement. It makes it easier to access activities from remote or different onsite locations. Technology also turns team building games into an experience where employees cannot just see, but engage with their colleagues toward a common goal. Participation becomes so much more personable, and that in turn facilitates team bonding.
Here are a few options that are either included in products like Microsoft or Google, or that you can download and use for free or a small price, depending on the size of your company:
Video Conferencing
Mobile
Everyone on the project team may not be at their desktop or have a laptop for participating in activities. Please ensure that team members can take part in activities on their smartphones. Apps need to work on platforms like Android, iOS (iPhone), and BlackBerry so everyone can join in the fun.
Apps
Team-building games and apps connect your team members. They keep them informed and engaged with one another. Here are a couple examples, but you can find others with a quick Google search. Pick the ones that best suit your team and goal for each activity.
Donut is a Slack extension that randomly pairs up team members every 1-4 weeks so employees can bond better one-on-one with a non-work related conversation. Or use the #social-remote channel in Slack.
A Trello board and game take gift exchanges to a whole new level. The team adds cards to the board, each with a picture and title that provides a hint about the gift.
Ho Yin Cheung is the founder and creator of Remo, a virtual office that promotes social collaboration online. He and his team experimented for 7 months and tested more than 70 online team-building games. Check out their favorites here.
Start boosting morale, improving collaboration, and create a positive work environment for your teams
In conclusion, team building helps you to create a positive and productive work environment that encourages team collaboration. Everyone on a construction project at your organization, including your management team, benefits from:
Learning what they have in common
Understanding and embracing differences
Practicing their communication skills
Engaging in problem-solving across company silos
Developing creative solutions
Inspiring and supporting one another
For some more research, best practices, and tips for team building in the work environment, take a few minutes to read these articles on our blog: