Proud to announce that on June 14, 2021, iDeal CRM was awarded the 'Best Contractor Bid & Follow-Up Software Provider 2021' in the BUILD Construction and Engineering Awards.
BUILD Awards is an annual celebration highlighting the work, innovation, and dedication of construction professionals around the world in the different sectors of the industry. The iDeal CRM team is particularly proud of winning this award as we strive to provide the construction industry with software built to meet its unique needs.
The BUILD Construction and Engineering Awards team gather information independently from a number of publicly available sources. They assess the material supplied by the nominees and by those who put them forward originally. Participants are judged and winners are declared based on various criteria including industry innovation, business performance and long term prospects, online reputation, and client service and feedback.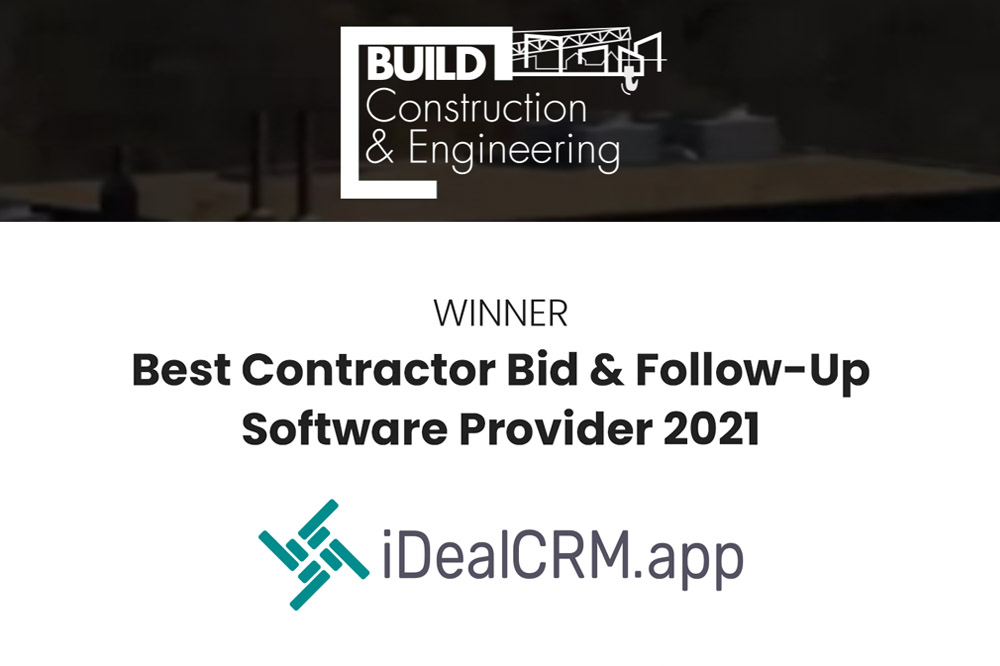 From the BUILD Magazine website on judging the awards:
"We employ an entirely impartial panel of 5 individuals to conduct all of the research to our high standards. At the helm of the panel we have a veteran academic leader with international academic and training experience. They are well versed in research, fact-checking and mediation. We believe this method is the most efficient in determining which individuals and companies are most deserving in winning an award and has brought us much success and commendation throughout its use. Our continued use of this panel plays a key part in enforcing BUILD's stance that winners are not determined by popularity of votes, but by their contributions to the sector."
iDeal CRM for Construction is looking forward to being featured in BUILD Magazine at the 'Best Contractor Bid & Follow-Up Software Provider' along with the rest of the 2021 winners.
BUILD magazine published its first issue in 2015 but is still considered to be a relatively new face in the construction industry. Despite its youth, the publication provides a fresh look at the sector as the only globally focused free-to-subscribe construction magazine. Its distributions span a worldwide network of more than 110,000 dedicated and informed industry experts. Compiling the latest trade news with featured case studies on the industry's leading organisations and professionals, the magazine is a comprehensive source of industry information which covers all aspects of buildings, infrastructure and related works. BUILD magazine is one of the many publications owned by AI Global Media, a UK based digital publisher which has published over 200 worldwide publications to its name since 2010.
About iDeal CRM for Construction – Best Contractor Bid & Follow-Up Software Provider Award
iDeal CRM is a web-based sales CRM and pipeline management software that enables construction companies to monitor opportunities with multiple clients and bids and to plan & automate follow-up and sales activities. iDeal CRM is not another marketing CRM. It is an opportunity-centric sales management system built specifically for construction companies. It organizes opportunities, bids, clients, contacts, follow-up activities, tasks, meetings and all other sales data and reports on it to help construction companies increase their win rate, find out what works and what needs improvement.
Further Reading