Return on Investment in a CRM (Customer Relationship Management) system is not always apparent but with the help of a CRM ROI Calculator or CRM Savings Calculator, we can identify what those savings are and calculate the return on investment in a CRM.
Creating and sending out proposals is one of the biggest time killers in any industry.
With iDeal each salesperson saves at least 1 hour/day.
The savings calculator for proposal creation and handling transforms time savings into dollar amount. And the savings can't be ignored when quantified.
How to Calculate Return on Investment (CRM ROI) Using a CRM ROI Calculator
ROI (Return on Investment) is important to calculate before implementing any new solution or process at a company. Identifying time and money savings or increase in revenue after implementing a CRM system involves a few steps.
Firstly, we need to track some metrics related to ROI before the implementation:
average number of proposals an estimator can complete per day
amount of time it takes an estimator to complete a proposal
number of deals closed (per department, business developer, or sales person)
number of opportunities lost
total number of bids your sales and estimating teams send out
We can also use the calculator below to estimate time and money savings from improving proposal management alone. It's a good start to see if we get enough CRM ROI and a CRM makes sense for our organization.
Secondly, we need to establish the improvement criteria we expect to achieve (CRM ROI).
For example, we expect the time it takes to create a proposal to be cut down by 50%. This means our sales team will double up the amount the proposals they send out, therefore we can bid more.
Also, we want our closing ratio to increase by 15% to 20%. We expect this increase because of better contact and opportunity management and also follow-up.
As a result, we also expect an increase in revenue by 10% to 15%.
Lastly, we'll want to approximate the budget needed to implement, train, and adopt a new technology.
Cost per user (iDeal CRM pricing is very flexible and cost effective.) Price per user with unlimited opportunities and proposals is the best setup.
Training costs (For example, this would be $0 with iDeal CRM. Not only is it easy to use, but all plans include free training. So you don't have to pay additional training fees. This will increase your CRM ROI.)
Likewise, the amount of man hours translated into dollar amount for transferring existing data. Such as contacts, clients, open opportunities, and more.
CRM ROI Calculator. How much money will you save per year? In proposal writing and handling alone?
This calculator shows you how much money you can save a year when you use a proposal generator tool in combination with other CRM functions.
It's been proven that an estimator saves at least 1hr/day in proposal writing, sending, and handling alone.
If you have 3 estimators sending out 2 proposals a day (each with an average of 3 pages) and they make about $35/hr, your company sends out 1,588 proposals a year. If you were to implement a CRM system, you'd be saving $20,460 a year and you'd be able to send out 195 more proposals a year. That's a lot of savings and a lot of extra proposals, 12% more of them. Think of the extra revenue you'd get too!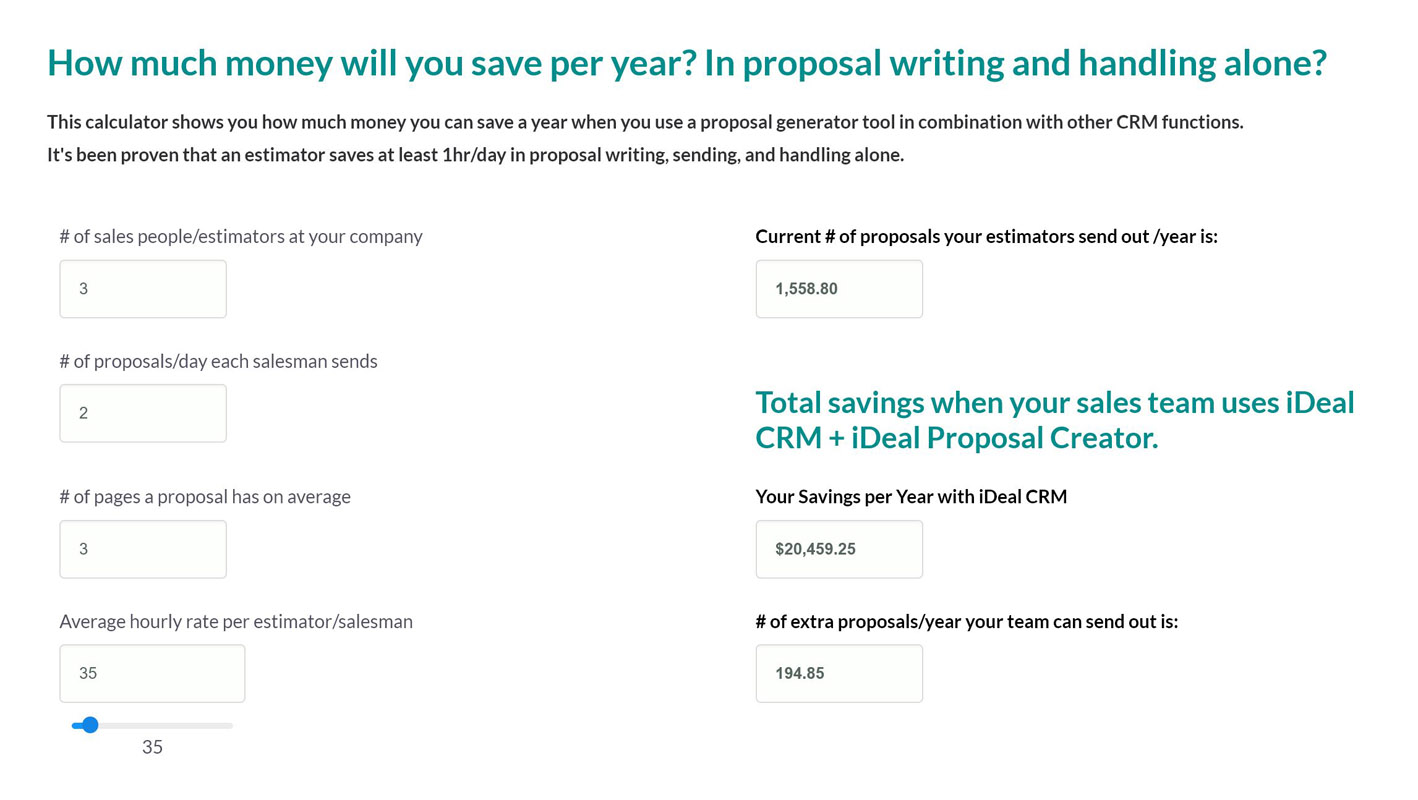 Should We Implement a CRM System? Is There Enough CRM ROI?
Common feedback from the construction industry is that bids often fall through the cracks because of poor contact management and follow-up, or they do not have full visibility into the bidding process. Excel doesn't cut it, and they are looking for a software tool that does it ALL!
Customer Relationship Management systems like iDeal CRM are built specifically to help construction companies manage their leads, clients, opportunities, bids, and follow-up. Along the entire sales pipeline… from new opportunity to estimating, follow-up, and closeout.
In Conclusion
In conclusion, there are many reasons why organizations of all sizes use Customer Relationship Management technologies. To clarify, CRM ROI becomes apparent when you analyze how much money and time you can save and the increase in revenue. To sum up, iDeal CRM is a great construction sales management software. It is built to help construction companies manage their opportunities, clients, bids, and follow-up.
Further Reading