Have you considered using Facebook for construction to generate more leads for your company? If NOT, now is the time to consider the benefits of this social media platform.
You already know that Facebook is a very popular social media platform along with Twitter, YouTube, LinkedIn and Instagram. That it is also possible to create business pages and advertise on Facebook. But when it comes to construction professionals, this platform is often under-utilized. Why? Some of the concerns are:
It takes too much time to manage Facebook.
I don't have the dollars to spend on Facebook.
How do I deal with negative reviews and comments?
Setup seems daunting
It is important to understand each feature of and the benefit it delivers to businesses.
How to Use Facebook for Construction
With some planning, you can put a Facebook strategy in place to attract leads. So there is no need to invest in resources. You can schedule your posts in advance and save time. You can set a fixed dollar amount to spend on advertising. A negative review? Look at it as an opportunity to engage with existing and potential customers.
Needless to say, Facebook is here to stay! And it's more than an online tool to share cute pictures of people's pets or children. Small to medium-sized businesses also use Facebook to establish to promote their services. Even larger construction businesses leverage Facebook for construction to extend their market reach.
There are many features available to you when you choose to sign up for a Facebook business page (at no cost).
Upload Profile and Banner Pictures
Step one in using Facebook for construction is page organization. Choose a profile picture for your page. This can be your business logo or something relevant to your business. The same applies to the banner behind the profile picture. Upload a picture of the office or a construction site, or an image that showcases your business. Below are some Facebook image and media specs (in pixels) for you:
Profile picture: 180 x 180
Cover photo: 820 x 462
Image post: 1200 x 630
Video size: 1280 x 720
Video ad: 1280 x 720
Ad size: 1200 x 628
Messenger image ad size: 1200 x 628
See Optimal Social Media Image Sizes for 2020: The Complete Guide
Provide Business Information
Most importantly, don't miss any text field when you set up your business profile on facebook for construction. Visitors to your page need to understand exactly what your business is about. Include business phone numbers, addresses, emails, and hours of operations. And provide detailed information in the About section. Remember, you only have to do that once!
Build Your Facebook Audience
Start by building your community of "followers". Invite friends to "like" your business page. Copy the link of your page and send it to them via Facebook Messenger or email. In turn, "like" other business pages in your industry to increase your visibility. You can also join building industry groups on Facebook to increase your visibility. And ask your employees and peers in the industry to mention your business page in their networks.
Post Content
Now that you have set up your page, added your business profile, and shared it with your network, what's next? Content! Facebook is a great social media platform to promote your business.
Test the waters by posting different types of content at different times. Then see what content gets the most views and interactions from your followers. Also, when using facebook for construction, try to post at different times during the day and different days during the week. Don't get hung up on the number of likes. Keep in mind that not everyone who views your posts will interact with the content or your page.
Here are some suggestions for content:
Post photos of projects you are working on.
Share testimonials from satisfied customers (better yet, ask them to post their testimonials to your page!).
If you go to trade shows or conferences, be sure to share content and pictures.
Add video of the services you offer. Or host live webcasts to answer any questions your followers might have.
A caveat: Don't oversell your product or service. If you post too many times, Facebook may filter your posts as spam.
Use Hashtags
Whenever one hears about hashtags, your mind goes straight to Twitter. But they also apply on Facebook. By using hashtags, you allow your audience to find your content more easily.
For example, to find construction content, type in #construction in the search bar. Look up other businesses in the industry and check out the hashtags they use. You can also search for hashtags to see which ones are trending. And if you feel adventurous, try RiteTag.
Use hashtags on Facebook – It can set you apart from your competitors!
Advertise on Facebook for Construction Audiences
Facebook Ads is one of the best features when using Facebook for construction. Besides using all the other great Facebook tools, set your company apart with the Ads feature.
Pick the content you want to advertise: A picture, a blog post, a video, or any original content.
When you set up the Ad, personalize it as you wish.
Pick your audience based on gender, age, interests, demographics, or geographic area.
Set the ad goal, for example, do you want to harvest likes or clicks, or have viewers complete a specific action.
Finally, pick the budget and the number of days you want to run your ad on Facebook.
Leverage Insights when Using Facebook for Construction
This unique feature allows you to measure the progress of your activity on Facebook. First of all, you can keep track of current and previous ad campaigns. But more than that, you can get an overview of the traffic on your business page. Facebook provides you with insights for the current week. You also have the option to go back to a previous week or month. With Insights data, you can determine the right strategy for your target audience.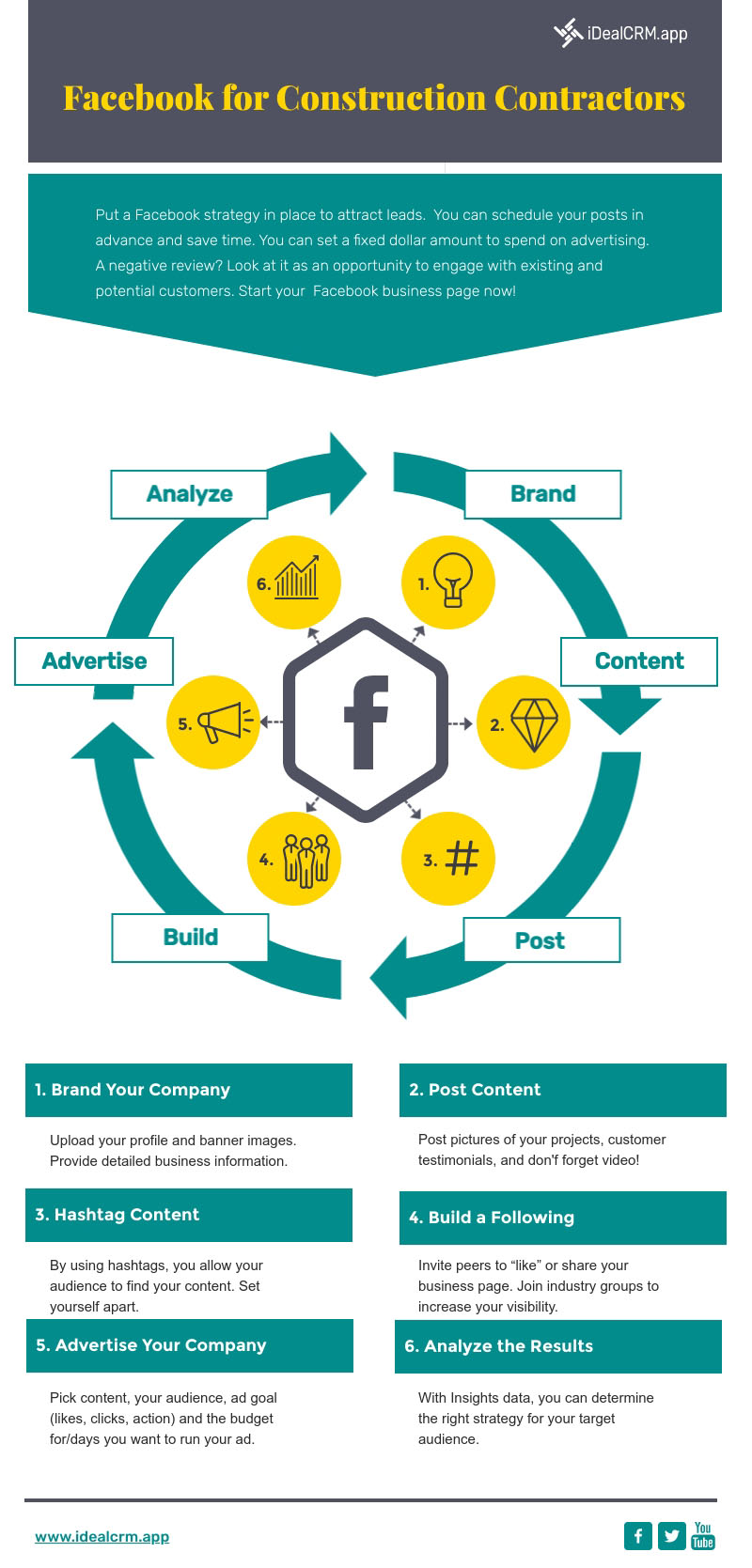 Further Reading