This article is about Twitter for construction so you learn how to use Twitter to connect to construction clients and leads. In a previous article we tackled how to use Facebook for construction companies. This time, learn how to represent your company on Twitter, another popular social media channel. It has approximately 330 million subscribers and is still growing! Tweeting already? Make sure you are leveraging all the elements of Twitter to get the most out of your business account.
Set Up Your Twitter for Construction Account
There is no cost to set up a business page on Twitter. To use Twitter for construction, simply open an account and set up your company profile:
Add a username aka your "handle" to identify you, e.g. bob_the_builder.
Enter business info (don't forget to include hashtags in the description).
Include the URL to your website.
Upload a profile picture to identify your business, for example, your company logo: 400 px by 400 px.
Upload a 1500 px by 500 px header image that represents what your company does. Or use an image of the construction industry.
Tweet Away
Now you can start posting tweets but use your words well. You only have 280 characters to tweet, and that includes spaces! Twitter traffic moves fast. When you use twitter for construction, post quotes, statistics, questions, or interesting facts to engage your followers. Twitter also supports images, polls, and even short videos. Research shows that a tweet with an image or a video engages the audience more than text-only tweets.
Consistency is important on Twitter. You don't have to tweet every day, but you should tweet at least twice a week. And you can do all this on the go or from the Media Studio in your account where you set up and schedule tweets. We recommend you keep a calendar. Schedule tweets for times you know construction professionals take a break!
Hashtags
Hashtags are key for getting exposure on Twitter. Users use the search bar to search hashtags they are interested in. That is how you get up to speed with the most recent industry topics and trends. Use hashtags so your tweets reach your target audience. Twitter recommends using two hashtags per tweet, but you can use as many as you like. A best practice is not to use more than five.
To research popular hashtags when you use Twitter for construction, use RiteTag. It will show you metrics for search words that can help you select hashtags with reach. Navigate to ritetag.com and type the term in the search box, then press the enter key. On the right, you will see unique tweets per hour, number of retweets per hour, and finally hashtag exposure per hour. You want the most exposure!
Add Images
Anchor your post with a suitable image. Showcase your service or product, for example a project you are working on or have completed. Share pictures of your crew! The Twitter post image size is: 1024 px X 512 px.
Post Videos
Videos are popular media on Twitter. Keep them engaging but more than anything, keep them short. Use video to show your expertise and experience or showcase a project. For example, you could talk about or proven best practices in your field.
(Although you can upload videos up to 512MB, you will be prompted to edit videos to 2 minutes and 20 seconds or less. Upload MP4 formats for the web and MOV and MP4 for the app.)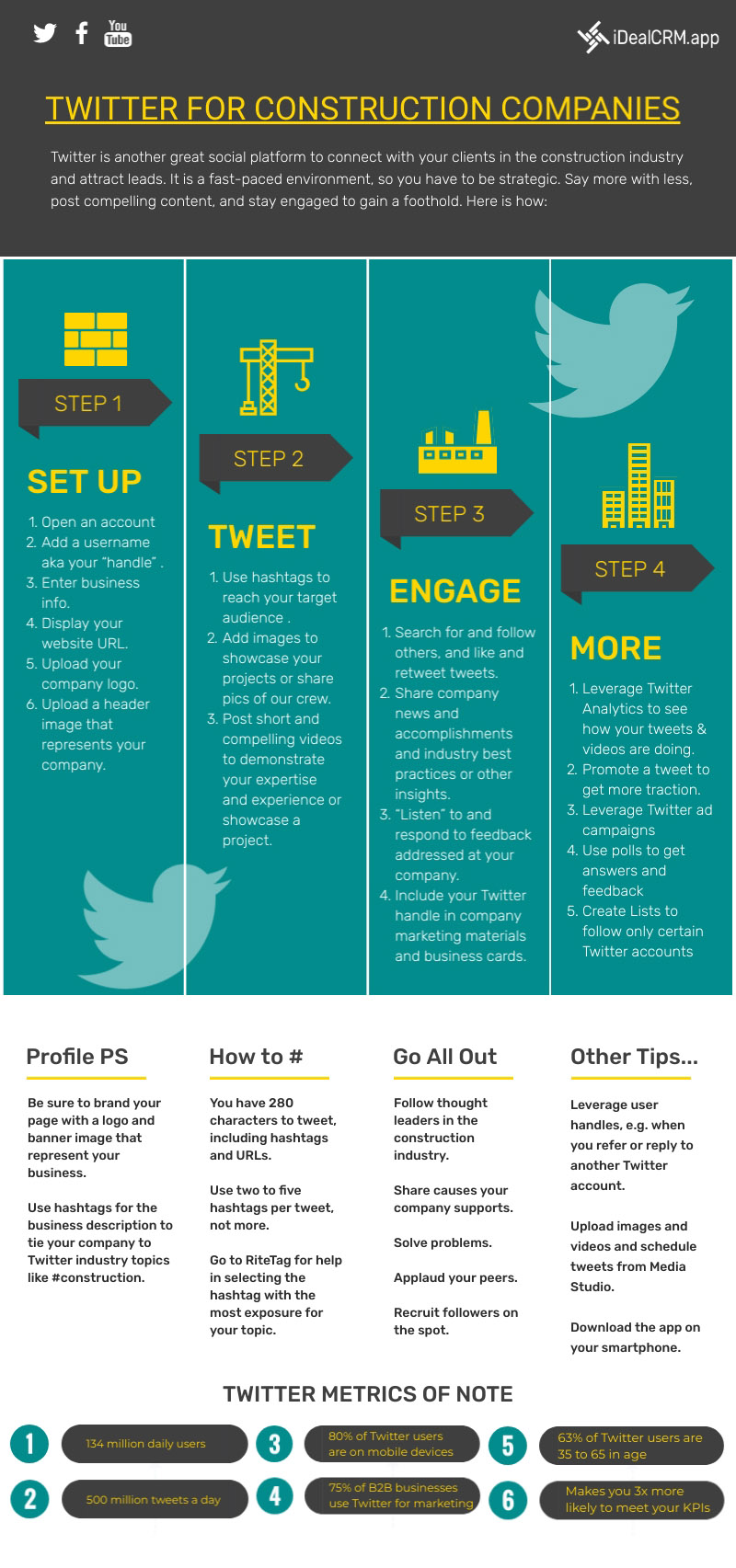 How to Engage on Twitter when You Use Twitter for Construction
Search
If you want to follow a topic or find a company, type it in the search bar, e.g. #construction. Select the Top, Latest, People, Photos, or Videos tab to display your search results.
Use the Search filters options to filter your results to only companies you follow, or near you. Under More, you can hide sensitive content and content from blocked or muted accounts.
Click the icon to save your search. The next time you put your cursor in the search box, you will see it listed under Saved Searches in the drop-down menu! You can also remove it from saved searches any time.
Follow
When you use Twitter for Construction, follow topics, companies of interest, and thought leaders in in the construction industry. Like their tweets or retweet them. Jump in with replies that demonstrate your expertise and experience.
Use handles to mention another Tweeter in a tweet. But don't start your tweet with an @mention, or it won't show up on your profile or analytics). If someone mentions your handle, you get a notification. Respond, even if it is to like or retweet the post. Fellow Tweeters can also send private message to one another.
Lead
It is important to remain active and engaged, at least twice a week! Download the app on your smartphone so you can access Twitter while you are on the go.
Post tweets that provide valuable insights. Build a following. Showcase your products and services. Tweet company news and accomplishments and industry best practices or other insights. Do not shy away from tweeting about causes your company supports. Encourage your followers to share or retweet your posts. Applaud peers on their accomplishments. And "listen" to and respond to feedback.
Tweeting and liking, sharing, and responding to tweets prove that you are engaged. Engagement builds relationships with clients. It also demonstrates your commitment to customer service. Last of all, it attracts leads! Remember, show rather than sell.
Spread the Word – Twitter for Construction
Include your Twitter handle in company marketing materials and business cards. When you speak with leads or clients, share your Twitter handle and ask them to follow you on Twitter. Share the hashtags you frequently use. Or start your own branded hashtag! Embed tweets in your emails and on your company website to encourage participation. Click the icon in the tweet, select Embed Tweet, and follow the steps.
Measure and More
On the left hand of your Twitter home page, under More > Analytics, you can see how your tweets and videos doing. This is where you find tweet metrics like impressions and engagements by date.
This is also where you can promote your tweet to get more traction. Click on View activity below a tweet for that option. It is an inexpensive way to highlight a tweet and target a specific audience.
You can also leverage Twitter ad campaigns that are based on specific business objectives like increasing followers and website clicks. Set up an account for $99USD a month.
Once you build your "following", use Twitter polls to ask questions and get feedback. Offer respondents up to four answers to choose from.
Feeling overwhelmed with the amount of content that greets you every time you log in to Twitter? Consider using Lists to follow only certain accounts. Visit https://help.twitter.com/ to learn how to harness Lists or any other Twitter features of interest to you.
Twitter Statistics
Here are some Twitter metrics published by AgoraPulse and worth mentioning:
134 million daily active users
500 million tweets per day.
80% of users access Twitter on a mobile device.
75% of B2B businesses market their products and services on Twitter.
63% of all Twitter users worldwide are between 35 and 65.
Brands meeting their KPIs are 3x more likely to have included Twitter in their launch plan, versus the 85% that are not meeting their KPIs.
Conclusion on Twitter for Construction
Twitter for construction is another great social platform to promote your business and score leads. It is a fast-paced, easy-to-connect type of environment. Say more with fewer words. Make it compelling. Add images and video. Stay active and engage. Plan and schedule ahead if you have a busy daily schedule. Connect with clients and gain leads!
Further Reading