What is covered in the Sales Pipeline Stages Explained article:
Sales Pipeline Stages Definition
Sales Pipeline vs Sales Funnel
Benefits of a Sales Pipeline
Pipeline Stages Best Practices
Sales Pipeline Stages for B2B
Sales Pipeline Stages Examples
What is Sales Pipeline Management
Conclusion
Sales Pipeline Stages Definition
Sales pipeline stages are the steps each prospects goes through from lead to client and each opportunity goes through from new opportunity to won project. Typical sales pipeline stages for prospects are: prospecting, contact, lead qualification, lead nurturing, presentation, follow-up with lead, receive the opportunity, and finally close deal. Typical sales pipeline stages for opportunities are: new opportunity, gathering info, go/no-go, estimating, proposal creation, send proposal, follow up, close opportunity, and finally reporting and analysis.
Sales pipeline stages mirror your construction sales process and sales process steps and are a big part of sales pipeline management. And good sales pipeline management is crucial to business success. A sales pipeline is, at the end of the day, your revenue pipeline!
An effective sales process is sometimes what puts your company ahead of another. It's that phone call you make two minutes after you receive an inquiry that will win you the opportunity. It's consistent follow-up after you send out your proposals. That is what will help you find out which client was awarded the job and help you win the project. In order to stay on top of sales activities, you need a system to hold and prioritize your sales information. This is where a sales pipeline with well-defined sales pipeline stages is key.
Before we dive into defining sales pipeline stages, let's look at the difference between a sales pipeline and a sales funnel.
Sales Pipeline vs Sales Funnel
Sales Pipeline Definition
What is a sales pipeline?
A sales pipeline is a set of steps and activities in each step that transform a lead into a customer or an opportunity into a project. The steps in the sales process are called sales pipeline stages. When you look at your sales pipeline, you know exactly what to do next. For example, if you see an opportunity with multiple clients in the Follow Up Stage, you know you need to email or call each client and find out who was awarded the project. It is only afterwards that you can move the opportunity in the following stage, 'Follow Up Client Awarded', and follow up to find out where you stand with your price.
A sales pipeline could look like this: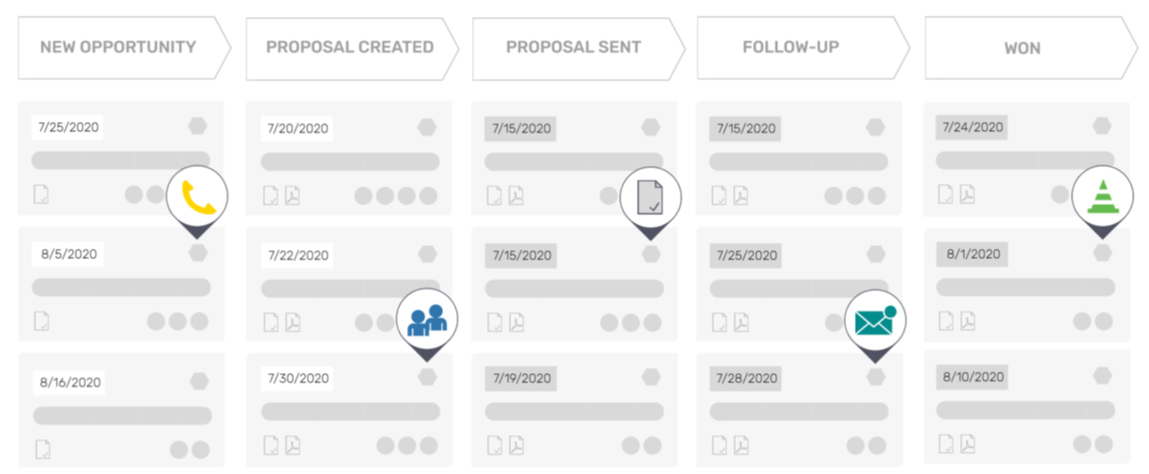 Sales Funnel Definition
On the other hand, a sales funnel is a visual representation of the number of opportunities or leads and the conversion rates between stages. The funnel can help you understand where opportunities or leads fall through the cracks. If you detect a low conversion percentage between two stages, it means you have identified a gap in your sales process that you need to address.
A B2B sales funnel template could look like this: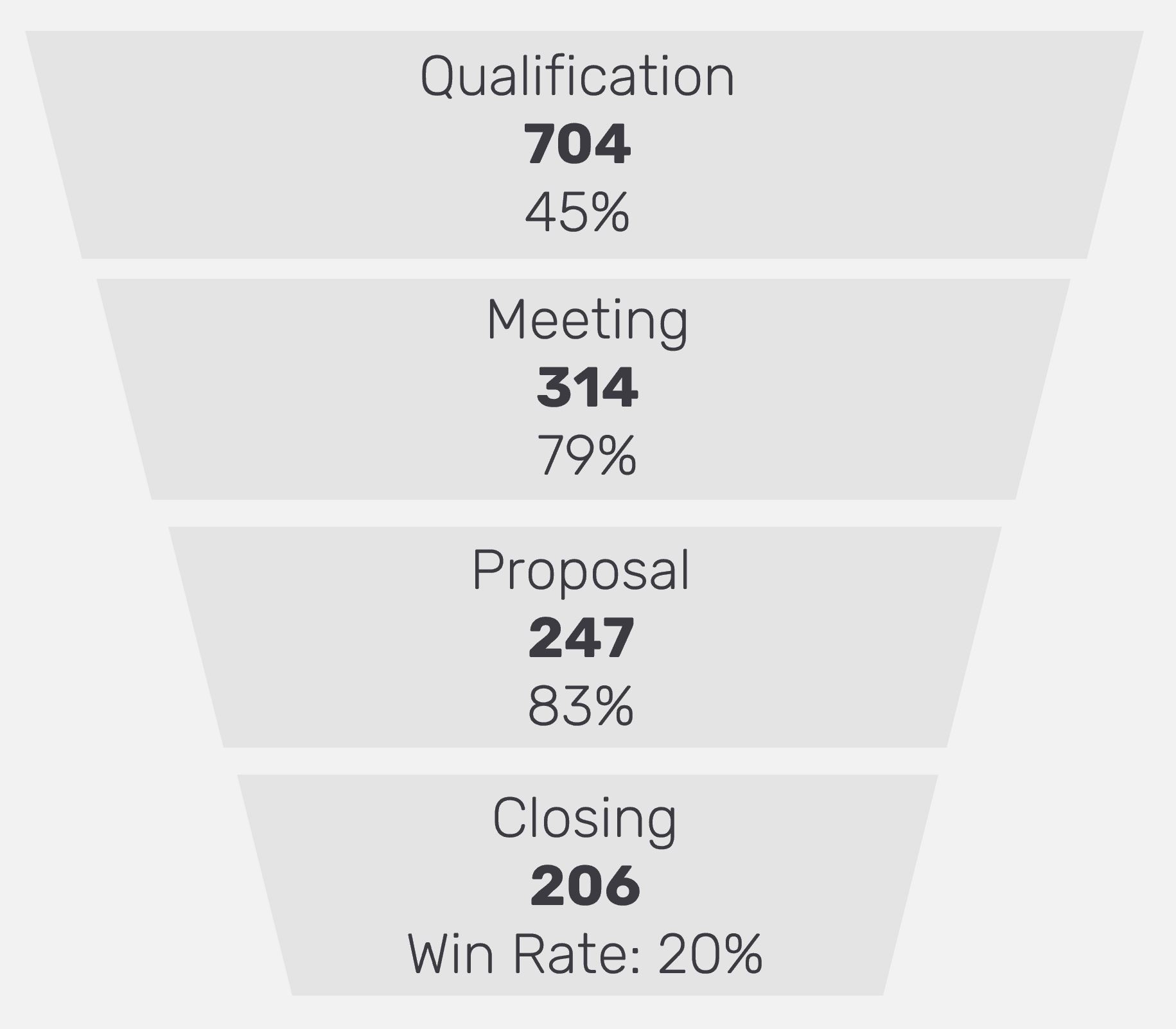 Benefits of a Sales Pipeline
Both a sales pipeline and a sales funnel are great sales tools that provide important metrics. However, to organize your sales department and your opportunities, it is the sales pipeline that will give you actionable results.
So why is a sales pipeline important?
First, it organizes leads and opportunities clearly – one glance at your pipeline will reveal where each opportunity is
Sales professionals at your company can identify the opportunities, what they need to address, and when
A sales pipeline provides real-time information on current opportunities, workloads, and sales team performance
The sales pipeline helps companies of all sizes optimize their construction sales process and streamline sales activities
Finally, it also allows executives to:

identify sales process gaps
forecast revenue
get an overall view of the financial health of the organization
Many studies have been performed on sales performance and what improvements and tools have the biggest impact on sales. VantagePoint, for example, discovered that companies that define and become proficient at their sales pipelines have a 15% higher revenue growth. That is a big impact for a tool that companies can easily implement and adopt!
Sales Pipeline Stages Best Practices
What are the stages of a sales pipeline? And what are sales pipeline management best practices? Implementing and adopting a sales pipeline at your company is a fairly simple process with a few steps.
In order to build a sales pipeline, you have to document your sales process and define the sales pipeline stages. For most companies, these stages will be similar to the steps in their sales processes. (Note that some companies refer to sales stages as b2b sales funnel stages.)
It is important to point out that in certain industries, construction for example, there are a few distinct sales processes. When we advise construction companies, we suggest splitting their sales processes in two processes. The Lead to Client process and the Opportunity to Project process. Here's why this split makes sense in construction. If you are a subcontractor and you have managed to convert a general contractor to your client, it doesn't mean you'll do work for them right away. All it means is that you got on their bid list. You'll receive invitations to bid from that particular GC, but you still have to win the bid before an opportunity becomes your job.
Sales Pipeline Stages for B2B
Good sales pipeline development starts with defining pipeline stages. Please bear in mind that business-to-business B2B sales pipeline stages differ a lot from business-to-client B2C pipeline stages.
The standard sales pipeline stages for B2B may include New Lead, New Opportunity, Discovery, Estimating, Follow-Up, Negotiated, and Closed.
Typical sales pipeline stages for B2B should also list the activities and actions a business developer needs to succeed. For example, in the discovery stage, a sales rep may need to call or email the client to gather specific information about that project.
And don't forget a sales toolbox with all the materials the sales team will need to accomplish the activities required in each stage.
Sales Pipeline Stages Examples
What are stages of a sales pipeline? Our sales pipeline stages examples fits the sales process for a construction company. As mentioned above, it is best to split the construction sales process in two separate sales processes: Lead to Client process and Opportunity to Project process.
Sales Pipeline Stages for the 'Lead to Client' Sales Process
In the lead-to-client sales pipeline stages example you will notice that the responsibilities may be split between the marketing and business development. For example, you may charge your marketing team with generating leads from your website and events and to qualify leads for your business developers. On the other side, you may want your business developers in charge of lead nurturing, presentation, and follow-up.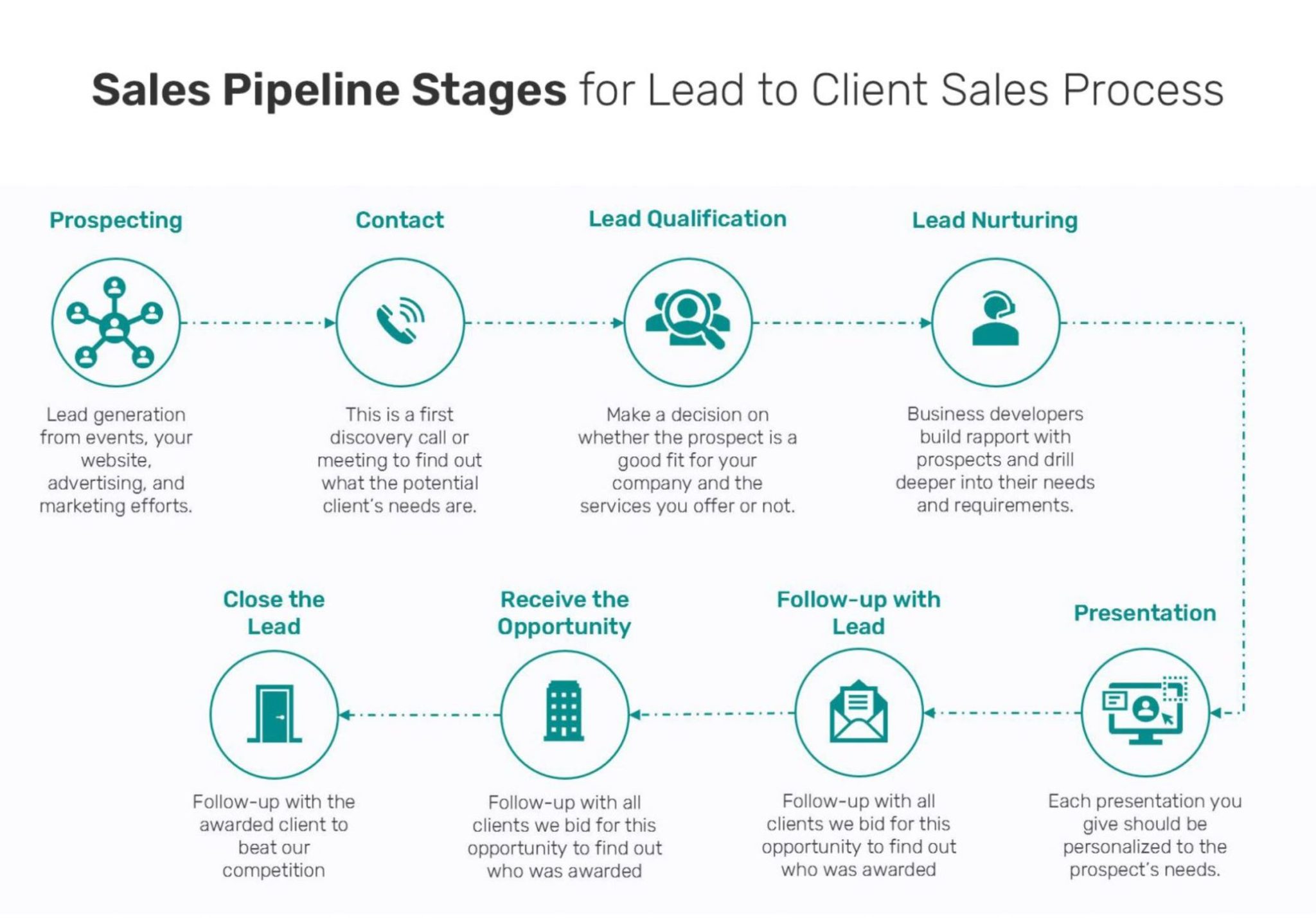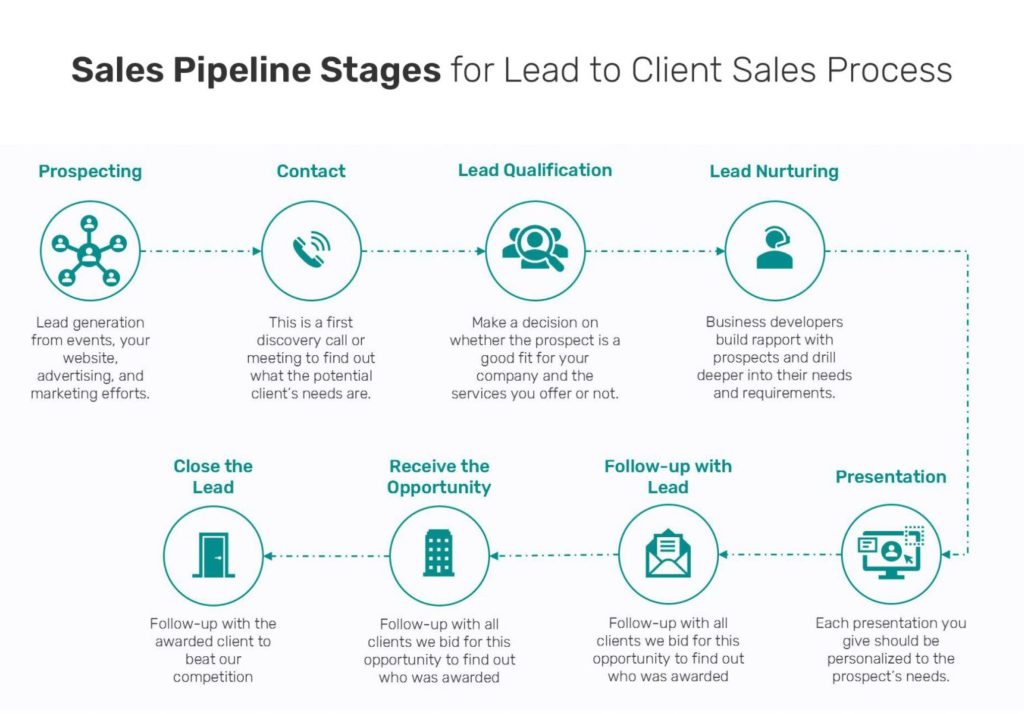 The 'Opportunity to Project' sales process at a construction company consists of 4 or 5 phases. These sales process phases are highlighted with different colors on the diagram below:
Pre-Construction
Estimating & Bidding
Follow- Up
Closing
Reporting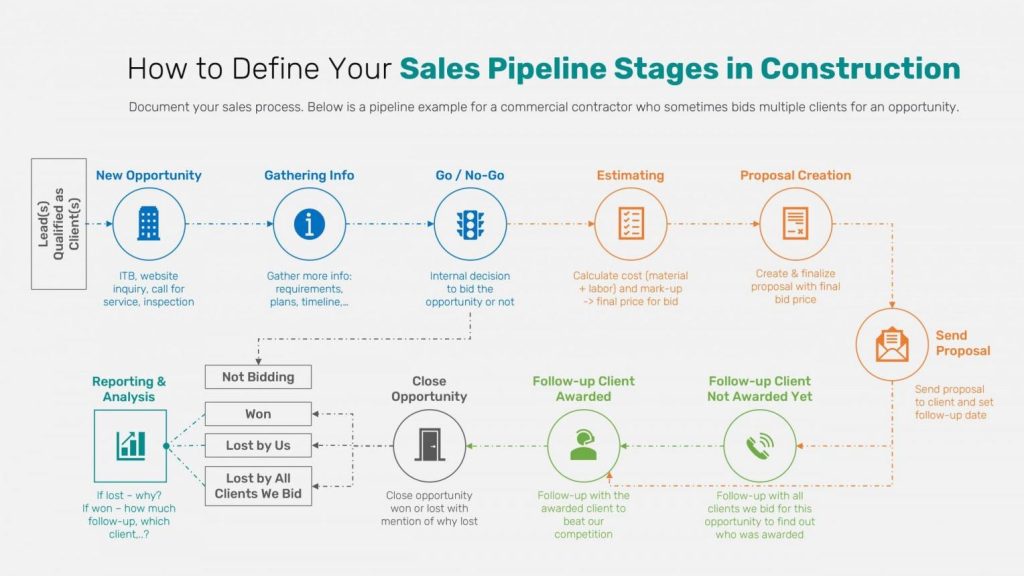 Let's dive deeper into the sales pipeline stages template for the 'Opportunity to Project' sales process.
Pre-Construction Phase
New Opportunity
What you want to do is start each opportunity you receive in the New Opportunity stage. An opportunity for a construction company could be an invitation to bid, a website inquiry, a call for service or an inspection inquiry.
Gathering Info
Most of the time you'll have to gather some additional information such as building plans, specs, and requirements. Add that as one of your sales opportunity stages.
Go / No-Go Decision
Next, it's go/no-go decision time. This is when one may sit down with your supervisor or in a sales team meeting. You would consider questions like 'Do we have the time and manpower to complete this project in the timeline specified?' or 'Is this a project we're qualified and insured to do?'
Estimating & Bidding Phase
Estimating
If the outcome is a no-go, mark the opportunity as closed, not bidding. If you decide to bid this opportunity, then it moves to the Estimating phase.
Proposal Creation
Depending on how large your sales team is, the stages in this phase could all be done by one person for each opportunity or more people may be involved. You may have the estimator calculate cost and pricing for the bid and designate a different person to create and send out the proposal.
Sent Proposal
However, to organize your team, these three stages are important for tracking purposes. They ensure you send out your proposal on time.
Follow-Up Phase
Once your proposal is out the door and in your client's hands, the follow-up stage comes into play. Follow-up is a key phase in the sales pipeline. (You can learn more on this topic in our article How Follow-up Can Increase Your Closing Ratio.) We like to separate opportunities in two follow-up stages.
Follow-Up Client Not Awarded Yet
If you bid multiple clients (general contractors) for an opportunity, then it should be in the Follow-Up Client Not Awarded stage first. We suggest this because your follow-up message or question is different at this stage. You'll be calling those clients to find out which one of them got the project.
Follow-Up Client Awarded
It's only after you know who that client is that you start calling them to find out what your price looks like compared to your competition's, and so on.
Closing Phase
Close Opportunity
Once you find out whether your bid got the project or not, you can close the opportunity with the right status depending on whether you won, lost, or maybe didn't even bid the client who won.
Reporting Phase
And at the end of the pipeline it's time to perform some sales pipeline analysis. This is not a stage per se, but it could be a monthly strategic meeting when your sales team analyzes opportunities, what went wrong when you lost an opportunity, and how you could improve your process.
IF YOU'RE IN CONSTRUCTION
The question IS NOT 'Do I need a sales management tool?'
The question IS 'WHICH sales management tool do I need?'
You need iDeal Construction CRM.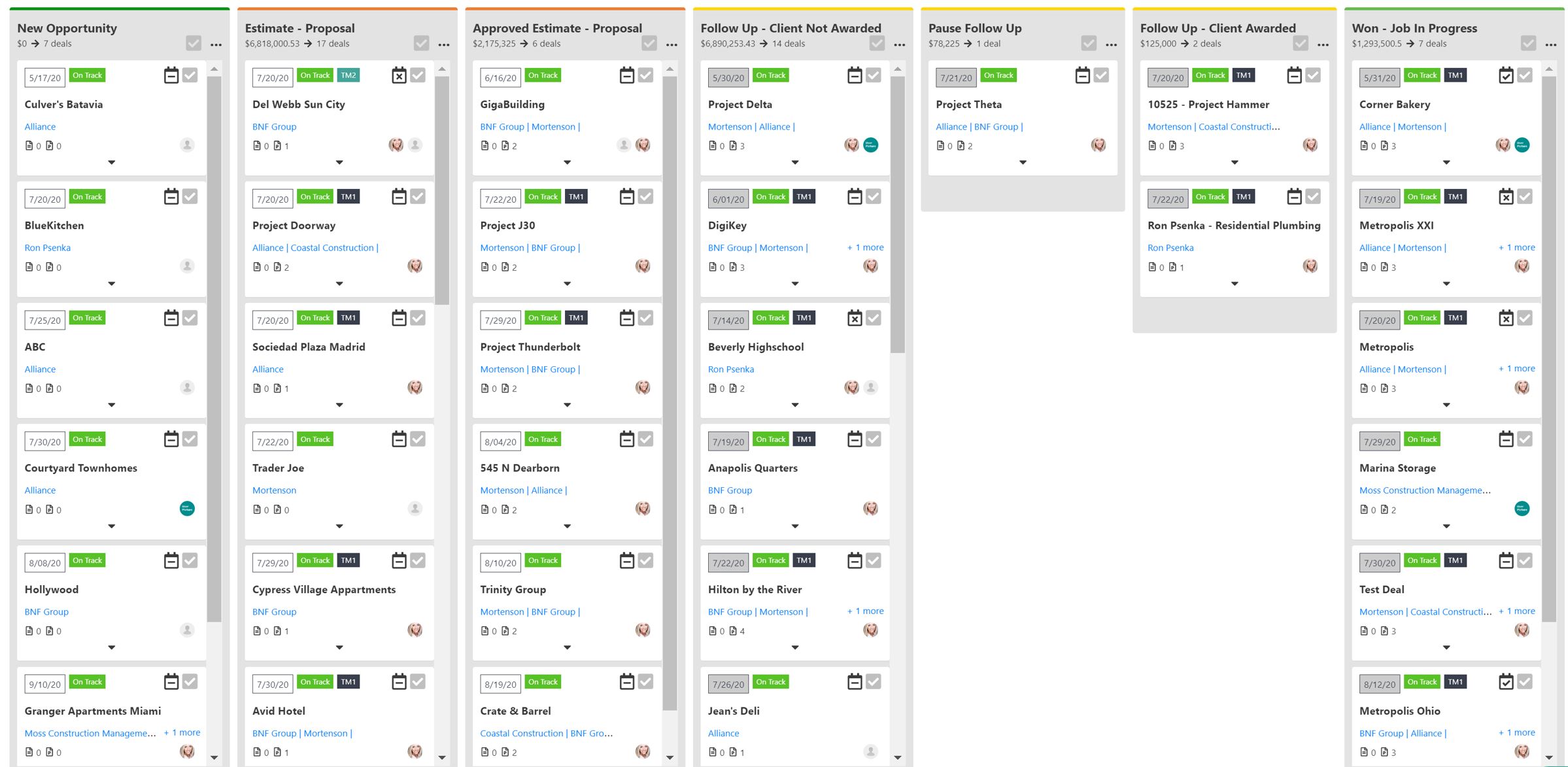 What Is Sales Pipeline Management
Once you have your sales process all documented and broken down in sales pipeline stages, it is time to learn how to manage your sales pipeline. It becomes even more important if you manage opportunities with multiple bids. Find out more in our article on How to Track Opportunities with Multiple Bidders.
Ideally, you want to implement a client pipeline management and an opportunity pipeline management tool. Two of the most widespread sales pipeline management tools are: Excel spreadsheets and Sales CRM software. The sales pipeline management process becomes an integrated internal process. Your sales, business development, estimating, and even marketing departments will work together to manage the sales pipeline.
Excel Sales Pipeline Management
Excel is a good sales pipeline tool if you have a small sales team and bid a relatively small number of opportunities. Set up a spreadsheet with all the required columns like opportunity name, location, pipeline stage, clients. Then set up a sales pipeline chart in Excel. And lastly, implement formulas to obtain a sales pipeline calculator in Excel. You could also implement a sales pipeline dashboard in Excel, but it's a bit more time consuming.
If sales pipeline tracking with Excel is not something you're comfortable doing, you can download the Sales Pipeline Excel Template free. It's a great Excel sales pipeline template (or sales pipeline spreadsheet) that works for small teams in any industry.
Keep in mind that there are quite a few limitations to using a spreadsheet. For example, not receiving notifications when a bid is due or when a client opened your proposal. Also, there is no automation you can build into a spreadsheet and it is pretty hard for the business development team to keep track of sales.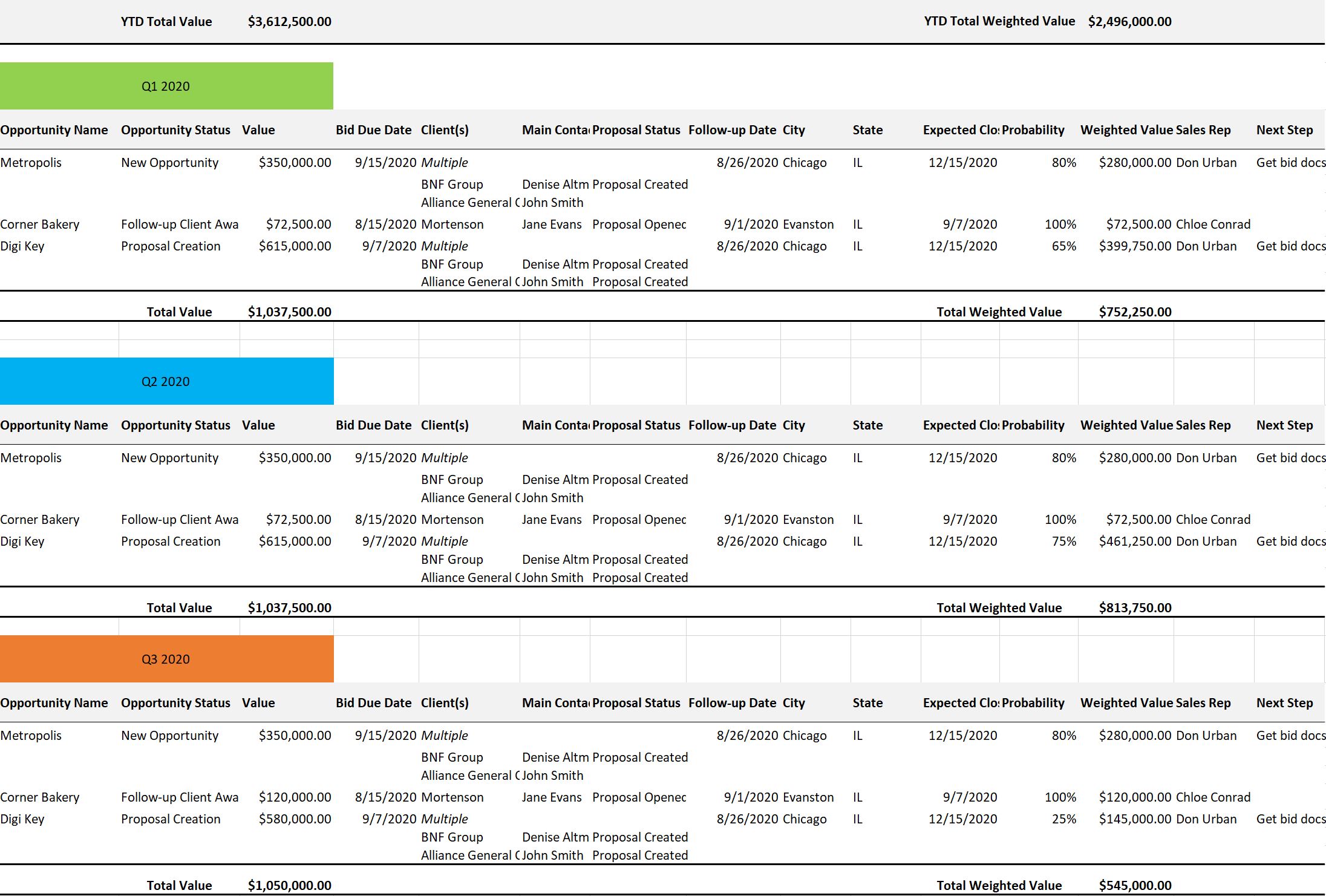 CRM Sales Pipeline Management
Another way of managing your sales pipeline is with sales CRM software or a pipeline CRM or a sales pipeline software with customizable stages. This is considered as the better from the two sales pipeline management tools. CRM stands for customer relationship management. If you outgrow your Excel spreadsheet or you have a larger sales team and volume of opportunities, a sales CRM is the best way to manage your sales pipeline. Also, adopting a CRM for pipeline management is relatively easy if it fits your process. Find out what the best CRM for construction features are.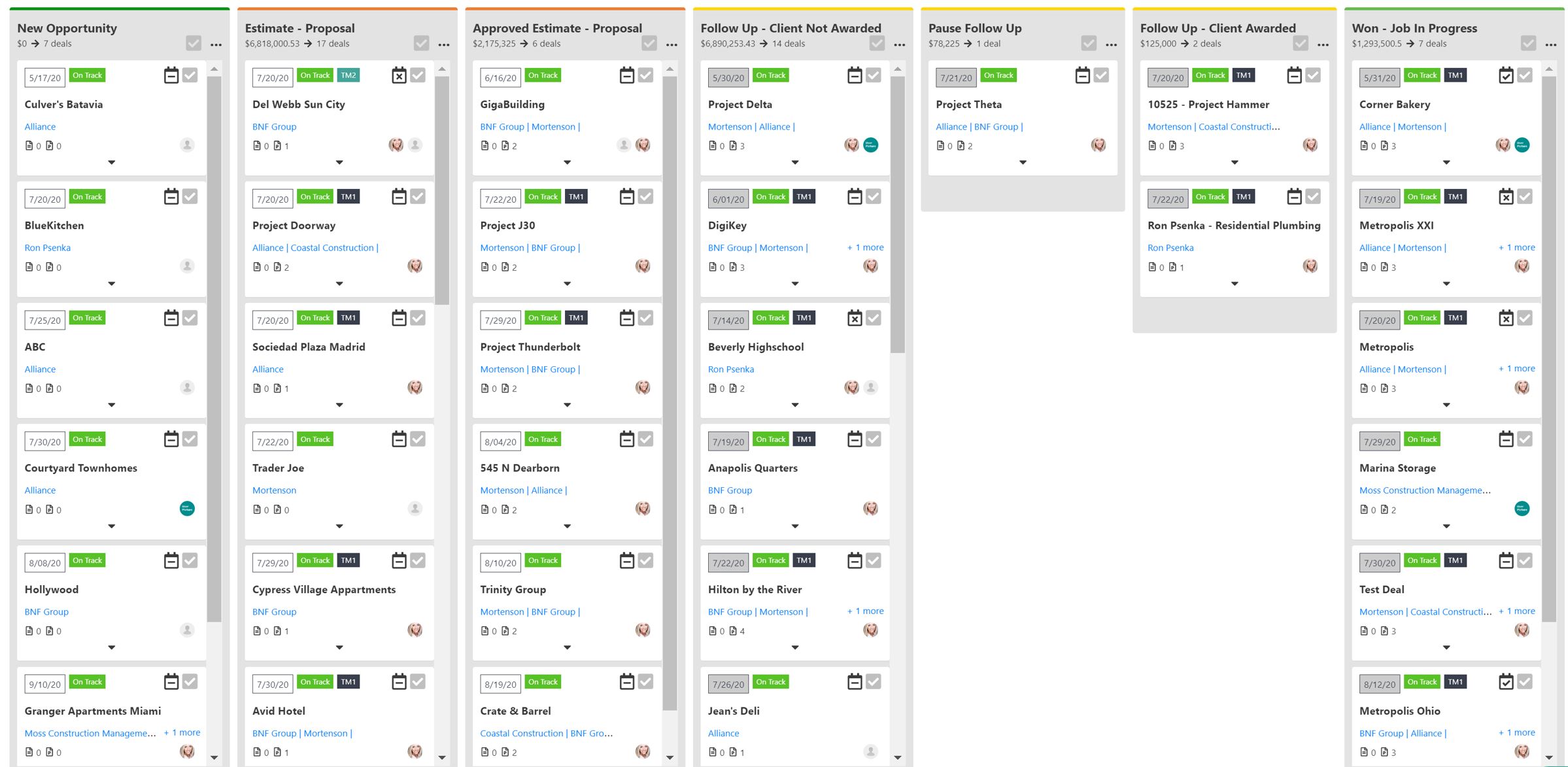 Get Started with Sales Pipeline Management Software
To get started with a CRM pipeline (sales pipeline CRM), you need to first select the right sales CRM for your company. Next you need to implement sales stages in CRM. Notice we keep saying sales CRM and not just CRM. This is because most CRMs on the market are marketing CRMs – the ones that allow us to track individual clients and send out email campaigns. Those are great systems but that is not what Sales needs.
You need a pipeline management CRM that focuses on sales and profitable growth. A sales pipeline management software that fits your sales process to the 'T'.
For construction companies, the best construction CRM built specifically for them is iDeal CRM. If you operate in a different industry, you'll have to find out which the right one is for you. Once a tool is selected, make sure you can import current data like clients, contacts, open opportunities, or leads. If the tool allows, you also want to be able to customize CRM stages and set up proposal and email templates (download the construction proposal template library for free on the iDeal CRM blog). That is how you hit the ground running with the system when you turn on the lights.
In terms of shortcomings of CRM pipeline management, there really aren't any if you select the right tool for our company, set it up correctly with all the tools needed, and train our users.
Some important advantages of sales CRM software, compared to a spreadsheet are:
Sales pipeline analysis
Dashboard, funnel graphics, and graphs
Revenue forecast and velocity
Sales pipeline reporting (sales pipeline report, personnel performance, winning rate, client profitability, conversion rate).
Learn more about what construction CRM is and how it can benefit construction companies.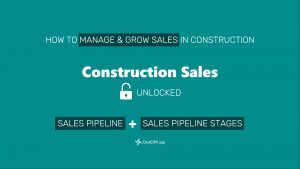 Conclusion
Whether you leverage Excel or a sales CRM (sales pipeline software), you should be set now. If you need help documenting your sales process, establishing the best sales pipeline stages for your company, or identifying the right tool to implement, please don't hesitate to contact us. We also offer sales pipeline management training via our Training Sessions.
For ongoing insights into sales, subscribe to iDeal CRM YouTube channel and visit the iDeal CRM website again as we post new articles, training sessions, tools, and videos every week.
Thanks for reading this and happy selling!
Further Reading