Construction Business Development Manager
A construction business development manager is instrumental in driving new business for a construction company. Construction business development managers identify the right opportunities and build long-term relations with the right prospects. Learn more about what it takes to become a successful business development manager in the construction industry.
Construction Business Development Manager Profile
Construction business development managers are instrumental in driving new business. They identify the right opportunities and build long-term relations with the right prospects. These are some of the elements that drive business growth and success in the industry. A successful business development manager in the construction industry must master key responsibilities. If you are seeking a new career or looking for a career change, you landed on the right page. Read more about how to build a career as a construction business development manager.
Responsibilities of the Construction Business Development Manager
Drive business growth


Take an active approach towards identifying new opportunities. Complete construction bids and submit bid proposals. Coordinate and assist in the proposal process. Build a construction proposal template library that can be used by the entire sales department. Convince prospects and current customers to buy-in. Identify market opportunities. Create development plans and growth projects. 

Conduct market and customer research


It takes a lot of work behind the scenes to build a strong customer base. A construction business development manager must have strong analytical skills. It takes great research to bring in a new prospect to the table, or convince a decision-maker about a new idea. Conduct market analysis and get to know your competition. Knowing against who you compete helps you contribute towards the business growth factor.  Being able to conduct effective research not only saves time. It also gives you the necessary confidence to take the company to the next business level.  

Manage collaboration at different levels


Collaboration at different levels include: estimators, customers, decision-makers, or contractors. Collaborate with estimators to get  feedback and input on the bidding process. Also, establish long-lasting relationships with potential clients and prospects. In addition, build rapport with decision-makers in the company to get approval for business development. Also, keep close collaboration with contractors and subcontractors for an on-time project outcome. Master collaboration with all stakeholders involved in the project, for a successful outcome.

Adopt excellent communication


Say the right thing at the right moment. To have a smooth collaboration with all stakeholders involved, make sure you communicate. It is crucial to know how to communicate and send the right message across. Tailor communication for all levels within the company and adjust based on needs. 

Manage customer relationships


Besides market and decision-makers, customers are the key elements that drive your business. Build long-lasting relationships with your customers.  Work with your customers to meet their expectations for a successful business relation. Conduct frequent check-ins and provide updates on the projects. And last but not least, nurturing relationships with prospects and current customers is key to being successful. 

Build your network


Attend construction events and conferences. This will help you stay up to date with current and upcoming trends. Network with peers within the construction industry and exchange best practices and ideas. You can also join trade associations and business organizations to develop your network.

Master technical skills


Showing expertise in a CRM software takes you a long way in your career. Be knowledgeable of how to use a CRM software. Check out Construction CRM Software and Contractor CRM Software and learn more about how you can improve your sales process and increase your winning rate. Such software will certainly help you stay organized and on top of your business development game. Start by managing and prioritizing leads, opportunities, and clients. Then streamline your sales process by creating, sending, and tracking bid proposals. Then consistently follow-up on your bids and proposals to increase your winning rate with a tool built for the construction industry. And last but not least, dive deeper into your customer data and personnel data to identify your most profitable clients, opportunities to grow, and who your best closers are.
Salary
The average salary for a Construction Business Development Manager is $95,000/year. The highest salary can get up to $142,500 and the starting salary for this role is at $60,000/year. The more experience you get in the field and the more success you record, the more income you will get.
Education and Experience
Most employers ask for a bachelor's degree. They prefer a degree in construction management. A degree in business management or sales is also acceptable when combined with at least 5 years of experience. A BS degree offers business development professionals the opportunity to earn top salaries that can reach ~$150,000 in certain areas. Employers seek experienced individuals for this role. Experience anywhere between 5 to 15 years will qualify for this role.
Top 10 Schools to Obtain a Construction Management Degree
According to collegechoice.net, the top 10 schools to earn a B.S. in Construction Management are: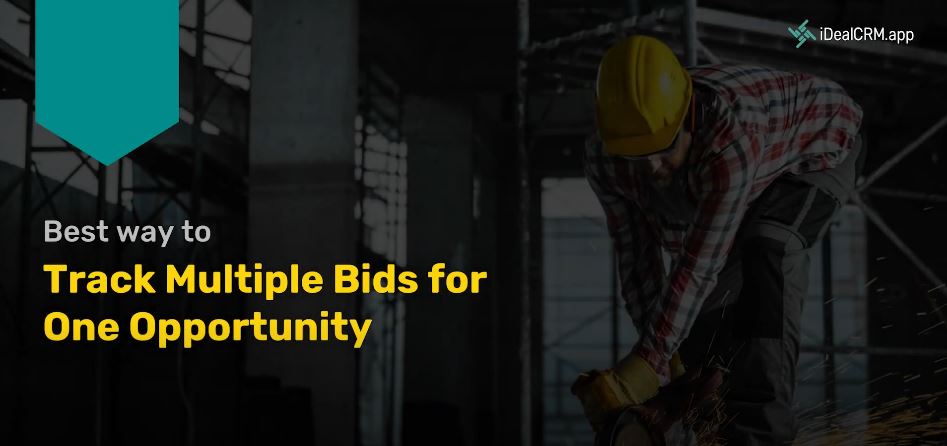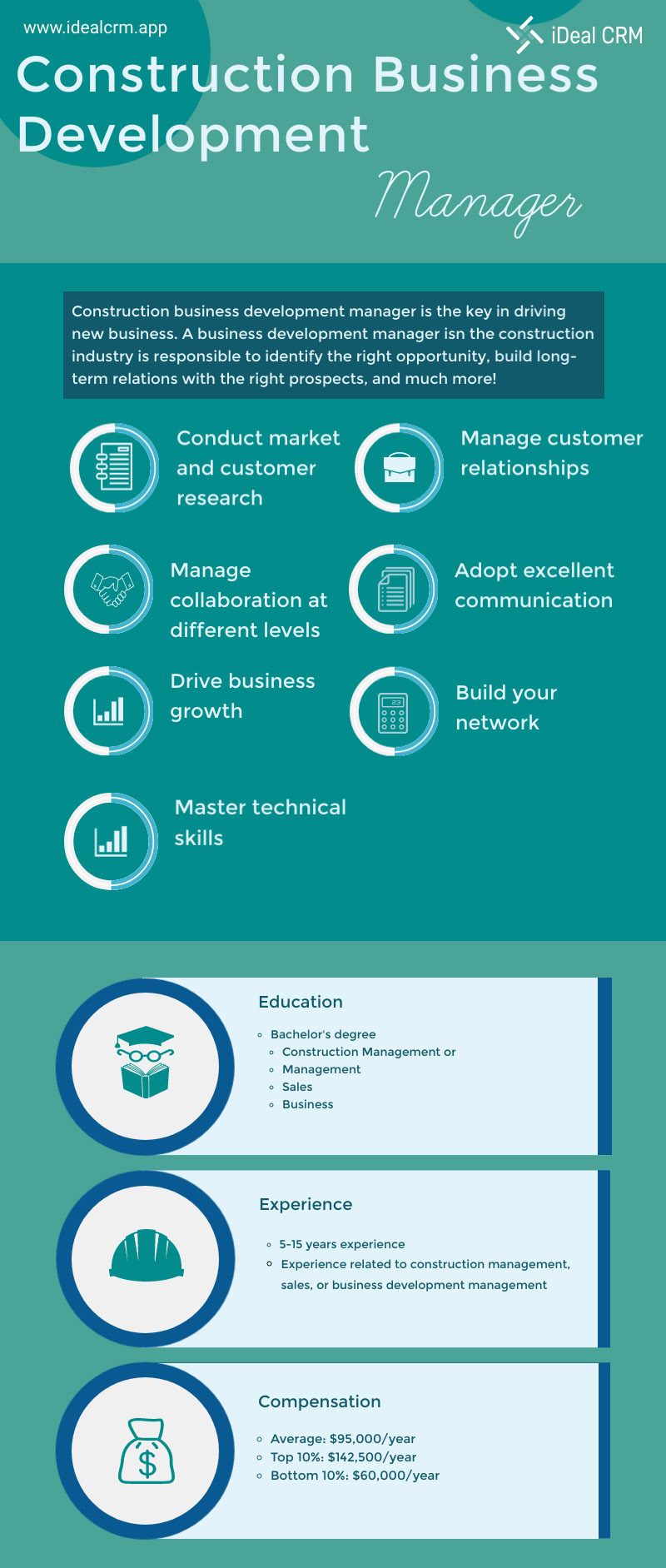 Key Sales Activities That Top Construction Companies Perform
What is CRM (Customer Relationship Management)?
Eliminate 'I Forgot to Follow-up' from Your Company
Increase Your Closing Rate by Up to 35%
How to Build Trust and Win More Projects
Proposals: Create Clear, Accurate, Beautiful Proposals
Free or Inexpensive Technology Tools to Streamline Your Sales Process
15+ Key Metrics To Measure Your Construction Company's Performance
Other Construction Career Profiles and Further Reading
Do you want to
create proposals faster
manage opportunities better
automate follow-up?
Hi, we're iDeal CRM. We are determined to help construction companies grow and increase their win rate.
Our only question is, will it be yours?
iDeal CRM is Free Forever for 1 user. No credit card required.