Searching for new clients and figuring out how to get construction leads can a challenge. There is no magic formula. The best way to get construction leads is to tap into as many resources as possible.
What we will cover in this article
Types of leads
Determine who your leads are and where to find them
Getting leads from your website
How to get construction leads from referral networks
Construction leads from bidding websites
How to get construction leads from Associations and networking
Getting leads from social media channels
How to get construction leads from lead generation companies
Conclusion
Types of Leads
Before we get into how to get construction leads, let's establish the two types of leads and which ones are better.
Inbound Leads: These are potential clients who find you and contact you through various channels such as your website, search engines, YouTube, associations, or referrals. In general, inbound leads are more qualified and therefore easier to close than outbound leads. Our article focuses on how to get inbound leads for construction.
Outbound Leads: These are potential clients you reach out to, for example, through email, in order to build trust and eventually a relationship with them as customers.
Determine Who Your Leads Are and Where to Find Them
The first step in getting construction sales leads is determining the profile of the leads you want. Are you a general contractor looking for leads or a subcontractor looking for general contractor leads? Are your leads in the remodeling space or are they residential homebuilders? Do they build big multi-family dwellings? Or are you looking for commercial construction leads?
It is important that you formulate what exactly is it that you do and do very well in that space. Demonstrate how you can bring value to their projects. What type of jobs do you want? Why do you do what you do? Make sure you spell this out. Now that you have your core messaging ready, you are ready to get leads.
How To Get Construction Leads from Your Website
Many construction companies large and small believe that the best answer to how to get construction leads is your own website. That applies to general contractor leads as well. Therefore, it is important to communicate your expertise very clearly on your website. It is also important to allow visitors to interact with your content with comments, calculators, or downloads.
Your website is a sales funnel
Your website serves as a sales funnel for your target audience to become leads.
Make it easy for website visitors to ask questions or make inquiries with different contact forms. Instead of having only one catch-all contact form, create different forms for different items. For instance, if you are a fire sprinkler contractor who also rents equipment, build a different page with a different contact form for rentals.
Make your website searchable and findable. You may need a bit of help here to optimize it for search engine optimization (SEO). Watch this 10-minute video by Neil Patel to get started. And watch this space for our article on the topic!
Offer downloads for DYIs or How To's in exchange to an email address
Include calculators on your website. For example, you can offer a savings calculator for 5-year inspection package vs a yearly inspection.
Include a blog section on your website
Include a blog section on your website where you share your expertise, how-to articles, and company news. It is by now a known fact that Google loves fresh content and it indexes blog posts faster than regular web pages. Post articles on your blog regularly. It doesn't necessarily matter how often. What matters is that you do it consistently so search engines know when to visit your site and find new content. Provide content that demonstrates how you've solved a client's problem with a case study and pictures to demonstrate the value-add. Post links to the blog on social media. The more accomplishments you can showcase on your website portfolio, the more leads for construction projects you will have!
Post reviews on your website
Get reviews and post them on your website, social media, and network forum profiles. Ask your customers to write and post reviews about your services online. And don't forget to ask them for referrals! They are construction sales leads too. And speaking of social media…
How To Get Construction Leads from Referral Networks
How to get construction leads free? This is where local construction leads websites come into play. It is especially helpful when you are looking for residential construction leads.
Contractors often search for sources where they can get free construction leads. Below are a couple of ideas on how to find construction leads at no or very little cost. Leverage these online forums as construction leads services. That is where your target audience goes looking for ideas and reviews and expertise – There is nothing like a customer review on these forums that will get you more business. Yes, the tried and tested "by word of mouth" method! Here are some of the best lead generation websites for contractors:
Houzz Pro
Houzz has become an extremely popular site for people looking for remodeling ideas as well as seeking out contractors to help on home projects.
Angie's List
Angie's List has been around for 20 years. Make your business findable, connect with consumers looking for solutions, and cash in on feedback!
Home Advisor Pro
The Home Advisor Pro lead source is not free, but allows you to budget, set preferences, and cancel anytime.
BuildZoom
BuildZoom vets projects to ensure they are worth your while. You only pay a referral fee (1-5% based on the size of the project) when hired.
Yelp
Showcase your business with a free listing on Yelp – Include pictures of projects! Good customer ratings mean more leads! And demonstrate your customer service by replying to reviews.
Google My Business
Google My Business is another free service that allows you to post photos and offers to your profile to promote your business.
Alignable
Alignable is a small business referral network. One of the members received "34 requests for quotes and 14 sales" in her first 3 days on Alignable.
How To Get Construction Leads from Bidding Platforms
What are the best lead generation websites for construction? Many large commercial and residential contractors say bidding platforms are the best lead generation websites for contractors. Investing in a construction lead service or a bidding platform is a surefire way to get larger construction project leads. However, the downside of some of these bidding platforms is that bids are listed as 'by invitation only'. This means you can't bid on a project unless you already have a relationship with that client and you received an invitation to bid.
You will find our articles on the top construction bidding websites and the science of construction bids and how to win work in construction particularly helpful in this area.
Here's a list of construction bidding websites covered in that article:
How To Get Construction Leads from Networking
Networking at the best building conferences and construction trade shows is another example of lead generation for contractors that doesn't cost you much. Here is how to find construction leads through networking:
When project managers or general contractors are looking for subcontractors, they typically turn to their network for recommendations. So, connect with these decision makers at trade associations, face-to-face events, and even social media like LinkedIn.
Leave a business card in your local restaurant, coffee shop, or hardware store. Interact with the community by participating in service projects. When you help others, you establish trust with the community. Let's call it grassroots construction lead generation!
Looking for local construction leads websites? If someone in the online neighborhood group is looking for help on a project, your knowledge could help them understand they need to call a professional, and the pro they should call is… you.
If you are a residential construction contractor, construction lead generation can be as easy as joining the National Association of Home Builders (NAHB) if you have not already. The Associated Builders and Contractors (ABC) trade association is a good choice for non-unionized commercial building contractors. Associated General Contractors of America (AGC) is another option. Or join a trade association closely aligned with your expertise, e.g. the National Electrical Contractors Association (NECA).
Visit chamber of commerce websites to view projects in your area. Check out Business Networking International (BNI) and join a chapter near you. Some business-to-business networking groups are free, for example, Alignable. Join Quora and leverage your expertise to answer questions participants post, even if it is to offer advice on how to start your own company. Exposure is everything.
Last but not least, consider providing incentive to your network. Offer a 10%, $1,000, or whatever is an appropriate referral fee to anyone for a referral that lands you a project.
How To Get Leads from Social Media
Speak up on social media. Post. Comment. Make yourself heard… and the leads will "follow". Again, this is important for SEO. And you want SEO! We have published a couple of articles on this topic with tips on how to optimize social media channels for marketing your company. You can leverage Facebook for construction, Twitter for construction companies, or look at YouTube tips.
Videos on YouTube of your team, your customers, and the projects you've completed will also help you get more construction leads. It works whether you are a general contractor looking for leads or a subcontractor looking for general contractor leads. Throw in some DIY videos to showcase your expertise and experience. Embed the videos on your website where they can do double duty. More on how to do that in our article YouTube Tips and Tricks for Construction.
How To Get Leads from Lead Generation Companies
There are other lead generation websites for construction. They specialize in lead generation for construction companies. They charge a fee to provide contact info like name, title, email, and phone number. Get a quote from construction lead websites like ExactData, Zoominfo, and LeadsForward if you want construction sales leads provided to you. On the other hand, a company like BuildZoom does not charge you for the information; you only pay a small percentage-based referral fee when you get the job.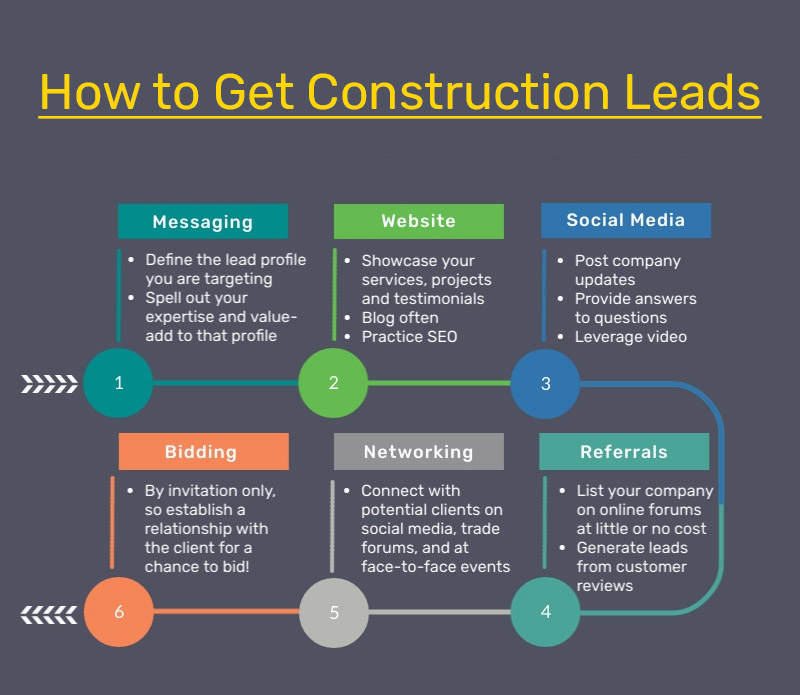 Conclusion
Learning how to get construction leads is important for both construction startups and established companies looking to grow. It doesn't matter whether you are looking for residential construction leads or commercial construction leads. And sometimes you have to start out small, earn a reputation, and get some work examples for your portfolio before you aim for the higher value opportunities.
It is always a good idea to find ways to be useful and available to your community and construction industry peers, so position yourself as an expert. Make it clear on your website, on social media, or any other forums you decide to join. Make your company searchable with SEO.
Construction lead websites and bidding platforms are not the only sources for construction project leads. Never under-estimate the power of your own website blog, testimonials, referrals, and networking for construction lead generation. That is how you get construction leads free. Wishing you many more leads and jobs going forward!
Further Reading